For those looking for a quick and easy low-stakes weekend DIY project that makes a major impact, you're going to want start thinking about all the options that come with peel-and-stick wall tiles. Install is as simple as cutting to size followed by peeling and sticking to a clean surface. No glue, no grout, and most importantly, no costly contractors are required.
Peel and stick backsplashes are one of those projects you can complete in the afternoon. They're perfect for using in areas like your kitchen or bathroom walls that experience variations in temperatures and dampness, and many can even be placed on the floor. Though, you should stick with the real thing when it comes to showers or areas that will get wet consistently. Once you put it in one room, we're sure you're going to become hooked on the look.
Peel-and-stick tiles are also usually quite convenient for renters with drab, builder-grade units, though check before purchase that the style you choose is easily removable and will not leave behind damage, so you can get back your deposit.
Depending on where you purchase, some retailers like The Home Depot and Wayfair allow you to buy and calculate the exact square footage of the product you need while buying from Amazon is sold in flat amounts. It's also recommended to order more than you think you need, so you're not left mid-project with not enough material as to well to ensure there is uniformity amongst the product and that they come from the same batch.
Now before you get started on your next project, be sure to catch the lowdown on everything you need to know about tile stickers, and of course, explore the peel-and-stick wall tile designs we're loving most, below.
A classic approach
Why you can trust Real Homes Our expert reviewers spend hours testing and comparing products and services so you can choose the best for you. Find out more about how we test.
White subway tiles comes across as fresh, clean, and timelessly modern wherever you place it. It's also available in a bevy of other neutral hues if you're looking for something just a bit different.
Buy: Smart Tiles Metro Campagnola White Peel and Stick Decorative Mosaic Wall Tile Backsplash | $11.30 sq/ft at The Home Depot
A fun dose of color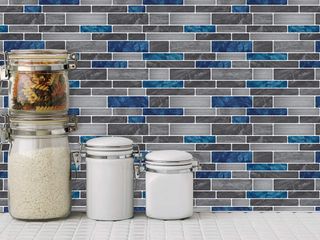 A pop of electric blue amidst gray marble adds dimension and a splash of color to your space.
Buy: Art3d 10-Sheet Premium Self-Adhesive Kitchen Backsplash Tiles in Marble, 12"X12 | Was $39.99, now $34.99 at Amazon
Global flair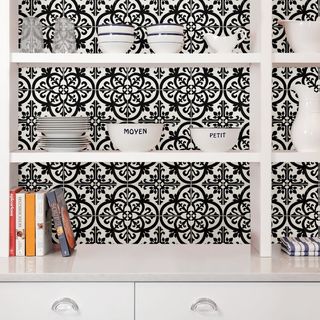 You'll think you've transported to a cozy kitchen along the coast of the Mediterranean, not stuck in the suburbs with these mosaic tiles that are so easy to install.
Buy: WallPops! Avignon 10" x 10" Vinyl Peel & Stick Mosaic Tile | $7.79 sq/ft at Wayfair
Stylish and sophisticated herringbone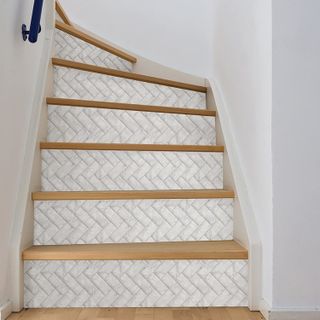 A herringbone design creates a streamlined and glamourous space. Though it may look complicated to get the look, it's truly anything but.
Buy: In Home Carrara Herringbone Carrera Peel & Stick Backsplash Tiles, White & Off-White | Was $26.99, now $18.99 at Amazon
Moody with an edge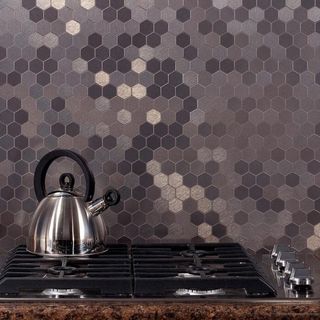 Going for a mid-century modern designer approach? You'll want to add these honey-combed stainless steel tiles that are made with 60 percent recycled materials for a dramatic flair.
Buy: Aspect Honeycomb Matted Brushed Stainless Metal Decorative Tile Backsplash | $15.87 sq/ft at The Home Depot
A little funky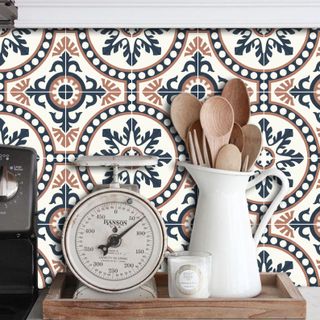 Unexpected colors and print can turn a simple rental or outdated space into a truly unique backdrop for your kitchen or bathroom. And all it is a vinyl that looks exactly like stonework.
Buy: QuadroStyle Gemini Tile stickers | Starting at $33.90 on Etsy
Tempt with terrazzo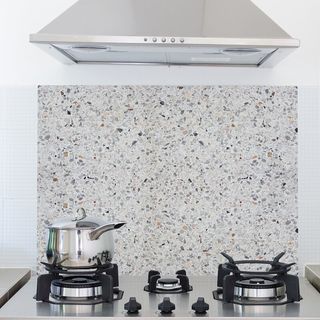 The trendy terrazzo look is easier than ever to explore. This WallPops! design is easily removable for when your taste changes with the seasons, or you want to try something new. Meanwhile, we think you're going to love this cement look, without the struggle of getting it installed.
Buy: Wallpops! Gray Terrazzo 26" x 19" Vinyl Peel & Stick Panel | Was $30.99, now $21.99 at Wayfair
A starry masterpiece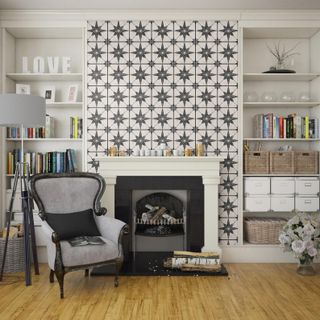 These starry-printed Astra tiles are certainly eye-catching as a backsplash, and can even completely transform a simple fireplace into something breath-taking.
Buy: Home Art Stickers Astra Tile Stickers | Starting at $9.40 on Etsy
Read next...