Cover kitchen countertops and you can get the look of a brand-new surface without the expense of buying a new one or the disruption caused by removing the old counter. I've lived in my fair share of rentals and have seen everything from turmeric-stained tops, chipped marble (sigh), and wooden counters that looked like termites have tucked in.
What's more, there are a few different ways you can cover kitchen countertops — and while all the methods we're suggesting are DIY-able most are really easy, giving you a new look and room for a small expenditure of time and effort.
Even better, the materials you need for refreshing countertops needn't be pricey, saving you from splashing out on small kitchen ideas which isn't always ideal (or allowed if you're leasing your apartment). Discover the different options available in our guide, and take advice on completing your makeover successfully from the experts.
Five creative ways to cover kitchen countertops
There are a variety of methods you can use to cover kitchen countertops. They vary in terms of how long they take to achieve and how much skill is needed to achieve them, but we'll give you the details on the level of difficulty. Also important to note is that some methods are more durable than others, but we've got the lowdown on that for you, too.
Whichever technique you choose, consider decluttering and organizing your small kitchen first. This involves removing everything off of your worktop. Don't worry — it's only temporary!
1.Give a kitchen countertop new life with paint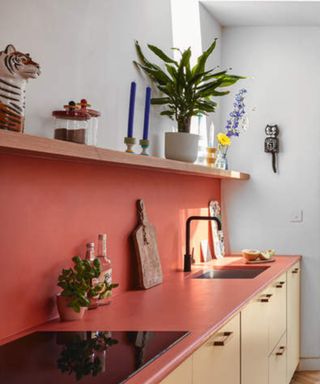 Using paint is a super simple way to cover kitchen countertops, and can produce elegant results. If you're covering laminate, you might want to opt for a specialist paint like Rust-Oleum's Countertop Coating, which is tintable to 12 colors. However, you could use an acrylic interior paint instead for a laminate countertop.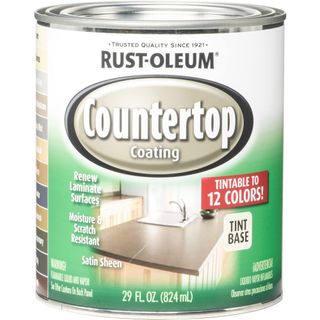 Tintable to 12 colors
1. Rust-Oleum Countertop Coating
Price: $34.98
Size: 12 fl. oz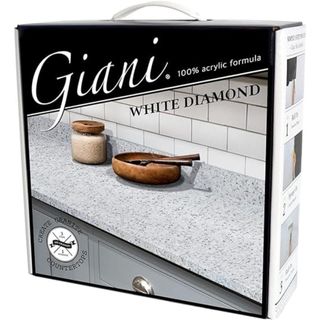 Choose from four finishes
2. Giani Granite Countertop Paint Kit
Price: $99.95
Size: 16.9 fl. oz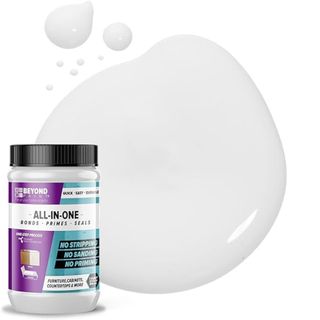 20 colors to choose from
3. Beyond Paint All-in-One Refinishing Paint
Price: $57.95
Size: 1 quart
How to prepare a laminate kitchen countertop
Make sure you ventilate the room well for this project by opening windows where possible.
Prepare a laminate counter for painting by cleaning your countertop with detergent (i.e.: Lysol kitchen spray on Amazon) and allowing it to dry, before sanding lightly with 220-grit sandpaper (available on Amazon).
With a specialist paint, you may not need a primer, but with acrylic paint, you will need to prime it first (ie: with INSL-X multi-surface primer on Amazon).
Apply paint with a roller; acrylic paint will need two coats and you should follow the instructions with a specialist countertop paint. Seal acrylic paint using a countertop resin (MAS Store's is highly rated on Amazon).
2. Cover kitchen countertops with peel-and-stick vinyl
To give a tired room a new look, cover kitchen countertops with a peel-and-stick product. With a variety of effects to select from such as marble, slate, or wood, it could have a transformative effect.
Application is relatively easy — as the name suggests — just be sure to clean the countertop thoroughly first. You'll need to work accurately but you should be able to reposition the covering as necessary as you work. A sharp blade to cut to size and a smoothing tool will help ensure a neat finish.
A word of caution: Don't use a peel-and-stick product on damaged countertops; they should be smooth.
Be aware that while a DIY peel-and-stick countertop, which is generally made with a PVC vinyl base, can be a fabulous fix, it's not a long-term answer to an old countertop. However, because these products are removable they can be ideal for renters, or while you're shopping around for new countertops.
Note that professional vinyl wrap services are also available, and these can be a durable way to cover countertops.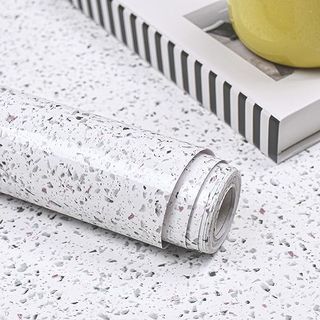 Granite look
Granite peel-and-stick vinyl
Price: $5.99
Size (in.) : H15.7 × W118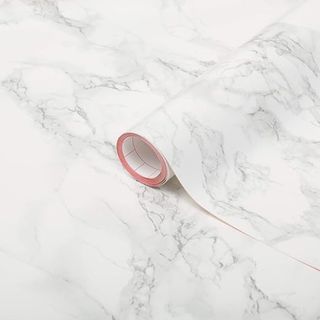 Quiet luxury
d-c-fix Peel and Stick Decorative Vinyl
Price: $15.99
Size (in.): H17.7 x W78.7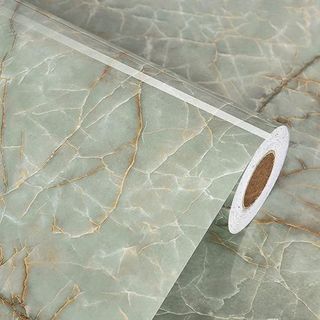 Crystal aesthetic
Green Marble Peel and Stick for Countertops
Price: $7.99
Size (in.): H15.75 x W78
3. Opt for a countertop refinishing kit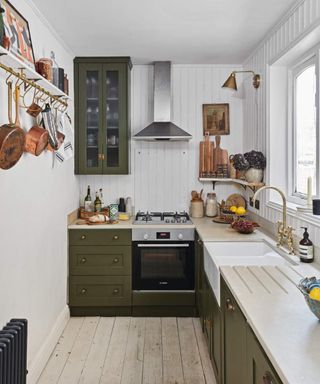 A countertop refinishing kit can allow you to give a budget worktop such as laminate, formica, or wood, the look of a more expensive option.
A kit such as Rust-Oleum Countertop Transformations (on Amazon)can give laminate countertops the look of granite and includes base and top coats, as well as decorative color chips that give the new surface the look of natural stone.
Typical steps for the application of a kit involve cleaning the countertop, then sanding it and removing the dust, followed by base coats, and a top coat, but always follow the instructions with the individual kit. Be sure to check the kit is compatible with the countertop material you wish to cover before purchase, as this can vary.
4. Cover kitchen countertops with contact paper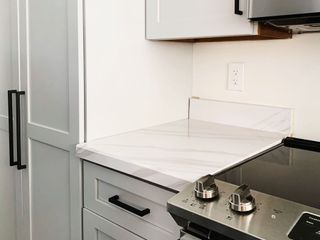 Using contact paper is a way to cover kitchen countertops in the short term – perhaps you're saving for new ones but want to improve the appearance of the kitchen in the meantime.
Erin Dunlap, who blogs about home improvement at List in Progress, gave her laminate countertop spruce up with contact paper as a temporary fix. "It's a little tricky because a 24-inch wide roll of paper won't fully cover a countertop with a standard depth of 2 feet," says Dunlap. "You'll need to plan for a seam, which is best to run close to the wall, at the back of the countertop, rather than at the front edge where it's likely to peel up."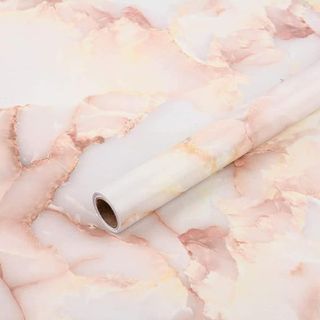 Barbiecore
Art3d Marble Contact Paper Countertops
Price: Was $5.99 Now $5.49
Size (in): H17.7 x W78.7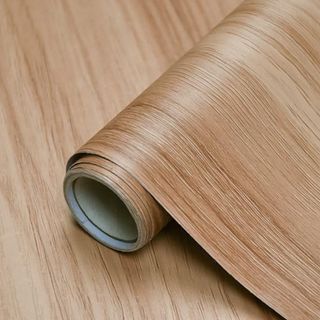 Scandi style
Sevalo Store Light Wood Grain Contact Paper
Price: $7.99
Size (in.): H15.7 x W118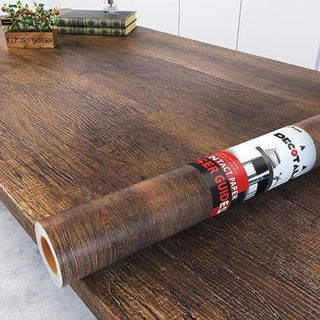 Realistic wood grain
Decotalk Contact Paper Wood Grain
Price: $11.99
Size(in.): H12 x W120
How to cover kitchen countertops with contact paper
Order plenty of paper to account for any mistakes, practice cuts, and align a design or pattern in the print. Plus, you'll likely need to plan for a seam and run two courses of the paper, unless you find an extra-wide roll that will cover your entire countertop in one go.
You might need to practice a corner cut a few times before you get it just right. It's worth the time and practice so your finished counter looks top-notch.
Contact paper won't stick to the unlaminated underside of your old countertop. Use a waterproof glue, such as Gorilla Glue (on Amazon), to finish these sides, or the paper will just peel off. Add a few pieces of tape to hold the contact paper in place while the glue cures.
Know that contact paper is not the most durable surface; you'll need to be careful to avoid scratches and nicks or those spots will collect dirt and start to peel up.
"Contact paper is a cheap way to try out new trends in countertop, like marble or different stone colors," adds Erin. "However, it won't hold up for the long term," she warns.
Hi, I'm Erin, the creator of List in Progress, a DIY home improvement blog dedicated to inspiring readers to tackle DIY projects with creativity and confidence. Through this blog, I share our ideas, projects, source lists, and tips with other homeowners who want to tackle similar home updates. I aim to be as thorough as possible, so my content will be useful to you. I'm also transparent about our mistakes. You'll find all the details you need right here before you dive into a project!
5. Tile over the countertop
If yours is a laminate countertop you've fallen out of love with, consider covering it with tile. The countertop will need to be in good condition if you take this route, and must be smooth and level. Make sure to select stain and heat-resistant ceramic tile or porcelain.
It's possible to tile directly over laminate, and to do so you should sand the laminate, then use a special adhesive suitable for laminate, followed by fiberglass reinforced paper, then a skim coat layer of mortar. After this has dried, the tiles can then be installed in the usual way.
This project requires intermediate-level DIY skills, so the countertop cover options above are the ones to use if you're looking for an easier solution. Be aware, too, that you'll need to allow time for the grout to cure if you tile, so the countertop will be out of use for a while.
Frequently asked questions
How do you cover old countertops?
Old countertops can be covered in a variety of different ways, some of which you can DIY. One of the most effective ways to cover old countertops is by using a countertop refinishing kit, according to Edward Jones of Home Care How.
"You can purchase counter refinishing kits from hardware stores," he says.
"The kit includes natural-stone-looking chips and epoxy-like paint. If you follow the instructions included in the kit, your countertop will last for a long time."
Other DIY solutions include painting, peel-and-stick finishes, and tiling the surface.
Can you cover laminate countertops?
Laminate countertops can be covered to refresh the look. "Contact paper is a great short-term solution to cover outdated laminate countertops," says Erin Dunlap, home improvement blogger at List in Progress.
For a longer-term fix? "An epoxy countertop paint product is a much better option if you want your DIY effort to last more than a year or two," she says.
Painting countertops can be the simplest choice. Opt for a special kit or use acrylic interior paint after cleaning, lightly sanding, and priming.
How long will a peel and stick countertop last?
A peel-and-stick countertop can transform the appearance of a countertop, but it does have a limited lifespan.
"On average a peel and stick countertop option would be likely to last around a year before getting tatty; this compared to a professional trade fit which comes with a seven-year manufacturer's guarantee on specific vinyls," says Louis Mulligan, owner of LM Interior Wraps.
"The downside to a peel-and-stick countertop would be the lack of strong adhesive to maintain the hold, along with the design and color fading and wearing off."
---
Now that you've looked at ways to spruce up your worktops, these kitchen organizers will help to keep objects off of your renewed foundation.