The best toy storage ideas the key to making clearing up as fun as possible – putting things into boxes after playtime, not interested, hiding things away into a chest with your name on it so the pirates won't get all your toys? Way more fun. 
Ultimately, your choice of toy storage will be determined by your child's play style and, perhaps, by your temperament. Some of us are still kids at heart and love toys as much as our children do and may want to put them on display. For others, maintaining a tidy and de-cluttered interior is the goal.
Whatever you and your child prefer, here are our top toy storage ideas and be sure to check out our kids' bedroom ideas gallery too. 
1. Repurpose clothes storage with this Marie Kondo-approved toy storage idea
We love this toy storage idea! As well as looking really cool, almost like a deliberate feature of the room, it's also a really practical way to store toys because your kids can access them easily. This is actually a shoe organiser – these are perfect for small space too as they hang on the back of a door and take up zero floor space. 
2. Use a classic toy storage chest
Children and tidy living spaces tend not to mix, period. But there are still options to restore order, if only for a short while. One is to store children's toys in a hefty box or chest – it does the job of clearing away toys but also would look lovely in a living room or bedroom too. It can also be used as a handy seat so why not pop it in a bay window or even a hallway to throw school bags, skipping ropes and footballs in.
3. Buy a simple-to-access toy storage cabinet that looks good too
Loving this cute Songmics toy storage cabinet from Amazon. Our advice? Fill it with storage boxes so when your kids want something they don't pull out the whole cupboard to find it. LEGO in one, dolls in another, cars in another... You get the drift.
4. Choose organiser systems for small toys 
For kids who like crafts or Lego, there are plenty of organiser solutions, such as the mesh drawer systems from Elfa. Crucially, all of their drawers are see-through, allowing your child to find what they want quickly and without pulling everything else out along the way.  If you are after Lego storage ideas, check out our guide. 
5. Put two toy storage pieces back to back for play surface space
Not got much floor space? You can still pack in plenty of storage, and leave the tops clear for the play that they might otherwise have done on the floor. See more about this idea at Ikea. 
6. Double up toy storage as a display
It may be that a child has favourites she or he just cannot part with for very long, or the sight of your child's toys actually gives you joy. In fact, just as you may display your favourite art, toys can be used to accessorise a room too. Colourful wooden toys can be particularly pleasing in an otherwise neutral room, and open shelving offers the chance to use these to redesign the room as your child grows. 
7. Invest in a rail for dressing up clothes
Kids love to dress up? A peg rail is super handy for everything from costumes to clothes, dressing gowns to bags. This lovely peg rail is from Ikea,  you can run them together to create as much hanging storage as you need.  
If you are after more clothes storage ideas head over to our gallery. 
8. Invest in an end of bed toy storage pocket
Some toys need to be handy – for young kids it might be their favourite cuddly toy or a book; for older kids, it's no doubt their phone or device... Either way, an end of bed toy storage pocket is a great idea for keeping stuff from getting lost and for keeping bedside tables neat. This one's from Ikea. 
9. Buy toy storage boxes with windows for easy access
It's really easy for kids to tip toys all over the floor when they're on the hunt for something particular – but if you've bought storage boxes with windows at the front you can seriously minimise the mess. When they're older, swap out the toys for clothes. Genius. These are from Ikea too (can you tell we love Ikea for storage ideas?). 
This one from Ikea is designed to slide under the bed (clever) but also doubles up as seating (even cleverer); it's on wheels, too (genius). Even better? It looks fantastic in a living room, too, and as they get older, if it's still in their room, it makes for extra seating. Win win. 
11. Talking of toy storage for under the bed...
It's the best place for hiding away toys. Best case scenario? Buy a bed with built-in storage beneath the bed – you can use it for toys when they're young and for their burgeoning wardrobe when they're older. Or, retro-fit – you can buy smart under bed storage drawers to fill up with toys.
12. Get creative with shelves
Shelving does not have to be boring, so why not integrate shelved toy storage into the design of your child's bedroom? You can use floating shelves to create a quirky display for toys and allow you to put them away out of reach after playtime.
If you are feeling creative, you can also make shelves by repurposing anything from planters to paper tubes. For example, follow this guide for making toy shelves on the quirky Swedish blog Pysselbolaget.
13. Hang in there with a toy hammock
What are cute toy storage idea! Knitted toy hammocks can be attached to walls and doors and are handy for that abundance of soft toys that builds up. Buy one ready made from Etsy, or download a knitting pattern and make one like the sweet design pictured below yourself! 
14. Create a designated adventure play area with a tipi
If floor space is so tight it's a choice between toy storage furniture and toys, why not seek a compromise? A play teepee will transport your child into another world, and when they're back to earth, they can stash away their toys in it. There are options for every budget, from the very affordable, options on Amazon such as this stylish option from Wildfire Teepees. 
15. Go eco with your toy storage ideas and pick cotton bags
Many of us are trying to make more sustainable choices when we shop for homeware – why shouldn't that apply to toy storage, too? Avoid plastic and go with cotton or even paper bags (they make 'em really sturdy now). Have a look over on Etsy for loads of options. 
16. Invest in purpose-built furniture
If you want to hit the next level in tidiness, consider investing in built-in storage. Design it to suit the space and how many things you need to store, or combine with clothes storage and a desk too. The Dormy House Modular Wall Storage or Multi Modular Storage, is customisable to your space, needs and even colour scheme.
17. Grow your toy storage as your child grows
Children's storage and playing needs go through so many transformations over their early years. It can be exhausting (and expensive) to keep replacing and rearranging their furniture to keep up. Help is at hand with Ikea's clever Trofast storage combination. It comes with removable plastic trays which can be added to, and it can be used as a shelving unit for everything from books to games consoles when your child is older.
18. Mix study time and play time with multipurpose toy storage ideas
Make learning more fun for the kids by combining toy storage ideas with a desk, or position a blackboard above your toy storage unit. Taking breaks for playtime is much easier when the toys are within easy reach. Take inspiration from the Industrial Kids Storage Bench by Woood, which can be conveniently positioned right underneath a blackboard, transforming study time into interactive play time. 
For more playroom ideas, head over to our gallery.
19. Keep toys accessible with a string bag 
A super simple way to add a bit of extra toy storage is to hang a few string bags. We swear by string bags as storage in any room – they work so well in a bathroom for example – you can see what's in there there, get it out easily and we think they look lovely too. Make them more playroom friendly by hanging them from a funky peg.
20. Create a feature wall of shelves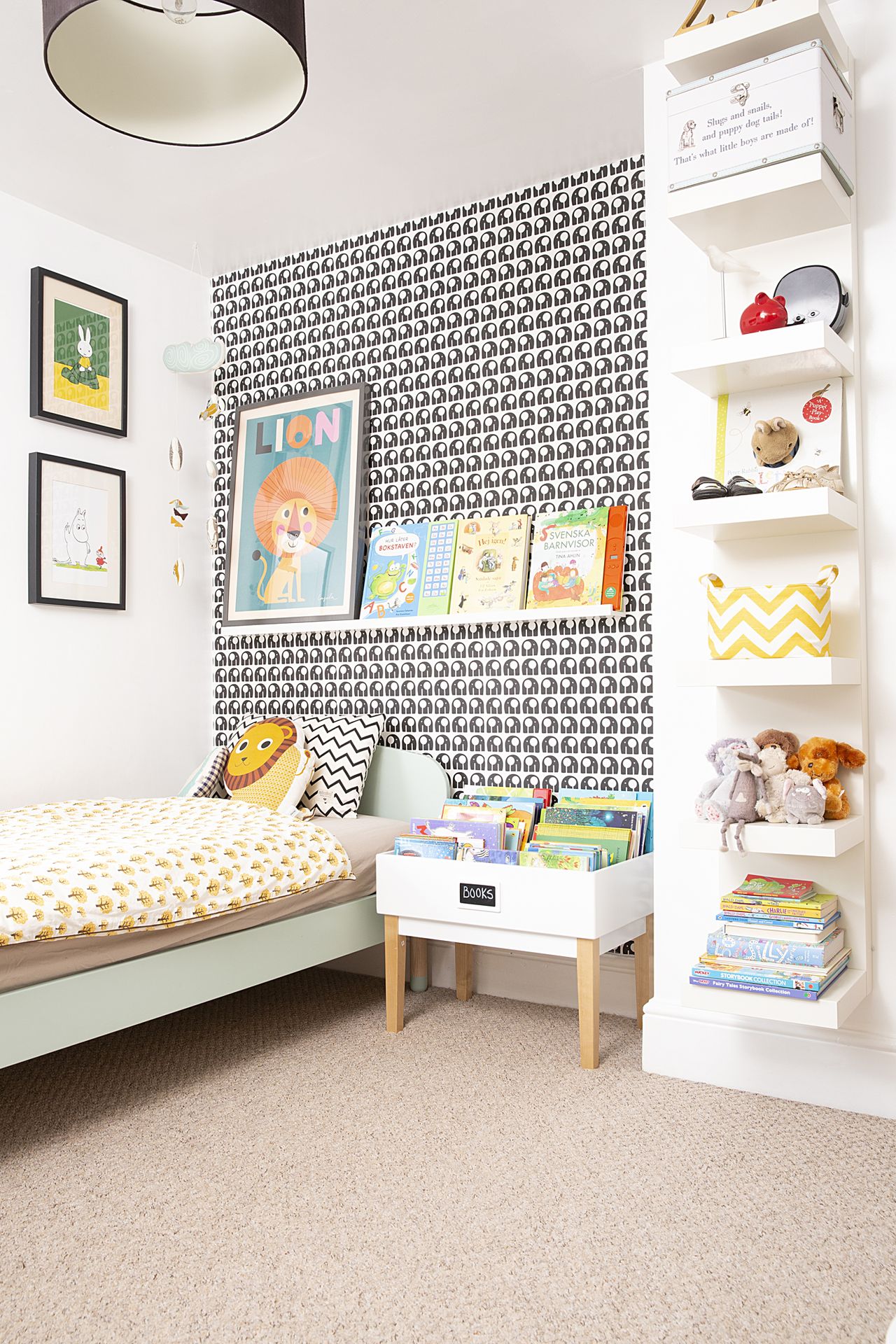 These toy storage is super cute and practical too! You can keep your most used toys on the lower shelves so that they are accessible and the special or more decorative toys up top. They are also add plenty of personality to a kid's bedroom which we think is just as important as practical toy storage.