We love our pets, but their fur can be a problem. That's why we've created this best vacuum for pet hair guide which will (hopefully) help you to tame all those stray fluffs littering your hardwood flooring, getting in a knot in your carpet, or worst of all: stuck on your furniture.
We appreciate that looking for a top-of-the-line pet vacuum isn't going to be easy since there are so many, all claiming to do the same thing. This is why we've gone ahead and reviewed a host of the best picks for you, to tell you exactly which one you should invest in. We've taken into consideration everything from suction, specialty pet-hair tools, canister capacity, price, and how well each model dealt with the influx of fuzz it sucked up. And only the ones that survived our extensive testing made it to this list.
Continue reading to see eight of our best pet hair vacuums — oh, and if you were looking for just a regular vacuum, go ahead and check out our best vacuum cleaners — there are tons of winners there, too!
The best vacuum for pet hair: tried and tested by us
If you have pets, you'll never want to be without the Dyson Ball Animal 2, once you've tried it out. Its clever brush heads pick up all the hair our furry friends leave behind, without getting tangled up, and the motorized brush bar gets out stubborn dirt from muddy paws.
Our verdict
The Dyson Ball Animal 2 was the standout vacuum that allowed our tester Sarah to really feel as if she was keeping up with the onslaught of dirt and fur in her home. It yielded excellent results on tiles, parquet, stairs and carpet, with the capability of getting right up to the edges of rooms. The suction was impressively powerful and got the job done quickly, though Sarah found herself turning down the power when using it on carpet, as it can be difficult to push on the highest setting on that flooring type.
Key features
The low-profile head and telltale ball made swishing this vac around at home almost enjoyable. The long cord means Sarah wasn't slowed by having to change outlets and the handle gave us plenty of opportunities to reach where needed when cleaning stairs and upper corners.
Sensitive to every loose strand of hair, a particle of dust, or hint of debris? Well, the top-rated Cat and Dog version from Miele utilizes a sealed bag dust bin system that is highly suited to allergy sufferers, making this pick the one for you. Miele is known for its top-quality engineering and canister-style designs that will power through thick carpets and performs just as well on hard floors, and this vac is no exception.
Our verdict
Dried mud on tiles and pet hair on sofas were easily thwarted by this model during testing, according to our reviewer Sarah, who tried this model out at home for a number of weeks. She found the floor head and foot controls to change suction on this machine made day-to-day use very simple and stress-free. Removing the dustbag and replacing it with a new one was a seamless operation too; a very useful thing to know for allergy sufferers.
Key features
The suction on this model is great and it has a good range of tools, all handily stowed in the body of the vacuum cleaner. While it isn't the smallest, it is a neat design that is easy to transport and store. However, it is on the weighty side, so if you have lots of stairs, you might prefer a lighter model – for a large ranch-style home, though, it would be perfect.
If you're keen on a cordless vacuum cleaner that's engineered for pet hair and you're prepared to spend more than you would on a standard upright or stick, then we promise the Dyson Outsize is 100 percent worth it. With a running time of up to two hours spread across two batteries, an oversized half-gallon dust bin, and an extremely powerful design, it will get you through all your cleaning trials for a fur-free home.
Our verdict
Vacuuming stopped being a chore with the Dyson Outsize, according to our Appliances Editor and vacuum extraordinaire Jen. She switched to using this vacuum as her main unit to clean her three bedroom house, with the bin size and suction power being good enough to replace her corded canister model. Even after a full year of testing, Jen found that the battery life and the floor head of this vacuum, complete with laser technology to seek out the dirt you can't ordinarily see, was second to none. She was also a big fan of the fade-free suction, which lasts down to the final second of charge.
Key features
The Dyson Outstize is an absolute dream when it comes to suctioning up pet hair on carpets, hard floors, and upholstered surfaces. The additional attachment options, including a combination tool, crevice tool, stubborn dirt brush also make cleaning up pet hairs from upholstery and dog beds a simple task. It also easily and quickly converts to a handheld for above-floor cleaning or getting up close and personal with pet beds. It's a tad top-heavy, and you may find your arm growing tired for cleaning above the floor, but it's overall pretty easy to use, and the extended-sized dust bin is a must for any home with lots of shredded hair to scoop up.
Note: though it is a top-scoring model, we've included it slightly lower in this list, as the expense means other picks represent better value for money.
If you have your heart set on an affordable cordless vacuum that can also conquer pet hair, the Bissell IconPet is for you. It promises up to 50 minutes of fade-free cleaning, and it proved to be a hard worker on all floor types and other above-floor tasks.
Our verdict
Our reviewer Courtney found the operation of this cordless vacuum to be pretty seamless; it was intuitive to handle, the dust container easy to empty, and its LED headlights worked well in both modes (handheld and full-body vacuum), showing no mercy to hidden pet hair. During testing, Courtney also found the handheld mode to be exceptionally useful for tackling stairs when it comes to built-up pet hair, and for use around her dog's bed.
Key features
We're a big fan of stats, and the IconPet has some pretty powerful specs like a High-Performance digital motor that spins at up to 420 miles per hour, a powerful 22v Lithium-ion Battery for cordless convenience with three cleaning modes that last up to 50 minutes. The Tangle-Free Brush Roll was also crowned a winning feature during testing, leaving no hair behind to clog this vacuum.
If you have a long-haired dog or cat, you'll love the Shark Vertex Upright Vacuum with Powered Lift-Away. In fact, it's one of the best Shark vacuums you can buy. Built with hypervelocity suction, it's powerful enough to suck up everything in its path, and it's built with the latest DuoClean Powerfins features with a self-cleaning brush roll that automatically keeps it free of hair (so you won't have to spend time removing fur that's tangled around the brush roll when you're done vacuuming). It goes without saying that it works wonders on cleaning up human hair, too.
Our verdict
With her Cavapoo Reese at home, our Ecommerce Editor Jaclyn is well equipped to tell you what you need to know about vacs when it comes to pet hair. She found that the Anti-Hair wrap feature lived up to its name, with hair never wrapping around the self-cleaning brush roll or clogging the vacuum shaft. Jaclyn can also advocate for using the self-cleaning power brush combined with the crevice tool for banishing pet hair while using the Powered Lift-Away mode too; a move that made her worn-down carpeted stairs look brand new again.
Key features
Besides the fact that it sucks up hair, this vacuum is packed with other handy features, including LED headlights for seeing under the furniture, a crevice, an upholstery tool for cleaning dog hair off the sofa, and on-board tool storage (though it annoyingly doesn't have space for all three attachments). It also has a built-in HEPA filter to remove allergens and pet dander while it cleans.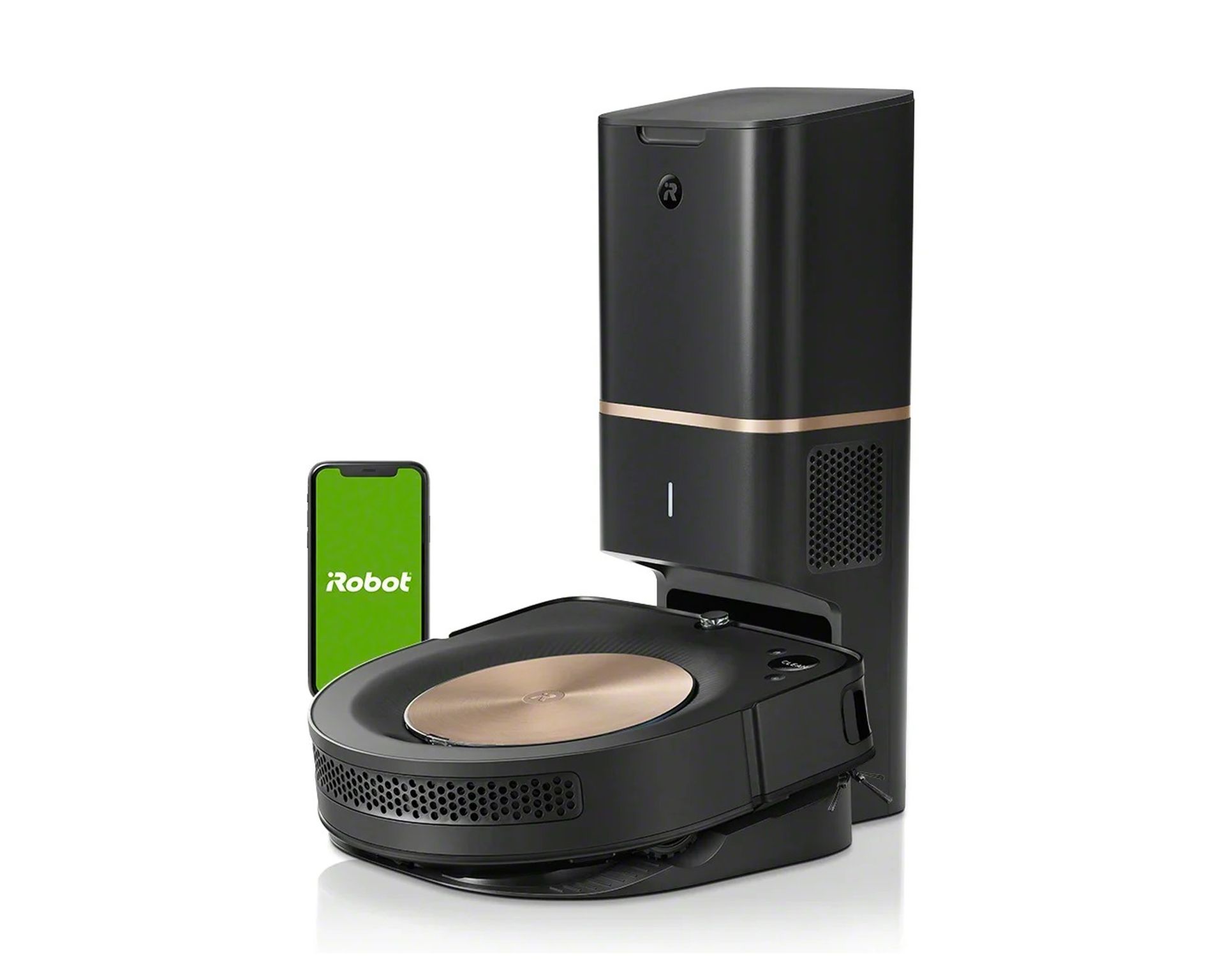 If the amount of hair has seemingly become too much to handle for daily upkeep, then investing in a robot vacuum might just change the game for you. The iRobot Roomba S9+ is not only a winner at picking up pet hair (even strands embedded deep in the carpet), its obstacle detection laid out in the mapping mode avoids small objects and can even recognize any not-so-pleasant accidents your pet may cause to avoid.
Our verdict
There is sheer power to be utilized with the Roomba iRobot S9+, which our reviewer Linda noted firsthand during her tests to banish dirt and hair created by pets. She marveled at how this robot could power up or down depending on the floor type it was tackling, and the iRobot Clean Base, which this bot self-empties into. Linda found that the Clean Base system could hold up to 30 loads of dust and hair before needing to be emptied, cutting down massively on the pet-related cleaning admin she needed to do.
Key features
Some very serious technology went into the iRobot Roomba S9+, and the resulting mapping technology is effortless to use and effective in use. The ease of setting a daily schedule will doubtless make your life easier, and Linda loved being able to create Keep Out Zones, such as around her dog's water bowl so that her pets can get on with their business undisturbed. The S9+ can be controlled at the push of a button, from your smartphone, or by Alexa or Google Home Assistant via a smart speaker.
In terms of battery life, a single charge lasts up to 120 minutes, which Linda had no complaints about. This vacuum really is the ultimate in hands-off cleaning, but for the deep clean a pet owner may need to use a multi-tooled classic vacuum cleaner for the furniture and areas a robot can't reach.
Note: this robot vacuum aced our tests, but we haven't placed it at #1 as it's an expensive investment, and many people will be looking for a manual vacuum.
The powerful 14V BISSELL Pet Hair Eraser Lithium Ion Hand Vacuum will easily remove crumbs, dust, and pet hair from around the home. The cordless design also makes it easy to take along with you in the car, should Fido get to run shotgun on trips to the dog park. Plus, it's reasonably priced, which cements its status as the best handheld vacuum for pet hair.
Design
The elongated design is lightweight and easy to hold — just grab it when you need to do some quick cleaning in focused areas. This Bissell handheld vac is suitable for use on stairs, hair floors, and deep-pile carpets. It also works well on kitchen work surfaces and car seats, so there's really no surface it can't cover. It also features a triple-layer filtration and an easy to empty .7L dust cup that can fit a surprisingly large amount of pet hair. Our only drawback? You'll get just 17 minutes on a single charge, but note, that is standard for a handheld.
Motorized Brush
The detachable motorized brush helps remove embedded pet hair from surfaces like upholstery and area rugs. It also includes an upholstery tool for cleaning furniture, pet beds and any other surfaces that need an extra touch.
Note: We haven't tested the BISSELL Pet Hair Eraser Lithium Ion Hand Vacuum just yet, but we will endeavor to have a full review of it soon.
Bissell's whole branding is around their love for pets, so of course, their vacuums have to be top-notch at suctioning pet hair. Plus, they're among some of the most affordable vacuums for pet hair like the Bissell Cleanview Swivel Pet Upright Bagless Vacuum Cleaner.
Triple Action Brush Roll
The worker bee of this machine, the Triple Action Brush Roll loosens, lifts, and removes dirt and debris from the carpet while also gently sweeping fine debris up and off hard floors. If you thought your pet works hard at distributing his shedding fur throughout your house, the Triple Action Brush works harder, across carpets and hard floors.
Pet TurboEraser Tool
The specially designed pet hair tool easily removes embedded pet hair and dirt from the carpet, stairs, upholstery, and more. Plus, it conveniently attaches to the vacuum, making your chances of misplacing it pretty much impossible.
Ease of Use
Built to last, this Bissell utilizes swivel steering to move quickly across floors and around furniture. The ClearView access to the dustbin makes it easy to monitor when the roomy dustbin is filled. Emptying the dust bin was also designed to be incredibly simple and as hands-off as possible for minimal contact with dirt. The vacuum is also extremely easy to keep clean and maintain, with almost every part of the vacuum being able to be washed, including the filter.
Note: We haven't tested the Bissell Cleanview Swivel Pet Upright Bagless Vacuum just yet, but we will endeavor to have a full review of this model soon.
How we test the best vacuum for pet hair
At Real Homes we like to get hands-on experience with the products which we feature in our buying guides; it's part of our commitment to how we test the things we feature. Whether that's to attend product demonstrations or to have them for a few weeks (sometimes months) in our own homes, you know that these vacuum cleaners for pet hair have had a member of our team look over them before including them in this roundup. We even seek other user reviews so all experiences and opinions are taken into account.
During testing, we lookout for factors such as maneuverability, run-time, bin size and emptying, filtration, and ease of use so you know exactly what you are getting for your money. We challenge these vacuum cleaners with typical household dirt such as crumbs, dust, and pet hair for a real-life comparison to your own household. Below, you can read more about the experts who have been testing out these vacuums at home.
Sarah has reviewed many vacuum cleaners for Real Homes, taking them through their paces at home to give us an honest, real-life opinion and comparison on every model. From this list, she's had hands-on experience with the Dyson Animal Ball 2, our top pick and the Miele Complete C3 Cat & Dog.
Linda is a freelance journalist who has specialised in home tech, interior design and fitness for more than two decades. She has tested plenty of vacuums for Real Homes, including the iRobot Roomba S9+ on this list. She tested out this vacuum in her Devon home, to find out how well they performed across various floor types and how well they coped with busy family life, and her three super-fluffy, world-class-moulting dogs.
Jen is Homes Editor on TechRadar. Previously she has written for Ideal Home, Real Homes and Homes & Gardens as our Appliances Editor. She has tested out a number of vacuums in this guide, including the Dyson Outsize, which is a favorite vacuum of hers.
Jaclyn is an eCommerce editor at Future Home Interest, where she oversees sleep content including mattresses and bedding. She has also tested a number of vacuums for us at home, a space that she shares with her Cavapoo Reese, in order to tell us which vacuums are the best at dealing with pet-related mess. She tested out the Shark Vertex Upright Vacuum with Powered Lift-Away on this list, which is a premier corded vacuum model for pet hair.
What is the best vacuum for pet hair?
To recap, we like the Dyson Ball Animal 2 (opens in new tab). It has been a firm favorite for us for a couple of years and our number one spot for most of that time, because of that immense suction. It also goes right up to the edges, transitions well across hard floor and carpets and has a long cord so you're not feeling tethered all the time - it's a real winner in our eyes.
What makes a vacuum great for pet hair?
If you need to get rid of pet hair on a regular basis, you might find a vacuum that isn't optimised for the job leaves a lot to be desired. Most vacuums outfitted for households with pets will feature increased suction, some sort of pet tool or brush, motorized brush roll (as opposed to sheer suction) to really dig out hair and particles, and an emphasis on its filtration system. Most pet vacuums, especially the middle to high ends one will feature High-Efficiency Filters to catch pet dander, capture allergens, and prevent particles from escaping the vacuum.
Another highly sought-after feature on vacuums for pet hair include brush rolls that are self-cleaning or feature anti-hair wrap to ensure that strands of hair don't wrap around and eventually clog the brush roll... an annoying mess to untangle. Some are more effective than others, but we've had great luck with Shark's Anti-Hair Wrap Tech.
How to choose the best vacuum for pet hair
In terms of style and type, you can get a stick, canister, and upright vacuums designed for pet hair so this will come down to your own preferences. And here's what you'll need to consider before committing to your new pet vacuum:
Flooring
First, what type of flooring do you have? If your pets tend to shed throughout the house, it can be beneficial to opt for a vacuum that is adaptable to all floor types such as carpet and hardwood or laminate floors. If you have carpet, you will want a vacuum with a good brushroll to lift the hair from the pile.
Corded or cordless?
Also, consider what spaces you will need to vacuum. Dyson's ball technology is easier to maneuver around and into corners, while the best cordless vacuum will make it easier to get to those hard-to-reach areas and also allow you to vacuum your car.
What about robot vacuum cleaners?
A robot vacuum cleaner is great for the floor but you will likely need a secondary vacuum to do a thorough job of the rest of your home. A robot vacuum could be an ideal solution for pets that get irritated by the loud sound of a vacuum. An easy alternative is to schedule it for when you and the pet are out for stress-free cleaning.
If your pet ever jumps on the furniture, (inevitable, right?) you will definitely need a vacuum with brushes and attachments to help remove fur. Plus, your pup might not love having a robot vacuum invade his personal areas, such as near a crate or food bowl, so spot cleaning with a smaller handheld or normal vacuum can avoid some aggregation for both parties.
Bagless?
Some may prefer a vacuum cleaner with a bag, especially those who are particularly allergy sensitive, but it's worth bearing in mind that you'll have to keep buying new bags, making them more expensive in the long run. While a bagless cleaner can be messier to empty, most are removable or can be directly lifted into the bin.
Capacity
If you've got more than one pet, check the vacuum's capacity so you don't have to empty it too often. Naturally, the smaller and more lightweight the vacuum, the smaller its capacity. If you have an animal that sheds a lot, you'll want to choose a vacuum with a larger dust bin, since hair doesn't exactly compress in a vacuum, as other debris can.
Suction power
This is one of the most important features of a good vacuum cleaner. Unfortunately, not all manufacturers list the suction power of their machines with a standard unit of measurement such as air watts (AW), making it hard to compare models. Instead of listing the power of various models in different units, we have only included vacuums that have exceptional suction power so you know you are getting the best. Vacuums with bad suction have not made it onto this list.
Noise level
Consider this if you have a little one at home all day who naps or a pet who doesn't like loud noises.
Brand
Most of the major vacuum brands such as Dyson, Bissell, and Shark have now introduced specialized vacuums for pet hair, which have much stronger suction and often feature allergy filters for those who are particularly sensitive. They'll also stop the hair from simply being pushed around the carpet and releasing irritants into the air.
Don't miss our guide on how to vacuum like a pro to discover the techniques to get it done quicker and better).
Or if you're looking for a cheap vacuum cleaner deal, we've got lots of those, too.
How to remove dog hair from a car
It's inevitable that your dog will find his or her way into your car at some point for vet appointments, trips to the park, or simply car rides, and if they tend to shed, well, they will surely leave their mark. The easiest way to remove dog hair from your car (or any other upholstered surfaces, really) is with a cordless or handheld vacuum. Opt for models that have mini-motorized tools designed specifically for covering smaller spaces and delicate fabrics. Swap in a crevice tool to get into edges and cracks where hair and other messes may have accumulated.
If you have any lingering strands try smoothing a rubber glove across the seats or creating static with a ballon to get hair to cling. Good ole' duct tape is a fine hack while dragging a squeegee blade yields very satisfying results.
You've reached the end of the page. Jump back up to the top ^