Shark Stain Striker: Quick Menu
Any pet owner or parent will know that every day is a new opportunity for fun, games, and potentially a little impromptu vomit and/or other stuff around the house.
Cats and kids alike, we love them dearly, and while we may be quick to forgive them time and time again, our carpets are much less understanding. We know this all too well in our rental, where the grey carpets are not a look anyhow.
Add on a couple of stains, and our communal pot for new rugs is ever-growing. So I was very excited to review the Shark Stain Striker. Admittedly, I was a little skeptical at first. This isn't the first carpet cleaner I have tried with undramatic effect, but the Shark Stain Striker claims to have 20x more stain-striking power* so I was ready to invite the Stain Striker Pet Stain & Spot Cleaner PX200UKT into my home.
**vs Shark Deep Clean Pro Formula. See Shark for more details.
Shark Stain Striker review
What I thought of the Shark Stain Striker
To my delight, it worked shockingly well. Lifting even a two-year-old red wine stain (absolutely not me) after a couple of goes and restoring carpets to their former grey glory in a matter of minutes.
As mentioned, following a series of unfortunate events with my dear cat Gaston, I gave the Bissel SpotClean pro carpet cleaner a whirl last year. As an upholstery cleaner, it refreshed the carpets, but I found that I had little success with dried-on or even day-old staining. So I found myself resorting back to the constant in my cleaning cupboard which is Dr Beckmann Pet Stain and Odor remover as it's cheap, easy to use, and does the job to an okay standard (as far as cleaning supplies go) in less than 10 minutes.
Reviewing the Shark Stain Striker was pretty breezy. It was fairly self-explanatory and simple to set up. I am someone who likes to read the instructions word for word, and even that didn't take very long. In use, the Shark Stain Striker is easy to get around the house, a little on the loud side, but honestly, it does what it says on the tin.
It's not the littlest thing but I wouldn't let the size put you off for the results you can get, especially if you have more than one pet, it could save many a carpet's life. Here's why:
Testing the Shark Stain Striker
Camille is the former deputy editor of Real Homes where she covered a broad range of topics, including house tours, small space design, and gardens. She studied English language and Italian at the University of Manchester and during a year abroad studying linguistics and history of art in Bologna, Italy she started documenting her adventures and observations in a blog. Post-university Camille got more hands-on experience writing for websites, regional magazines, and PR companies, typically covering fashion, beauty, healthcare, and local events. Some years later, she launched into SEO and copywriting before focusing on more journalistic content.
Shark Stain Striker specifications
Dimensions (in.): H11.3 x W11.7 x D11cm
Weight: 2kg
Noise level: 87 dB
Wattage: 450W
Capacity: 0.72L
Cord length: 4.6m
Warranty: 3 years
Includes: Pet Stain Trapping Tool, a Hose-Cleaning Tool, Shark CarpetXpert & Stain Striker cleaning solutions
Unboxing and setting up the Shark Stain Striker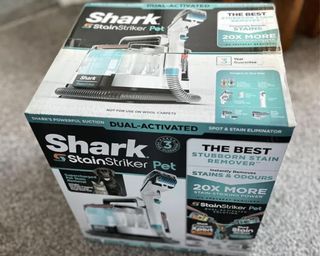 Unboxing was very easy and I like how there was very little plastic compared to say if I had unpacked a vacuum a few years ago — bravo Shark. For a fairly compact box, it packed a lot in and it wasn't overly complicated which is always a good thing.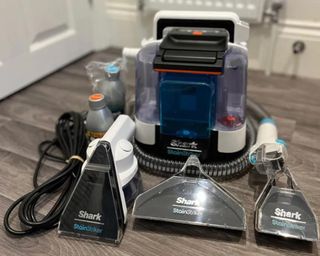 The additional tools are ideal to target different areas and I felt these catered to most households.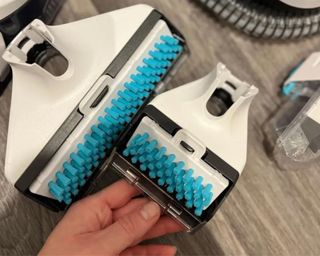 Using the Shark StainStriker
The instructions are clear with easy diagrams for those that need every visual possible — hello. Even I, set this up in a very short amount of time. Five minutes max. You simply detach the water tank, fill it with water to the first line then top it up with the signature Shark cleaning solution to the second line. You then screw the lid back on tightly and put it back in place.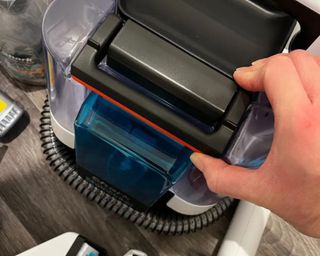 Next, you want to remove the Stain Striker tank and fill it with the OXY Multiplier Formula which I believe is what my carpets owe their fresh scent to. Secure the lid and put it back in place, it is all very easy.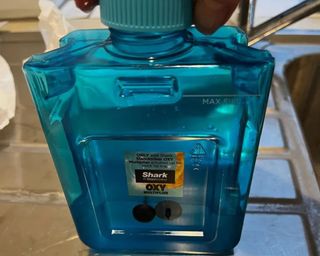 You are nearly ready to go, it is just a case of securing the tool you want to use, to the main crevice tool.
There was an initial moment of confusion and fumbling as I figured out how to attach and detach the different tools that go over the main crevice tool (that you can not and should not remove). But, I did get there in time and it led me to actually scan the QR code on the manual for a little inspiration and the how-to videos are quite handy.
Back to the tools, to remove them, you press the small release button and it slides on and off, feeling almost magnetic. I quickly got the hang of it so I'm sure anyone would, you just need to get the angle right.I found it all very intuitive.
Lifting dry stains
We have a big house and we haven't been so successful at employing the shoes off rule to guests and ourselves. I come in with muddy trainers, we have bikes, there is traffic, so wherever you look, you will find a mark. The crevice tool which is the main tool on the device is small and very easy to use, making it ideal for those little marks that just don't need to be there.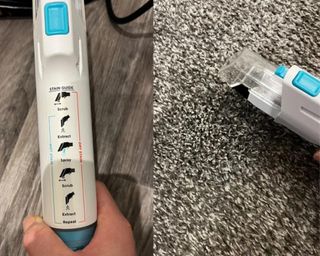 I followed the instructions, spraying the stained areas for a few seconds holding the head level, scrubbing, and then sucking up the remnants using the extractor, which works by simply pulling the crevice tool towards you, as you press into the carpet. I often saw results instantly.
I went bigger with an ugly mauve red wine stain that appeared overnight some two years ago. We know the culprit, and we never shame, but believe me, I have tried to move this stain many many times, and as you can see from the below image on the left, I had little success previous to using the Shark Stain Striker.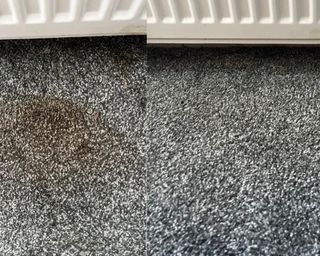 As instructed for deep-set staining, I went over this using the wide tough stain tool once, leaving the solution on for 15-20 minutes or so before scrubbing again and extracting the debris. The image you see above on the right is the result of giving it another once over the following day. The housemates remain impressed, it is indeed a miracle.
The only stains I haven't been able to shift are very small bike oil stains, however, these are dried on and I have a feeling that removing anything fresh wouldn't be beyond the Stain Striker's capabilities.
Using it on new accidents
One of the tools and selling points of the Stain Striker is the Pet Stain Trapping Tool, designed to pick up the ghastly that you just don't want to have to deal with, hands-on.
Thankfully, there were no cat disasters to deal with, but I did dollop a blob of yogurt on the carpet (in an inconspicuous area I might add in case my housemates decide to read this), to see how this thing worked.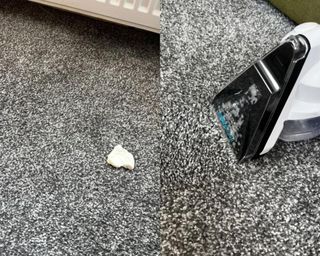 It was pretty efficient, the yogurt was thick, and I did panic at one point but after a few sprays of the solution, and going over the area in more than one direction, everything was sucked up into the vessel for easy and hygienic cleaning.
Since there is no lingering stain or smell, it's like the yogurt never happened...
Cleaning and maintaining the Shark Stain Striker
Cleaning your cleaning supplies after you've just done a load of chores feels like hell to me, however, it is important to keep your machine in good working order and it was very easy with the StainStriker so I really can't complain.
You want to unplug the machine, and pour out the dirty water from the tank, before giving it a rinse. Then all of the clear lids on the tools slide off for easy rinsing in the sink. Note 'rinse', I did not submerge anything in water. You can easily remove the cup from the pet stain-trapping tool too for a good clean.
To clean the crevice tool, you attach the hose cleaning tool which is easy to slot on, you plug the machine back in, switch it on, and press the lever, running it for about a minute so that it clears out lingering debris. You can do this multiple times, depending on how bunged up yours is.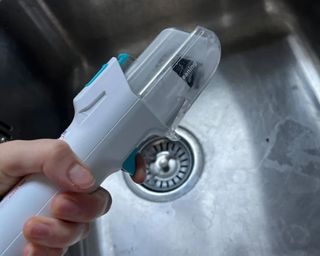 You will want to remove the little black filter too and give it a rinse, everything is really well indicated in the pamphlet and I found the processes self-explanatory.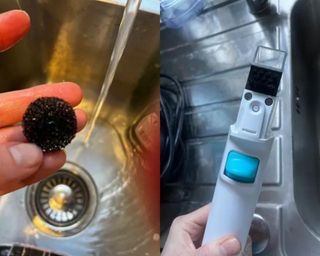 There is also a connecting clip underneath the machine which you can remove to take out any clogged debris. I think it's probably worth doing this every time too as a little gunk and water jetted out of mine when removed.
I let everything air dry. Then you can easily wrap the main hose around the body of the machine with the crevice tool slotting snugly on the side. The cord can also be wound up on the side. It all looks very tidy when wrapped up and I just put the accessories in a laundry bag I use for other items like that of my vacuum.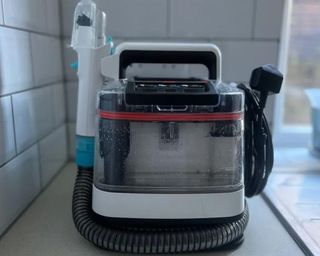 Is the Shark StainStriker right for you?
If your carpets and upholstery are constantly subjected to unsightly and smelly things, I would honestly consider this machine. The carpets look noticeably better and they smell good too, which could even prevent cats repeat spraying as they occasionally do, if their scent still lingers — not ideal for the one cleaning up after them.
It's easy to use and it is just very satisfying to see good results. It is a little loud, but not overly bulky, and it could probably fit on a laundry cupboard shelf, or tucked politely into the corner of your laundry room like ours.
Not what you're looking for? Here are three alternatives: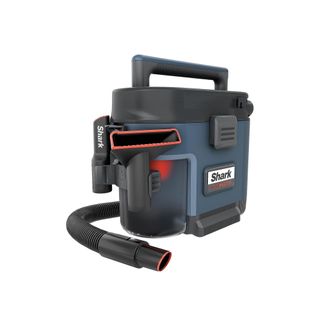 Best carpet cleaner vacuum
Price: $129.99
Size (in.): H13.5 x W16.5 x D10.5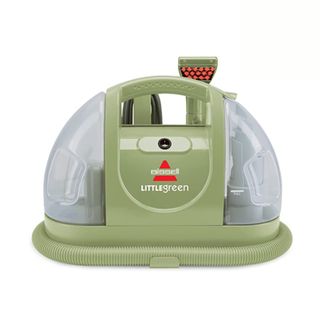 Budget carpet cleaner
Price: $123.59
Size: H13.39 x W19.02 x L9.29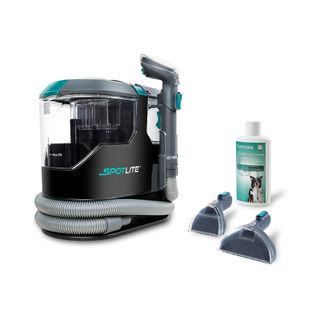 For large homes
Kenmore KW2001 Portable Carpet Spot Cleaner & Pet Stain Vacuum
Price: $149.99
Size: H16 x W9 x L14
How we test upholstery cleaners
We test solutions and machines in our own homes, to clean real-life day-to-day messes that we're faced with. We don't go spilling red wine on our carpets and rugs on purpose, because that would be counter-productive. Instead, we keep them underneath our sink and in our cleaning closet and use them when necessary, while snapping photos as we go.
Here are some of the things we look out for:
Price: How does it compare to similar models on the market
How efficiently does it get rid of the stain? We look at how many passes it takes to remove the mess in question.
Accessories: How useful are the additional parts provided in cleaning?
Nozzle dimensions: Is it long enough to extend to the area you want to target, and is it thin enough to get to hard-to-reach areas?
Weight: Is it hard to carry upstairs or outside?
Water tank: How easy is it to fill and empty? Does it detach?