It's official: robot vacuums are, without a doubt, the future of home cleaning and the Roomba S9+ is top of its game. So if you're wondering whether robot vacuums are worth it, yes they really are. I was so impressed by the predecessor, the i7+, that I jumped at the chance to welcome the S9+ into our (exceedingly dusty) family home. It costs nearly £400 more than the i7+, which is already an eye-watering pricey. We tested the Roomba S9+ for six weeks to suss out the key differences and work out if it's worth the extra spend.
FYI: we did rate it as one of the best vacuum cleaners for pets. Not to use as a solo vacuum, but to use alongside your cordless vacuum to help keep on top of the layer of pet hair that seams to coat your floors each day.
Discover more of the best vacuum cleaners, according to our testing.
iRobot Roomba S9+ specifications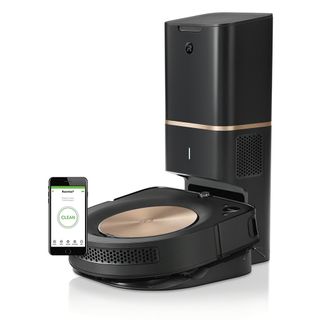 Best for: living your best life
Noise level (dB): not available (and definitely not quiet)
Battery life: 60–120 minutes
Weight: 3.7kg
Recharge time: 60 minutes
Smart features: Voice control, Home mapping, Keep Out Zoning
Who will the iRobot Roomba S9+ suit
Perfectionists with plenty of cash to splash and no time to clean.
What is the iRobot Roomba S9+ like to use
Just like its predecessor, the s9+ is a breeze to get started. Download the iRobot App, choose your model, key in your WiFi password and press the Spot and Home button together to pair. A jaunty little ping and you're good to go. To clean, simply press the hoofing big 'clean' button on top, or use the App on your phone. I linked it to Alexa, also a piece of cake, so I could bark orders from my bed!
Design improvements
Besides the auto-emptying clean base (more on that later), the key difference between the s9+ and most other robot vacuums out there is its shape. While the majority of robot vacs (the Neato is a notable exception) are round, the new s9+ is D-shaped. And, with its twirly brush protruding from one corner, it gets right into the crevices of your home. Believe it or not, fear of dirt-filled corners is one of the biggest deterrents to buying a robot vac, and the main reason iRobot launched this model. The corners of my home have been blissfully dust bunny free since the s9+ arrived so any cleaning obsessives out there can rest easy.
The s9+ is also sleeker than its predecessor, and lower to the ground, which means it slips effortlessly under my island unit and bar stools without getting stuck. The brass disc design detail on the top is very pleasing to the eye but it is also a lid. Underneath you'll find the filter, which is much easier to remove for cleaning than tipping the robot upside down to get to the filter underneath (as is the case with the i7+ and most other models I've studied). It's wise to bash the dust out of the filter at least once a week, especially if you are mid-reno like us, so this is a useful improvement.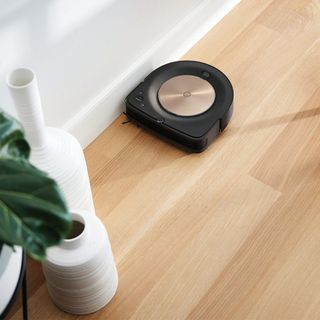 How good is the smart tech?
Room mapping is what really makes this bot so effortless. Use the App to send it off on its first exploratory training runs (it took three to map our ground floor), where it will put its bazillion sensors to good use creating a map of your home. Next, name each room and delete or move the room dividers suggested to get a more accurate layout. Then if someone (the kids) make a mess in one room, simply send Roomba off to sort it.
You can schedule different rooms on different days, too. I scheduled a kitchen clean at 7.30am every day, while on the school run, then did the full ground floor three times a week. One new feature I loved was the ability to create Keep Out Zones on the maps, I did one around the dog's water bowl and one around the two chairs that kept grounding the s9+ in our kitchen, problem solved! You can also tag team the s9+ with iRobot's Braava Jet m6 robot mop, so once the floor is dust free, the mop gets to work. Mind. Blown.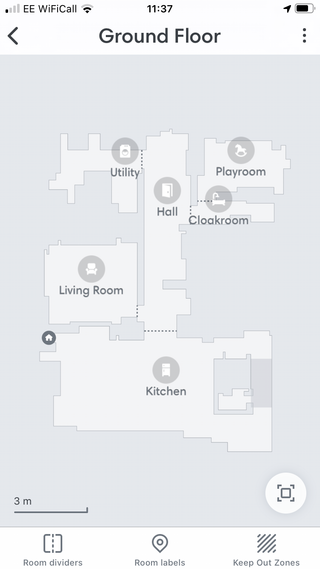 Does the iRobot Roomba S9+ vacuum really work?
This is a truly powerful beast, in the bot-vac world at least. According to iRobot, the s9+ is 40x more powerful than its 600 Series, and 4x more powerful than the i7+. Of course that extra power is always going to impact battery life so this model only uses the power when it's needed – i.e. on carpets.
Rather cleverly, it automatically powers up when it hits carpet and then goes quieter, using less power, when it trundles back onto hard surface. If you value longer cleaning runs (and peace and quiet) over suction, you can set it to Quiet Clean, which turns the suction right down, or set your preferred cleaning power manually via a slider on the App.
The two rubber brushes that pick up most of the dirt are positioned at the flat end of the D-shape, which means they are wider than you'll find in a round models and do a better job. I found them very good, except when it came to hair.
The rubber treads are supposed to prevent the annoying hair clogging situation that's a common issue with brushy rollers. Alas, I still had to cut bands of hair off every couple of weeks and dig it out of the end cogs of the rollers, too, yuk. There are three females with long hair in this house, plus two dogs - clearly we're not doing a good job of keeping it on our heads!
Tackling different floor types
We have more flooring types than your average DIY store in our home, specifically; vinyl, terracotta, ceramic, encaustic, engineered wood, screed (subfloor still waiting to be covered), and carpet, plus numerous rugs. The Roomba s9+ took all of them in its stride. I particularly love the 'carpet boost' function for making me feel like the carpets and rugs were getting a really decent clean.
What's the Clean Base about?
If you're not savvy to the pure genius that is iRobot's Clean Base, you need to know one thing – it's amazing. The Roomba locks onto the Clean Base, which is also its charging station and empties its waste into a much bigger vacuum bag, which can take at least 30 loads. If I had to empty said 30 loads manually, I'd soon lose the will to live. And, unlike the i7+, which has its emptying port at the side edge, the s9+ has its emptying port in the centre of the base. According to iRobot, this means no dust or particles escape during the evacuation process. I don't have any dust-particle monitoring equipment for testing that theory but I will say the robot itself stayed much cleaner than the i7+ so it's a credible claim.
Manoeuvrability of the iRobot Roomba S9+
The s9+ has big, bouncy wheels that can deal with a decent floor level switch – up to 4cm with ease. It even conquered the extra deep shag pile Ikea rug that the i7+ avoided like the plague, although on occasion the stupidly long tufts did get stuck in its rollers and ground it. Cue a distressed "help, I'm stuck" message on my phone.
Fringed rugs are also a no-go, the s9+ eats them for breakfast. Then gets stuck with fringing wound tightly around its rollers. Ditto any phone or charging cables lingering on the floor. The children's Kindle leads have been eaten more times than is probably healthy for the leads, or the robot.
It's also wise to do a visual sweep of the floors before the bot sets off, as the s9+ has no problem guzzling up Barbie's handbag/hairclips/LOL Surprise Dolls. Cliff edge sensors underneath prevent the robot from throwing itself down any steep steps or stairs so you don't have to follow it about like a toddler hell-bent on self-destruction.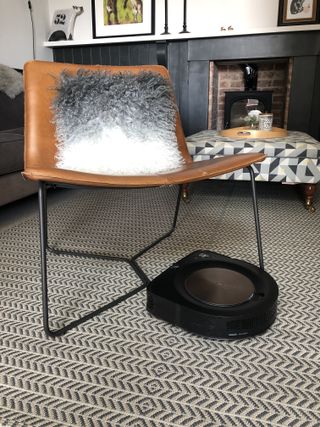 How does the iRobot Roomba S9+ rate online?
This a new model to the UK, so there are precious few online customer reviews. The one on iRobot's own UK website is fully complimentary though, and all the professional online reviews also give it 9/10 on average. Looking on Amazon's American site, 250 customers gave it 3.6 out of 5 stars. Those giving it low stars complained of glitchy software and issues getting the s9+ to work at all – hopefully these bugs were ironed out before it hit the UK! This sentence from a more recent US review pretty much sums the s9+ up for me: "If you can afford it, you should get it."
How does the iRobot Roomba S9+ rate against similar vacuum cleaners?
The closest comparison, because it also has the epic Clean Base, is the i7+, but the s9+ is 4x more powerful and a much better shape for getting into corners. I found it more agile and better at navigating floor levels changes, too. Besides, what's £400 between friends?