We are all about quick, easiest decluttering tips here. Because we are spending so much time at home at the moment, we want our rooms to be as clutter free as possible BUT, despite being at home, a lot of us actually don't have a ton of spare time to be cleaning and tidying.
So, we have roped in the professionals to give us the best, most efficient way to declutter out homes room by room. Here, interior designer and decluttering expert (she literally declutters houses as part of her job) Vanessa Towers talks us through the best ways to tidy and organise our homes.
If you are after more cleaning tips to get your house sparkling this weekend, head over to our hub page and check out Vanessa Tower's gorgeous website too for more ideas.
The first step of decluttering your home
The key to creating and maintaining a clutter-free home is to ensure everything is organised and put away in its rightful place. However, before even thinking about what belongs where, you must first go through the discarding phase, which is where you make the decision to relinquish anything that is unwanted or unneeded. I'd recommend carrying this out room by room and in a methodical way, as follows:
Take everything in the room, and group items into categories.
Go through each category, reviewing every item one by one. If it is not something you love, or use, or that brings value to your life, or if it is broken beyond repair, then put it in the discard pile.
I'd recommend tackling anything sentimental last, since it can be emotional to sort and can end up slowing the process down.
For anything you've chosen to discard, create three piles - for charity, recycling and the tip.
Once you have completed the discarding phase, it's time to start putting things away; everything needs to have a home. One of the core principles in design is that "form follows function" and when it comes to putting items away, keep this principle in mind and think about what each room's core function is. This will help you to establish what belongs in that room, and what doesn't.
Now let's review room by room:
How to declutter your kitchen
The kitchen is the engine room of the home and so it needs to be as clear as possible so it can operate like a well-oiled machine.
There is always so much in a kitchen that I've found clients never use and so a lot is relinquished in the discarding phase. In particular it tends to be food that has passed its use by date, chipped cups and crockery, mismatched Tupperware, pan lids, one-hit-wonder gadgets, duplicate utensils, teapots… and the list goes on. I'm sure you'll find more but this is a good place to start.
Clear as much as possible from the worktops and from the top of wall mounted cupboards, and instead store it inside the cupboards. Generally clients clear so much in the discarding phase that there is ample space created to organise what's out on the side, back into the cupboards.
It can be difficult to see and access items at the back of cupboards and a couple of good solutions are storage containers that you take out of the cupboard when you need something, and Lazy Susan turntables for smaller items like spices. I'd recommend you label any containers with their contents e.g. "condiments" or "cleaning".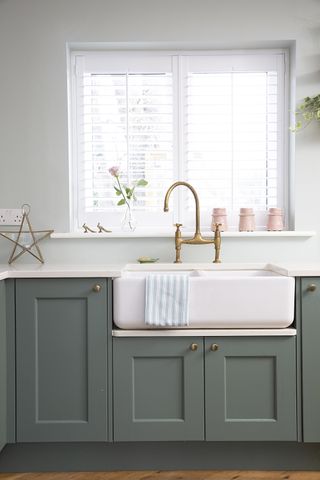 Group things in the fridge and store in plastic containers (again, label them). I'd recommend separate containers for veggies, fruit, dairy, meat, fish and condiments. This way, when you pull out the containers you have a view of everything you have, rather than forgetting about items that have been pushed to the back.
Use clear mason jars to store dry goods. Mason jars are great as they're airtight, so retain freshness, they come in lots of different sizes to fit your space, and they're eco-friendly as you can take them directly to zero-waste stores to top up directly without having to buy more packaging. They also look great on open-shelving. Just make sure you label them so you know what's inside!
Consider additional storage solutions you can create using any empty wall space. For example, open shelves and wall-mounted rails to hang utensils from, both of which have become very fashionable kitchen trends.
How to declutter you living room
Living rooms are primarily for relaxing, and keeping it clear will help you to do this without becoming distracted by all the clutter.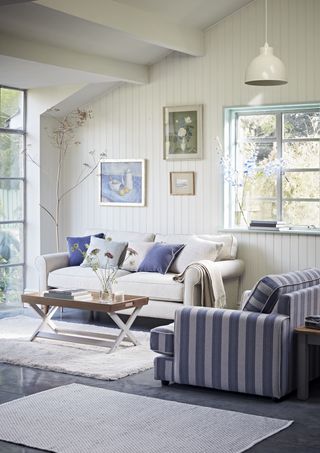 Of all rooms in the house, ornamental items tend to find their resting place in the living room, often cluttering up mantelpieces, sideboards and window sills. Of course it's fine to have your lovely ornaments on display, but take the time to rationalise, making sure that you create a beautiful arrangement of your favourite things, rather than simply a crowded menagerie of stuff.
From my experience with clients who struggle with clutter, I can safely say that living rooms function better as toy-free zones. However, this will obviously depend on where else in your house that you have to feasibly store toys. If the living room is the only place they can go, then I'd recommend investing in furniture that can double up as storage such as sideboards which can house storage boxes and baskets, ideally behind closed doors. Ottomans are also a great additional storage solution.
If you have a magazine rack for your papers and magazines, then I'd recommend having a daily purge so you're not amassing more and more.
How to declutter your hallway
The hallway is the first thing we see when we cross the threshold into the home and a clear and tidy hallway is a much nicer welcome home than a cluttered space.
If you have an under-stairs cupboard, then make the most of it for storing outerwear like coats, shoes, hats, gloves and umbrellas. Invest in coat hooks, storage boxes and shoe racks and get as much out of the hallway as possible.
If you do not have an under-stairs cupboard, then consider a shoe cupboard over a console table as they hide the shoes neatly behind closed doors. There are now a lot of slimline options available to minimise the amount of space they take up in narrow hallways, which is great.
If you have coat hooks in the hall, then I'd recommend keeping just one coat per family member on them otherwise they can puff out to make the space feel cramped. Any excess should be stored away in the bedroom wardrobes.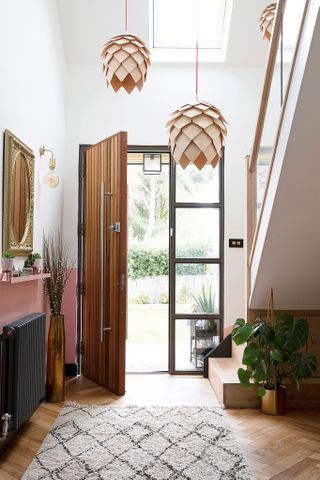 An umbrella stand is great as they can be tucked neatly into a corner and don't take up too much space. There are also some lovely decorative options available.
Have a designated area for children's school bags. An additional row of pegs running at half the height of the coat hooks can be a good option for this.
Make sure your post goes straight from your doormat to the action pile in your study/home office. Do not leave it unopened on the hallway table.
How to declutter your bedroom
Poor quality of sleep is at epidemic levels, and this certainly won't be helped by going to sleep in a cluttered bedroom. Having a clear space helps us to feel calmer and will inevitably help us to relax and unwind before bed.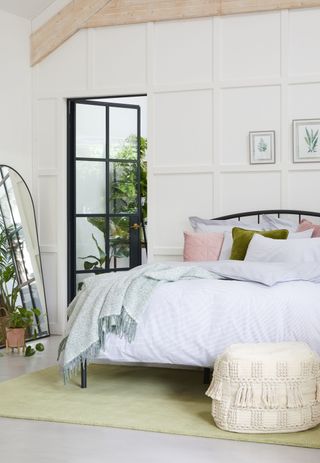 By far the biggest clutter culprit in a bedroom is clothes, so I've added a whole section on wardrobe organisation below.
Dressing tables and tops of drawers can often become crowded with fragrances and toiletries and I'd recommend trying to put all of this into drawers. Use drawer dividers to organise make up and toiletries into sections
If you have piles of books in the bedroom, then I'd recommend moving these to a designated book shelf in another part of the house, keeping only one or two at a time that you're reading on your night stand
Keep anything work related out of the bedroom and move it to the home office/study. The bedroom should be a place of relaxation; work has no place in this room.
How to declutter your home office
It's probably no surprise that a study by Harvard University found that less desk clutter makes you more productive. The space in which we work therefore needs to be clear and inviting so that we're encouraged to work, rather than distracted by clutter.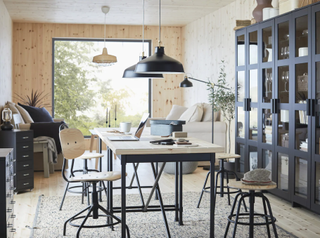 Paperwork is by the far the biggest issue in causing clutter in work spaces, yet so much is available online now that there is little need to keep any of it… think bank statements, utility bills, old receipts, white goods manuals etc. However, there will inevitably be some documents that you need to keep, so it's important to create a decent filing system. I'd suggest rationalising documents into just two principle areas: 1) to action 2) to keep. The action pile should be reviewed and dealt with on a weekly basis at which point that paper can either be discarded or filed. The keep pile really should be kept as minimal as possible, and can be further broken down into categories such as "house" (e.g. title deeds, mortgage agreement, tenancy agreement), and "family" (e.g. marriage certificates, birth certificates etc). Obviously you can choose categories that are relevant for you, but just make sure you are only keeping what you actually need to.
Apply for online statements and updates from utility companies, banks etc so you are not accumulating papers unnecessarily.
Invest in drawer dividers for the stationery drawer and for that "bits and bobs" drawer that we all seem to have for batteries, phone cables etc.
Open any post the day you receive it and make any necessary actions within the week, then dispose of the letter if you do not need to keep a record of it.
Give away to charity any books that you've read and no longer want, or will never read. Then organise the remaining books into an order that works for you. Some people like to group them alphabetically, or by genre, or even colour-coordinate them! I'd suggest putting the biggest, heaviest books on the bottom shelves.
Vanessa Towers is currently offering virtual decluttering sessions during the lockdown. Email contact@vanessatowers.co.uk for details.
Read more: