Created in partnership with Nectar
With January out of the way, it's time to dust yourself off from a cold and dark winter and prepare for a fresh start.
Spring brings with it plenty of new ideas and projects, and along with the dreaded spring clean, it's the perfect time to refresh your home with some interior updates, too.
Need some inspiration? The best ideas are inspired by the past, and from minimalism to bohemian chic, last year's SS17 trends were packed with creativity…
Kitchen: cactus cool
Three cactus planters take centre stage in this industrial-style kitchen, which is toughened up with stainless steel and bold black chairs
Forget pineapples: the cactus was the natural emblem of SS17, and what better place to show it off than the kitchen?
Stylists invoked the season's botanical trend by pairing the plant with a light colour palette and raw materials.
Some paired the plant with other organic elements for a fresh look, while others toughened it up with leather and metal to add industrial character.
Bedroom: sleep sanctuary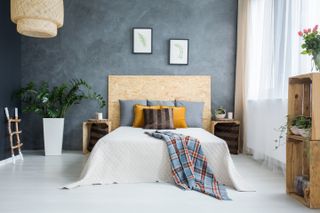 Muted grey walls, comfy throws and floaty window dressings transform this bedroom into a tranquil haven
From major political elections to whirlwind social media storms, 2017 was a reflection of our own lives, packed with more work, social events and weekend chores than we could handle.
With so much going on, it's no wonder that one of the major themes of the season was escapism. Naturally, it was the most relaxing room in the home, the bedroom, that got the biggest makeover.
Light colour palettes and plenty of space was key to creating a calm haven, while shaggy rugs and oversized throws added some much-needed comfort to the space.
Kid's room: space adventure
A space-theme introduces an imaginative theme to this children's bedroom. Chalk paint means that kids can have fun decorating their own space - without any mess
For kids, playtime doesn't stop at the school playground, so it's crucial that their bedroom matches their unstoppable sense of adventure – and SS17's kids' bedroom trends were anything but boring.
From pirate ships and the deep blue sea to outer space and the Amazonian rainforest, creativity was key when it came to this trend.
Wallpapers, DIY stickers and props came top of the shopping list – inexpensive and easy to use, they're an easy way for your kid to personalise their space.
Bathroom: new neutrals
Large wall and floor tiles, neutral colours and a glass shower screen are the foundations of this minimalist bathroom theme
A far cry from the sharp metallics that have dominated bathrooms in the past, minimalism was a huge bathroom trend in 2017.
The Scandinavian look was recreated with neutral colour palettes and clean lines; cool whites, beiges and greys were the key tones to recreate, while clever designs like large tiles and silver accents made bathrooms look more spacious.
Living room: muted tones
Neutral greys, whites and creams are complemented with a pastel blue sofa in this living room, which uses statement accessories like oversized lamps and patterned stools to liven up the space
Like the bedroom, the living room is a key area for relaxation, so last year's interior trend was all about creating a tranquil space that invokes calm.
Muted tones like grey, light pastels and chalky whites created a comforting and inviting space, but the subtle colour palettes were contrasted with bold lighting and furniture.
Statement pieces like patterned footstools and oversized lamps were also big: the key was to create drama through shape and design.
Dining room: back to nature
A deep wood dining set and wooden wall decorations invoke a natural theme in this dining room
Natural materials were the focus of SS17's dining room trend, with wooden furniture remaining a stylish and popular choice.
We saw soft materials like cork contrasted with metal or glass to create a focal point that elevated the space from boring to bold.
Metallic colours like copper and brass were paired with exposed brick for an industrial theme, while deeper wood colours were set against moody grey hues for a fresh contemporary update.
Study: jungle retreat
Plenty of foliage and attention-grabbing botanical chalk wall illustrations transform this study into a jungle haven
SS17's botanical trend continued in the study, where bold palettes of blues and greens, tropical prints and leafy plants transformed the space into a creative jungle haven.
Raw materials like wooden desks, rattan chairs and bamboo-inspired accents helped to invoke this striking theme.
Garden: comfy and casual
Relax in style with simple wicker furniture like this set of garden chairs, with extra cushioning for ultimate comfort
Your garden is the perfect escape come summer, and last year's garden trend was all about comfort.
Sofas, swings and hammocks were on full display to create a holiday feel, while bold prints in pillows and throws injected a splash of colour into the scheme.
Finishing touches like tea lights and lanterns added atmosphere and created the perfect social setting for summer soirees and barbecues.
For more inspiration and advice, read Nectar's seasonal style guide.