If, like me, you're working with a small amount of storage space in your apartment (or your small home) then it's time that you put a few tiny space storage ideas to good use. Number one on your to-do list, though, should be to invest in a storage ottoman. Because storage and organization products don't always have to be plastic, single-functional, and cheap. If you've got the floor space, a storage ottoman is well worth the investment as this piece of multi-functional furniture can also double as a seat.
If you're looking for somewhere stylish to store your shoes, then a storage ottoman could be what your entryway is missing. Looking for extra bedroom storage ideas to hold your handbag collection? A storage ottoman will look gorgeous placed at the bottom of your bed — plus it's an extra seat for when you're putting your socks on half asleep. Need more living room storage for your general clutter? You guessed it: a storage ottoman is just what you need, as it will fit right in with the rest of your decor. You can also buy one that can double as a footstool or a coffee table.
You're probably wondering where to even start when it comes to finding a storage ottoman for your place. And we're right behind you. No need to worry as we've done the research and shopped around our favorite places (Amazon, UO, Wayfair) to round up the best-rated storage ottomans by shoppers. Yes, this means all of the storage buys below have been highly rated by reviewers, for your peace of mind. They're all less than $250, too! Happy shopping (and storing!).
9 storage ottomans shoppers really rate (especially for small space dwellers)
Why you can trust Real Homes Our expert reviewers spend hours testing and comparing products and services so you can choose the best for you. Find out more about how we test.
Round storage ottomans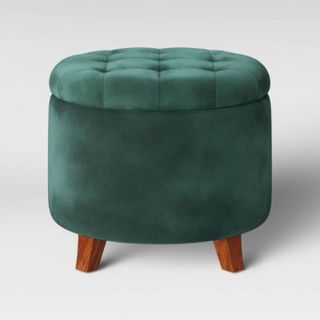 $95
1. Threshold™ Tufted Round Storage Ottoman
Our favorite round storage ottoman
Size (in): H17 x W20 x D20
Made from: Velvet/Polyester
Colors: Velvet Green, Heathered Blue, Cream, Charcoal
We're a big fan of this Target storage ottoman for smaller spaces. It'd work in a tiny living room or small bedroom, plus it doubles as a side table or an extra seat. It sits on four wooden legs and although the space inside isn't huge, it will fit a few pairs of shoes, bags or even your hair tools. More than 600 reviewers love it, giving it a 4.5-star rating. Wrapped in a velvet fabric, it looks twice its price tag — plus it comes in a range of stylish colorways and fabrics.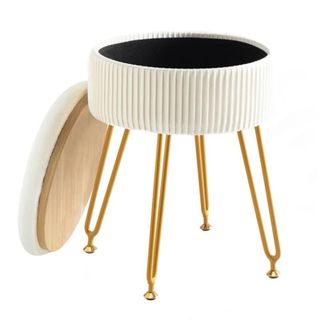 $43.99
2. Marny Upholstered Storage Ottoman
Our favorite small storage ottoman
Size (in): H18 x W13 x D13
Made from: Velvet
Colors: Black/Pumpkin Brown/Beige/Green/Grey
If you're looking to spend less than $100 on a storage ottoman, you've got to be quick 'cause this Wayfair storage ottoman is on closeout. The chenille texture on this pick gives it a premium finish that'll coordinate with a couch made using the same sofa fabric. Use it as an accent chair, or as a side table for your fave snacks while you're sitting on the sofa.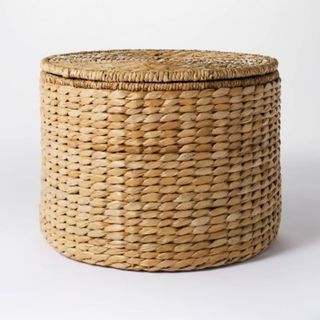 $99.99
3. Threshold™ Woven Storage Ottoman Natural
A boho beauty
Size (in): H15 x W20 x D20
Made from: Seagrass
Colors: Natural
Another top-rated buy from Walmart's Threshold range, but this storage ottoman is also designed in collaboration with Shea McGee. It can definitely double as a coffee table and it's the perfect place to keep extra blankets and cushions. It's made from seagrass and its flat top is perfect for holding your hot cup of joe or your favorite scented candle. Shoppers love it and have rated it 4.9-stars out of five for looks and functionality. You can fit a lot in there!
Faux leather storage ottomans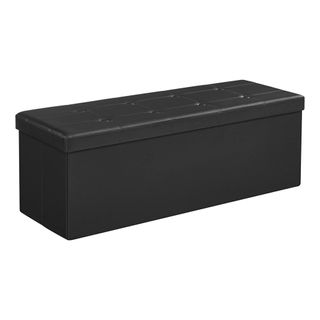 From $42.99
4. SONGMICS 43 Inches Folding Storage Ottoman Bench
Budget-friendly
Size (in): H15 x W15 x D30
Made from: Faux Leather
Colors: Black, Brown, Light Grey, Beige, White
Foldable and affordable, this Amazon storage ottoman is raved about by reviewers far and wide. With more than 20,000 reviews backing it up, it has a 4.6-star rating. Inside sits heaps of space, 31.7 gal to be exact, for everything from your bed cushions to extra shoes and more. It's also nice and sturdy so it can hold your weight if you want to use it as a seat, or it could easily be used as a coffee table as its top is padded but it's flat. The best part by far is that it folds away when you don't need to use it.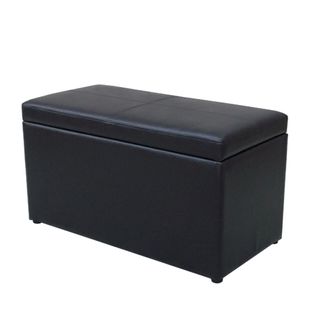 $62
5. Better Homes & Gardens 30-inch Hinged Storage Ottoman
Hinged and foldable
Size (in): H16.75 x W15 x L30
Made from: Faux Leather
Colors: Black, Brown, Sand
This hinged ottoman is totally functional and is brilliant for a bedroom or an entryway. It also doubles as a seat and it's wrapped in faux leather. It's approved by more than 1,800 Walmart shoppers, who rate it 4.8-stars out of five. Admittedly, it's a little basic but it definitely does the job of storing stuff out of sight as it can fit a bunch of stuff inside. It also folds away when not in use, genius!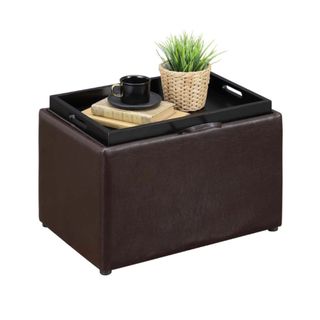 From $52
6. Convenience Concepts Designs4Comfort Accent Storage Ottoman
A storage ottoman coffee table
Size (in): H16 x W22.75 x D15.75
Made from: Faux leather, Wood
Colors: 10
This genius design doubles as a trendy coffee table, with its reversible lid having a tray on one side, for your drinks and more to sit safely. This reversible lid can be styled to have a padded top or a flat one depending on your preference — and where it will be used. Its tray has handles and is made from wood. The ottoman itself is wrapped in faux leather and inside sits heaps of empty space for you to fill. Choose from a whopping 10 colors to suit your decor, plus it starts from a budget-friendly $52!
Storage ottomans for entryways
$213.99
7. Mosier Upholstered Flip-Top Storage Bench
Our favorite storage ottoman bench
Size (in): H21 x W48 x D16
Made from: Polyester, Velvet, Wood
Colors: Dark Navy, Light Aqua / Gray / Pink
If chasing trends gives your wallet the ick, stick to classic style with a mid-century modern storage ottoman bench like this one. It's also the perfect addition to an entryway as it's also a bench, to double as somewhere to sit when putting on your shoes (our pulling those Uggs off). It comes in four colors and has solid walnut wood legs. If you do happen to spill coffee on it, don't sweat — it can easily be spot cleaned! It's a breeze to assemble and all the tools you need are included. Plus, 1,000+ reviewers are obsessed with theirs, rating it an average of 4.7 stars.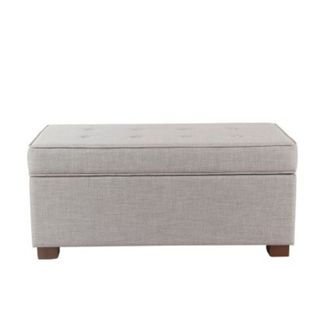 From $122.50
8. Threshold™ Shelton Tufted Top Storage Ottoman
Elegant yet practical
Size (in): H17 x W38 x D18
Made from: Polyester, Wood
Colors: Grey, Dark Grey
How timeless is this storage ottoman from Target? We're loving the clean lines, and how it looks like it should cost double its price tag — 400 reviewers also agree with us, rating it 4.6 stars out of five. It comes in two shades of grey and its tufted detailing really adds to the look. Its thick padded seat makes it comfortable for sitting, hence why we recommend it for an entryway. Inside you'll find so much space for your shoes to live, so if you own several pairs then this is the storage ottoman for you!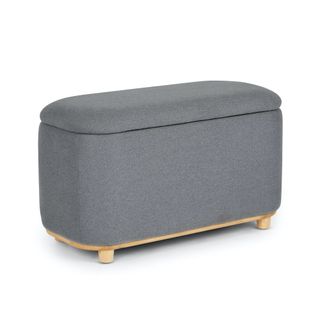 $249
9. Article Maribo Stately Gray 32" Storage Ottoman
For smaller entryways
Size (in): H18.5 x W32 x D15.5
Made from: Polyester, Wood
Colors: Stately Grey, Ivory Bouclé, Blue Demure
This deep storage ottoman from Article is stylish and space-savvy. It's fitted with a padded top for your comfort, plus it has a soft-close lid for any heavy handed people in your household. Inside you can fit heaps of shoes and it sits on a wooden frame for that Scandi vibe you love. It also comes in a 48-inches wide size if you've got more space and even more shoes to store. And it works well in a bedroom, too. Super stylish, and Article shoppers totally agree, giving it 4.9 stars out of — you guessed it — five. Pssst, it also comes in a super cute bouclé fabric if that's your thing.
How we chose these storage ottomans
These storage ottomans have been carefully chosen, based on their style and their customer reviews and rating. Only the best-rated storage ottomans have been featured in this guide, giving you a rundown of the highest-rated storage ottomans on the web.
What to consider when buying a storage ottoman
You'll want to consider a few things before buying a storage ottoman:
1. Size
How much space do you have for your storage ottoman to sit? Will it double as a piece of furniture (e.g. a coffee table) or will it function just as a storage ottoman? Be sure to measure your space before buying.
2. What will you store in it?
Collect everything up that you'll need to fit in your storage ottoman and check that it will actually fit in there. Always go for something with more space than you'll actually use, as you'll always find a way to fill it. Anything too small might annoy you, however.
3. What's it made of?
We've featured a range of storage ottomans on our list, made from the likes of velvet, faux leather and more. Be sure to choose a design that fits in with the rest of your furniture, otherwise your storage ottoman will stick out like a sore thumb. Which, by the way, is exactly not what you want. It should really disguise into your home and barely be noticeable as storage.
4. Can it fold?
Some storage ottomans can fold away (genius!) when not in use. These are great for using for seasonal clothing or even if you move a lot. For most though, this won't be a necessity.
Where to buy a storage ottoman
There are plenty of places that you can buy a storage ottoman online, but here's where we definitely recommend browsing if you're yet to find the design of your dreams: