Learning how to lighten up a small living room is a key part of making it look bright and stylish. Good lighting can even make it look bigger and more open, which is always useful when you don't have a lot of space to play with.
The living room in my rental is split into two zones — the zone with a window and the zone without a window. You can guess which one I spend more time in. That's a whole lot of space that I'm not actively using, though so if there's a way to lighten it up without upsetting my landlord, I'm totally game.
Thinking lightening up your space is a fab small living room idea? I've spoken to experts to find out the best ways to do that, that don't involve painting your walls or drilling into them. Get ready to take notes, as there are some seriously clever tricks coming up.
6 expert-approved ways to lighten up a small living room
Want to know how to decorate and organize your small living room so that it looks light and bright? Here are six tips that interior designers swear by.
1. Utilize natural light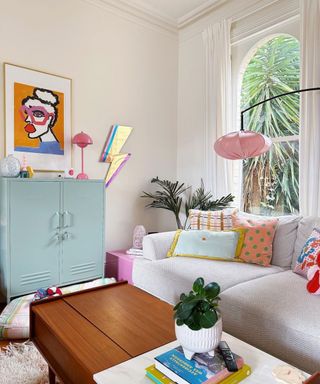 It can be so easy to shut the curtains at the earliest opportunity, especially in cooler months — but making the most out of natural light is really important. "Keep your curtains and blinds open during the day to allow as much natural light into the room as possible," explains Ricky Allen, interior designer and director of Ever Wallpaper. He says that will create an illusion of a larger and brighter space.
Ricky Allen is the interior designer and director of Ever Wallpaper. It sells high-quality wallpapers and murals, using non-toxic, odorless, and environmentally friendly materials.

2. Choose lighter-colored furniture and decor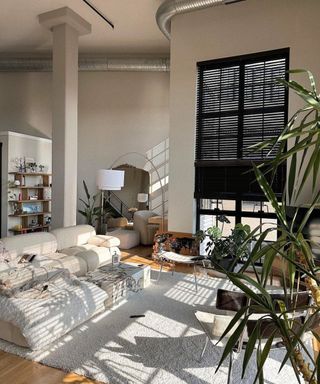 Even if you can't paint your walls, you can still choose what color your furniture is. "Dark or heavy furniture can make a room feel cramped and oppressive," Allen tells me. Instead, he suggests opting for lighter-colored furniture.
Wondering what shades to go for? "Decorate with beige and tan, as they can help make a space feel bigger and brighter," adds Christina Giaquinto, professional organizer and brand ambassador for Modular Closets. "For example, incorporate a soft tan couch, beige candles, or even beige throw blankets."
Christina Giaquinto is a professional organizer and brand ambassador for Modular Closets. She focuses on giving her clients the tools, methods, and techniques to transform their lives and homes through decluttering and organizing.
3. Declutter your living space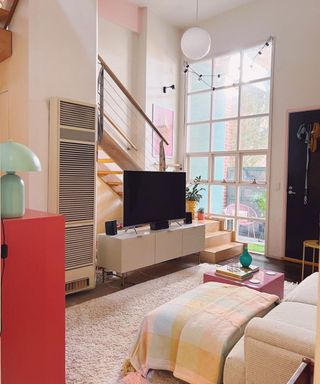 This is an easy, almost instant way to make your living room look lighter. "Clutter creates a feeling of chaos and can make any room feel so much smaller," explains Giaquinto. "When you live in a smaller space, it is so important to simplify your home and commit to keeping it decluttered, simplified, and organized." She adds that it can actually be a blessing to have a smaller space because you have no choice but to fill it with items that truly matter to you.
4. Create your own lighting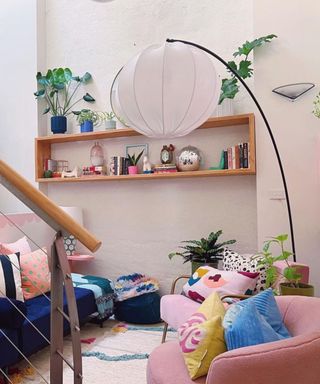 You might not be able to change whole fixtures in a rental — but you can create your own. "Buy swag hooks and cord stays, some cloth-covered wire in a color that excites you, and choose plug-in pendant lights or chandeliers to add to the spaces in your living room without enough light, or where the existing overhead light is just not your style," says Meggan Fadden Wynja, interior designer and co-founder of Color Cord Company. This is not only a budget-friendly idea, but will also allow you to create unique pieces that no one else will have in their home.
Meggan Fadden Wynja is a certified interior designer (ASID, NCIDQ) who has been working in the field for more than 20 years. As the design director and co-founder of Color Cord Company, she currently specializes in creative lighting design.
5. Hang up or prop up a mirror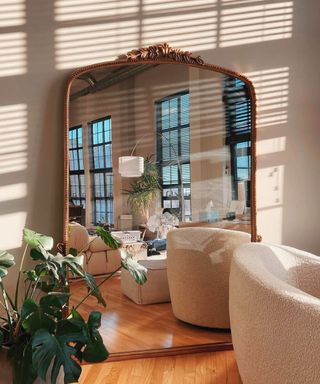 Mirrors are an amazing way to make a small room appear bigger. "Hang or place a mirror on a wall opposite the mirror," Giaquinto explains. "The mirror will reflect the natural light from the window, making your living room feel larger, cleaner, and more open." This will also help make the room look even brighter. "You can also hang multiple smaller mirrors to add dimension and brightness," adds Allen.
6. Replace darker curtains and blinds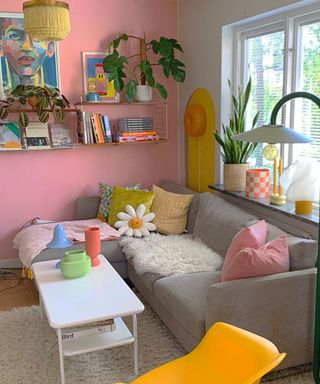 While your rental might have come with boring and bland curtains and blinds, that doesn't mean you have to stick with them. "Consider carefully replacing them with a light-colored shade instead," says Fadden Wynja. She notes that if you do this, be sure to put the originals in a closet, to reinstall before moving out.
3 buys to help you lighten up your small living room
Get your small living room looking bright and beautiful with these three renter-friendly buys.
The prices below were correct at the time of publishing this article.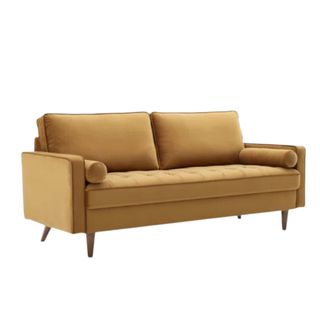 Versatile
Price: $445.30
Go for a tan-colored couch to add a breezy focal point to your living room. With thick cushioning and bolster pillows, it looks like the perfect place to relax after a long day.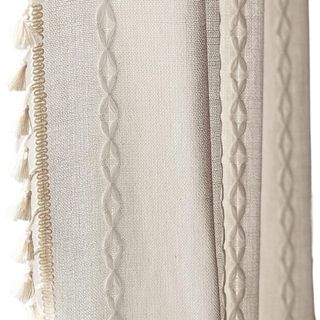 Breezy
2. Deeprove Boho Curtains
Price: $28.49
I'm loving the textured pattern and tassel trim on these curtains, which make them look really airy and elegant. These are semi-blackout, so they'll still bring in a little bit of light even when they're fully shut.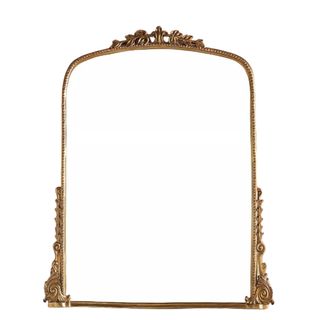 Royalcore
3. Gleaming Primrose Mirror
Price: From $548
This is the mirror that @aloftlife_ has in her living room, and I'm absolutely in love with it. It is a little bit pricey, but if you want to invest in a mirror that will last for years to come, this is a fab choice.
FAQs
How can I lighten my small living room?
There are three quick ways you can do this. Firstly, choose light-colored decor, such as whites and beiges. Then, add lighting fixtures and furnishings in places where there isn't any light. Finally, hang a mirror onto a wall near a window, to reflect light from this.
How to make a small dark living room look bigger and brighter?
If you can't choose your wall paint, going for light-colored furniture is a great way to instantly add lightness. Make sure to keep curtains and blinds open to let natural light in, and choose lighter fabrics for these. Mirrors will also create the illusion of space — go for a larger one if you want to maximize impact.
---
Now you've lightened up your small living room, you might be wondering how else you can make your home look more airy and spacious. These are our favorite ways to brighten up a dark room, with 26 expert-approved ideas.