Adding wall patterns to a room, whether with paint or wallpaper, is a one-stop shop for giving your space a refresh. Whether you're confident with colour, passionate about patterns, or even on the cautious side of decor, there are plenty of ideas to suit all tastes. Whatever your style, and whatever type of home you have too, these textured looks will have enduring appeal and will translate well in a period home also.
To get you started, we've rounded up the latest design ideas and looks for the walls of your period home to help you create the perfect starting point for your scheme.
Find more inspiration, advice and tips on our dedicated design hub page.
1. Add period drama with moody florals
Don't lament the dark winter days, instead embrace them with floral decorative walls in midnight shades for a sophisticated, feminine look.In homage to its rich heritage, Cole & Son has drawn inspiration from its extensive archive of block-printed designs to create a range of timeless wallpapers. Looking for a modern chintz? Try Midsummer Bloom in Purple and Teal on Ink.
Is period drama your thing? Then check out these dark decorating ideas.
2. Brighten up your dining room with wall patterns inspired by the Med
For centuries designers and artists have revelled in the delights of Mediterranean culture and today the trend continues. New this season, Cole & Son's Seville collection is a cornucopia of Spanish-inspired motifs, from Flamenco fans to beautiful balconies. Intricately detailed, the Alfaro design (above dado), pays homage to the buildings of the Plaza Alfaro, said to have inspired the iconic balcony scene in Romeo and Juliet. Try it in a dining room, or even in a cloakroom for a playful pop of spontaneity.
For more hallway ideas, let us inspire you.
3. Capture nature's enduring beauty and create decorative walls with a botanical wallpaper
Immerse yourself in the vibrant culture of Spain's Andalusian capital with Cole & Son's stunning new Seville wallpapers. Featuring fragrant flora to flamenco fans and citrus trees to Moorish ceramics, the collection captures the beauty and rich heritage of the city. Celebrating the fruit synonymous with Seville, this Orange Blossom design is a delicate repeat with a subtle textured feel that pays homage to the regal tapestries found hanging in the Royal Alcázar's Salón de los Tapices. Pictured in Orange and Spring Green on Parchment, one of three vintage-inspired palettes, it's guaranteed to bring zest to interiors.
For more green decorating ideas try these green living room design ideas.
4. Bring a bathroom to life with Morris print wallpapers
Wallpaper can really bring wow factor to practical spaces like bathrooms. If you love the spectrum of watery blue tones, from crisp turquoise through to subtle seaweed greens, but want to move away from classic coastal motifs, then Morris
& Co's new Wilhelmina wallpaper in Indigo, £99 per roll, could be the perfect solution. Inspired by the embroideries of May Morris, daughter of the Arts and Crafts pioneer William Morris, the design captures the soothing colours of the ocean while also celebrating British design history – perfect for a period home.
Looking for more inspiration? Check out our bathroom ideas feature, while these beautiful botanical wallpapers are stunning also.
5. Introduce texture and subtle wall patterns with a plaster effect wallpaper
Looking for an alternative to pattern for your feature wall? Why not consider a natural plaster finish for a subtle touch of texture and colour. To get the effect without stripping back the layers, try the Cement Pink mural from Murals Wallpaper or for a similar paint shade try Farrow & Ball's Setting Plaster. Then give a soft pink scheme a fresh twist and added warmth by weaving in accents of terracotta with bed linen and accent cushions like these from Marks & Spencer.
For more inspiring bedroom looks check out our bedroom ideas feature.
6. Use relaxing shades in country inspired wall patterns to create a welcoming dining room scheme
A soothing repeat design inspired by garden trellises, Vanessa Arbuthnott's Fruit Garden Detail wall covering, from the Orchard collection, brings a balancing dose of pattern to a colour-blocked open plan kitchen diner. To bring the country feel up to date, pair industrial-style café chairs with a classic farmhouse table, and mix and match napkin and tablecloth fabrics, .
7. Create a statement feature wall with an animal motif
Escape to a wonderful and whimsical world with Clarke & Clarke's new fabric and wallpaper collection Wilderie, created in collaboration with graphic artist Emma J Shipley. Bringing to life Emma's fervent imagination, Wilderie blurs fantasy and reality with intricate prints that fuse mythical creatures with the beauty of the natural world. Journey through jungles crawling with winged cheetahs, to paradise lands alive with bejewelled exotic birds.
8. Use colour blocking in blue and white to create wall patterns inspired by the sea
Give your living room a coastal feel with a twist by painting the walls with bands of seaside colours created using a colour blocking technique. Taking its name from a butterfly, Mazarine by Little Greene is a neutral, mid blue – neither too cool or warm – which sits well with a stripe of Cool Arbour to create a graphic seascape effect. To warm up the look, pair with furniture and fabrics in natural, textured materials like brown leather and blonde wood.
If you're inspired by this coastal scheme, check out our beach house interiors.
9. Embrace maximalism in your wall patterns to liven up your living room
If you're looking to liven up the living room of a period home then flamboyant florals are a great way to inject colour and wow factor. New from Cole & Son, this Aurora design in Mulberry and Sage is based on archival documents and conjures an enchanted forest feel, with its dense thicket of foliage.
To prevent busy designs from taking over, try tempering them with soft pastel hues, as shown here with a delicate duck egg shade on panelling. Furnishing with contemporary boxy pieces in bold shades will help to cut through chintz to bring the look up to date.
If you're inspired, take a peek at our maximalist design ideas, too.
10. Create a tranquil home office with a botanical, leafy theme
Conjure the romance of faraway places with Sanderson's new Caspian collection, inspired by the textiles of the Silk Road. Stretching all the way from China to the Mediterranean, the Silk Road refers to an ancient network of trade routes journeyed by Western explorers and merchants looking to bring back prized textiles from cultural centres in the East. Drawing on historic designs from chinoiseries and ikats to Indo-Persian and Ottoman, the vibrant fabrics and decorative walls fuse country house with exotic style.
Be inspired by more mural design ideas – and find out how to create a mural.
11. Use bright block colours to create a bold statement
Intricate and obscure, the characterful wallpapers by Fornasetti for Cole & Son will bring whimsy to your walls. Founded in Milan in the 1950s by artist Petro Fornasetti, the luxury atelier has once again teamed up with heritage wallpaper maker Cole & Son, this time to launch Senza Tempo, a collection of 19 new and recoloured designs that blur the boundaries of reality with fictional motifs and twisted everyday objects. Choose from fantastical flying machines and cases of curious collectibles, to a web
of wacky walking sticks.
12. Create a playful feel in small spaces with lively animal wall patterns
Guaranteed to raise a smile, wallpapers covered with beautifully illustrated creatures are everywhere at the moment, from our favourite brands to independent designers. Try pasting up the Kingdom Lion wallpaper at Graham & Brown, for a quirky way to liven up functional spaces such as downstairs toilets or even the insides of cupboards.
For more small bathroom ideas you can check out our feature too.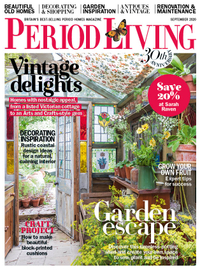 Subscribe to Period Living for more inspiration
A subscription to Period Living provides you with all you need to know about caring for and improving a traditional garden – and also how to decorate, renovate and maintain a period home.

More inspiration for decorating a period home: