We've looked into our crystal ball of future interior design trends to see which will be big in 2020.
How have we gathered this year's top 20? Well, it's a list made up of themes and schemes we have seen seeping into interiors (ahem Pinterest, ahem Instagram, ahem design forecasters... paint manufacturers, fabric designers... and so on) for the past few months.
We've also added some tips and tricks to help you design and decorate with the trends you love, no matter the size of your budget (because unfortunately not all of us can remodel our bathroom in terrazzo just because Instagram says it's cool) or the size of your rooms.
Before we begin, can we just make a quick disclaimer? Interior design trends don't automatically become outdated at 00.01 on January 1st, so you might recognise some of these trends as enduring favourites or classic returners from years gone by.
Want more? Find all our design trends, ideas and schemes on our dedicated hub page.
1. Concealed kitchens
You may have already had the ingenious idea to disguise a pantry behind an integrated cabinet door or integrate your fridge into a kitchen unit, but have you considered concealing your entire kitchen? Yep, that's a thing now, and it's becoming a huge design trend.
With living spaces getting smaller and storage getting smarter, clean, minimalist kitchens are getting increasingly popular. Items that once cluttered worktops – kettles, plug sockets, knife blocks, even taps and sinks – can now disappear into flush cabinets and uninterrupted surfaces to make the most of all space available. Nifty no? Perfect for open plan kitchen diners or for small kitchen design, they are great for creating a streamlined look in a contemporary kitchen, too.
Kitchen above by Life Kitchens; kitchen below by Hub Kitchens.
2. The at-home bar lounge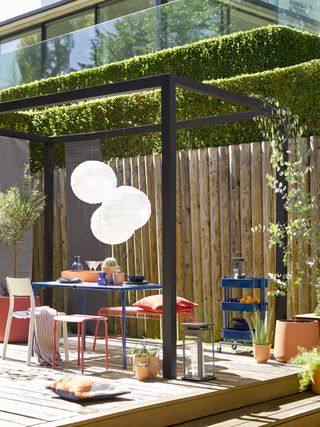 Blame it on us all being broke and tired, there has been a bit of a lifestyle swing towards us staying in rather than going out and this has been reflected in our homes. We are increasingly looking to bars, restaurants and hotels for interior inspiration to create a relaxed, smart bar-like feel at home. Think outrooms in the garden and bar carts, cocktails chairs and plenty of neon signs indoors...
Check out our pick of the best bar carts if you are feeling inspired to embrace this trend.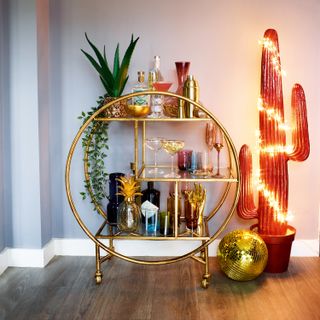 3. Shopping responsibly and sustainably
Fast fashion has been a hot topic all year. People are starting to think more about where all our bags full of clothes actually come from and what they are made of. And it looks like the same goes for things we buy for our homes. The majority of us are trying to shop more sustainably, and in the interiors world that means buying furniture made from local materials that have been sustainably sourced (if buying wooden pieces look out for the FSC logo) or buying products made from recycled materials – think rugs made from plastic bottles.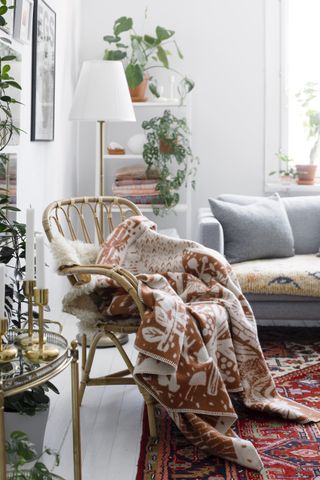 As we become more eco conscious, we obviously become more aware about reducing waste by upcycling or recycling our homewares. There are so many great sites where you can buy and sell second hand furniture, places like Gumtree and Freecycle. You can even buy complete kitchens second hand (but good as new). Try The Used Kitchen Company and The Kitchen Exchange.
4. Animal prints
Turns out our favourite animal prints in fashion are set to be a game-changers in the home too. But how do your style leopard print throw or your zebra print rug without creating a room that resembles a cross between a dodgy themed B&B and the Playboy Mansion? We say start small, just add accents in the form of soft furnishings and little accessories, then if you love it you can go further with rugs and curtains.
5. Two toned kitchen cabinets
Say goodbye to stark white kitchens, colour is definitely creeping in (again). And not just one colour, oh no, we are seeing a rising trend in painting kitchen cabinets in two different colours. Crazy stuff we know. A frequent iteration of the look includes using a darker colour for the lower cabinets and a lighter shade for shelves and cabinets that sit higher up. Think creamy, neutral coloured cabinets above and a darker, dramatic colour for the lower cabinets.
You can easily DIY this kitchen trend yourself, just check out our guide to how to paint kitchen cabinets.
And if a bold paint colour isn't quite your vibe you can also get those look using contrasting materials. What we love about this trend is you can make it work for pretty much any style kitchen, from super modern to a traditional Shaker.
6. Maximalism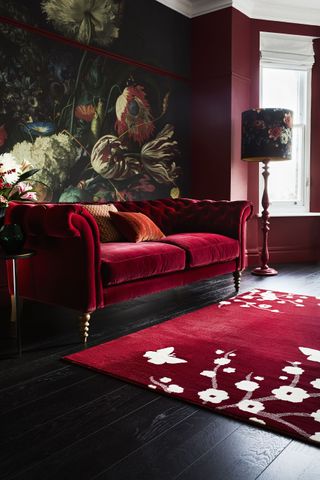 If feels like the world of interiors has been dominated by minimalism Scandi design for, well, forever. But all signs are pointing towards a shift away from clean, bare interiors towards more flamboyant decor. We are talking plenty of pattern, all the bold colours and mismatched pieces of furniture. It's a tricky look to get right so make sure you check out our guide to working the maximalist trend.
7. Crittall style windows and doors
Crittall-style windows have been staging a comeback and those dreamy black frames have been filling up our Pinterest pages for the last few months. But we are now seeing them used not just as windows and doors, but for extensions, room dividers and even shower screens. We can easily see why everyone is obsessed with them, the graphic look definitely taps into the industrial trend that's still going strong, plus they are great way to bring a ton of light into a space.
Have a read through our buyer's guide to metal doors and windows to get this look spot on.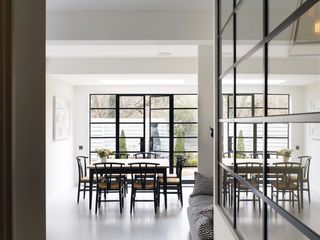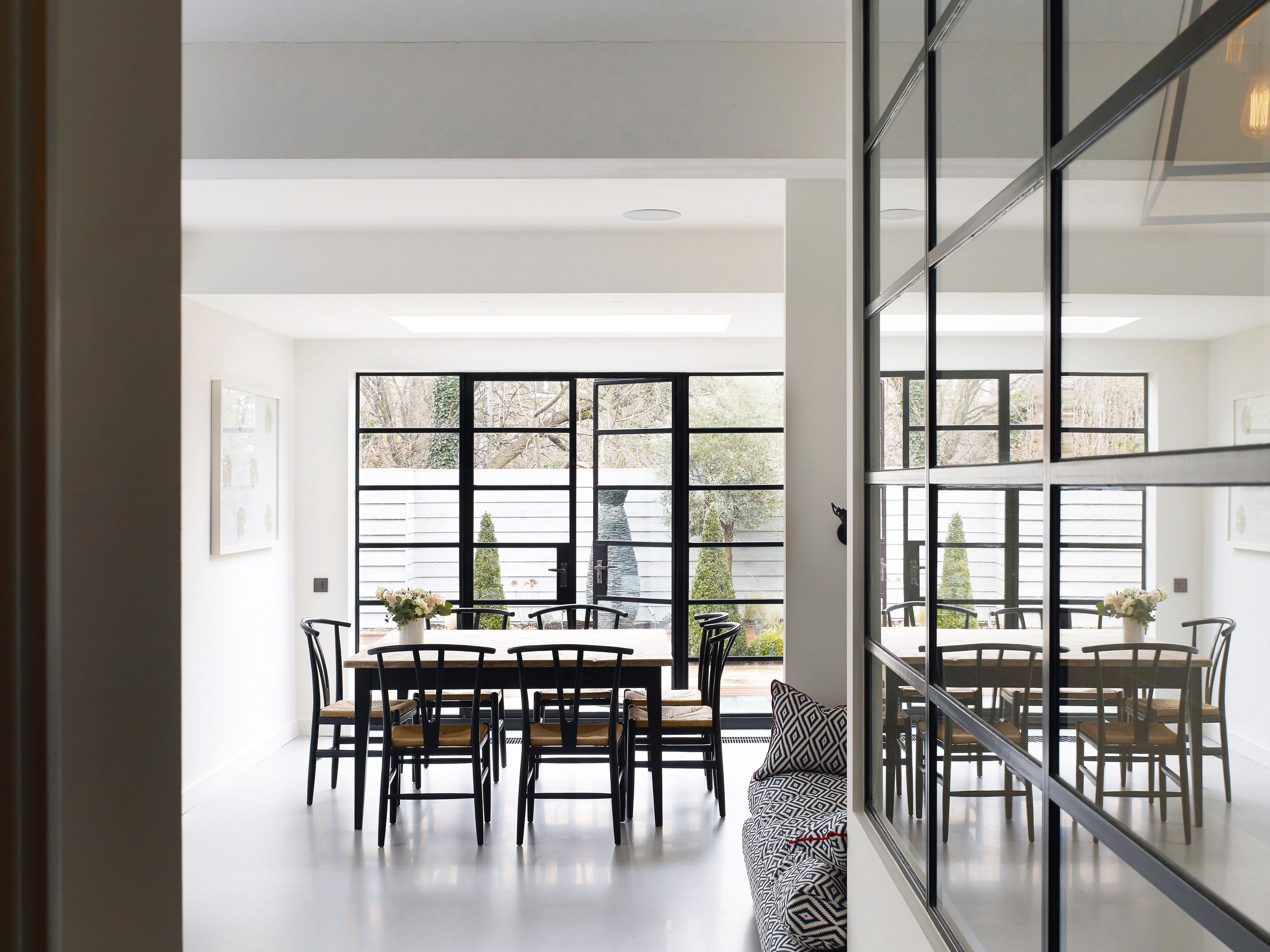 8. Concrete bathrooms
Last year it was all about creating a spa-like bathroom at home, but for 2019 it's all about bathrooms that are tough and functional – and of course super stylish. The easiest way to get the look is using micro concrete which allows you to create the effect of a full-depth concrete finish on top of existing walls and floors (think tough skim coat). Applying it is not a DIY job but there are lots of willing people out there to take away your money in exchange for making your bathroom look like it's not quite finished (this is a good thing btw).
Want to add some cool industrial feels to your bathroom on a budget? There are also loads of concrete/cement finished bathroom accessories available, check out this set from Zara Home.
9. Curved furnishings
A super popular Mid-century design, we've seen a major comeback of curved, sculptural furniture, especially when it comes to upholstery. Curved sofas and high-back armchairs in gorgeous rich velvets give an instant glamorous vibe and can make a statement even in the most simple of spaces.
If this 2019 interior trend is for you than make sure you go and check these Mid-century modern decorating ideas.
As much as we love drooling over these kinds of vintage pieces in antique shops, the reality is they are often pretty pricey. But fear not shops like West Elm, Made.com and Habitat all do dupes for the vintage sofas of our dreams. You could also of course take the time to scour Ebay if you want something more unique.
10. Scalloped edges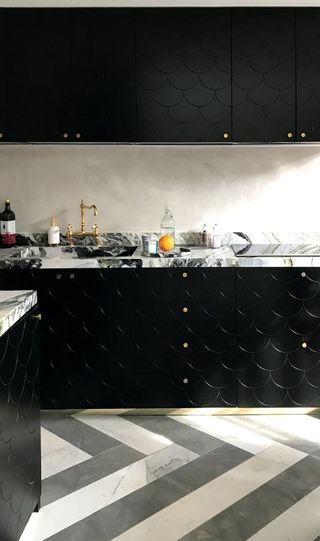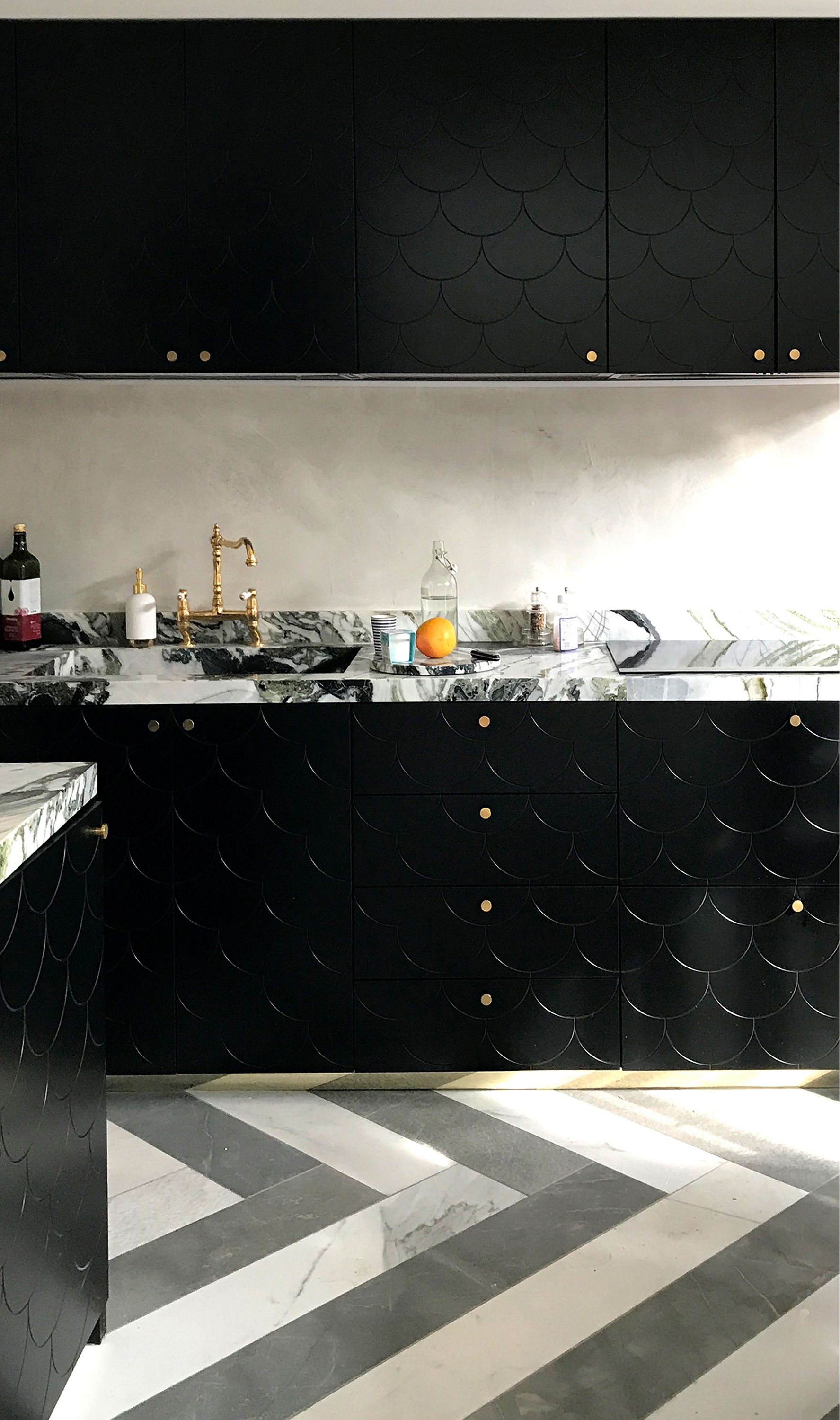 Speaking of curves, they are creeping in to other parts of our homes too, mostly in the form of fish scale tiles, but also on kitchen cabinetry (see those above in Pitch Black by Superfront).
Whereas in fashion and beauty the whole mermaid trend was all about candy hues and pastels, the interior world seems to have gone down a bit of a more grown up route. We love the gold accents of these High Society glass tiles from Fired Earth (below).
11. Dulux's Colour of the Year: Tranquil Dawn
A big player in the world of interior trends, tet's take a look at Dulux Colour of the Year 2020: Tranquil Dawn. It's green! Well, it's as soft and neutral as green can get, but still, we like! The story behind the colour is all about 'the nation's mood on the approach of a new decade' and how we feel about living in a world so technologically advanced we are starting to feel disconnected from one another.
It's a colour that's massively grown on us since its release in autumn 2019; it's a really versatile colour that seems to completely change when you combine it with different palettes. Bring out it cooler side by mixing it with steely greys or soften it up creams and even light pinks.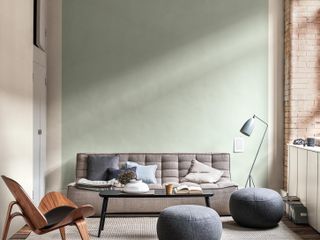 12. Terrazzo
Cool in the '70s, tacky in the '90s and back with a bang in 2019. We have opened our arms to terrazzo once more and we aren't just limiting this finish to the floors (so 2018) but starting to take terrazzo to the walls, splashbacks and even entire bathroom suites. We love this Terrazzo Pink wallpaper, £50 per roll, Graham & Brown (above).
Okay so maybe redoing your whole bedroom or kitchen in terrazzo isn't very realistic (or if you are a renter, not very landlord friendly) but terrazzo accents come in all forms, from bed sheets and lamp shades to soap dishes and toilet brushes, so you could always incorporate this trend in more subtle ways…
13. Back to the '70s
So we can see that warmer colours, like Spiced Honey, oranges, yellows, and even rusty reds are rising up between the greige, plus house plants (see our house plant display ideas for inspiration), terrazzo, leopard print, FRINGING, it is all getting a bit '70s. This retro feel, is starting to feel a bit cooler and dare we say starting to replace Mid-century modern and maybe even Boho style interiors?
Personally, we can't see ourselves wallpapering our bathrooms in orange and brown floral wallpaper anytime soon but there are still a few hints of nostalgia in the colours, shapes and textures that we can definitely get on board with. Check out our favourite retro geometric wallpaper design ideas for inspiration.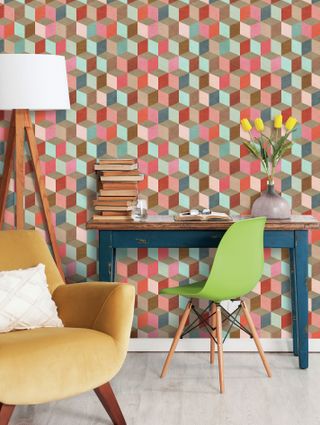 14. Statement ceilings
Forget about statement walls, in 2019 we are going to be looking to the ceiling. Next time you have a repaint, try painting the ceiling the same colour as your walls, rather than just the magnolia-blah you are used to, despite what they say, this actually works really well in a smaller room.
Or you could painting it a different colour completely…
You could go even bolder and wallpaper your fourth wall...
15. Chintz
Look we don't make the trends we just report on them, so apologies if this offends anyone but chintz is back. Not familiar? It's essentially a traditional pattern on a light background. And you know what, we don't completely hate it, especially if it's matched with contemporary pieces. These two rooms (above and below) feature the look with wallpaper by Little Greene.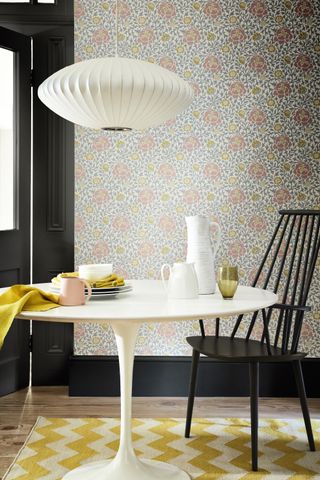 16. The New Nordic
Will our love of Nordic interiors ever end? We are going with a resounding 'no'. But like all trends that hang around for years (hygge is the prime example) we do, every now and then, come up with a new name for what is basically the same style just with a slight twist – case in point: new Nordic, which can be restrained (see the John Lewis living room above) or moody (see the living room by DFS below).
It's a slightly darker, moodier take on the classic Scandi-style, still using all the textures and pared back light wooden furniture, just with a more gothic feel. Sounds like your kind of combination? Check out our New Nordic decorating ideas for inspiration.
17. Pink
Bet you the last time you wanted to redecorate a room pink you were probably about 11. But after a decade or two of being associated with tweens' bedrooms, pink is most definitely back!
There are, however, a few rules for mastering this candy colour. First one being, avoid anything that vaguely reminds you of a colour Barbie would wear; blush-toned, muted pinks are the way to go. And keep finishes matt – anything shiny and pink, and you are entering six-year-old's bedroom territory again.
So, with those little gems of wisdom in mind, go and check out our pink decorating ideas.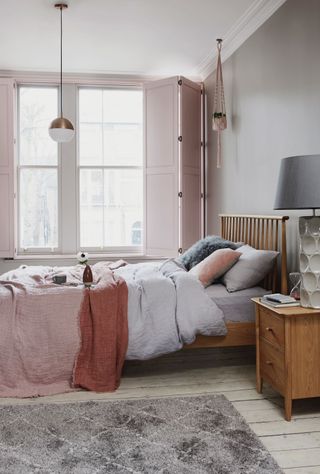 18. Velvet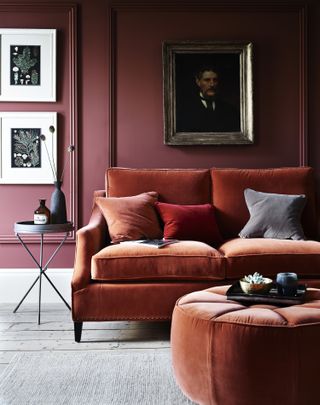 Apparently it's going to be huge in 2019. Our favourite find? A velvet sofa... pure luxury. Find our pick of the best velvet sofas to step straight into the trend.
Want more decorating inspiration?