Whether you use it for your hobbies or as a place to catch up on some R&R, the best she shed ideas combine style and function. We know the term 'she shed' might be a little outdated in 2022, but the concept of them is timeless.
Essentially, from the outside, a she shed might look like one of the best garden sheds (but better). However, in reality, it's so much more. As Erika Kotite co-founder of She Shed Living explains, 'A she shed is a one-room outbuilding that is designed for a woman's personal use. It's located in the backyard and it reflects the owner's personal style as well as the function she wishes to use it for. A home office she shed looks very different from a quilter's she shed, or a reader's she shed.'
So you can jazz yours up with outdoor furniture or include everything you need to WFH, because as Kotite tells us, 'A she shed is a personal sanctuary. It is a private space that is designated for the woman who claims it, whether it's a reading alcove or a spare room or a gazebo.'
Once you've picked up a she shed (you can do so from the likes of Wayfair or Amazon) it's time to get personal and personalize your outbuilding to your own style and preference. Stuck for ideas? To help get your creative juices flowing, we've compiled a list of the best and most creative she sheds where you'll want to spend all your time. And, they are sure to compete with even the coolest man cave ideas around... Look this way.
1. Light it up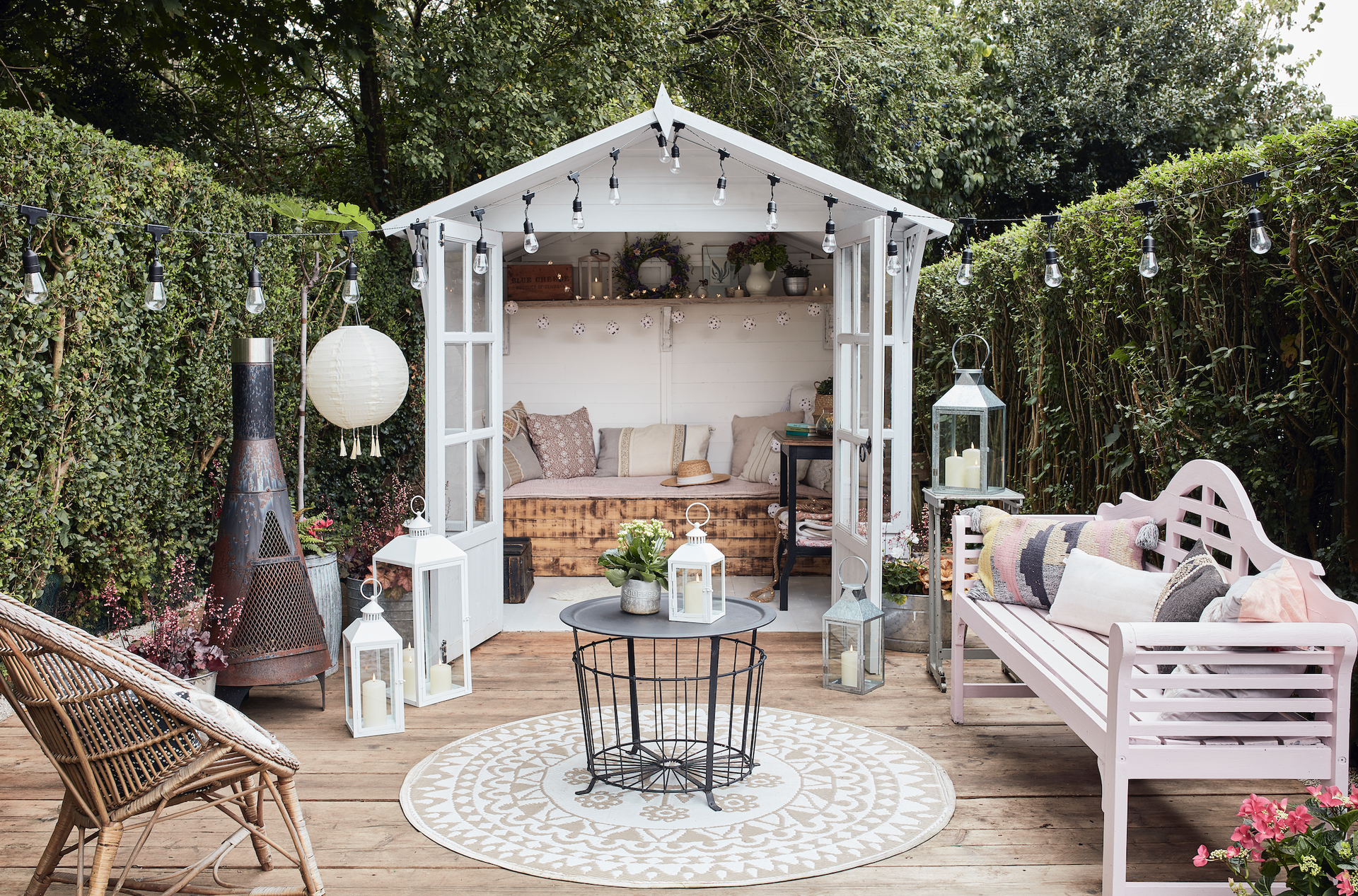 She sheds can be dark places – especially once the sun has set and your shed is positioned at the bottom of your backyard, away from any light. One bright idea? Decorate your she shed with lights – and lots of them.
The best powered solar lights for your garden will help set the mood in your outdoor space and you won't even need to think twice about your electricity bill, as they use the sun to generate power. Pick up some chargeable outdoor solar powered string lights, add black metal outdoor solar lanterns and if space allows, choose from the best fire pits for added glow.
2. Turn it into a home away from home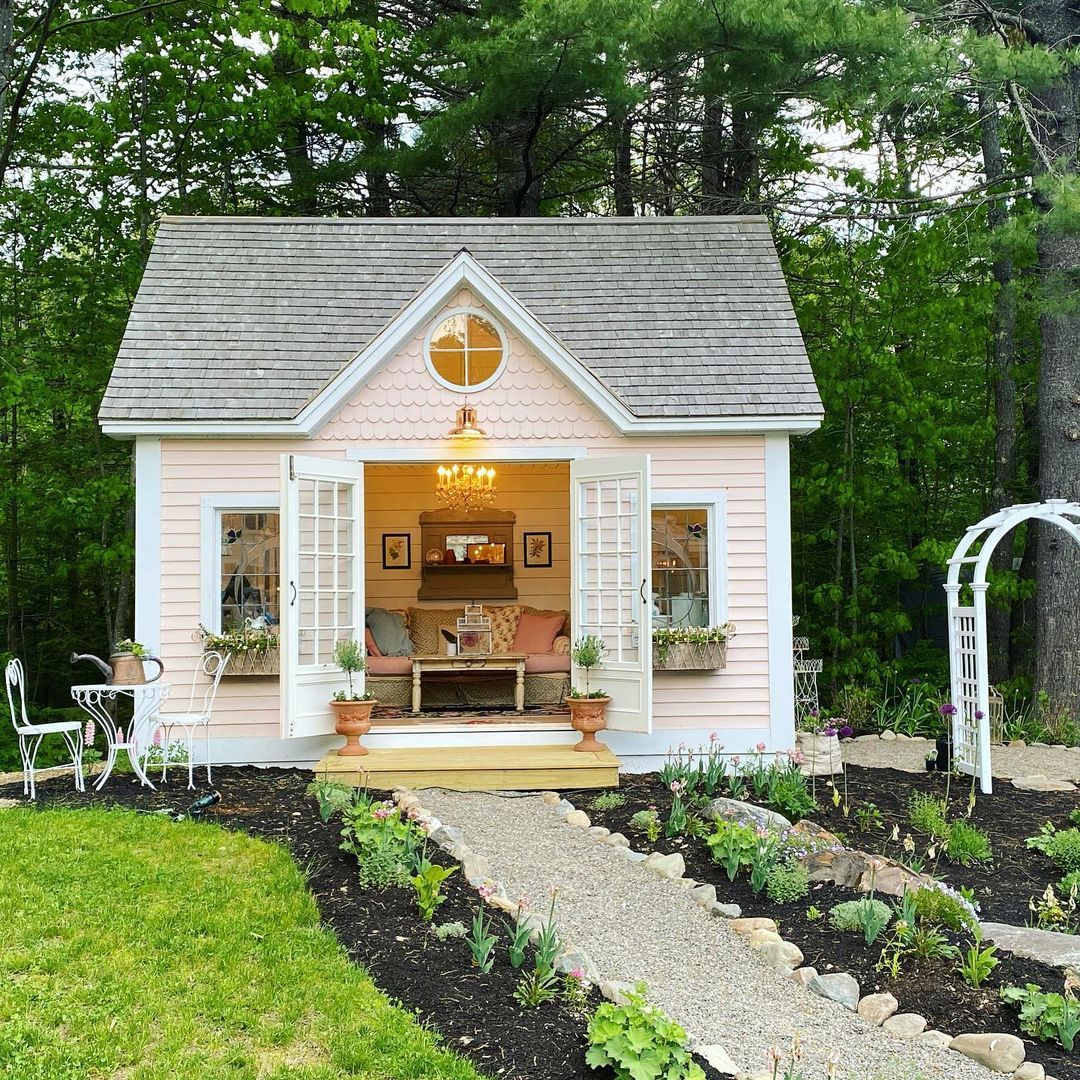 How incredible does this powerful pink she shed design from Erin Clark look? One quick look at this outbuilding – which has been aptly named Sweet Pea Cottage – and it could (almost) pass as a mini house.
From the pathway that leads you to the double front doors, and the outdoor plants that flank the entrance to the pink paint – what's not to love? The list really is endless. Discover even more brilliant garden design ideas to incorporate into the surrounding landscape.
3. Inject color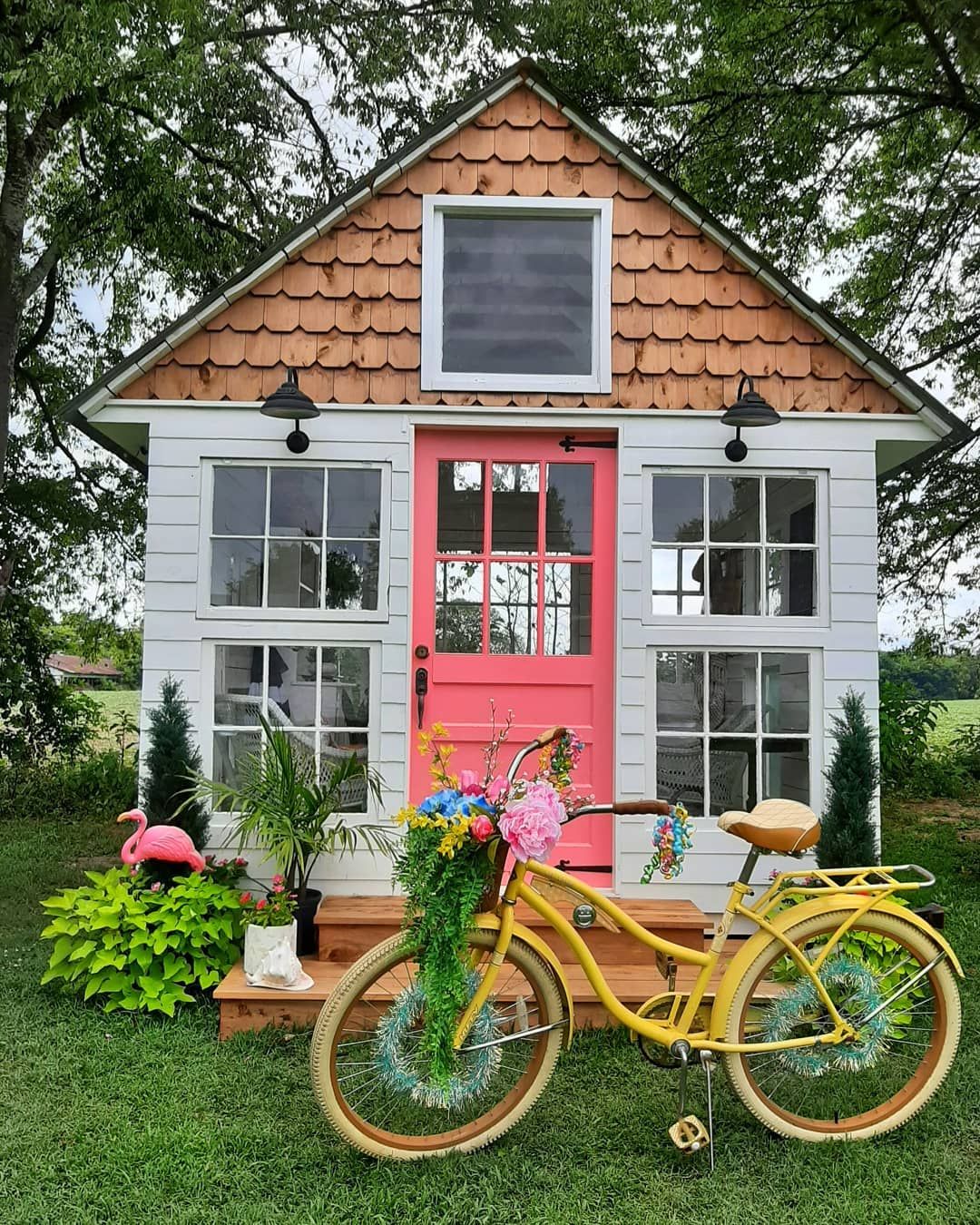 If you hadn't guessed already, we're big fans of color in the yard. And when it comes to she sheds, it's no different.
Which is why, we're taking note of this ingenious she shed design by Haley Ferguson which uses pops of color to add interest and draw your eye to the different areas of the building. The yellow bike finishes off the design perfectly.
4. Create rainbow stripes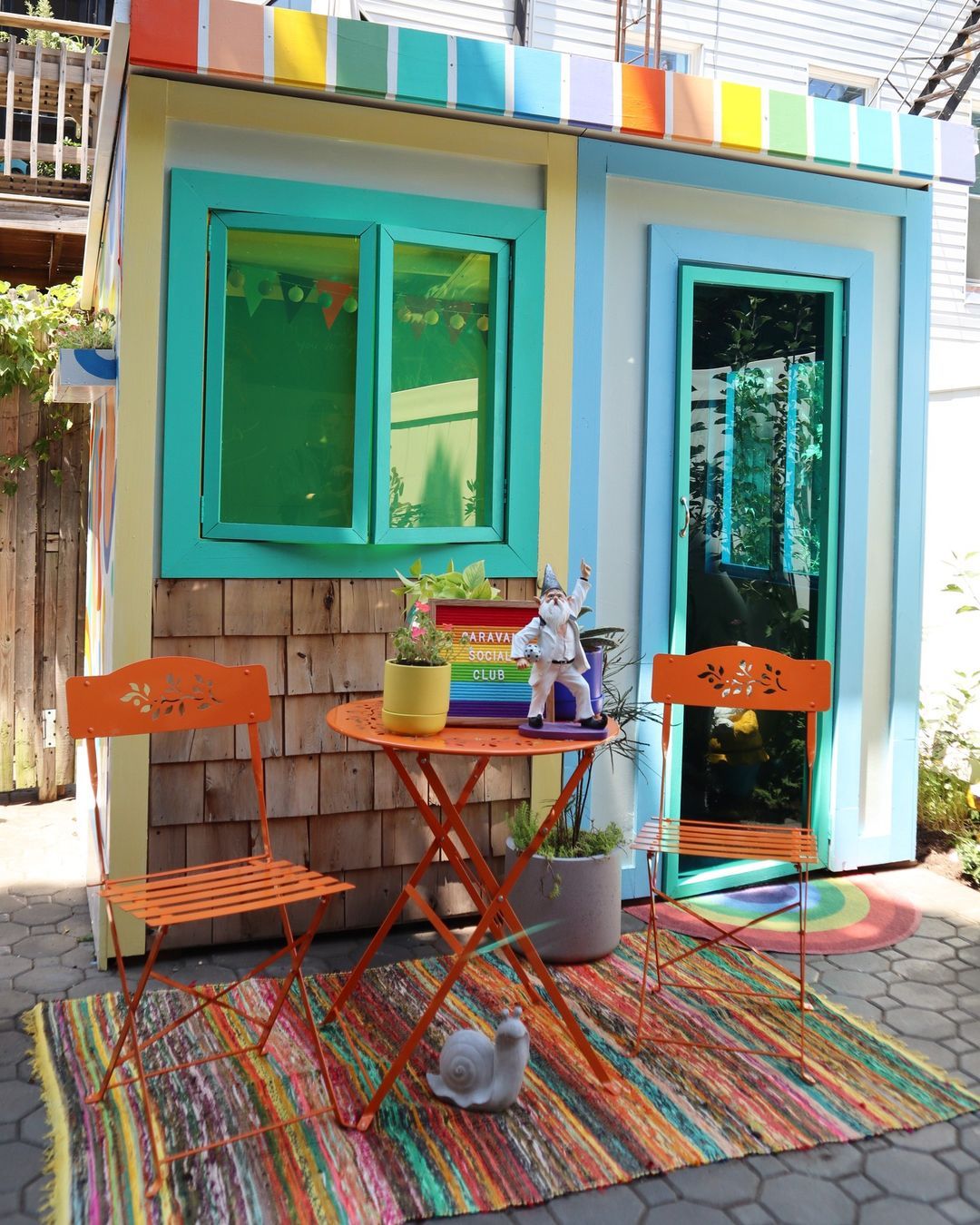 To take your love of color one step further, try painting a shed not just one color – but multiple hues for a personal touch.
Need some inspiration? Look no further than this technicolored masterpiece from the Caravan Social Club.
Along with picking up a few of the best paint brushes, such as the Wooster Silver Tip Paintbrushes Set or the Harris Contractor Soft Tipped Paintbrushes Set, you'll just need some masking tape – and a little patience!
Don't forget to add a bistro table – this Amsterdam Round 2-seater set from Wayfair hits the spot – and a colorful rug to complete the look.
5. Make it monochrome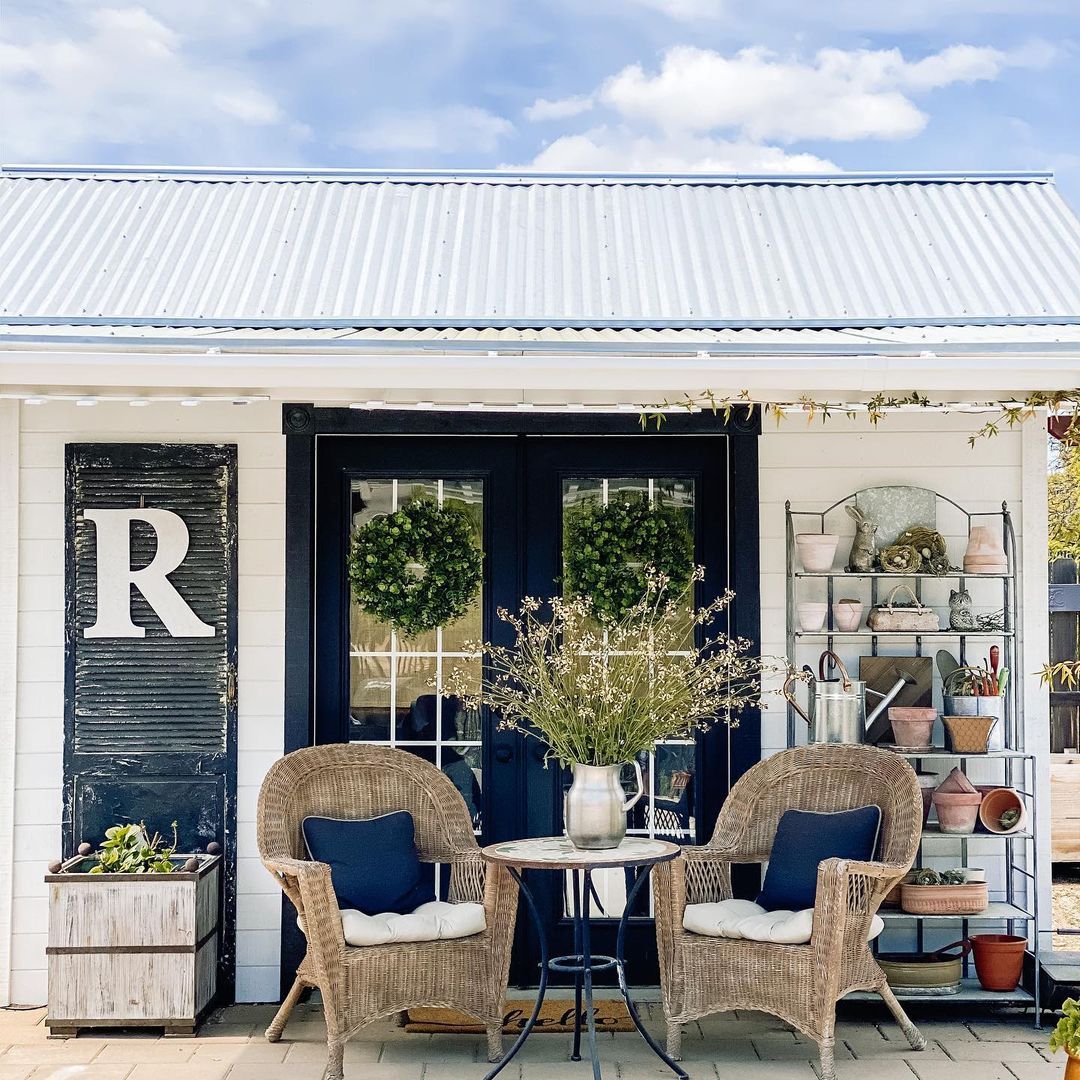 If you'd rather choose a color scheme that is more muted, decorate your she shed in monochrome shades.
This clever design from Hootshack is perfect for modern minimalists who would much rather add color gradually through foliage, furniture or other outdoor collectables like plant pots or cushions.
6. Back to black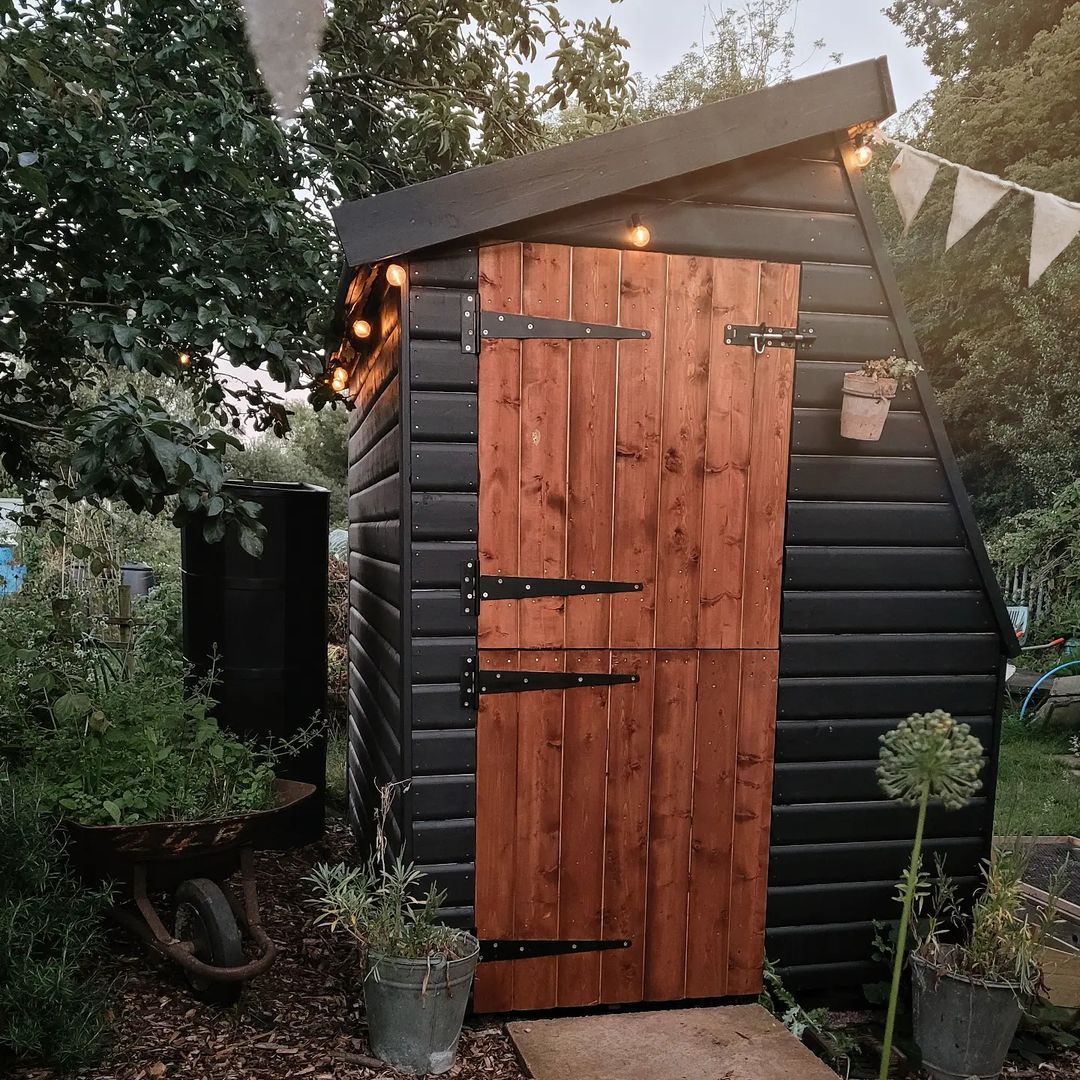 Talking of using monochrome, instead of painting the whole of your she shed black and white, this design by House of Pane is a very good reason as to why you should give some serious consideration to painting your space black and leaving some parts wood.
But the real pièce de résistance? The pretty bunting and string lights surrounding the design.
7. Give consideration to flooring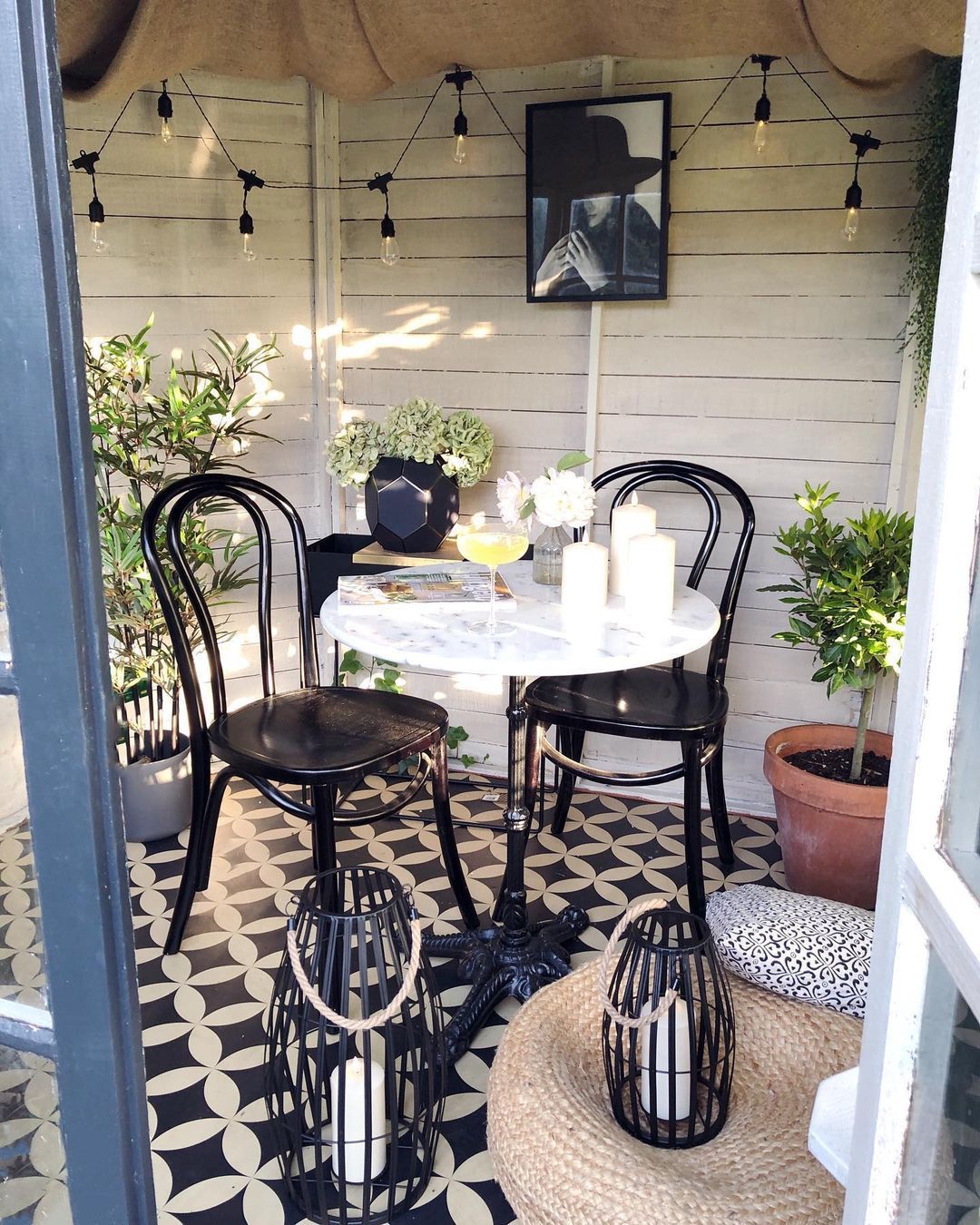 Patio tiles can make all the difference to an outdoor space. But it's not just tiles that you can use for the flooring of your she shed. Take a peek inside Julie Aldridge's masterpiece which is actually (whispers it) lino.
Julie says, 'After repairing the collapsing side, I used hessian as a low-cost way to soften the ceiling and cover up some nasty stains. I loved the effect so decided to repeat it in the greenhouse. The floor is a lino. I had it printed up to look like some beautiful tiles I'd seen but couldn't justify buying for an old outbuilding.'
If you're looking for different types of flooring and materials to consider for your home, check out our guide detailing the pros and cons.
8. Pave the way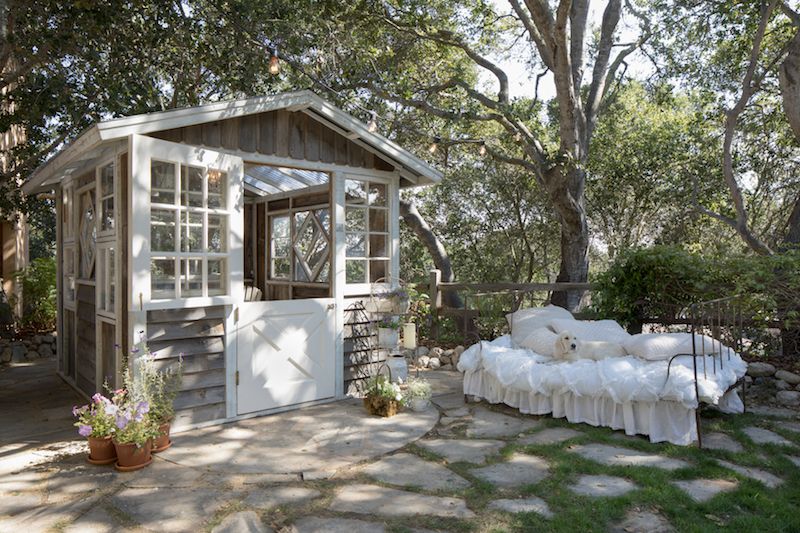 Along with thinking about the inside flooring, you should also consider the flooring around the outside of your she shed. One brilliant idea is to lay patio paving slabs to your entrance, just like Erika & Sabrina from She Shed Living have.
Erika says, 'When designing your she shed, first have a firm idea of what you plan to use it for. Then, visualize the space with the necessary light and where to place the furnishings you want.'
While you might not be using your she shed as a place to sleep, we think an outdoor daybed adds to the relaxing nature of this dreamy set-up.
9. Include decking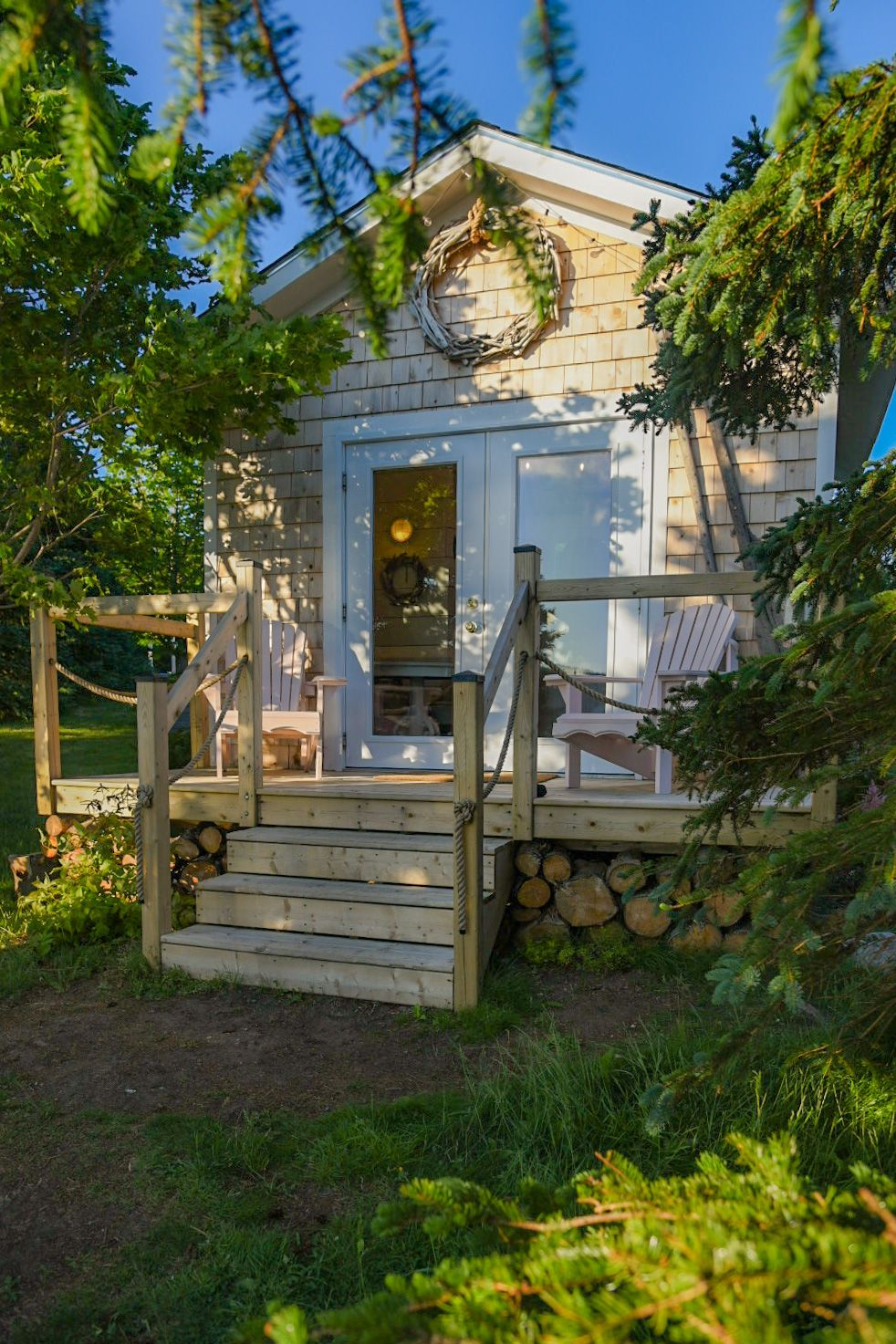 Now here's how to make a big entrance to your she shed-come-beach-hut: create stairs and a small deck to stand it on.
As seen in this design by Little Cup Of Sea, deck ideas allow you to make the most of tiny or unused outdoor areas and transform any spot into a space to be proud of.
Little Cup Of Sea uses hers as a beach hut and says, 'We built the beach hut as part of a business that I started that would allow me to continue to be a stay-at-home mom for my little one. The beach hut is a place where guests can come to relax, catch their breath and slow down, while enjoying a cup of locally blended chamomile lavender tea.'
10. Create a cottage garden around it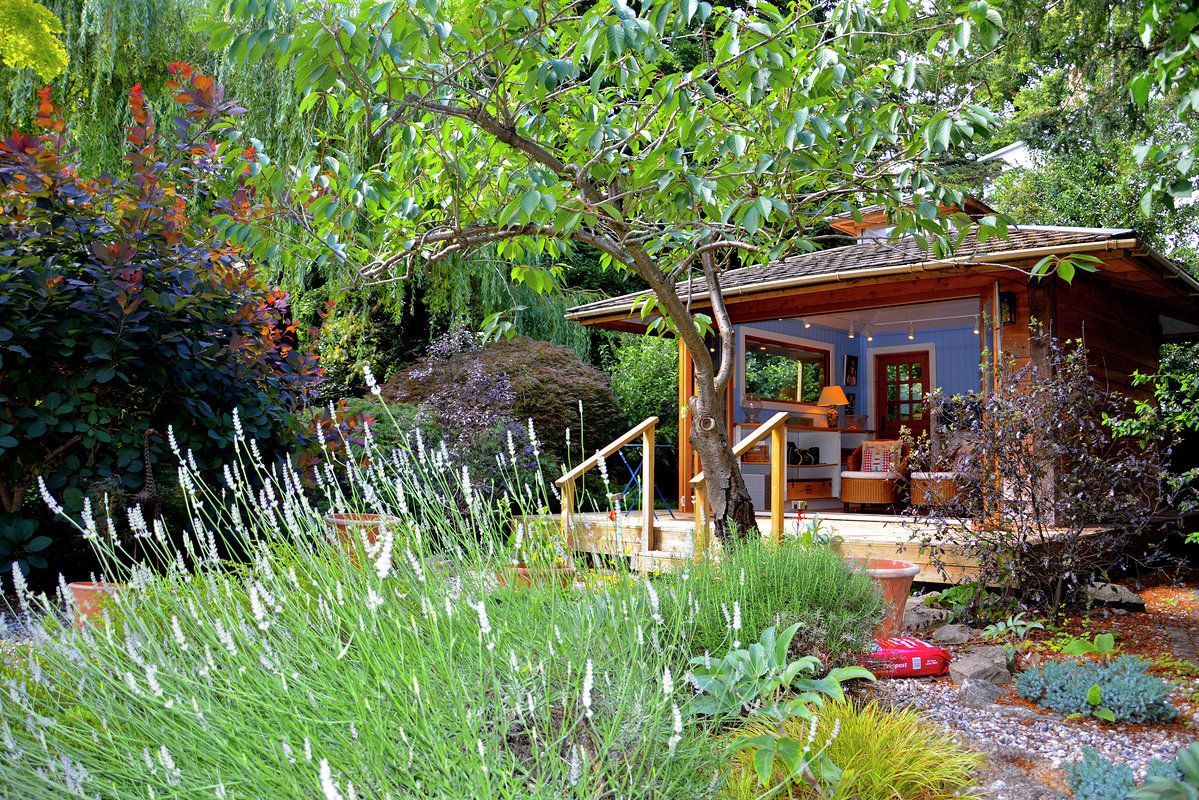 Make your she shed an inspiring place to be all year round by turning any space around it into a green dream.
Take some inspo from cottage gardens and introduce geraniums, roses and foxgloves to your outdoor space. And go big on multi-petalled flowers such as peonies and old roses. Then once they've grown, cut your flowers and place a beautiful bunch in your she shed for added design interest.
How big can you make a she shed?
Kotite explains, 'Most cities will allow a shed up to 120 sq ft. without the need of a building permit. Sometimes there are rules about property lines, wall height, etc. Check your city's and neighborhood restrictions before building a shed. Most of the sheds we build are 8 x 10 or 10 x 12.'
How creative can you make your she shed?
Kotite says, 'Your means of personal expression in a she shed is only contained by the square footage and also by the function you'd like it to perform. But a she shed is sometimes a woman's only chance to have a canvas that is all her own.
'Creativity is manifested in the design of your shed (tall pitched roof vs shallow, window size and location, door type, front entrance design/porch or stoop, etc.), followed by color, interior space plan, furniture, artwork, lighting, rug and accessories. We recommend paying careful attention to windows, door and front entrance – these will be the defining elements of your shed design.'
How can you make your she shed look good?
Kotite says, 'Think about elements like ceiling height, roof pitch (if it's a tall enough peak consider a loft space), siding quality, comfort (HVAC and insulation) and electrical needs.
'Another thing to keep in mind is the siting of your shed. Do you have harsh Western light that you want to avoid? How do the breezes flow? What kind of views do you want? How will you walk to your shed through a muddy yard?
'Having someone work with you or to bounce some of these considerations off of is really helpful.'