Patio tile ideas are fun, practical, and stand-out ways to add personality to your outside space. While we adore plants and flowers, garden furniture, and luscious lawns, let's face it, it's our patios where we spend most of our time when we're in the garden, so floor tiles are a great place to invest.
Along a similar vein to deck ideas, outdoor tile ideas can really set the tone for your garden. As with any decorating mission, you should always begin with how you want to feel in your space. Want to feel upbeat and energized for summer barbecues? Choose a bold and lively look-at-me pattern. Want to feel zen while soaking up some rays? Then choose a softer, nature-inspired finish.
Be sure to check on the material and specific qualities of your tiles before you buy - ensuring they're fit for purpose in your space.
1. Decorate your patio walls with patterned tiles
'Tiles aren't just for the ground. You can use tiles to make a statement by tiling additional surfaces like a fence or wall near your patio,' says Grace Baena, interiors curator of Kaiyo (opens in new tab).
If your outside space is an extension of your indoor living area, decorate it just as you would any other room in your home – and that includes the walls. For an outdoor living room that's just as welcoming as your indoor living room, dress your walls with patterned tiles. Specialist outdoor wall tiles like this are a great way to turn an ugly boundary wall into a statement feature.
2. Use geometric floor tiles to zone your space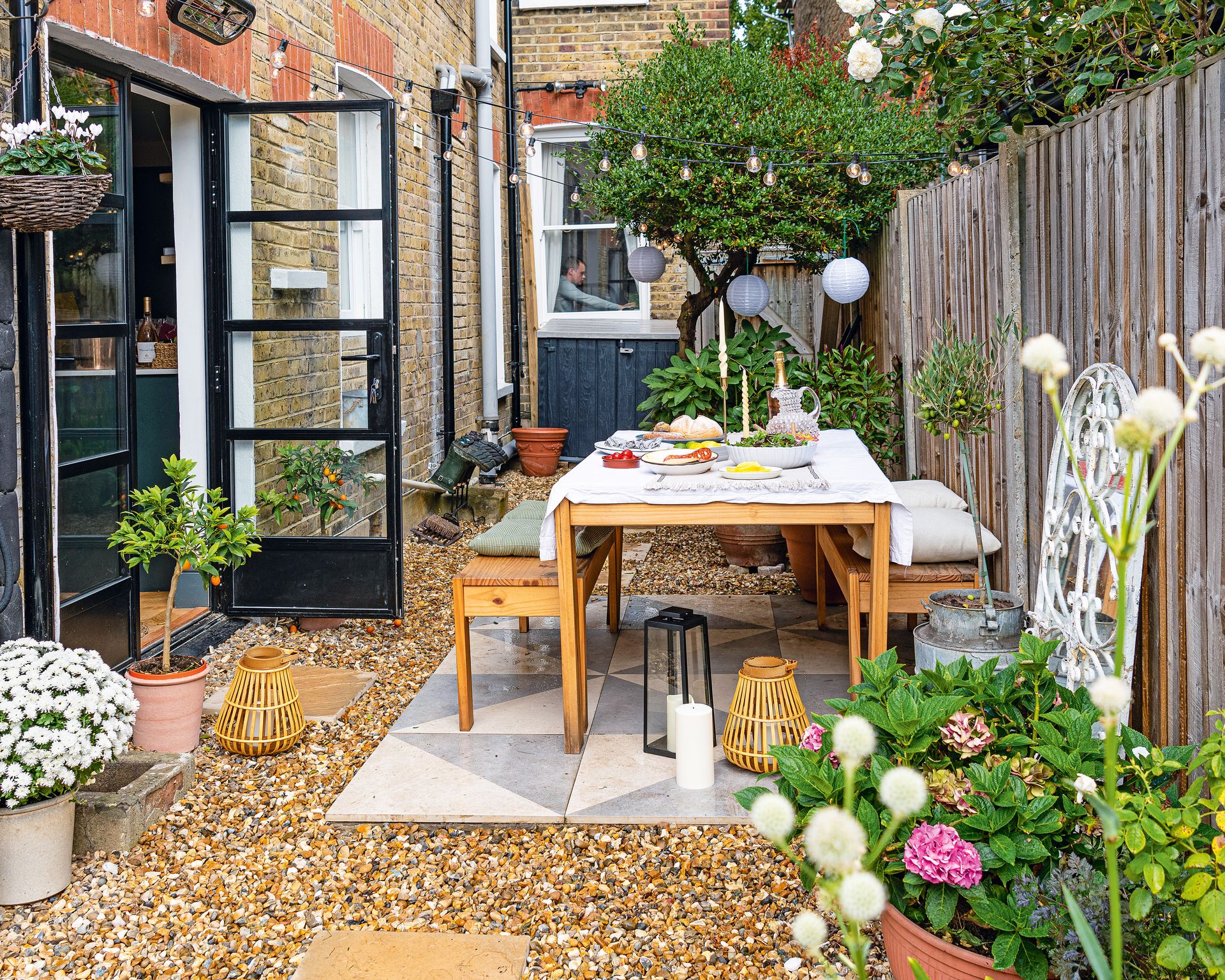 In a narrow galley garden like this, zoning is essential to ensure every inch of space has a clear purpose and, therefore, gets used. Gravel is a great option for security and drainage, but it's not the comfiest choice for housing your patio dining table.
So, build a special stage out of large format patterned tiles to mimic the visual effects of an outdoor rug and make outdoor dining a little comfier.
3. Match up your patio walls and floors for a statement, funky look
If you're trying to be bolder with your decor, your garden is a great place to start. Choosing matching patio tiles for your walls and floors is an easy way to form a look that's curated and complete, with fairly minimal effort.
Always ensure to use specialist floor tiles as these will be thicker than wall tiles and have the necessary slip-resistant and drainage properties.
'When it comes to slip resistance, there are a few things to keep in mind. First, make sure that the tiles have a good grip. You can test this by doing a simple water drop test – just rub your hand on the surface to see how slippery it is. You should also consider the texture. A rougher surface will provide more traction than a smoother one,' says David Mason, interior designer and owner of The Knobs Company (opens in new tab).
This striking geometric space is the perfect party zone for hosting alfresco cocktail parties.
4. Choose country vibes with stone-effect tiles
For a traditional-style garden that's reminiscent of all the rugged and bountiful beauty of a country home, choose rustic patio tiles that are uneven in form and color. These stone tiles set the tone for a laid-back, whimsical and restful retreat – no harsh corners or pointy edges in sight.
'Natural stone tiles, such as granite, slate, limestone, and travertine, are a popular choice for outdoor patios because they're attractive and durable. Granite is the hardest stone tile and is highly durable and resilient to the elements,' says Aaron Lebowski, interior designer, and consultant at Juliei Salone. (opens in new tab)
Learning how to install outdoor tiles could save you a fortune in labor costs in the long run.
5. Go DIY with a statement stencilled design
If your patio tiles are in good condition but looking a little drab, save yourself a small fortune by keeping the tiles you've got and giving them a makeover. This beautiful patio by @saba_wilson (opens in new tab) was created using stencils from Dizzy Duck Designs (opens in new tab).
If you think your hand isn't quite steady enough for painting your tiles – think again. You simply stick down your stencil, paint on your chosen shade with a brush or small roller, peel back your stencil, and repeat.
6. Blur the lines between inside and out with matching flooring
We'd all love to have that sought-after seamless indoor-outdoor link, and one key way to blur the line between inside and out is to choose the same style flooring for both. If your floor levels are the same, this slick garden idea creates the feel of one large, open and airy living area, which will undoubtedly beckon you to spend more time outside.
Many companies offer the same tile for both indoor and outdoor uses for this very purpose – keep in mind that outdoor tiles are thicker, so you may need to adjust your ground height for a perfectly seamless finish.
'You should use your tiles to balance light exposure. If your patio is located in a bright, sunny south-facing space, try opting for darker tiles so it doesn't gleam and hurt your eyes when you're outside,' says Sarah Jameson, marketing director of Green Building Elements (opens in new tab).
7. Go playful with patchwork
Patchwork patterns are such a great way to add in a pop of vibrancy and bring a fun and quirky vibe to your space. This quirky design is the perfect accompaniment to a modern home or extension, and the simple color palette allows the yellow outdoor dining chairs to stand loud and proud.
8. Go for practicality with interlocking deck tiles
For those of you who simply want a clean-cut, tidy, simple, and inexpensive patio solution, these interlocking deck tiles from Wayfair (opens in new tab) are the ones for you. At just $4.73 per sq.ft, they're a real bargain buy, and installation couldn't be easier – you literally snap them in place yourself at home and lay them down.
Being slip-resistant, weather-resistant, and easy to clean, they're a practical choice that you won't regret.
9. Widen your space with large-format tiles
If your patio area is on the small side, using large format tiles is a simple way to trick the eye into believing the space is bigger than it is. Having fewer grout lines means fewer visual divides on the floor, so the space appears less broken up and therefore, larger.
Lay your tiles horizontally along the shortest width of your space to ensure you're stretching your space in the right direction.
10. Get creative with a fun terrazzo pattern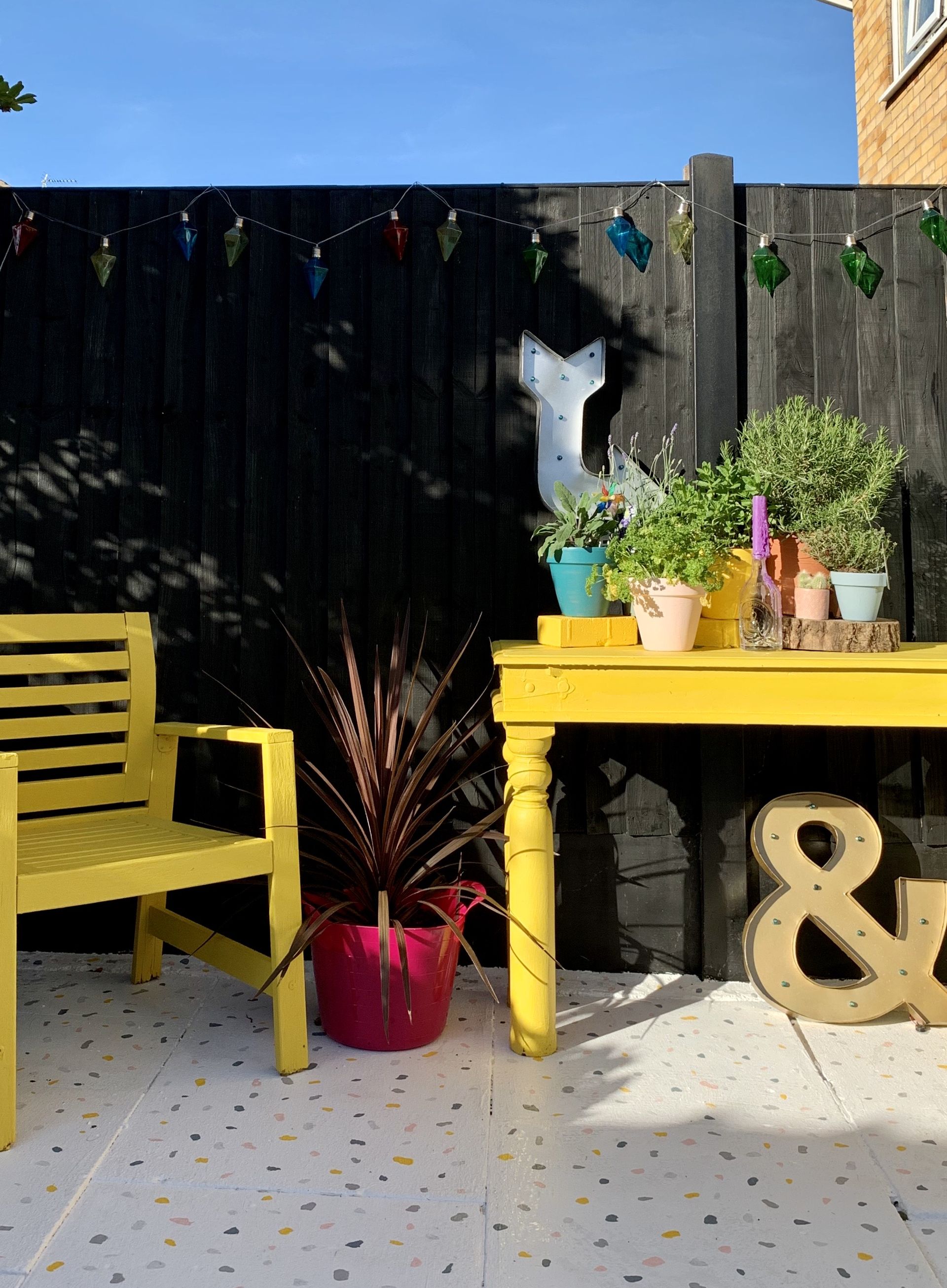 If you're an artiste at heart, let your creative juices flow on your patio tiles. Our senior art editor Emily Smith did exactly this on her own patio tiles, and the result is pretty impressive if we do say so ourselves. She painted them all white and then used a paintbrush to paint on a terrazzo effect in pinks, blues, and yellows.
With pale, delicate tiles like this especially, it's worth investing in the best patio cleaner for your space to keep it looking good throughout the warmer months.
Can you tile over outdoor concrete?
Yes, it is possible to tile over outdoor concrete, and it will totally transform the look of your patio for the better. This is also a much easier and quicker solution than digging all the concrete up.
Ensure to clean the concrete slab thoroughly first. Then lay a waterproof membrane like this from Home Depot (opens in new tab) onto the slabs. Apply a tile adhesive to both the concrete slab and the back of your tiles and grout as normal.
What are the best tiles for a patio?
The most important consideration for patio tiles is that you choose ones that are specifically designed for outdoor use.
Decide if you want them to seamlessly blend in with the rest of your garden landscaping, or if you want them to stand loud and proud and make a statement in your space.
Porcelain tiles are great for patios, as they won't absorb water, they won't fade in the sunlight and they're long-lasting.