Choosing the right paint colors for small kitchens can give even the tiniest of spaces a much loftier feel. So if you're stuck on how to add a little more design interest and, ahem, figurative room to your tiny space, upgrading your current color scheme is a great place to start.
A simple and quick way to enhance your kitchen space, that is also far easier on the budget than if you were to opt for a straight up remodel, with just a few brushstrokes you can create the illusion of added space with the most transformative kitchen paint ideas – sure to add heaps of personality and inspire you daily.
Paint colors for small kitchens that enhance space
Ever the conundrum in small kitchens, should you keep things light, bright and consistent in white, or can we experiment with a plethora of rainbow shades, or even go to the dark side with dramatic charcoal tones?
'The color scheme of your kitchen will have a big impact on the impression of the space available. Light colors with plenty of white tint will naturally reflect light, which helps to avoid the room feeling cramped and dark,' say the design experts at Wren Kitchens.
'Bright white or cream is an obvious choice, but don't feel limited. Light greens, yellows, blues and even grays can work well too. Whatever color you choose, try to make the cabinet doors and walls one consistent color. This removes any visual barriers that cause the eye to stop short, thus making the room appear much larger than it actually is.'
1. Choose pastels for a cheerful color infusion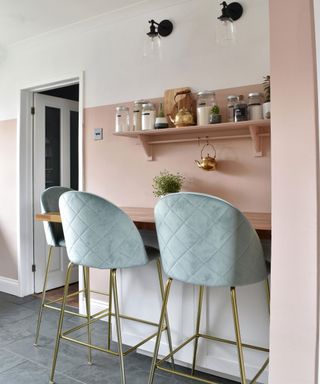 Warming pastel hues exploring an ice cream palette of blush pink, minty green, honey yellow or sky blue are a great way of uplifting your space without overwhelming it in saturated color. Think of pastels as the new neutrals to make a small kitchen feel bigger.
Graeme Smith, head of retail and commercial design at Life Kitchens comments: 'Go for warm earthy tones or pastels if you still want to incorporate color into a small kitchen as a more subtle approach to color will bring interest into the space without making the kitchen feel enclosed.'
2. Dare to go dark if your kitchen has plenty of natural light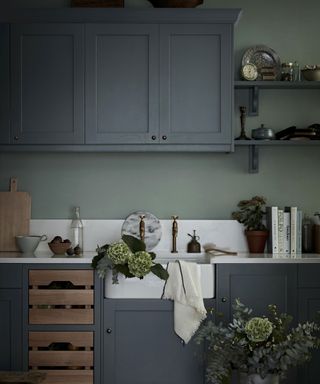 White is always the go-to when trying to make a small room appear bigger right? This clean, neutral shade reflects natural light and creates the illusion of more space. But why not dare to be different and mix it up with a dramatically dark scheme across kitchen tiles, cabinets and walls?
Andra DelMonico, lead interior designer, Trendey.com advises: 'If your small kitchen has plenty of natural light, then you have a unique opportunity. You can use all dark colors in your kitchen and make it feel larger. For example, use an all-black color palette and the blacks blend together to create the feeling of a void that makes the kitchen feel larger than it really is. With this approach, commit to using the dark color throughout the entire kitchen, from the floor to the ceiling.'
Amy Hillary, content creator, Wallsauce.com agrees: 'As long as there is enough natural light in the room, hues such as dark gray and navy can in fact make a small room appear larger as well!'
3. Daydream whilst doing the dishes in a lilac haze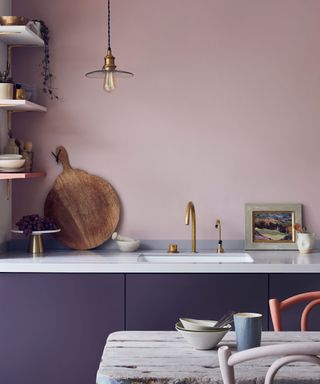 Be inspired by the Pantone colour of the Year 2022, Veri Peri, with evocative purple kitchen ideas that transcend the senses and transform a space with ethereal serenity.
'Very Peri displays a spritely, joyous attitude and dynamic presence that encourages courageous creativity and imaginative expression,' says Leatrice Eiseman, executive director at the Pantone Color Institute.
In your small kitchen, think less vibrant and adopt a twilight palette, with tonal shades of soft lilac and dreamy lavender, to add stunning contrast and a tranquil atmosphere.
Marianne Shillingford, creative director, Dulux, comments: 'Once-forgotten, lavender and lilac have been storming our social feeds of late, but they're far from old-fashioned. Childlike, sugar-sweet shades have been replaced with chic, grown-up pastels on the right side of pretty. These new purple-grey paints are imaginative and intoxicating, from dusty Violet Night to chalky Lavender Grey. Both are at once nostalgic and fresh – a happy combination – and are better still teamed with a simple neutral such as Cornish Clay.
She continues: 'Even more evocative is Wild Blackberry, an intense plum with a bit of an edge, which can be used to create intense and dramatic interiors. Indeed, the next generation of purple signals a new era for this widely misunderstood shade.'
4. Give your space a positive perspective with calming blues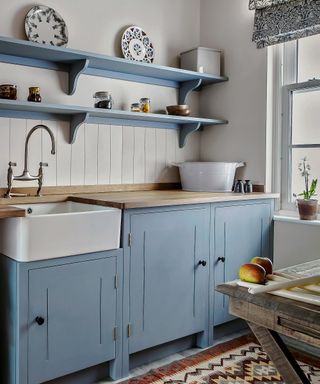 Bring the positivity of a Bluebird Day into your kitchen with sea-to-sky inspired shades that calm and restore. And just as looking up at the big blue beyond gives us that sense of freedom and infinity, blue kitchens have a similar effect - seemingly opening up a small space and breathing life into it.
Marianne Shillingford, Creative Director of Dulux. 'After so long trapped indoors we have come to appreciate the power of nature to uplift and revitalize us and a clear blue summer sky is possibly the ultimate color of nature.'
'Specifically, shades of light blue have emerged from the shadows to become one of the most popular choices, with no sign of slowing down. In the Heritage Collection, light blue paint like Clear Skies, Copenhagen Blue, Country Sky™ and Blue Ribbon are perfect picks for creating a sense of calm and positivity, while opening up rooms and affording a sense of space,' adds Marianne.
Rebecca Challinor, interior designer, Terrys, adds: 'Blue is incredibly versatile to work with, and can be used both as a base color to make a statement within a room, or as an accent to provide pops of color.'
5. Grow your space into a jungalow of green shades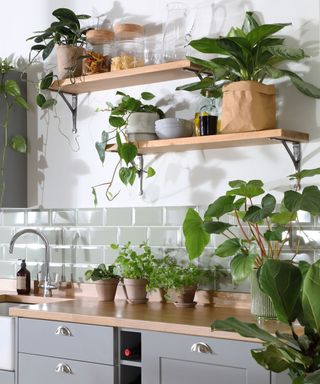 Nature-nurturing and verdant green shades are a big part of kitchen trends for 2022. Incorporate tonal shades ranging from calming sage, to fresh fern across tiling, walls and cabinetry, and add a further dimension with an indoor jungle of potted herbs and low maintenance house plants, to create a revitalizing scheme that gets all the senses alive and kicking.
Darren Watts, showroom development & design director at Wren Kitchens, comments: 'Greens create a peaceful and relaxed environment for the home. If you're feeling braver and want to have fun with color, green tones are the perfect color option for kitchens.'
He continues: 'A lot of people are opting for green kitchen ideas, from muted sages to bolder, darker tones. Furthermore, based on how much we relate the color to the great outdoors, green can also add a sense of calm and tranquility to a room.'
Industry expert Munir Turunc, CEO, Marble Systems and Country Floors, weighs in on what colors make smaller kitchens feel more expansive: 'Take a cue from biophilic design and use colors of sky, ocean or the greens of nature. There's a reason that green was chosen as the 2022 color of the year by six different paint companies. Green or blue tile, whether you choose a natural stone or a glazed ceramic or terracotta tile is a beautiful way to apply color along with texture to your kitchen walls and floors.'
6. Be unique with a colors that express your kitchen's personality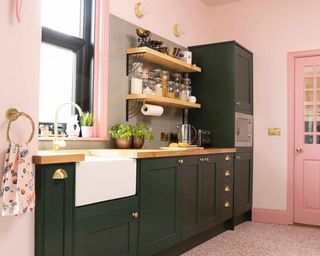 Don't be afraid to use bright, bold or dark colors in your small space. The simple fact is, you can't change the physical footage, so why not embrace what you have got to create a styled space full of experimental color combinations that express your home's unique style?
Senior brand manager at Valspar, Tobie Lewis, shares tips regarding the impact of colors on how we feel a room: 'When it comes to size, many believe that you should avoid dark colors which will shrink a room, while lighter shades will make it feel more spacious. The truth is that it's important to select a color that suits your own style and personal taste.'
He continues: 'On the one hand, darker shades can give a dramatic look. If you're not sure about committing to a dark color on your walls, why not pair a lighter shade with darker finishes and details as cupboards.
'Pastel blues and greens such as Stormy Day can make your room feel brighter and airier while cupboards painted in the elegant Plumberry Juice or even in Victorian Dusk shade, a charming hue of gray, will add depth to the room giving your kitchen a striking look.'
7. Reflect light with soft neutrals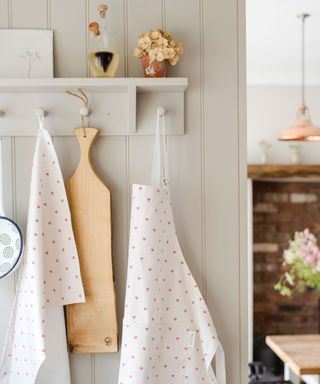 A light color palette (think white and soft neutrals like gray and natural shades) helps enhance the sense of space in a small kitchen by reflecting the light back into the space. These hues really benefit kitchens where natural light is limited, making them seem brighter and bigger than they actually are.
'Softer neutrals reflect light and increase the sense of space. You can use a single color throughout the area to create a lofty feel or a base when introducing an additional shade. Using a complementary second color can often work if you want to accentuate certain parts of the kitchen,' advises Tom Howley, design director, Tom Howley Kitchens.
Industry expert Munir Turunc, CEO of Marble Systems and Country Floors agrees: 'A clean, white kitchen will always look larger. The current fad for stone slabs will also create an illusion of a larger sized kitchen. Stones such as those in the Cararra or Calcatta families are classic, timeless and luxurious. Simply use the same slab on your backsplashes as you have on your counters, and wherever possibly run it up to the ceiling for an uninterrupted expanse of white stone. Your little kitchen will appear nothing less than majestic.'
He continues: 'If you stay with a monochromatic palette with your tile, your space will look bigger than if you use patterned or multi-toned tles. Cool neutrals such as pale grays or warm tones of ivory, cream or taupe will feel luxurious.'
8. Bring the sunshine in with calming yellows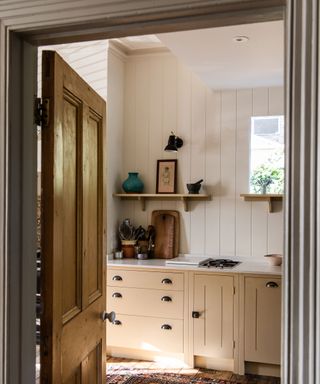 Scrumptious buttery yellows melt sunny-side-up spirit into the home, making them an ideal choice for small kitchens lacking in natural light. A variety of shades ranging from gentle lemon curd, to punchy sunflower means there's a happy yellow kitchen pairing to suit every style tastebud.
For a fresh twist in modern nooks, pair honeyed hues with breezy neutrals and natural materials like concrete and wood to create an energized space; or enhance a cozy, relaxing ambience in more traditional kitchens with spicy ochre shades and weathered finishes on character-fuelled furniture.
9. Contrast colors on cabinets to give the illusion of height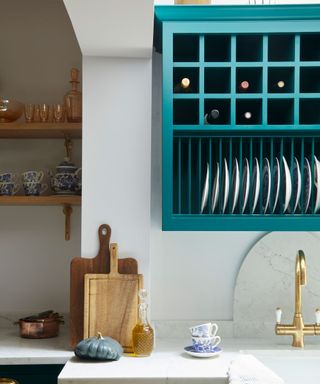 'Putting a darker color base cabinet in contrast with a light upper cabinet can make the ceilings seem taller. The same is true with adding glass to the upper cabinet doors. Keeping kitchen cabinets a light color, such as off white or a pale neutral, and limiting pops of color to certain areas, such as the backsplash or accent walls, can make the space feel bigger as well. Minimizing contact between cabinets and countertop and keeping the kitchen monochromatic also makes it feel bigger,' advises Sara Mosele of Sara Mosele Interiors.
10. Add striking contrast with a two-tone scheme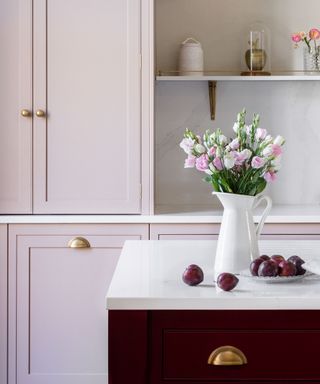 There's something utterly satisfying about the contrast of light against dark, the pale against the intense. A two-tone kitchen is a wonderful way to introduce a bold hue whilst balancing and not overwhelming the space. Keep the darker accent limited to lower cabinets or a stand-alone feature, such as a portable island, and extend the lighter shade from floor to ceiling to open up the space.
'The trend for darker and bold colors in the kitchen is continuing, but branching out from just the dark blues to include more greens and even deep reds,' says Charlotte Campbell, kitchen designer, Harvey Jones. '
'The bold feeling is following through in worktop and splashback choices, with more and more people opting for heavy veined marble-looking worktops, as opposed to the more discreet looks we have seen in the past,' she continues.
11. Incorporate colorful patterns with an artistic feature wall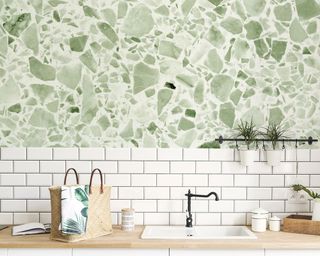 Inject playful pattern and color with a fun kitchen wallpaper design that creates a focal point to anchor your small kitchen scheme.
'Instead of thinking of paint colors, why not embrace a bold and artistic feature wall as well? Custom-made kitchen wallpaper murals work miracles for expanding the size of a space,' says Amy Hillary, content creator, Wallsauce.com.
What color is best for a small kitchen?
'Bright whites, soft grays, blush nudes and pretty pastels are all color palettes that are simple yet stylish and work brilliantly well in smaller spaces,' say the design experts at Wren Kitchens.
Isabelle Emond, real estate broker and owner, RE/MAX Ocean Surf and Sun advises: 'Painting your kitchen white helps make the area appear larger since white reflects a lot of light, creating the illusion that the walls are farther away than they are. When white walls and ceilings are combined with dark flooring and white cabinetry and countertops, the sense of continuity without edges or borders is created, making the area appear larger.'
What colors make a small kitchen feel bigger?
'There are a plethora of smart ways to make your kitchen feel spacious. To keep an open feel choose light paint colours and reflective materials such as bright quartz or a mirrored splashback,' says Tom Howley, design director, Tom Howley Kitchens.