Turn your kitchen into an island paradise with the latest kitchen island color ideas that will spread nothing but bright delight. A must-have feature of any family or sociable home, a statement island creates a gather-round focal point, enhanced by organized storage, prep-to-cook zones and brunch-to-cocktail o' clock entertaining space.
Modern open plan kitchens are multi-functioning zones where all the action happens! Make your island the stand-out, color pop star of its own show with a bright, color contrast finish. Or if you're more of a cohesive scheme chameleon, harmonize your kitchen island idea with a tonal shade that marries with the existing kitchen palette. Choices, choices…
Kitchen island color ideas that take centerstage
'An accent color is one of the best ways to inject personality into a space. When selecting an accent color, draw from the colors in your countertop. Make sure the color plays into the overall design scheme,' says Natalie Zirbel, ASID, lead interior designer, Zirbel Architect.
Turn up the heat and get cooking with color to transform your space into a tasty treat for all the senses.
1. Midas touch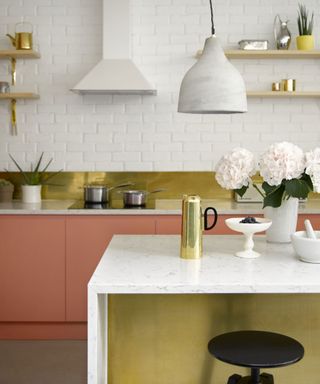 Go all out diva with a metallic kitchen island that shimmers and shines in attention seeking fashion! Metallic color palettes are attracting all the magpie glory in 2022 kitchen trends. Dazzling and daring, whilst exuding molten warmth, this glamorous look spills the beans on bringing restaurant-worthy, decadent luxury home. Pair your island base with a smooth marble countertop for a tactile play-off between luxe textures.
'From the Wren Kitchens elements range, our shimmering metallic shades bring a warm, welcoming glow to your kitchen. For a real luxurious look, go for gold with your kitchen island and you'll create a show-stopping party kitchen,' say design experts, Wren Kitchens.
2. Let organic tones reconnect your kitchen with nature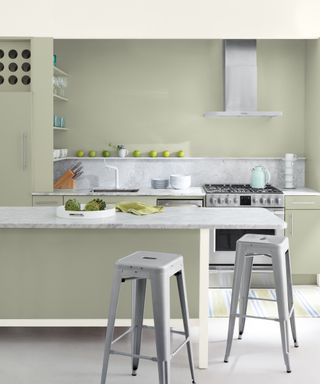 Create a green serene space with nature-nurtured shades that calm and refresh. Use a relaxed sage green as a foundational color and grounding canvas to awash your island, walls and cabinetry for a united scheme that blends seamlessly with the outside world, or experiment with tonal variations of the same shade for added depth and subtle contrast. Highly versatile, green kitchen ideas also work beautifully in endless combinations if you fancy mixing in another color hero.
Talking about the Benjamin Moore Colour of the Year 2022 October Mist, Helen Shaw, UK director, Benjamin Moore says: 'As our homes continue to evolve and we explore and express our own individualities, it was important this year that the Color of the Year serves different functions and styles. October Mist and the surrounding palette reflects the natural environment and draws on inspiration from calmer surroundings - whilst also allowing the user to create an abundance of unique combinations for any paint project.'
3. Modern country kitchens impress in decadent jewel shades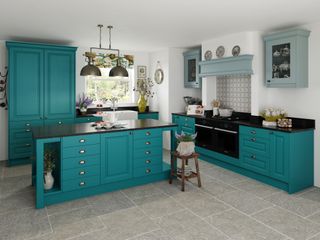 Think less rural retreat and more country manor with a regal color palette dripping in jewel inspired hues. Team sumptuous teal with a dark volcanic countertop for an intensely bold color contrast inspired by natural elements. Metallic hardware adds a detail of reactive, luxe sophistication on drawers. 'Crown' your island with a statement lighting pendant for a grand flourish that centers and zones the overall space. If teal doesn't tickle your tastebuds, other crown jewel shades to try include emerald, grape and sapphire, amongst many more.
4. True blue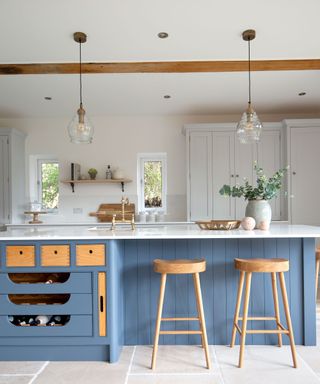 It's too good to be blue! Transform your kitchen into a zen den of calm and positivity with a blue island to set the tone. From moody hues to bluebird sky brights and pale duck egg wafts, blue kitchen decor ideas radiate optimistic energy whilst affording a sense of space. Be inspired by sea to sky shades and awash your island in a blue skies forecast that will open up endless possibilities.
'As we slowly come out of the pandemic and return to our old routine, we're looking to the sky and things are starting to look brighter - and our spaces are following suit," comments Marianne Shillingford, creative director, Dulux. "After so long trapped indoors we have come to appreciate the power of nature to uplift and revitalise us and a clear blue summer sky is possibly the ultimate color of nature,' adds Marianne.
5. Uniform whites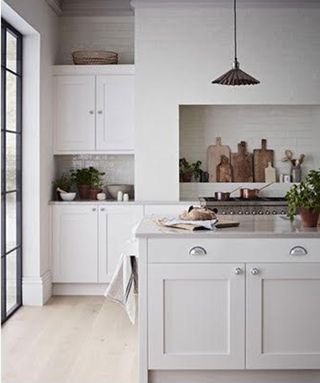 For a classic yet bright and breezy Shaker inspired scheme that delivers timeless style to transcend every season and decade, opt for an umbrella palette of warm, contemporary neutrals. Choose relaxed chalky whites as opposed to 'blah' beiges and creams for a modern nudge and breath of fresh air feel. Add a countryside flourish of life to your beaming white kitchen island with fresh plants or flowers and a rustic wooden platter or two.
6. Charcoal city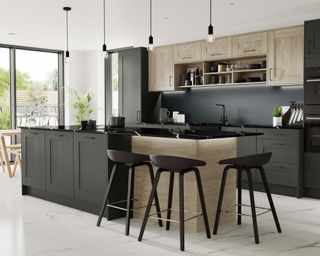 For a chic, urban inspired aesthetic and industrial style kitchen edge, architectural shades of charcoal and gritty gray are a versatile choice, adding sophisticated allure and seamless style in small and large spaces alike. Combine a raw and dark color palette with industrial materials like concrete, marble and exposed cement, to bring big city 'power dressing' home. Accessorize your island with brass or gold handles for an opulent, glamorous twist.
Karen Haller, leading color consultant, Wickes says: 'Based on the naturally occurring Anthracite, this almost black color is deep and rich, ideal for the home that wants to create a sense of drama within a minimalist design style whether that is for spacious or compact rooms with using a variety of textures. Unlike its paler gray cousin that recedes, this bold color commands attention and will take center stage in any space.'
7. Bold definition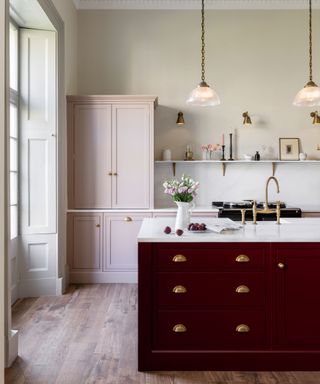 Bold and light always sits right! There's something utterly addictive and captivating about tonal shades from opposite ends of the spectrum, coming together to create a striking, two-tone kitchen scheme. The play of light versus dark adds a layer of visual stimulation and depth that's undeniably moreish on the eyes. For maximum effect, paint your island in a dark color to anchor, and use a light variation of the same color (for instance, a deep red and a pale blush pink) across the remainder foundation scheme to unite a shared color narrative, albeit in an unexpected way.
'The trend for darker and bold colors in the kitchen is continuing, but starting to branch out from just the dark blues to include more greens and even deep reds. The bold feeling is following through in worktop and backsplash choices, with more and more people opting for heavy veined marble-looking worktops, as opposed to the more discreet looks we have seen in the past,' say designers at Harvey Jones.
8. Maximalist optimism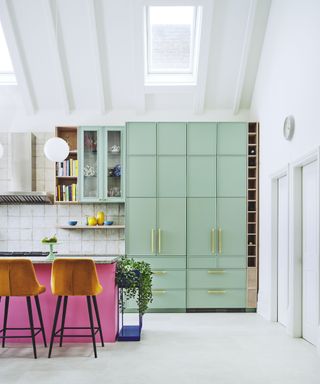 Start every day as you mean to go on with a morning coffee perched at a mood-enhancing, color therapy island. Bright tones are known to have a naturally uplifting effect, so what better place to inject a cheerful splash of color, than where you begin your everyday? Get on board with the maximalist trend and go for an attention-grabbing shade on your kitchen island. Embrace color-clashing across other elements, such as furniture, kitchenware accessories and cupboards, for a dare-to-be-different look that isn't afraid to pack a punch of vibrancy and sass.
'Whether you're taking a maximalist approach or opting for bold pops of color, mixing super-bright with slightly more muted tones will keep things just the right side of grown-up,' says Helen Marsh, head of communications, Carpetright.
9. Pick a hero shade to become your focal point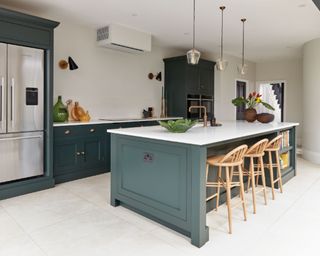 'Your focal point can be anything from an island counter, your pantry, a grand chimney mantle or open shelving, styled with all your favourite crockery. The key here is to choose one area as the focal point so they space looks cohesive. If you decide that your island counter will be the focal point of your kitchen, opt for a dramatic colour contrast with the rest of the cabinetry. For example, if you have a very neutral kitchen, a deep blue or green island counter will draw the eye to the centre of the space,' says Tom Howley, design director, Tom Howley Kitchens.
10. Space changing shades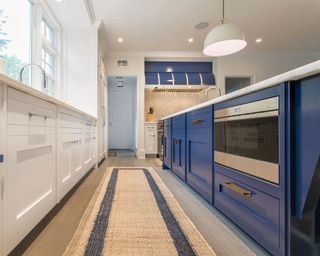 Employing the best kitchen paint ideas and adding a splash of color on your island can make all the difference to the look and feel of your entire space, without the hefty price tag and stress that comes with installing an entirely new kitchen. Indigo is a popular and timeless choice for kitchen islands, adding rich depth whilst referencing wilderness escapism for calming effect.
Should my kitchen island be lighter or darker than my cabinets?
This is more a personal choice but you can play around with both color and counter texture on islands to either complement or contrast your kitchen cabinet decor and it's sure to elevate your kitchen space.
'Visual upgrades impact the way that people feel in a space. To visually upgrade your kitchen, consider elevating the color content in the space by using a bold new paint color on the cabinetry. You might also consider substantially upgrading your kitchen island, by adding a furniture-like piece to your space. If you don't want to go through an extensive renovation, you can still increase the visual impact of how the island presents itself by installing a different countertop material or combination of countertop materials,' says Bob Bakes, co-founder and head of design, Bakes & Kropp.