If you are just starting out in a new place and need some tips on how to decorate a living room, we have you covered. As lovely as designing your space might be, there are elements that can be a little overwhelming – there's just so much choice, what style should you go for? What color scheme? What furniture will you need? How will you add storage? It's a lot! But fear not, because we answer all those questions and more in our guide to how to design a living room.
From choosing the perfect sofa to deciding on a layout that works for your space and your lifestyle, we've gone into the detail you need to know, to help you make the right choices for your living room. Just keep on scrolling for loads of practical tips, plus some loving living rooms to get you inspired...
1. Pick the right living room furniture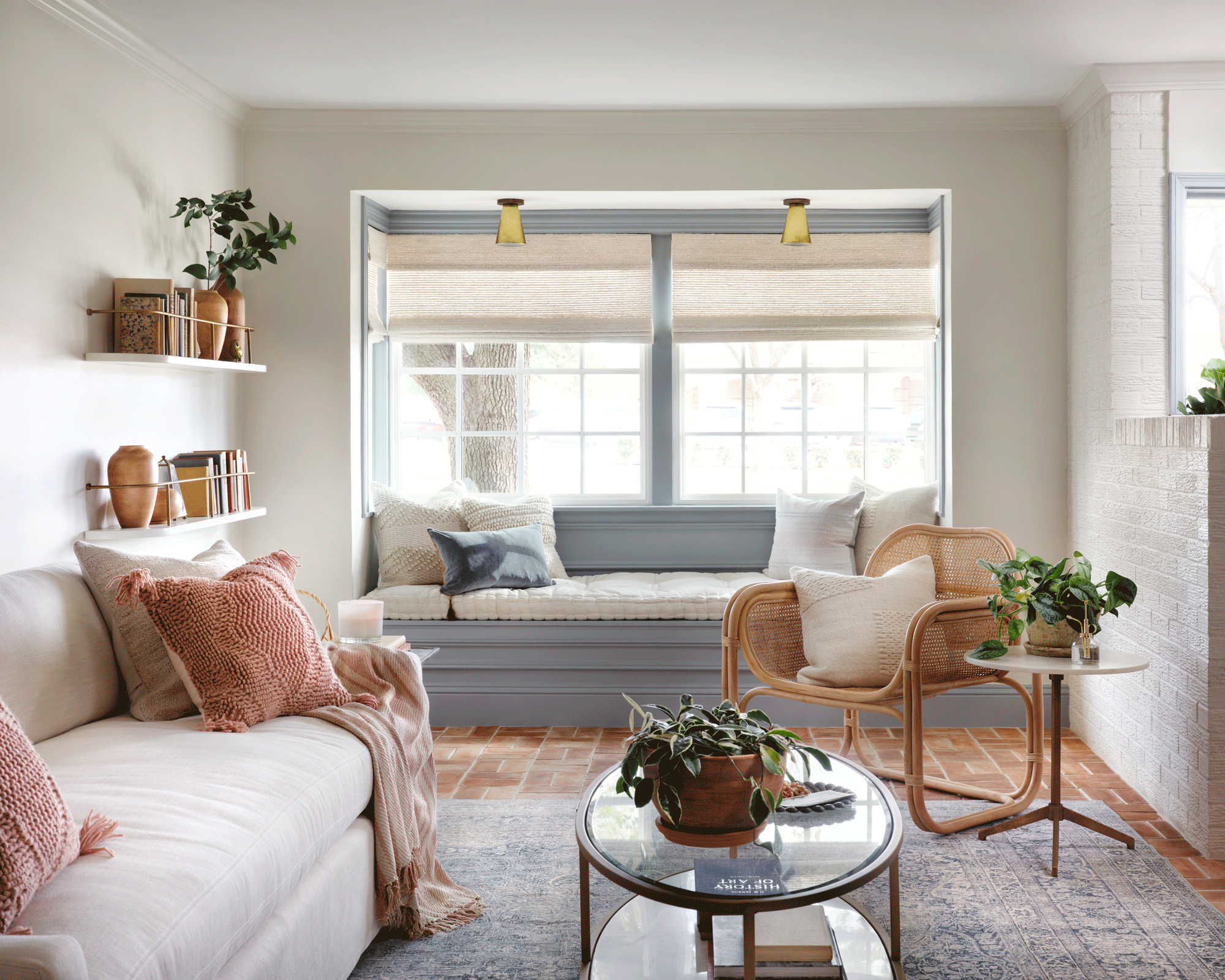 Our living room furniture works hard. We spend so much time in our living room, lounging, binge-watching TV, entertaining, and potentially working too, so picking the right furniture for your space is key. It's also the perfect place to start when decorating a living room.
But what furniture do you actually need in a living room? In short, all you need seating, storage, and a place to put the TV if you aren't planning on wall mounting it. So as long as you have those things covered, then it just comes down to what else you want to fit into your space.
'With living rooms serving multiple functions throughout the day, furniture should be easily moveable and be able to serve multiple functions.' recommends Eilyn Jimenez, founder and creative director of Sire Design. 'Rather than purchasing a large sofa, consider purchasing statement chairs and benches that can serve as seating not only in the living room, but also able to be moved to other rooms easily.'
After you have decided what types of furniture you want in your space, a lot of the decisions on what you buy will come down to your personal style. But there are practical things to consider too, like sizes, shapes and, of course, budget.
You also want to make sure all the pieces are going to work together. Since most of us have ditched the traditional, three-piece suit with matching coffee table and TV stand kind of vibe for something more relaxed, you still need to make sure there's something cohesive about your picks. Color is a simple way to do this, opt for the same colored wood in all your storage pieces. Or let the shapes be the similarity, maybe you've fallen for a super cool curved sofa that you can match in the shape of your coffee table.
2. Decide on the best living room layout
The perfect living room layout is one that suits the way that you live, whether you want an area for entertaining, a quiet and isolated room to withdraw to, or a multi-functional space that can be adapted to whatever the situation needs.
You'd be surprised how many different ways you can set up your living room too, There's much more beyond pushing all your furniture up against walls and angling them towards the TV. In fact, that would be a layout we would say to avoid, instead, try floating your furniture and pulling them away from the walls to creating space around the outside of the room.
'Before purchasing new furniture pieces, take the measurements of the pieces and tape the dimensions on the floor. Through this exercise, you can easily see how much space a piece will actually take up and if it feels comfortable in the room. A good rule of thumb for large pieces is leaving four to five feet of walking space around the furniture to feel comfortable.' says Eilyn Jimenez.
So get out the graph paper and draw up your space. Then decide what you want the focal point to be, as that makes all your other layout decisions a bit easier. Do you want the TV to be the focus, or a piece of statement art, or a feature of your home like a fireplace or an alcove?
Once you have made this decision you can start planning where your furniture will go and whether you want to go for a formal balanced look with furniture on both sides of your focal point or for a more relaxed feel by dotting your furniture slightly more randomly around the space.
3. Make sure you have enough storage
Anyone else find that clutter is just drawn to the living room? No matter how much you try to create a minimalist space, it seems to attract 'stuff' like no other room. So that makes good storage key to your living room decor.
To save on space and to cut down on unnecessary extra furniture, choose pieces that offer as much versatility as possible: coffee tables with plenty of storage shelves; TV cabinets with added drawers; and even sofas with hidden storage.
You should also opt for living room storage that have both open and closed sections so you can hide stuff away, and still keep your most prized knick-knacks on display.
4. Experiment with different styles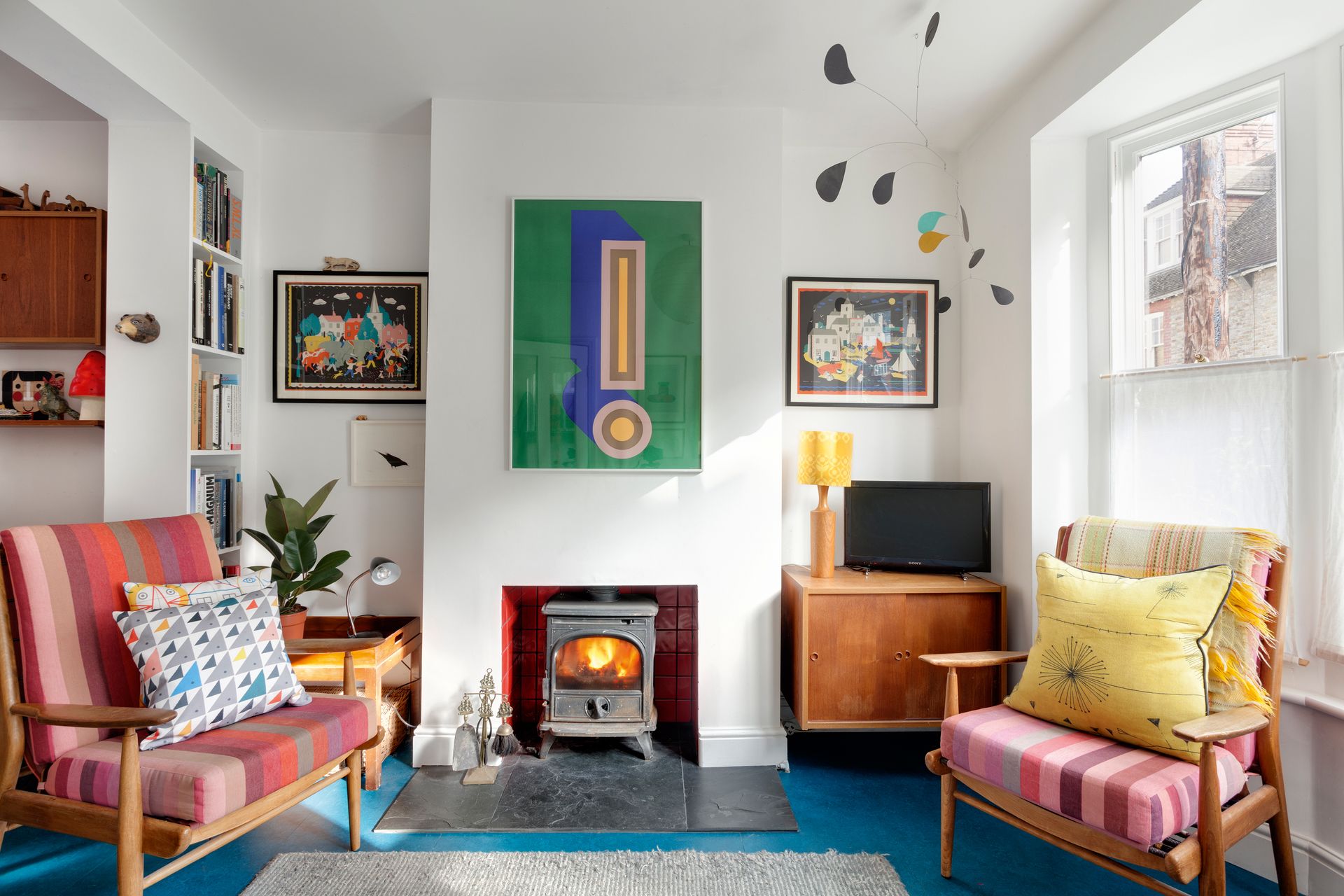 So you've got the furniture you need, your layout all planned out and now it's time for the fun stuff, what styles are you going to bring into your living room? If you have no clue what your style looks like, a great place to start is by creating mood boards. You can go old school and do that physically by saving pictures from magazines you love, or just get on Pinterest and start saving designs you like. You'll quickly start seeing a theme and hopefully, a style you like should become clear.
And while you might be tempted to stick to one style, if you are decorating a living room for the first time, don't be afraid to mix and match different looks and eras. This will create a space that's unique to you rather than a room that looks like it's straight from a catalog.
While there are few rules when it comes to living room decor, we would say avoid decorating in a style that doesn't suit your home's style. For example, filling a modern home with smaller proportions and lower ceilings with loads of antique Victorian furniture may look a bit... odd.
5. Choose the right color scheme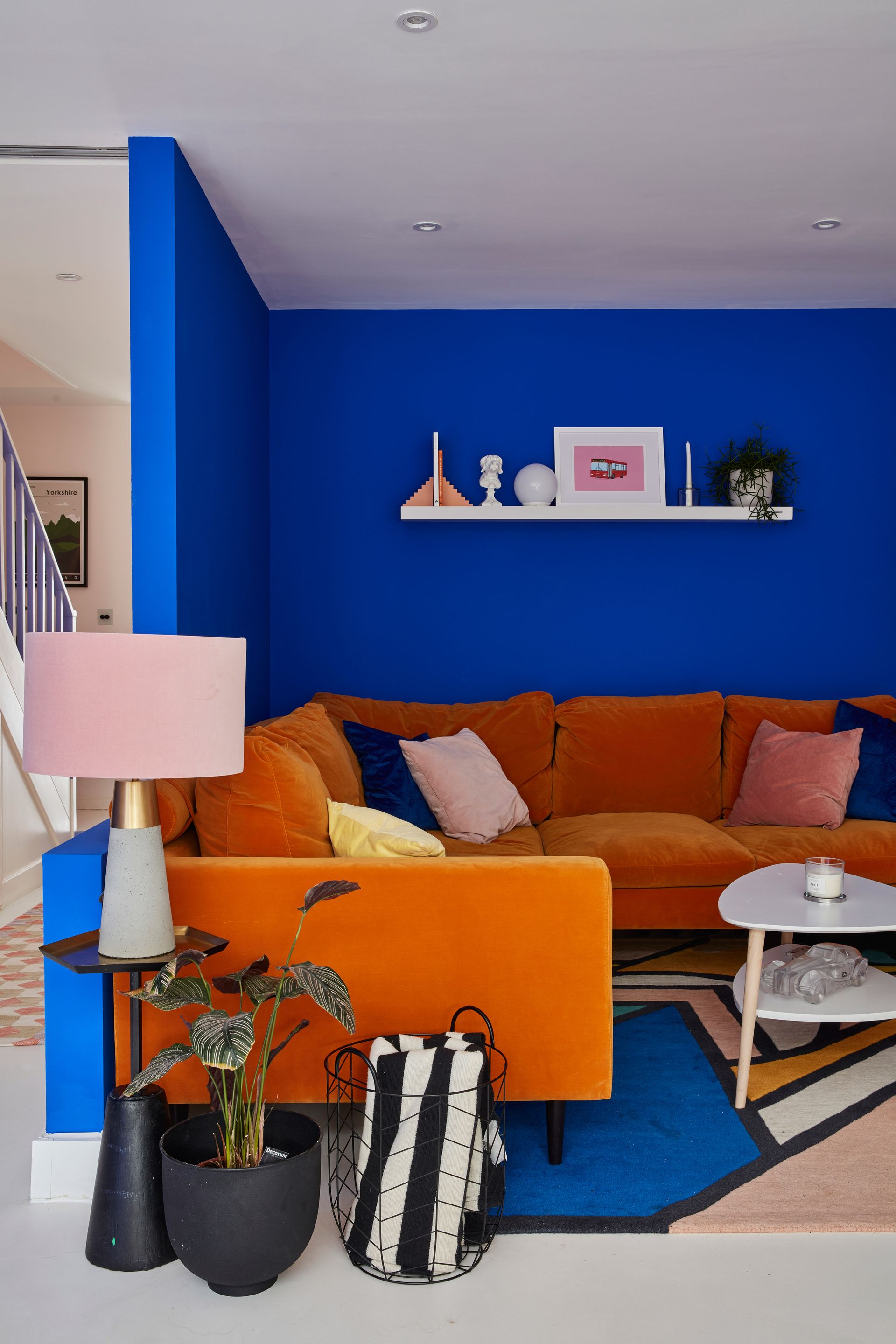 Next up it's time to pick out some colors. The best place to start is to look at the size of your living room, and the height of the ceilings too. As a general rule in smaller spaces, you want to stick to a lighter color palette to make the room feel lighter and brighter. Although you could go the other way and embrace the coziness and opt for a darker color scheme instead.
If you have been blessed with a larger space, you can be bolder in your color choices – experiment with a bright feature wall or test out the trend for a dark color on all four walls.
Consider what natural light your living room gets too. North and east-facing living rooms will get less natural light and feel cooler, so balance that out with warmer hues like soft neutrals, terracotta and pinkish colors. South- and west-facing rooms will get lots of sunlight, so will suit most colors but you may want to choose cooler colors to enhance all that lovely natural light.
'It's important to opt for a color scheme that fits with mood or atmosphere you're looking to create as well as establishing your signature style.' explains Helen Shaw, Director at Benjamin Moore.
'Over the last year, we've seen homeowners opting for dark and moody colours in their living rooms to add ambiance and character to the room. However, for 2021 midtone, sun-baked hues will be introduced into our living rooms which will add a welcomed splash of color and cheeriness from season to season. Approachable and liveable, teal tones and saturated shades of terracotta are easy to introduce into a scheme without having to overhaul your look. Perfect for more casual and relaxed schemes when paired with rustic rattan textures and natural materials such as linen, but they work beautifully to add dimension and interest to more traditional, bolder schemes.'
To be safe, just always order plenty of swatches and stick them up in your room so you can see exactly how it's going to look in your living room at different times of the day.
6. Get your living room lighting spot on
You might not think that lighting plays such a key role in your living room decor but it's what creates the ambiance in the space. Think about it, you probably spend the most time in your living room in the evenings, so you want to get the lighting spot on.
'Living rooms, more than any other space within the home, are the place where you want to promote a sense of familiarity, relaxation and coziness – all of which can be enhanced by how you use lighting.' explains Rohan Blacker, founder of Pooky.
A perfectly lit room requires three different types of light – general, task and accent, each one is usually used at different times of the day and for different reasons. Think about what you would do in each part of the room and light that area accordingly.
'Rather than strong overhead lights, try using more localized lamps to highlight a particular part of the room, use a dimmer to give you options for different occasions.' advises Rohan. 'Wall lights are a great option in a living room as they are unobtrusive, pretty and very efficient with space if you aren't spoiled for it. The more sources of light you have, the more moods you can create. Clustering a few small lamps is a great way to add impact to an alcove or mantelpiece.'
7. Select the perfect living room rug
No living room is complete without a rug. They do so much more than just look lovely and add some squishiness underfoot, they can work to zone a room, or ground your furniture so it doesn't just feel like it's floating in a sea of floor.
'A rug can add the perfect finishing touch to your home. It pulls the scheme together and helps to zone a space when working with a larger room' explains Jen and Mar from Interior Fox. 'And don't be afraid to maximize: the bigger the rug, the better in our opinion. A large rug will create maximum comfort underfoot while adding warmth and texture to wooden floors.'
'Our best design tip: make sure to place the rug underneath the front of the sofa; this will bring your key furniture pieces together. To avoid the room feeling overcrowded, give the rug enough space from the wall, ensuring the sides of the floor are exposed.'
As well as helping with the flow and layout of your living room, a rug is a super simple way to bring in some color and pattern. And if you are a bit of a colorphobe you can add just as much interest with the texture of rug you choose.
'A colorful and patterned rug adds great impact to neutral furniture and walls, and works well at hiding a multitude of sins. But a bold design isn't for everyone. A neutral rug with subtle texture gives a relaxing and calming feel to a scheme.' continue Jen and Mar.
'There are many materials to choose from: wool, sheepskin, hide, sisal and jute are just some of our favorites. Sisal and jute work best for areas of high traffic or homes with pets, while wool, sheepskin and hide add a tactile element and provide a soft surface for children to play on.'
8. Add plenty of texture
A really easy way to make your living room always feel cozy and inviting is to think about textures as you decorate. Layering up different fabrics and materials gives a room some depth and interest, especially if you have chosen a neutral color scheme.
You can add texture by mixing the materials of your furniture, as you see here with the glass cabinet, velvet sofa, wooden coffee table and cowhide stool, but look to your accessories too for more subtle ways to bring in texture. Pick pillows all with different finishes and layer them up on your sofa, or choose multiple rugs to add some texture on the floor, even plants can add in some extra texture.
9. Don't forget the windows
Window dressings, as practical as they may seem, are a really important part of your living room decor. They can add pattern, color and texture as well as privacy, light control and warmth (if you need it).
What you opt for will depend on the overall style you want to create and your budget. But, if you want to add a touch of luxury to the living room, shutters or Roman blinds layered with lighter, semi-sheer curtains are a good choice. You get both privacy and that light control with the blinds but curtains add a softness around the windows too.
10. Bring in personality and decor
And all that's left is to make your living room feel like... well yours. Hang prints that mean something to you and dot photos around the room too. And just don't take the whole process of decorating your living room too seriously, if you've invested in the right furniture and got your layout right, everything else comes down to creating a room that reflects your style and is a space that you want to spend time in.