When spooky season hits town, all manner of dressed gourds come out to play and there is no denying that no-carve pumpkin ideas are major. Perfect to perk up a porch and nod to the ghoulish season, without having to be super precise with pumpkin carving, it's literally a win-win when it comes to creating a simple but effective Halloween display at home.
And that's not to say that you can't go big either, whether you want to craft no-carve looks using faux picks so that you can bring out again year after year, or if you've got a spare squash that's not the cutest and want to give it a spooky or bright glow up for the season, combine your creations with your favorite Halloween decorations for a layered finish and those trick-or-treaters will flock to your door for all of the best-haunted house vibes.
No-carve pumpkin decorating ideas
We're fans of simple but effective DIY halloween decorating ideas that don't cost a ton to recreate but that pack a punch in looks. From getting out your favorite sharpie, to picking up your glue gun, getting more hands-on with paint and more to jazz up faux Dollar Tree pumpkins or the real deal, you're going to want to give all of these a try this year. Ideal if you've already shopped all of your Halloween decor buys but feel like you're missing a little something more personal.
1. Tester Pot Painted Pumpkins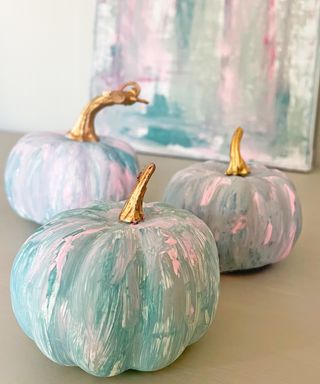 Hands up if you have some tester pots of paint left over from an interior decorating project. Here's your sign to get them out of the cupboard and get creative. Painting wonky homegrown pumpkins with old tester pots of paint is a great idea, not only because it saves money and waste, but also because you'll likely have a selection of paint shades that complement your decor meaning this year's pumpkins will fit effortlessly into your room schemes. Why not create a matching DIY canvas for the wall using the same paints?
2. Neon painted pumpkins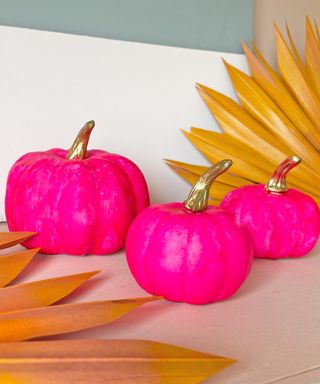 This pumpkin painting project is perfect for those who enjoy a break from the norm. Traditional Fall decor can feel a little staid, so why not opt for a more daring and edgy approach this year? Neon paint benefits from layering up, so applying a few thin coats is the best approach. It also comes in a ton of different shades, perfect for creating multiple-hued Halloween displays.
3. Monochrome pumpkins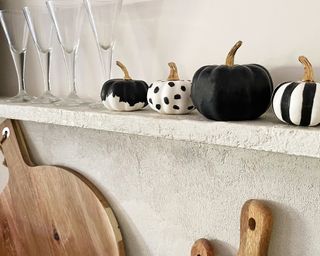 Chalkboard paint is super useful as it adheres to almost any surface and creates a stunning matt-black finish. You could choose a simple pared-back approach to your painting by painting the whole pumpkin in this stylish shade, or you could mix it up by introducing some patterns. Spots, stripes, drips, or even splashes look fab in chalkboard black.
4. Sharpie spider web pumpkin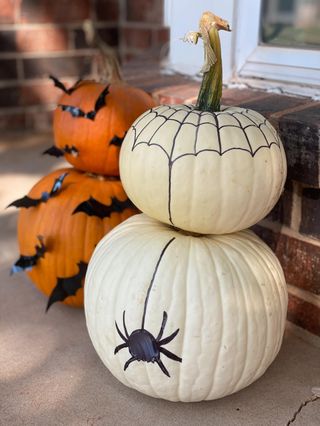 For this project you need a small and medium white pumpkin and a black Sharpie permanent marker. Remove the stem from the larger pumpkin. Using the Sharpie, draw a spider web around the top half of the smaller pumpkin. Draw a line down from the web, continuing it halfway down the larger pumpkin. At the end of the line, draw a spider and fill in until it's solid. Stack the smaller pumpkin on the larger pumpkin for a whimsical display!
5. 3D Bat pumpkins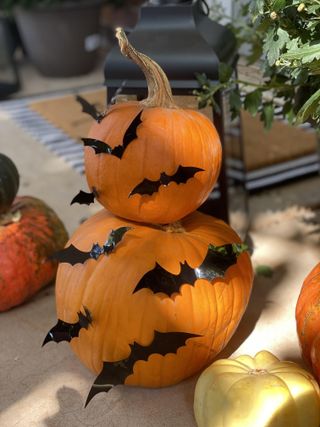 For this project you'll need a small and medium orange pumpkin and 3D black bats with adhesive on the backside. Find yours on Amazon! Remove the stem from the larger pumpkin and stack the smaller one on top. Bend the wings of the bats and attach them to the pumpkins, arranging them with the larger ones on bottom and moving to the smaller ones on top! Use indoor or outdoor to add a fun element to your Halloween decor!
6. DIY concrete pumpkins using coffee grounds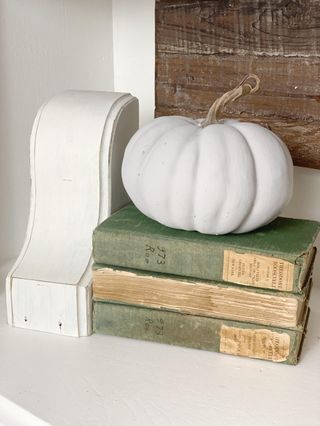 This project uses dried coffee grounds, gray chalk or craft paint and a plastic pumpkin. Mix a tablespoon of coffee grounds into the paint. Use a paint brush to apply the mixture evenly to the pumpkin. Allow to dry and then add a second coat. The coffee grounds will give the pumpkin the texture of concrete!
7. Chalk Painted Faux Dollar Tree Pumpkins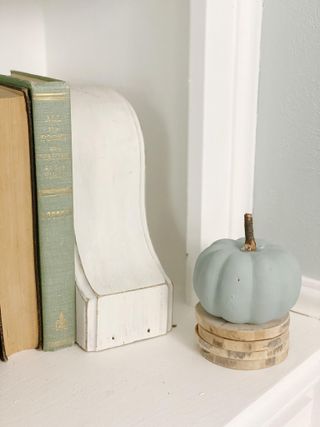 Small Dollar Tree pumpkins are perfect for this project! You'll also need your choice of chalk paint, a hot glue gun, and a stick from a tree for the stem to give it a realistic feel. Start by removing the fake stem from the pumpkin. Using a paint brush, paint the pumpkin with two coats of chalk paint. Cut the stem to the desired length and glue to the top of the pumpkin! Stack on top of candle holders or use on a tiered tray.
8. DIY glass pumpkins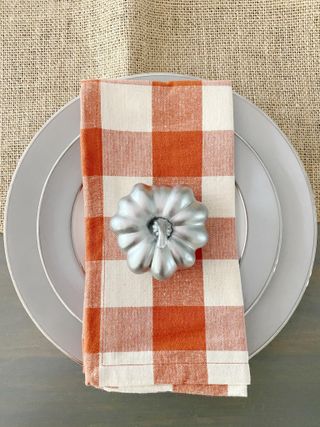 Cheap dollar pumpkins are great for this easy project! You'll also need a can of Krylon Looking Glass spray paint that you can find on Amazon. Lay the pumpkins on a drop cloth and evenly spray the top of the pumpkins. Allow them to dry completely before flipping them over and repeating the process. The paint will give them the look of glass! Use the pumpkins as part of your fall tablescape ideas and get top marks for your seasonal decor.
9. Dried floral pumpkins
Such a cute no-carve pumpkin idea from @houselarsbuilt! Dried flowers are here to stay so why not add them to your pumpkins too? Pick ones that match the color of your pumpkins to keep things very rustic and natural-looking.
10. Freestyle bright pumpkins
These pumpkins by @kailochic look like they were done by someone who actually has some artistic talent (they were) but any novice could give this a go. Just pick colors that work together and just build up the color with different sized strokes.
11. Rose gold painted pumpkins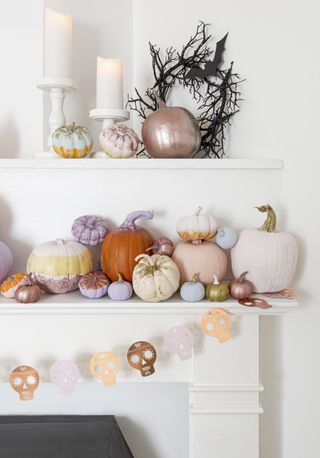 We love the color palette here and it goes to show how far out you can get with pumpkin painting ideas. We love the slightly rustic unfinished look that comes from using real pumpkins. For this you could use spray paints and just mix and match how much of the pumpkin you cover – spray some completely, half spray others or just to the storks! Give your display a touch of glamour by using metallic spray paint.
12. Fall leave decoupage
This simple no-carve pumpkin idea doubles up as cute fall decor too. Head out on a crisp autumnal walk (or to your backyard...) to pick up a few leaves and have a play around. It's about finding the perfect proportions, totally undamaged leaf is not an easy task, so you could just as easily pick some up from a craft store. Where ever you decide to source your leaves, use glue to secure them to your pumpkin in whatever pattern you like – we think covered the whole thing in leaves would look cute.
13. Pastel dip-dyed pumpkins
@melanielissackinteriors created a very cute display on her doorstep by forgoing the carving knife and choosing to dip-dye her gourds instead. Ideal for anyone looking to up their outdoor Halloween decor game, get the look by literally dipping your pumpkin half in paint and let the paint drip down the sides, or you could go for a neater look and create the effect yourself with a small paintbrush.
14. Black and gold detailed pumpkins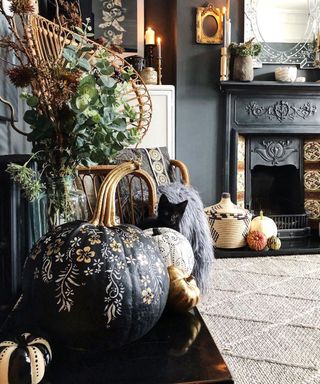 For a more fancy approach to decorating pumpkins, choose a fine paintbrush and freehand some patterns. Gold on black is a winning color combination, we like adding a little white too to help the design pop. Super simple, yet the results are very impressive.
Courtesy of @theresagromski.
15. Gold embossed white pumpkins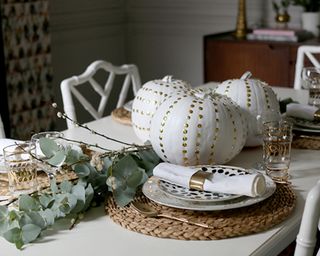 These stunning no-carve pumpkins make a great fall centerpiece, and don't cost the earth to decorate either. 'If you're expecting some guests or simply want to make a lovely display for your dining room, these decorative pumpkins are a perfect way to give your home a little autumnal flair for not a lot of money,' says Kimberly Duran, aka @swoonworthyblog.
'Paint your pumpkins using matt white spray paint. Make sure your layers are very light and keep the can moving to avoid any drips. You'll need to do 2-3 coats and leave each coat to dry between starting the next one.'
'Once your pumpkins are completely dry, use the thumbtacks to create some designs on your pumpkins For the first pumpkin, I followed the natural grooves, tracing the lines about half way down the pumpkin and leaving a small space between the tacks. For the second, I created a concentric circle pattern all the way around from the top to the bottom in a spiral. For the third, I again followed the grooves down the pumpkin but this time, I used the tacks from top to bottom.'
'Once your pumpkins are completed, set them in the middle of the table and tuck your eucalyptus branches and pussy willow stems between and underneath them along the length of the table.'
16. Folklore foliage pumpkin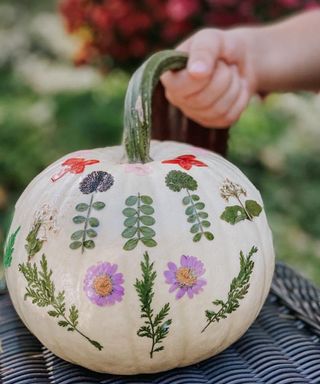 Have you ever decorated pumpkins with pieces of nature? This pumpkin decorating idea by Tara, founder of Little Pine Learners, so simple and looks beautiful when complete! You can use leaves, flowers, or other light pieces of nature.
A fun and educational Halloween craft for preschoolers, little ones will love pressing the pieces of nature and gluing them onto the pumpkin! This is one pretty pumpkin when complete. Then, use non-toxic PVA glue to stick the foliage onto your pumpkin.
17. Colored henna pumpkins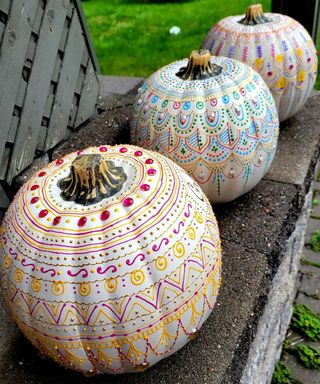 Most commonly used in Hindu celebrations, Henna application results in the most intricate and bold designs and you can get really creative with the plant-based dye.
Instead of using the reddish-brown form, Vineeta, a Henna artist and owner of @halifaxhenna based in Nova Scotia has turned this art form into an Etsy business applying brightly colored product to her pumpkins.
Choosing a white 'ghost' pumpkin will see the colors popping and we love the added gemstones and pearls on these designs. The use of magenta, mustard and cyan really do remind us of Holi and Diwali festivals. Though getting the henna out of the tube might be messy at first, but there still no faffing about with cutting and scooping as when you're choosing carved pumpkin ideas to copy!
18. Cacti pumpkins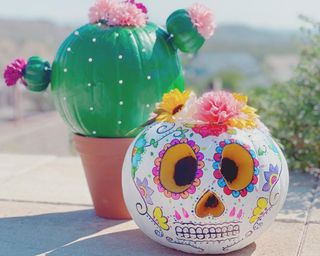 Pumpkins are the perfect foundation for creating whatever you like! You may have already seen a few Mexican inspired Day of the Dead or Día de los Muertos faces, but we've got our eyes on what's behind it.
This clever cacti plant by podcast host Melissa Monte (aka @mindlovemelissa) has been formed by painting a trio (one medium and two mini pumpkins) in a green emulsion and then sticking in some white pearled pins. It's actually works out perfectly when you think about the timing as Hallow's Eve is on 31st October with All Souls' Day celebrated 1-2 November.
19. Vinyl stamped pumpkins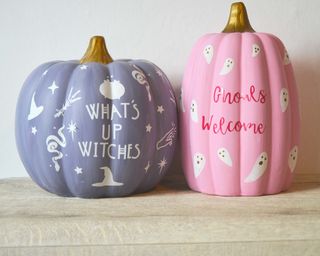 We love this pastel-colored pumpkin decorating idea and it's perfect to add a healthy touch of attitude to your Halloween display. Slogans are the perfect way to literally say it out loud and a vinyl cutting machine – like that from Cricut is the perfect way to get consistent "Qween-worthy" results.
20. Blue detailed glossy pumpkins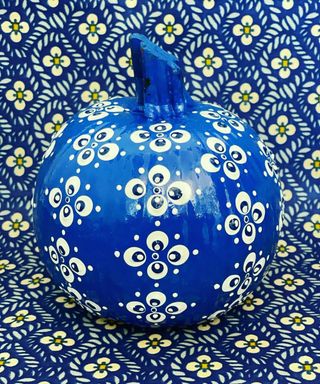 We are head over heels with this blue pumpkin, complete with white floral detail from Tina Aponte, managing director and owner of Zambezi Joy Society. Her Zambian-inspired gourd designs are just as colorful as her high fashion tablecloths. We're happy to add this to our tablescape.
21. Boo! Confetti pumpkins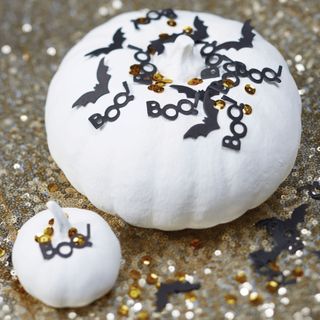 Another easy no-cavre pumpkin decorating idea is to use confetti or stickers. Again, paint your pumpkin (you really could use any paint, it doesn't have to be spray paint), and then go to town with the Halloween confetti.
This cute confetti is from Ginger Ray – love the gold sequins mixed it for a bit of a glam, grown-up edge. Find much, much more Halloween confetti on Amazon.
Using non-toxic glue, this is an easy Halloween craft idea for kids, and is pretty foolproof. So they won't run the risk of disappointment you get from trying to copy a more complex design.
22. Butternut-squash bunnies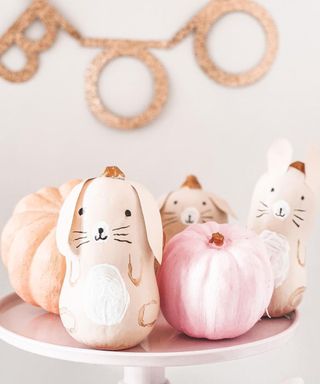 A gourd is a gourd and butternut squash should not be forgotten at this time of year! Not to mention, not all pumpkin decorating ideas have to be scary. These butternut squash bunnies, along with pastel-colored pumpkins make cute decorative additions to kids' rooms or even to a mantel.
23. Polka dot artist pumpkins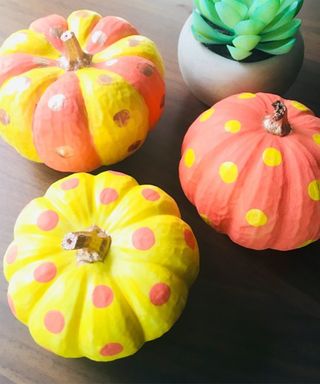 'This Yayoi Kusama inspired project is probably one of my favorite Halloween crafts,' says Jennifer Refat, founder of Craftic.com
'If you know me at all, you know I'm a fan of polka dots. Since I don't like carving pumpkins and much prefer painting them, this project came about pretty organically. I didn't originally intend to mimic Ms. Kusama's work but it was inevitable with both our loves for polka dots.'
It's important to wipe gourds with damp paper towels to remove any dirt and let dry. Place a small dab of acrylic paint on your palette/plate - about the size of a dime. Acrylic paint tends to dry quickly so it's best to use a little at a time.
Paint each gourd with one layer of base color. You can paint it all one color, alternate your two main colors or do an ombre effect. It's up to you! Then use the eraser on the end of a pencil to create a dotted design.
24. Pastel pink and cream pumpkin wreath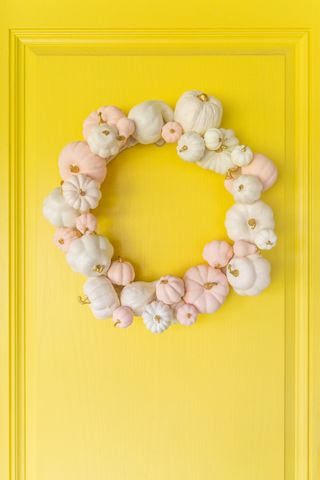 Jazz up your front door with a pastel no-carve pumpkin wreath. Perfect for something a little different, and way more vibrant than you'd expect to find in spooky season... Chelsea Foy, founder of Lovely Indeed says, 'This neutral wreath with pops of gold is such a lovely way to welcome guests at your front door! It comes together quickly and easily with a few faux pumpkins and some spray paint.'
25. Gold Herringbone detail pumpkins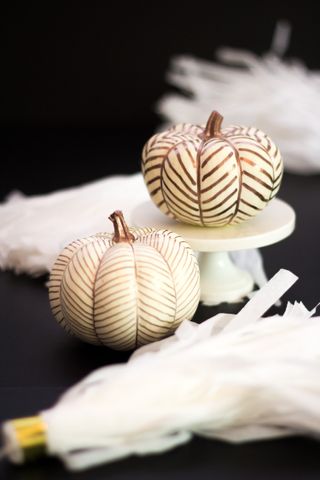 For a stylish addition to your Halloween tablescape, console table or other empty spot in need of Halloween enlightenment, keep your pumpkins neutral and gilded. 'Sometimes it's fun to ditch the pumpkin carving and just try some paint! Paint pens are a great tool for decorating mini pumpkins, as shown here with this easy herringbone pattern.' Says Foy.
26. Floral stenciled pumpkins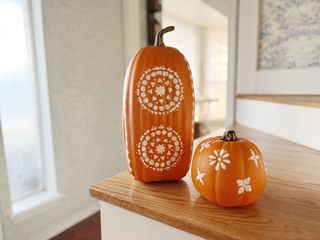 Stenciling a pumpkin is such a simple and unique way to add pizzazz to your home over the holidays. Choose whichever design you'd like, color the pattern within the stencil or paint your pumpkin and let the flesh color come through to create a super unique a polished finish.
Why should we not carve pumpkins?
'Carving pumpkins is a favorite Halloween pastime, but it's not always the best idea for longevity. If you're needing your pumpkins to last, you will want to find an alternative to carving. This is due to the fact that once your pumpkins have been carved you can only expect them to last up to five days in a warmer climate and up to 14 days in a cooler climate. On the other hand, uncarved pumpkins will last two to three months!' Says Dori Turner of Dori Turner Interiors.
What can I use to decorate a pumpkin without carving?
'There are several alternatives to decorating pumpkins without carving. You can use permanent markers to draw a fun design. You can paint your pumpkins with craft or chalk paint. You can also glue objects like beads, sequins, and buttons to create a pattern on your pumpkin!' Adds Dori.
What can I do instead of carving pumpkins?
Amy Marsden, lifestyle content editor at AO.com, says; 'Pumpkin carving can be really difficult to do, especially as you might only be able to get smaller pumpkins. Whereas decorating them can get kids of all ages involved and adults can really get creative,'
'Using spray paints is an easy way to change how pumpkins look, spraying some black, gold or white as well as keeping natural orange ones – will really enhance a Halloween look and feel.'
'Another really simple way is painting your pumpkins in a single flat color and using either gold or colorful drawing pins, stickers or other arts and crafts items like googly eyes, can really give a simple pumpkin an elegant or silly look, perfect for an Instagram backdrop, table centerpieces or kids party.'
'A bit more technical, but using a drill and small drill bit you can do dot patterns around the pumpkin and still achieve a typical Jack-O-Lantern, just without any nitty gritty carving.'
And Amy Marsden, lifestyle content editor at AO.com, says; 'Pumpkin carving can be really difficult to do, especially as you might only be able to get smaller pumpkins. Whereas decorating them can get kids of all ages involved and adults can really get creative,'
'Using spray paints is an easy way to change how pumpkins look, spraying some black, gold or white as well as keeping natural orange ones – will really enhance a Halloween look and feel.'
'Another really simple way is painting your pumpkins in a single flat color and using either gold or colorful drawing pins, stickers or other arts and crafts items like googly eyes, can really give a simple pumpkin an elegant or silly look, perfect for an Instagram backdrop, table centerpieces or kids party.'
'A bit more technical, but using a drill and small drill bit you can do dot patterns around the pumpkin and still achieve a typical Jack-O-Lantern, just without any nitty gritty carving.'