Pack away your summer decor because fall is just around the corner. It's time to cozy up and embrace the holiday spirit with pumpkin-spiced scents and all things orange, terracotta, and red. And what better way to do that than with one of our favorite fall decorating ideas – a fall wreath. Adorn your door, mantle, or window with one of these gorgeous fall wreaths and welcome guests into the season in style.
From faux and artificially decorated wreaths to real flowers and LED light-up designs, plus pumpkin and pampas wreaths, there are plenty to choose from. Plus, there are styles to suit all budgets, whether you're wanting to pick one up with your next Home Depot shop, order from Amazon or find one browsing at Anthropologie.
See our selection of the most stylish wreaths to get your holiday home aesthetic underway. There's no better way to get into the spirit of the season, and a seasonal wreath will make sure your porch looks lovely, rain or shine. Even take it past your front door with a fall-themed bedding set too.
12 fall wreaths to buy this year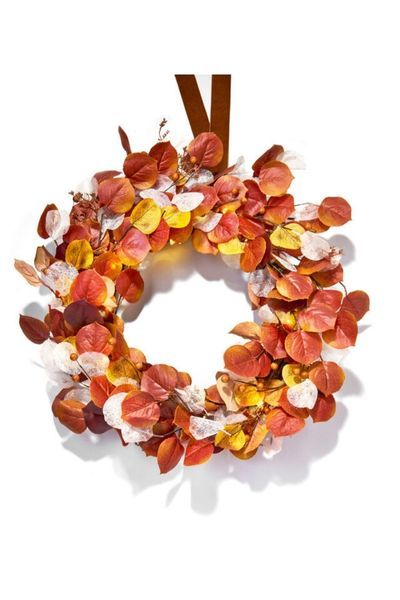 1. Sierra Wreath with 80 LEDs
Size: 24 inch
Illuminate your entryway in red, orange and yellow with this pre-lit LED fall wreath. Mixing artificial natural leaf details it'll mirror the change of the seasons. It comes with a brown satin ribbon to hang too – an elegant touch to elevate your doorway.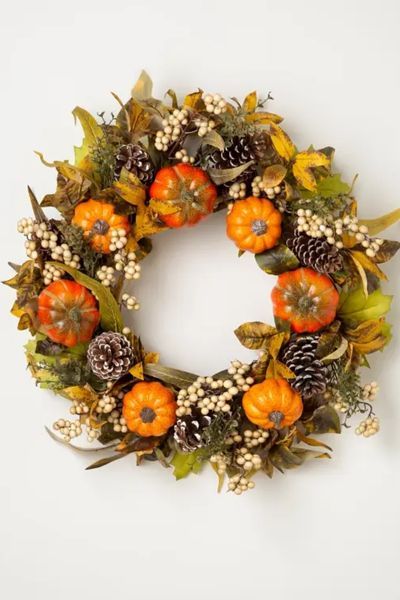 (opens in new tab)
2. Balsam Hill Autumn Abundance Foliage
Size: 22, 28, 34 inch
Choose from three sizes to suit your space and bring the splendor of the season home with this faux leaf wreath. Featuring leaves, pumpkins, pinecones and sprigs of berries, you can't get more autumnal than this.
(opens in new tab)
3. Preserved Sunset Lagurus Wreath
Size: 12 inch
How pretty is this natural lagurus wreath? Delicate and soft this seasonal circlet is a great transitional wreath to take you from summer to autumn. But remember, since it is real, you'll have to take special care of this one.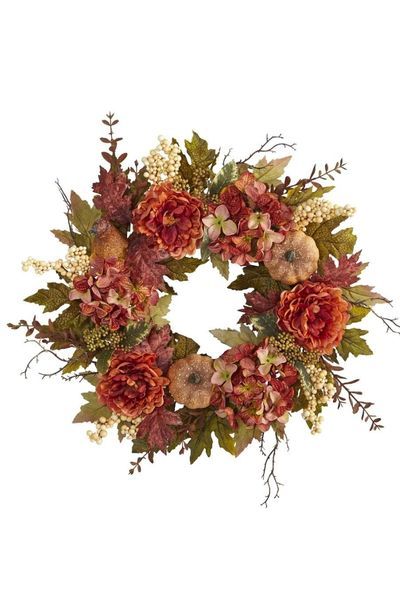 (opens in new tab)
4. Faux Peony, Hydrangea & Pumpkin Wreath
Size: 24 inch
This full bloom faux flower wreath will make sure your house gets all the attention. It has pumpkins, peonies, and hydrangeas for the ultimate harvest celebration. Do note this wreath isnt suitable for outdoor use though.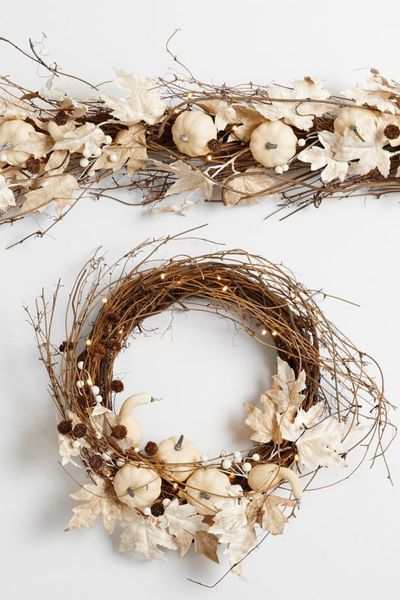 (opens in new tab)
5. Pre-Lit Faux Harvest Pumpkin Wreath & Garland
Size: 24 inch
Keep things simple and neutral with this minimal light-up wreath, perfect for subtle holiday spirit. Continue the festivities through to your lounge too since it comes with a coordinating wreath you can hang from your mantlepiece.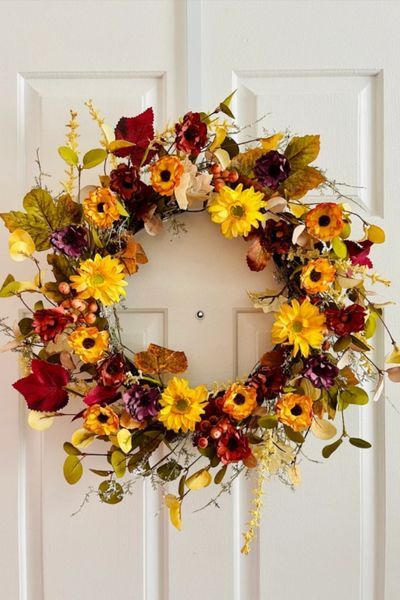 (opens in new tab)
6. Autumn flowers wreath for front door
Size: 21 inch
This handmade wreath will bring bright colour and fall fun to your front door with yellow flowers and berries. It's smaller than others but it's sure to stand out in any place you choose to put it.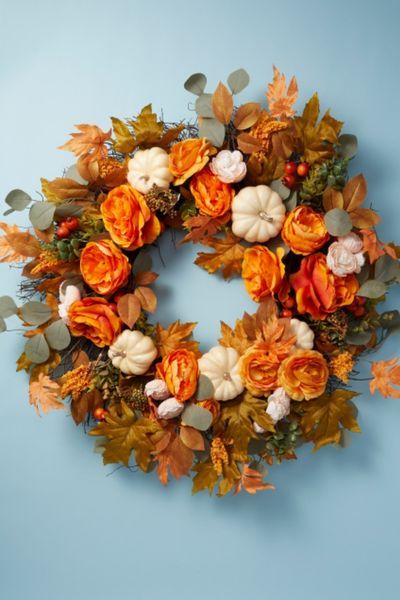 (opens in new tab)
7. GARDENER'S EDEN 30in Artificial Peony And Pumpkin Wreath
Size: 30 inch
The largest wreath on this list, if you have a big front door or space to fill then this fall wreath is for you. It's got big bloom peonies, pumpkins and berries for the fullest of fall decor and comes with a metal loop for easy hanging.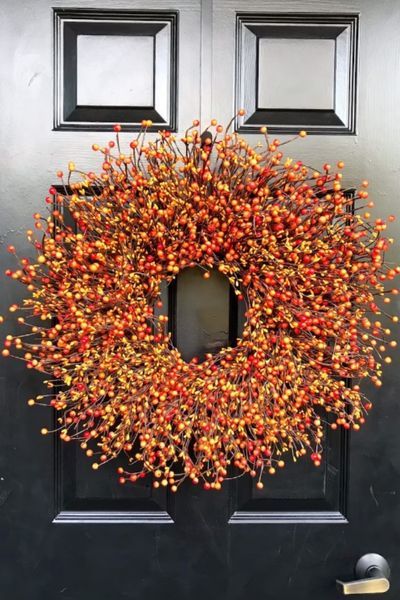 (opens in new tab)
8. ElegantWreath Pumpkin Pie Fall Wreath
Size: 16, 18, 20, 22, 24 inch
There's a size to suit every space in this handmade berry wreath by ElegantWreath. It's a best seller as we can see why with it's gorgeously full arrangement of grapevine berries.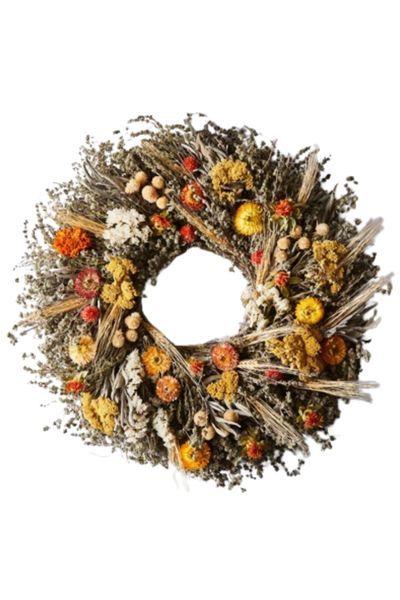 (opens in new tab)
9. Creekside Farms Dried Mixed Marigold Wreath
Size: 18 inch
Welcome the harvest season with this natural dried flower wreath, made on a family farm by hand. Featuring an assortment of herbs and flowers, including yarrow and marigolds, it'll not only look great but smell good too.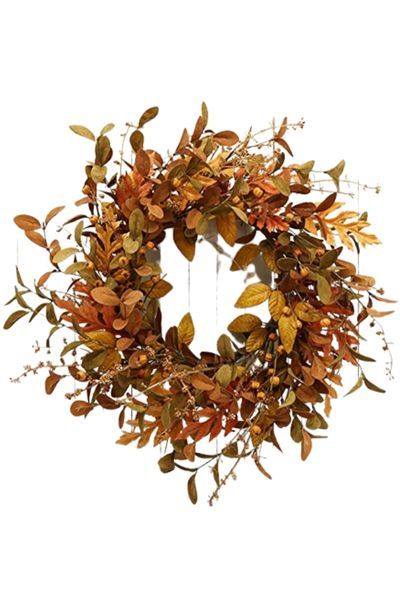 (opens in new tab)
10. AMF0RESJ Artificial Fall Wreath for Front Door
Size: 20 inch
With lots of color tone and flower variations to choose from this artificial wreath will work with any home aesthetic. It's considerably cheap, compared to others and you can keep it for next year too. Bonus!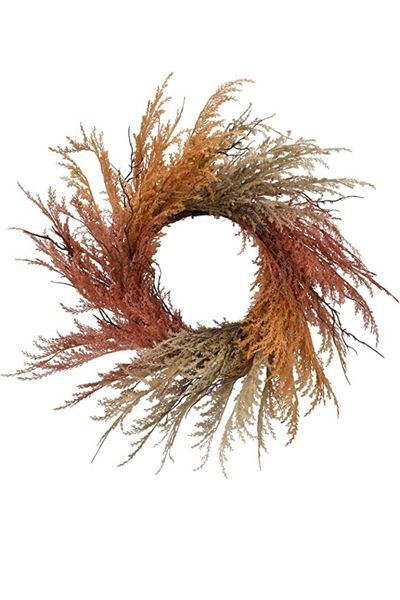 (opens in new tab)
11. RED DECO Fall Reed Floral Welcome Wreath for Front Door
Size: 22 inch
If you like the rustic look, this artificial reed wreath will bring Scandi vibes into the fall season. In an on-trend ombre design, who says this wreath won't look great as a bedroom centrepiece or wall hanging too?
When can you hang a fall wreath?
You're best to put up your wreath anytime from September through to October. Try to time it with when the weather starts changing. See an autumn leaf? There's your cue.
Where should a fall wreath be placed?
Traditionally, as with any seasonal wreath, the front door is considered the best place to hang it. Picture that typical Christmas image of a beautifully styled front door where a wreath hangs neatly in the center. Well replace that with a fall wreath and your front door aesthetic is good to go for the season. A top tip? Place your wreath in the top half of your door, centering it at eye level. It's a decorative touch that lets people know you're in the holiday spirit.
Otherwise, it's perfectly acceptable to put your wreath in other areas of your house, whether that be in a window, on a wall, or above a mantle piece. Entryways and dining rooms are popular places to hang a wreath too.
---
How to choose a fall wreath
With so many options to choose from when it comes to finding your fall wreath, we left it to the experts for their advice on how to decide.
Firstly, Sheva Knopfler, co-founder and creative director of Lights.com (opens in new tab) says it's important to consider the size of your door, then the location and the elements: 'If your door is under a covered porch, or if you have a storm door, you could protect your wreath from autumn rain and wind. If not, you will need a sturdier, weather-proof wreath. You should also consider what foliage is around your door and what colors you'd like to 'pop' in your decor. If your door is visible from the street at night, it might be a nice touch to have a lit wreath, for example'.

How we chose these fall wreaths
Louise is one of our shopping experts and spends her time finding the most popular and highest quality items for your home. Color, design and decor aside, these fall wreaths have been chosen for their durability and versatility. Unless you're wanting a handmade or natural wreath for the smell and look of real flowers, a faux wreath is a better investment buy that will last you for years to come. Those that are weatherproof are at the top of our list too, as you can put them inside, outside, wherever you like. Price may vary, but they're generally between $50–$100.