FALL HOME DECOR: QUICK MENU
The leaves are just starting to crisp up. The air is a touch chillier. The coffee shops are selling PSLs. Yes — the cozy vibes have officially arrived. It's my fave time of year, so of course I'm planning to decorate my place with all the fall home decor possible. I'm talking wreaths, pumpkins, and everything in between.

There's something about fall decor that just makes me want to dive under a blanket and watch endless reruns of Gilmore Girls. Its leafy hues are warm and inviting, as are its natural textures. I can't think of a season where everyone is so quick to get into it, and its cute decorations are def part of the reason.

If you're like me and need all the fall decor in your home ASAP, I've got us both covered. I've rounded up plenty of fall home decor buys, covering a range of rooms. So basically, no matter which one you want to decorate (hands up if it's all of them!), there's plenty of inspo.

Grab your warmest scarf and get on your boots — we're about to go shopping.
I'm officially obsessed with these fall home decor buys — and they're all under $35
Why you can trust Real Homes Our expert reviewers spend hours testing and comparing products and services so you can choose the best for you. Find out more about how we test.
From cute candles to snug throws, these are my fave decor picks for the season.

The prices below were correct at the time of publishing this article.
Fall living area decor
It's the first room you and your guests enter, so it's gotta be the one that makes the biggest statement.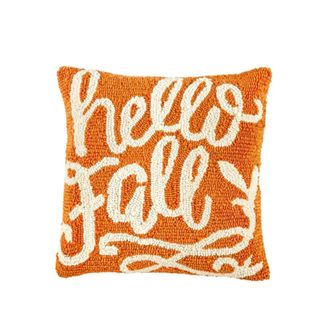 Welcoming
1. Lark Manor Hugo Throw Pillow
Size (in.): H18 x W18 x D5
Made from: Polyester
Price: $33.99

Flipping pillow covers is my fave way to bring the season into my home. It literally takes a couple of seconds, and the different colors and textures completely change how the space looks. I love how striking it is, with a cute message and a plush texture that's perfect for lounging back on.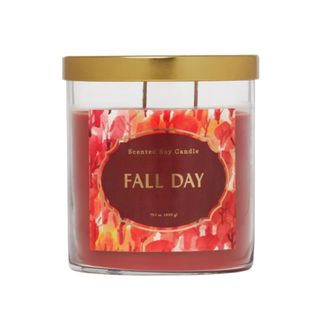 Delish
2. Opalhouse Lidded Jar Fall Day Candle
Size (in.): H4.25 x W4 x D4
Made from: Glass, sox wax
Price: $10

FYI: One of the first things that people notice when walking into a room is the smell. That means it's always a good idea to make sure your space is gorgeously scented, which this pretty candle will do. With notes of apple, pear, and bergamot, it's all the beauty of fall wrapped up in one jar.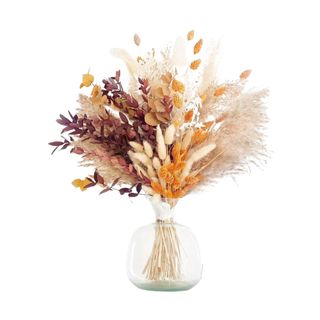 Natural
3. Huminbo Orange Boho Flowers
Size (in.): H17.36 x W2.64 x L2.72
Made from: Pampas grass, dried flowers
Price: $14.99

For me, fall is all about bringing the outside in. Pumpkins and fall leaves are usually the go-to options, but I like to also decorate with dried flowers and pampas grass. They look so chic, and won't wilt either. This bunch has burgundy, orange, and cream shades, which you can then draw out in other decor pieces to tie the room together.
Fall kitchen decor
I love baking pecan pies and cinnamon rolls in fall, and think this would be 10x more wholesome with fall accessories.
Cute AF
4. Charmante Dinner Plate
Size (in.): D10
Made from: Stoneware
Price: $28

Turn your girl dinner into a fall girl dinner with this adorable dinner plate. I'm loving this bunny rabbit design, which is almost too cute to eat off, but there are five other choices. I think the owl and hedgehog one would look amazing alongside this one if you wanted to create a full cottagecore-style dining set-up.
Clean up
Size (in.): W18 x L27
Made from: Cotton
Price: $19.99

Obvi, one of the best things about fall is Thanksgiving, baby. Get into the full spirit of the day with this tea towel, that's possibly the cutest one I've ever seen. Like, look at that little wreath and handwritten message! Even beyond Thanksgiving, I think it could serve as a sweet reminder to take a step back and enjoy what you have.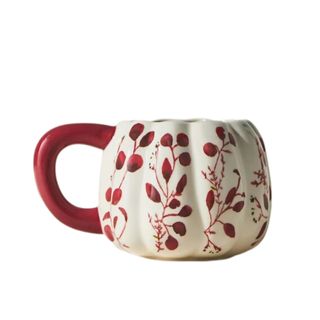 Sweet sippin'
Size (in.): H3.5 x D4.25
Made from: Stoneware
Price: $16

Would this be a fall decor round-up without a pumpkin mug? I don't think so. Anthropologie's iconic one comes in three colors this year, with dark blue, wine, and orange choices on offer. Trust me: Your fall coffee will be so much more of a vibe in this mug. I actually have a version of this mug, which I absolutely adore.
Fall bathroom decor
Yes — even your bathroom can get into the fall spirit. Cozy bath times? You know that's a vibe.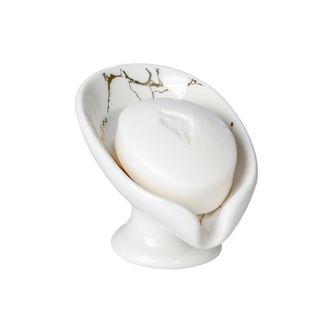 Sleek
7. Antis' Home Leaf Shape Soap Dish
Size (in.): W3.15 x L5.12
Made from: Ceramic
Price: $15.99

Love a leafy shape, but don't want your bathroom to be a full-on orange-fest? This is giving such quiet luxury, with its elegant shape and golden marble print. Its design also allows for clever draining, meaning you won't pick up sticky soap every time you wash your hands. Low-key, I'm also into the dark green version.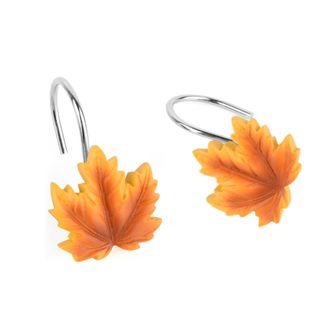 Add on
8. Finros Maple Leaf Shower Curtain Hooks
Size (in.): H1.57
Made from: Resin
Price: $10.85 for 12

If you don't want to grab a whole new shower curtain for fall, these maple leaf hooks are an easy way to add a subtle nod to the season. Amazon reviewers say that they're super simple to install and that they get lots of compliments from guests. I mean, who doesn't love getting a li'l bit of praise?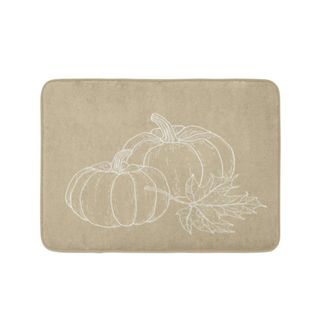 Understated
9. Laddke Pumpkins and Maple Leaf Bath Mat
Size (in.): W23.6 x L15.7
Made from: Fabric
Price: $16.99

Ok, this is seriously sophisticated. This is a great example of how fall decor doesn't need to be bright AF to make a big impact. It has a non-slip back, so you can get out of the bath and land on it without slipping around. As well as being a bath mat, this can also be used as a doormat and a floor rug.
Fall bedroom decor
Create a relaxing atmosphere to catch some Zs in, with warm hues and soft textures.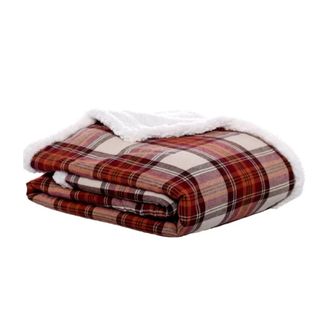 Cabin-style
10. Eddie Bauer Edgewood Plaid Throw Blanket
Size (in.): W50 x L60
Made from: Polyester
Price: $23.64

The funny thing about fall weather is that it can quickly flip between being warm and cold. Whether you need some extra layers or aren't totally ready to get under the comforter, this blanket is a perf option. Can you imagine getting under this and watching When Harry Met Sally? I can, and that's why it's going in my cart RN.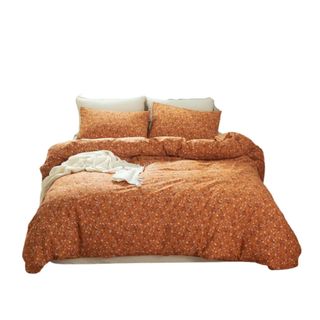 Boho
11. VClife Twin Cotton Duvet Cover Set
Size (in.): W68 x L86
Made from: Cotton
Price: $30.99

While crisp white sheets are a total hotel vibe, I think colorful sheets are so much easier to maintain. It has a zip closure, making the duvet insert workout less of a sweaty chore. Plus, it has corner ties, so your insert won't move around in the night. Layer it up with cream blankets and pumpkin pillows for an aesthetic, autumnal finish.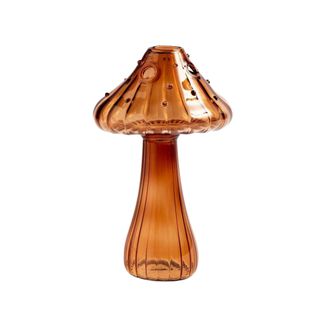 Fairycore
12. Hafhef Decorative Mushroom Vase
Size (in.): H4.72 x W3.54 x L3.54
Made from: Glass
Price: $9.99

When I think of fall, besides leaves and pumpkins, my mind always goes to mushrooms. I def think dried flowers and branches would work well in this vase. If brown isn't your thing or if you want to mix and match, there are other shapes and colors in lime, pink, red, and yellow. Coming in at just under $10, this is a real cute cheap fall decor buy.