From pumpkins to leaves in burnt orange shades, our favorite thing about this autumnal season is bringing the most beautiful fall porch ideas to life.
When those leaves start to fall, excuse the unavoidable pun, fall decor comes into its own, and as the first port of call for you, family and guests alike, the porch is the perfect place to get creative with seasonal decor.
Festive ways to decorate a fall porch
From fall wreaths and cozy throws to textured cushions and seasonal flowers, it's actually so easy to restyle your porch for fall and make it super inviting even when it's chilly.
Whether you want a classic finish, something bright for Thanksgiving or even a spooky look to entertain the first of trick-or-treaters come Halloween, you have options.
1. Make it monochrome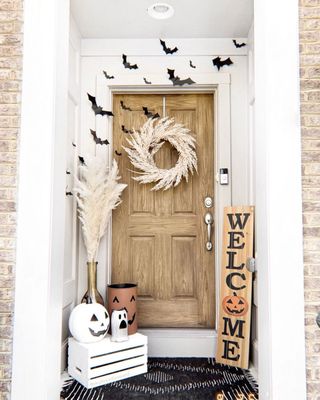 Is your interior design style a little more monochrome? Then feast your eyes on this luxe design by Rachel of @Skulls And Leopard.
To recreate this design, gather some pampas grass, some paper bats, a creamy faux wreath, a welcome sign – just like this Wayfair option – and get the kids involved to help you paint some pumpkins.
If this isn't the perfect porch setup for fall, we don't know what is.
2. Pile up pumpkins (carefully)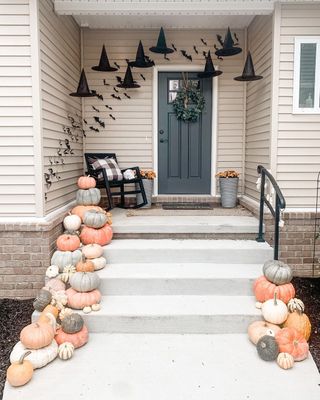 You can't go wrong with simply piling up the pumpkins on your porch especially on the run up to Halloween. Well, we say pile, there is, of course, a very fine art to placing your pumpkins.
When you go the patch (or the store) pick up a range of shapes, sizes and colors, then group them together on your steps, larger ones at the edges and dot small ones between them.
We love this look by Kayla from @House To Run Home To. Add the finishing touches, like the witch's hats using clear string, some paper bats, and a rocking chair and your fall porch will be complete.
3. Make earthy colors your porch palette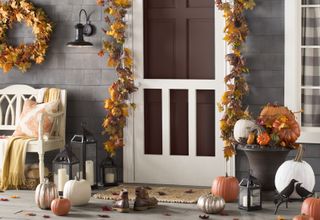 This is fall in a picture. Dee Fontenot, one of Wayfair's resident style experts says: 'When it comes to decorating your front porch, fall is the perfect season to incorporate warm, earthy colors such as mossy greens, warm browns, and cozy neutrals.
'One of this year's leading trends for front porch décor is derived from nature-inspired colors that achieve a rustic, natural foraged look through usage of accent colors such as berry tones and mustards, as well as incorporating weathered woods, berries, and dried botanicals.'
4. Decorate around your door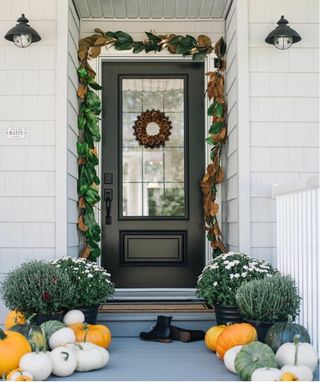 Looking for a classic fall look?
Fontenot tells us: 'Create fall floral arrangements that thrill, fill, and spill by incorporating wheat stocks, cascading autumn leaves, and clusters of pumpkins around the base.
'A timeless fall porch trend leans heavy into natural, tactile materials with a handmade, artisan-feel that you can achieve by shopping Wayfair's vast selection of pumpkin wreaths, woven planter baskets, and wood stump end tables.'
5. Create a welcoming entrance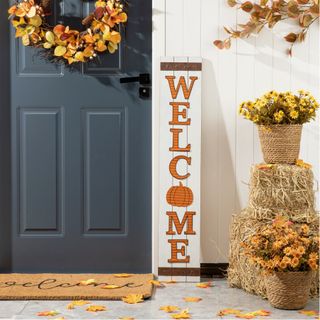 Sometimes, the best ideas need not be labor-intensive. If you're in a rush, looking to save some cash and want to include a fall porch idea you can roll out year after year (after year), this welcoming porch sign does all the talking.
So why not decorate your outside space with a harvest-inspired porch sign? This sign from Wayfair has a 3D pumpkin on it and it's finished with a metal trim. It's a quick and easy way to give your outside space an autumnal glow-up.
You could of course DIY a fall wreath for a little more character too.
6. Add some spookiness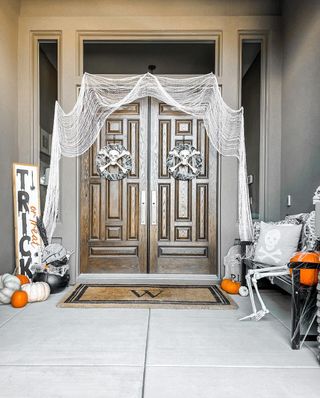 Is Halloween big in your family? Creep it real in the lead up to October 31st and deck out your porch with skeletons, spider webs and all things scare-worthy. Don't forget to add skulls and bone-inspired wreaths to your door too. You won't miss out if you shop Halloween decor in all the right places...
This spooktastic porch set-up by @Mrs Amy Whiteman will sure give neighbors pumpkin to talk about.
7. Add neutral accents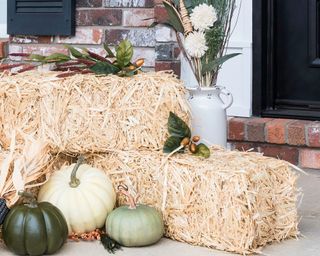 If traditional fall colors are a little too orange for your liking, use neutral-colored pumpkins with some rustic green accents for a more unique fall porch decor style. They're a decorative no-carve pumpkin idea too.
You can create your own at home by spray painting leaves, pumpkins or berries. Add hay bales like these Decorative Straw Hay Bale from Walmart, white chrysanthemums and dried grasses to complete the look.
8. Get cozy with rugs, throws and pillows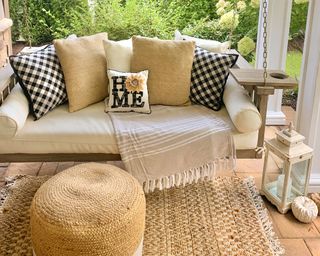 As the cool weather draws in, make your porch super warm and snug with cozy throws, pillows, blankets and rugs. We love this combination of patterns and textures in warm earthy tones - think wooly winter sweater for your porch!
Dunford, says, 'Design with the five senses in mind. This is especially true during the Fall season since it is often a time we associate with scents and more tactile materials like fur, sherpa and flannel. Bring out sweater knit pillows and chunky throws to bundle up in around the deck.'
9. Make the most of fallen leaves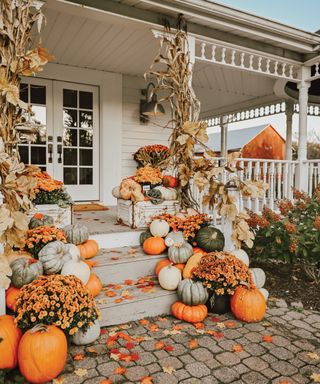 Don't see fall leaves as a nuisance to be swept away. Instead, use them to make lovely porch decorations without spending a cent.
Get foraging for some fall beauties and display in a vase or basket, create a garland or wreath or you can simply scatter them artfully to accentuate your other Fall decor as Liz Marie Galvan, author of Cozy White Cottage Seasons, has done with this creation.
You can learn how to make a fall garland with our quick steps.
10. Adorn your porch with Fall blooms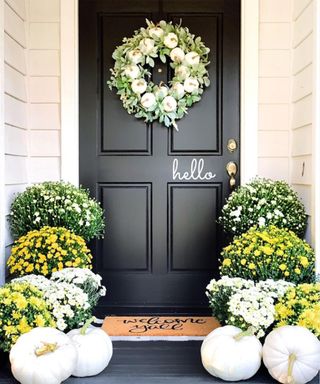 Just because summer is over, it doesn't mean you can't enjoy beautiful flowers. A super simple fall porch decorating idea is to adorn your porch in fall-friendly fashion full of chrysanthemums.
Go for classic yellows and oranges or try something different. We love the whites and yellows Robbie from Home Hydrangea has gone for in her fall porch pictured.
11. Repurpose summer flowers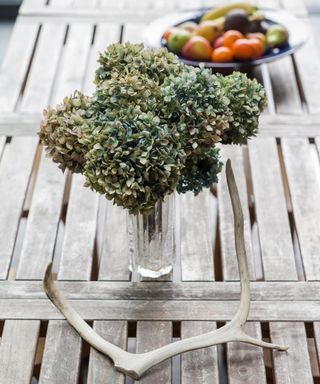 You don't have to purchase loads of pumpkins and gourds to give your porch a Fall feel. Hold on to summer by drying your garden blooms to display year-round.
It is easy to do but take a look at these instructions from Gardeningetc's Teresa Conway before you get started. You can display preserved blooms in a vase or use them to create a garland or wreath to give your porch decor a unique look for Fall.
12. Switch out your doormat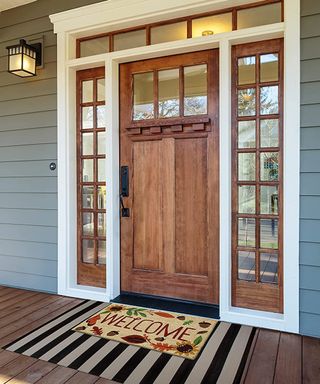 Switching your doormat out to suit the season is a practical and inexpensive way to bring your porch into the Fall. There are loads of designs available to suit all budgets like this DII doormat from Amazon, $38, and to complement any porch idea.
We especially like the on-trend layering in this foyer. Add some plaid underneath your mat for extra Fall points and is perfect as a small porch idea.
13. Layer seasonal cushions and miss-matched patterns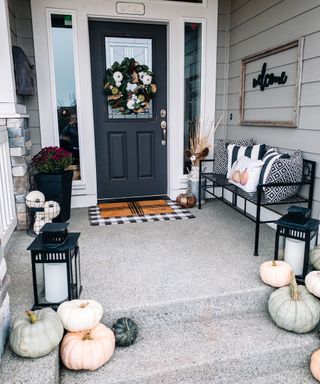 Mixing and matching geometric patterns is very on-trend and gives this porch a playful feel. Add some plaid and some splashes of Fall color to give a nod to the season without breaking the bank.
We love this stylish porch by MC Rustic Home. Owners, Nicole McClung & Demarie McCurdy say, 'There is nothing better than the crisp air of Fall! It is our favorite time of year to decorate. We love to pull in the warm colors of nature into our Fall decorating.'
'We suggest picking a color scheme when you're decorating your porch. Black and white is the base colors to my porch year round and I change it up seasonally by adding in new colors.'
'Look for the muted colors of Fall to incorporate into your look. Plums, orange/rust, deep reds, and greens are perfect colors to take your porch from September to November. Changing out planters to mums or other seasonal floral.'
'Swapping pillows to add a punch of Fall. Last but not least is getting a good Fall wreath to set the tone. It is after all, the first thing your guest will see approaching your home. Pillows, wreaths and floral are the easiest items to swap out season to season.'
14. Say hello to Fall with stylish signage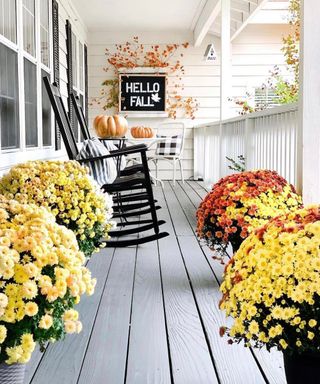 Cute chalkboards and natural wooden signage are very on-trend this Fall. Store-bought welcome signs like this wooden welcome porch sign from Wayfair, $131.99 are an inexpensive way to spruce up your porch this Fall or, if you have time, you can easily make your own.
We love this cute 'hello Fall' chalkboard for a fun Fall touch.
15. Relax in a warm glow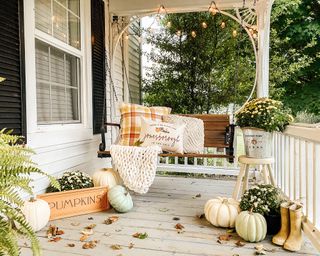 Keep the summer vibes alive as the days are getting shorter. Lounge out on the porch throughout Fall by adding beautiful lights and candles in a addition to your porch light. We love these globe string lights on this cozy porch. Choose warm red light, (rather than cold blue), to give your porch a nice welcoming Fall glow.
Lead stylist at overstock.com, Amber Dunford, suggests, 'With the natural light going away earlier in the Fall months, it's nice to bring in some low lighting to draw people into a space and help it feel cozy. String lighting transitions well from dusk to night and sets the right ambiance for a gathering space. Lanterns and candles can also be a nice way to bring in a light source and they provide a warm flicker that humans are instinctively drawn to.'
These Hampton Bay clear string lights from Home Depot will look just the part.
16. Extend al fresco dining through Fall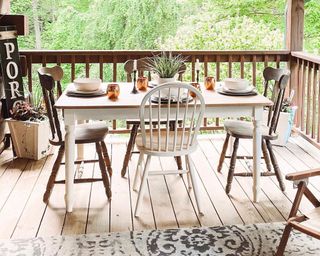 Introduce some warm earthy tones to give your outdoor dining area a subtle Fall feel. If you live in warmer climes, why not enjoy Thanksgiving dinner out on the porch. We love these copper mule mugs, homely candles and cozy rug. The chalkboard adds a real welcoming Fall touch too.
Wayfair's mule mugs from Edgeworth that'll be perfect for sipping a warming libation and is a genius Thanksgiving table decor idea.
17. Repaint the front door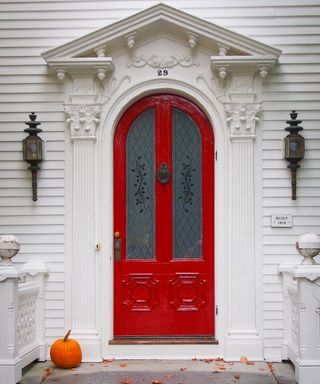 If you're not super into Halloween pumpkins all over your porch, but you would like a fresh look for the season, try repainting the door with our guide to painting doors.
We love this super simple Fall porch with an inviting red door. Use warm reds, oranges and yellows to complement nature's Fall colors. Just add one little pumpkin and your porch is Fall-ready.
18. Add a teardrop wreath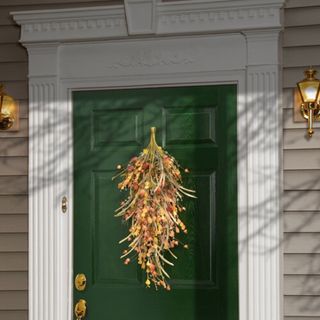 In a rush? We're big believers that small things can make big differences when it comes to your home. While we're fans of your typical circular wreath, a teardrop wreath has earned its rightful place on any door this season and beyond.
It's modern, and simple and it adds a flourish of fall without going too OTT. Pick up this colorful decoration from Wayfair.
19. Sign post your front porch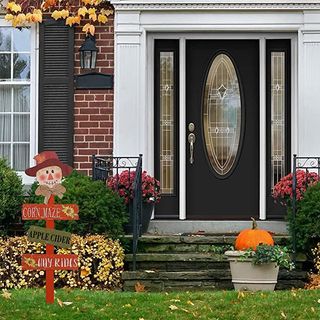 Easy and hassle-free, why not signpost your front porch with a harvest-inspired sign? This wooden yard sign from Amazon says seasonal slogans such as 'corn maze' and 'apple cider'. It's super quick to pop up and we think it injects a dose of fall in one sign. We're sold!
20. Add twigs and branches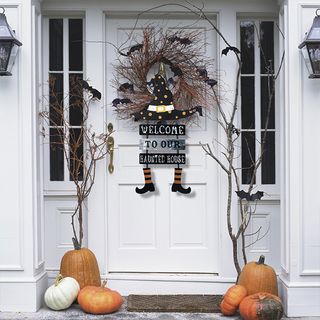 Turn your home into a haunted house with a couple of new additions.
Get the kids to go on a scavenger hunt around your yard or area and see if they can find any tall branches you could arrange around your front door.
Add some Halloween-inspired animals, such as bats and pick up a sign that lets people know what to expect. Haunt it like you mean it!
21. Make it symmetrical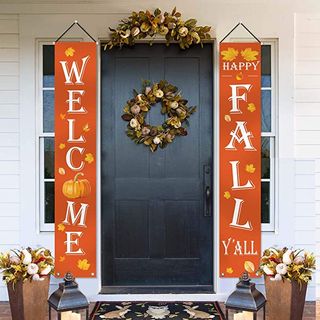 No matter how small your porch, you can always squeeze in some fall decor. With a smaller porch, we would say keep things simple, a scattering of small pumpkins and some orange foliage could be all you need to give the space a fall makeover.
Or take some inspiration from this porch idea and flank your door on either side with fall porch signs. Who said decorating was hard?
22. Stack up boxes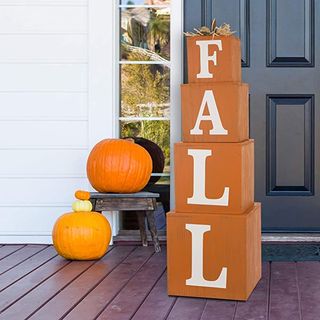 All those garlands just not your vibe? You can still go to town with the fall decor, just stick to options that match your interior design style. If your porch space allows, add these 4-piece boxes with lids.
And when you're ready to pack it away again, they can be put stashed away inside each other. Or – if you're feeling particularly adventurous – you could try making this yourself. Discover our best DIY fall decor to find out more.
What are the latest fall porch trends?
Sarah Fishburne, director of trend and design at The Home Depot says: 'This fall we are seeing a shift back to a timeless look that is rooted in nostalgia and familiarity. We are looking for styles that make us feel comfortable and connected with our past. With that in mind, expect more deep earth colors, such as warm brown and rich green shades.
'Welcome guests to your front porch with layers of harvest style. Colorful pumpkins and mums, scarecrows and Jack-o'-lanterns will accentuate your porch, patio or balcony and set the stage for fall entertaining. By creating layers of decoration, you can segue successfully from the hazy days of late summer to the candy corn fun of Halloween and the cozy gatherings at Thanksgiving.'
Where should you start with fall porch decor?
Essentially fall porch decor is all about creating a warm, cozy, inviting space. We like to use warmer colors and layer up snug textures by adding chunky knitted blankets, wooly throws and tactile cushions. Tastefully display a pumpkin or two and you are on to a winner.
We asked home decor expert Stephanie Lindsey, of Etch Design Group how to decorate a porch for Fall. She says 'Fall is all about coziness, about welcoming people back to the home, and the best way to achieve a look that invites guests to gather is to keep it simple. Use natural elements like pumpkins and display them at varying heights. There are so many varieties, that it's easy to choose colors that pop against your doors and exterior hue.'
How do you decorate the outside of a house for fall?
While the front porch is a great place to start, you can also decorate for fall on a budget by placing garlands around windows, pumpkins on balconies or candles on steps. Keep your front yard in good shape and make the most of beautiful Fall trees to give your place extra curb appeal. You can find out how to make a fall garland with these easy steps.
Home & garden blogger and lover of all things Fall, Mary Jane Duford, of homefortheharvest.com, advises, 'While the front porch is often the center of Fall curb appeal, don't neglect the rest of the front yard. A great Fall front porch is generally surrounded by well-kept deciduous trees gently shedding their gorgeous red and gold autumn leaves. Keep evergreen hedges nicely trimmed and remove any dead branches from trees and shrubs. Early Fall is also a great time to lay down grass seed if there are any patchy spots on the lawn.'