Hallway, lounge or bedroom, there's nary a space that doesn't benefit from a little thoughtful lighting, and our go-to every time for a quick interior pick-me-up is a gorgeous table lamp. Below, we've rounded up our pick of the best table lamps in the shops at the moment, be they subtle or statement-making, glamorous or pared back. But first, a little advice.
Looking for more home lighting? Have a browse through our buying guides for lots of trusty recommendations. Black Friday and Christmas are fast approaching, so you've chosen a great time to get deals on home lighting.
Things to consider when buying a table lamp
While it goes without saying that we're all in favour of the aesthetic here at Real Homes, when it comes to lighting, it's not just about looks: the type of lamp you should look for depends heavily on where you'll be placing it, and what function you'll expect it to perform.
Task lighting is a practical solution normally used to accompany activities like reading, sewing or drawing, but that functionality needn't mean unexciting design. Simply look for a table lamp or desk lamp that offers a more focused beam of light, and as a bonus, an adjustable head for angling just where you need it. Ambient lighting gives the opposite effect, especially useful for large rooms whose darker corners need a little lift, or creating a mood in cosy bedrooms or sitting rooms. Look for something that gives off a soft, diffused light, like a bulb encased in an obscure glass shade, or even a retro lava lamp. Or, if you're really hot at this interior design thing, consider employing accent lighting to make a special feature of your statement pieces.
Finally, the boring but necessary bit: most lamps don't come with bulbs included, so be sure to check out the kind your favourite lamp takes and stock up before it arrives for instant enjoyment on opening the box.
1. Village At Home Jasper Table Lamp
An elegant neutral-toned lamp for maximum versatility, with nods to all the important trends
Specifications
Best for: A modern option
Colour: Grey/gold/ivory
Material: Concrete, cotton
Bulb included: No
Reasons to buy
+Incredibly versatile+Trendy concrete base
Reasons to avoid
-Would be nice to have a silver hardware option
Strange as it might sound, this Jasper lamp from Village at Home takes our top spot for best table lamp not for statement-making style, but for its ability to pair beautifully with almost any room scheme you put it into. Its neutral colour palette guarantees it won't stick out like a sore thumb no matter the colour of your other furnishings, but the variety of textures keeps things interesting, bringing together soft slubby cotton, brushed gold and cool matte concrete to make a lamp that remarkably bridges the gap between timelessness and trendiness without compromise.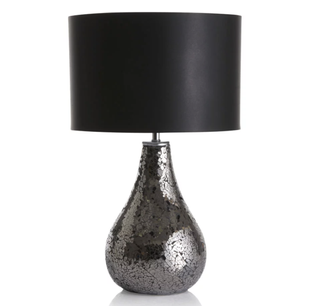 2. Wilko Mosaic Table Lamp Black
Unabashedly glamorous, this mosaic lamp is one simple step towards living room wow-factor
Specifications
Best for: Glam
Colour: Black
Material: Glass
Bulb included: No
Reasons to buy
+Easy glamour+Reflects loads of light
Reasons to avoid
-May be a bit OTT for some
When furnishing a glamorous living room or bedroom, a statement lamp is just the thing to kick it up a notch, and they don't come much more statement than this shimmering mosaic lamp from Wilko. While it is on the larger side, it doesn't look cumbersome thanks to its gorgeous design, and it brings a hit of texture to neutral rooms. Its black finish shade fits in with almost any colour scheme, too.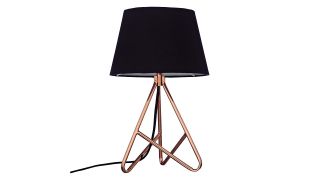 3. John Lewis Albus Twisted Table Lamp
This trendy table lamp is understated yet unique, just the thing for modern spaces
Specifications
Best for: Modern rooms
Colour: Black/copper
Material: Metal
Bulb included: No
Reasons to buy
+Interesting stand+Sleek and modern
Reasons to avoid
-Only one choice of shade colour
If you're a bit of a modern maven when it comes to interiors, with your hairpin leg furniture and copper accents already nailed, take this table lamp for a whirl. Its trendy base is the best of both worlds: angular enough to give a modern look but with curves in all the right places so as not to look too industrial. The shade is a striking opaque black that offsets the copper beautifully, but lets just enough light through when illuminated to give a warm glow. Plus, it looks far more expensive than its small price tag suggests, so picking up one for each side of the bed gives a superbly stylish effect without breaking the bank.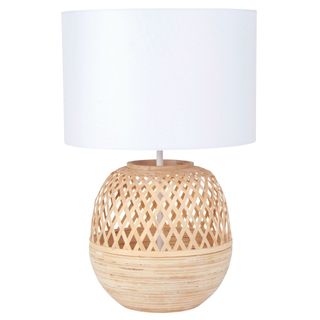 4. ALDANA Cut Out Poplar Lamp with White Shade
Keep your home radiant all season long with this boho table lamp
Specifications
Best for: Boho-vibes
Colour: White and oak
Material: Plant fibre
Bulb included: No
Reasons to buy
+Quirky lighting option+Eco friendly
Reasons to avoid
-Comes with a French plug, adapter required
The perfect addition to any home, no matter the style, this Maisons Du Monde table lamp will be sure to (literally) brighten any room. It's rather large, so will make a statement, and it gives off a warm light, creating a cosy ambience. Boho, Scandi or even minimalist, whatever your interior style, this light will blend in.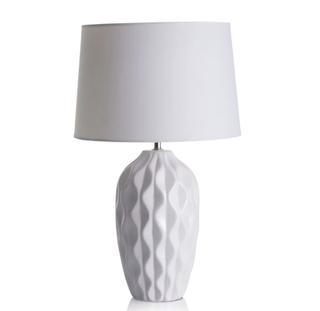 5. Wilko Textured Table Lamp
This all-white light is anything but plain
Specifications
Best for: Understated elegance
Colour: White
Material: Ceramic, Metal, Faux Linen
Bulb included: No
Reasons to buy
+Adds texture to neutral schemes+Contemporary
Reasons to avoid
-Not ideal for those who want to make a statement
If you prefer neutral colour schemes, you'll no doubt know all about the importance of texture in interiors, especially in plush spaces like the living room or bedroom. If you're looking for the finishing touch to a fresh, clean all white space, but your tastes run more contemporary than Scandi-chic, give this handsome lamp a try – we're sure you won't regret it.

6. John Lewis Nayna Colour Vessel Table Lamp
Create the ultimate cosy den with this petite, precious metal-look table lamp
Specifications
Best for: A cosy glow
Colour: Rose gold/bronze
Material: Glass
Bulb included: No
Reasons to buy
+Lovely, speckled design+Gives off a warm glow
Reasons to avoid
-Reviewers were surprised by the colour in person
This petite drop-shaped lamp is cosiness personified – for those looking to inject a touch of hygge into their bedroom or living room, adding one of these to an end or bedside table is a beautifully simple way to do just that. With its combination of luxe mirror glass, rose gold, and an ombre finish, it ticks all the boxes when it comes to trends, but those warm tones also go a long way to giving the lamp its intimate air. Reviewers have commented favourably on the comforting glow it gives off, so for real relaxed mood lighting, look no further.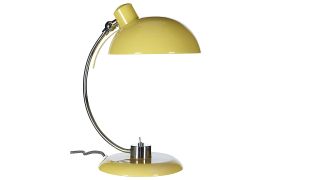 7. John Lewis Penelope Task Lamp
This lovingly designed mid-century table lamp is all about the details
Specifications
Best for: Retro style
Colour: Slate, quince, cream, green
Material: Steel
Bulb included: No
Reasons to buy
+Lovely, retro design+Excellent value
Reasons to avoid
-Reports of head being a bit wobbly
John Lewis have hit the nail on the head, trend-wise, with this ultra-cool lamp. In a choice of shades du jour – chartreuse, teal and slate, as well as the subtler cream – and with an unusual curved stem, it takes mid-century modern cool and gives it a contemporary twist. Reviewers say the warm, soft light it gives off is perfect for reading and that the angle-adjustable head makes it ideal for crafting and other close-up work, and loved the unique little details like the old-fashioned switch and flex cable.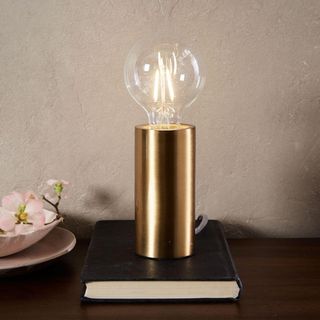 8. west elm Pedestal Table Lamp
An offbeat and beautifully made statement lamp for modern rooms
Specifications
Best for: Eye-catching design
Colour: Brass/nickel
Material: Metal
Bulb included: Yes
Reasons to buy
+Stunning, unusual design
Reasons to avoid
-Exposed bulb isn't ideal for those with children
This on-trend light would sit very nicely on any bedside, perched on an occasional table or lighting up a hallway. It comes in both brass and nickel, and will be sure to make a statement. Unlike other table lamps, it has the bulb included, which is from Tala bulbs who are eco-conscious, claiming that for every 200 bulbs they sell, they plant 10 trees! Win win?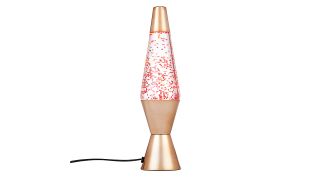 9. Lava Lamp Table Lamp
This retro lamp pairs a nod to the '70s with hot-right-now rose gold
Specifications
Best for: Teens' rooms
Colour: Rose gold/pink
Material: Aluminium, plastic, fluid, glass
Bulb included: Yes
Reasons to buy
+A cool, new take on the original+Trendy colour scheme
Reasons to avoid
-Not bright enough to read by
In a flawless meeting of retro and modern, the classic lava lamp is brought bang up to date with an ultra-trendy rose gold colourway, making it perfect, we think, for a discerning teenager's room. It's not strictly a lava lamp, replacing the iconic wax with particles of heart-shaped confetti, which adds an extra touch of girliness to the glam brushed metal base. But, like the original, it's great ambient lighting – not bright enough to read by, but perfect for chilling out to in the evening.
READ MORE: