Small bathroom? Working with minimal countertop space? We've all been there, and there is something that you can do about it — without redesigning and ripping out your entire bathroom (because what renter can do that?).
You've probably searched high and low for clever small bathroom storage ideas, but all you really need is a bathroom organizer (or five) — specifically, one of the options that we've featured below. We've done more than enough research and as a team of small space dwellers, we know how to truly maximize storage space pretty much anywhere. The bathroom organizers in this list are the highest rated from our favorite brands (Amazon, Target, Walmart, etc.), so even though we haven't tested them just yet, real shoppers really love them and prove that they're bathroom must-haves.
How can we help?
These organizers have been categorized into sections for you to shop with ease. So, if you're someone who has a huge drawer in their bathroom and needs an organizer to keep things tidy, you can head straight to the bathroom organizers for drawers that we recommend. Otherwise, if it's your countertop that needs some help, we've featured three pretty and practical countertop organizers for you to browse. See below for 15 bathroom organizers shoppers love.
The best bathroom organizers
Bathroom countertop organizers
Why you can trust Real Homes Our expert reviewers spend hours testing and comparing products and services so you can choose the best for you. Find out more about how we test.
Avoid countertop messes and go for that minimalist look with help from these top-rated bathroom countertop organizers. This is such an easy way to keep the focal point of your bathroom clean and to organize your countertop toiletries by person or by use. Put your haircare in one corner (closest to the shower) and your skincare in another.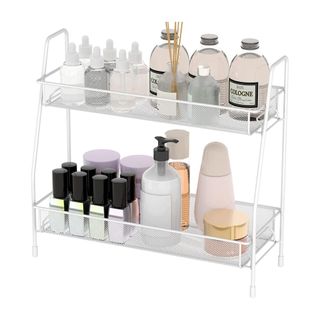 $18.92
1. Eknitey Bathroom Countertop Organizer Rack
Size: H13" x W14.2" x D6.6"
Made from: Alloy steel
This wire organizer rack is perfect for organizing your bathroom cabinets and your countertop and keeping both clear of clutter. It also means you can keep your most-used toiletries within reach to make those early mornings a li'l easier. It has two trays, both of which are made from wire mesh to avoid water build-up. It's super slim and takes up minimal space. Fill it with your aesthetically-pleasing skincare routine and thank us later.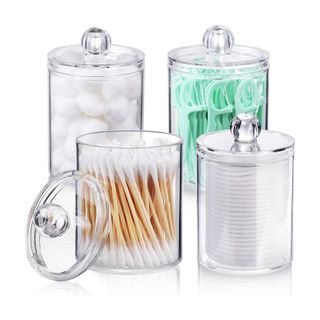 $9.99
2. Aozita 4-Pack Cotton Swab Holder
Size: H4.1" x W2.7"
Made from: Plastic
A great pick for more rooms than just your bathroom, these handy dispensers can be used pretty much anywhere. Use them in your bathroom for cotton rounds, tampons, cotton swabs, bath salts, and more. Each jar has a 10-ounce capacity and labels come included if you want to use them. The jars come with lids to keep your essentials safe and secure. It's one of the best Amazon organizers for your tiny shower space.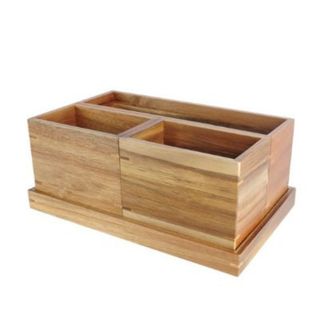 $30
3. Brightroom Modular Vanity Organizer with Magnetic Strip Wood
Size: H4.5" x W11" x D7"
Made from: Acacia wood
If your bathroom countertop is often littered with hair ties and bobby pins, we've found you a solution. You wouldn't know it but this wooden vanity organizer from Target has a magnetic strip across the front, so you'll never have to wonder where they disappeared to again. The wooden design gives a chic spa-like touch to your bathroom and would look great displaying your favorite makeup and toiletries, too.
Bathroom organizers for drawers
Got drawer space but not sure how to use it? Until we bought some drawer organizers, we were a little lost. These bathroom organizers will give everything a home, from your toothpaste to your hair ties. You'll need to measure your drawer, but we found an expandable one for ya, too. Always go for something that's easy to wash or wipe clean, since these get grimy fast.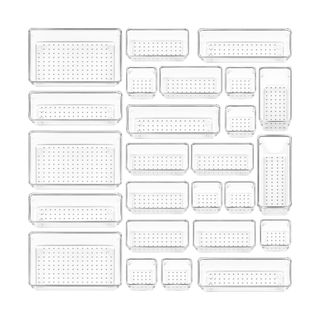 $20.99 for 25
4. Vtopmart Store 25-Piece Clear Plastic Drawer Organizers Set
Size: L9" x W6" x D2" (max)
Made from: Plastic
Bulk buy this set of drawer organizers and use them in your bathroom to separate your favorite products, to keep things looking neat and tidy. Fitted with non-slip pads, they'll keep your cabinets and drawers in check. With 25 pieces included in this set from Amazon, you'll never run out of space again. The best part is that they're stackable and super easy to keep clean.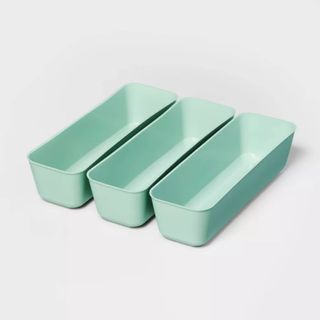 $2 for 3
5. Brightroom 3pk Long Storage Trays
Size: H2.5"x W3.36" x L0.16"
Made from: Low-Density Polyethylene
A set of three drawer organizers for $2? Bargain. These come in three colors (we love the green!) and they're made from plastic, so it doesn't matter if they get wet. They're BPA-free and pretty spacious, so you can fill them to the brim. They come in a lot of different sizes to fit your size of drawers (and whatever you need to store!).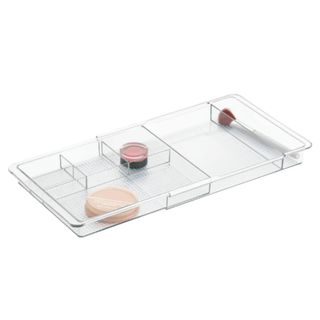 $9.97
6. iDesign Clarity Expandable Divided Drawer and Shelf Organizer Tray
Size: H1.25" x W11.50" x L7.80"
Made from: Plastic
This expandable drawer organizer is perfect for holding your makeup and toiletries. It has six different sections to separate your things, and with a textured base, your brushes and tools won't roll around. It's BPA-free and a breeze to clean. Reviewers rave about how easy it is for these trays to organize your things and keep them that way. For less than $10, it's a steal.
Bathroom under-sink organizers
You probs have one of these underneath your kitchen sink, but if you're anything like us and love good cleaning products, then you'll benefit by having one under your bathroom sink, too. Here, you can separate your bathroom cleaning items (hello, mold spray) from the rest of your apartment cleaning solutions. This also keeps those dedicated bathroom sponges and cloths away from everything else. These under-sink organizers are also double-tiered so they'll make the most of that annoying gap that's impossible to fill and help you finally organize your bathroom cabinets.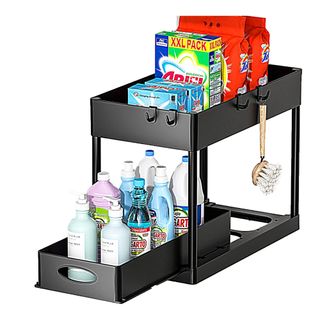 $24.99
7. PUILUO Sliding Cabinet Basket Organizer
Size: H11.6" x W8.5'' x D15.5''
Made from: ABS Plastic
Instead of a messy array of cleaning products scattered around your bathroom cabinet, keep them in this sliding unit from Amazon for easy access. The two tiers mean you can store a lot of products in one place and actually keep track of what's in there. The sliding feature is really helpful when you want to grab a new bottle of bleach, and really satisfying, too.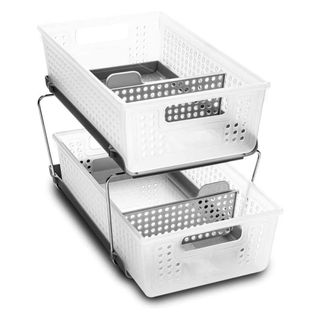 $22.99
8. Madesmart 2-Tier Organizer, Multi-Purpose Slide-Out Storage Baskets
Size: H9" x W10.63" x D14.38"
Made from: Plastic
Highly rated by Amazon reviewers, this Madesmart organizer is the perfect solution for slotting under your sink. It has two tiers, both of which slide out and have handles. The baskets on each tier are breathable thanks to the holes, and they're easy to keep clean. If you have extra space, you can buy more than one to really maximize every inch of your under-sink space.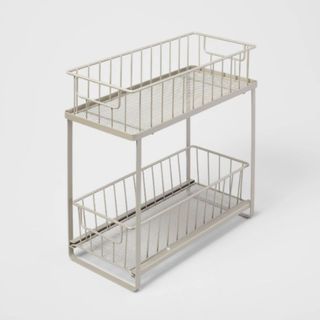 $20
9. Brightroom Two Tiered Slide Out Organizer
Size: H14."5 x W6.75" x D15"
Made from: Steel
Available in three colors including white, black and brushed nickel, this slide-out organizer works well under a sink, or even inside a cabinet. Each basket has a handle and the entire thing is made of rust-resistant steel. The baskets are mesh (ideal in case they get wet), and it comes fully assembled. Earning an overall rating of 4.4 stars from reviewers, many have commented on how perfectly narrow it is.
Bathroom organizer shelves
Depending on how relaxed your landlord is, then your bathroom would definitely benefit from some shelves. If you're not about to drill into tile, we've featured a genius over-the-door solution and a freestanding bathroom shelf that will sit in any empty corner. Arguably, this is the easiest way to add more storage space to your bathroom, no matter its size, but remember: this extra space will be on display, so you'll want to get some cute baskets to hold and hide stuff.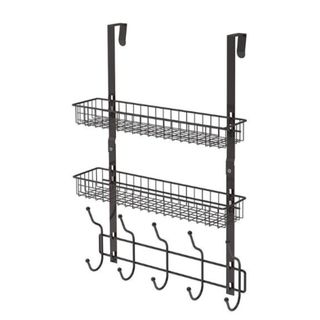 $23.99
10. Neala Store Over The Door Metal Storage Rack
Size: H23.5" x W16.9" x D3.9"
Made from: Metal
This bathroom shelf system fits neatly over your door frame and adds bonus storage to your bathroom by utilizing space that was already there. Keep deodorant, body lotion, and other skincare goodies in the two mesh baskets, and hang your robe and towels from the hooks underneath. All of a sudden, you've got a convenient place for everything and you've barely taken up any extra space. And, it's renter-friendly.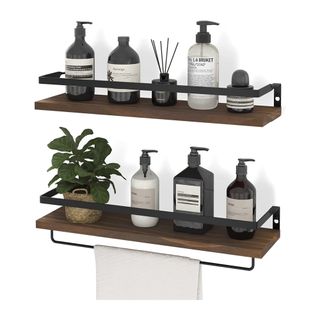 $19.99 for 2
11. Sodoku Floating Wall Mounted Storage Shelves
Size: W16.53" x D5.83"
Made from: Metal/pine wood
Opt for this bathroom wall organizer for an appealing display of your toiletries. The pinewood shelves are mold-proof and fitted with metal protective guards so you can store multiple products without the fear of them sliding off. There is also a removable towel holder, so you can conveniently reach for your washcloth when washing your face. If you buy a few of them, you can create the ultimate organization wall.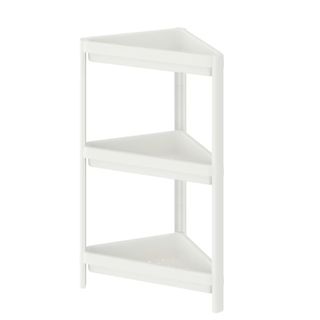 $9.99
12. IKEA VESKEN Corner Shelf Unit
Size: H28" x W13" x D13"
Made from: Polypropylene
If you're looking to organize your bathroom products without taking up a lot of space, this corner shelving unit from IKEA is perfect. Shampoo bottles, skincare products, and toiletry bags can sit securely on the three levels, protected by the unit's high edges which will keep everything in place. It's a great option for smaller bathrooms but would be a pretty feature in larger ones, too.
Makeup organizers for bathrooms
Because your holy grail makeup deserves its own storage. With the right storage, you'll know where everything is all the time and you won't have to dig around your makeup bag every morning. Shoppers rate these three makeup organziers as the best out there when it comes to looks and function. Depending on where you'd like your makeup to live, these are all fab choices.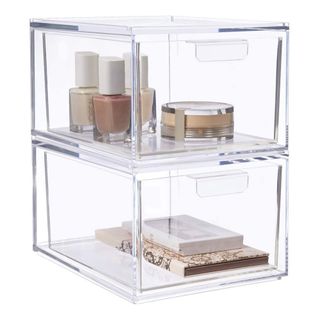 $23.99
13. STORi Audrey Stackable Clear Plastic Organizer Drawers
Size: H4.5"x W6" x L7.88"
Made from: Plastic
These genius stackable organizers are the perfect example of function and form. They're great for keeping everything within reach and actually seeing it all. Use them to organize your bathroom countertop or hide this unit away in a bathroom cabinet. They come with lids and are fitted with handles, plus they're super simple to keep clean. More than 27,000 reviewers are obsessed with them.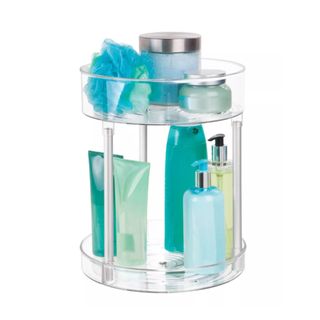 $27.49
14. mDesign Bathroom Vanity 2-Level Makeup Storage Turntable
Size: H13.5" x W11.12" x D11.12"
Made from: Plastic
Easy to use and convenient for smaller bathrooms, this spinning organizer has two tiers, one for your larger toiletries and the top one for smaller bottles. You can place it anywhere, from your countertop to inside your shower tray, because it's completely waterproof. It comes in more colors, but the clear option is our favorite for convenience. Reviewers give it a shining 4.8 stars out of five.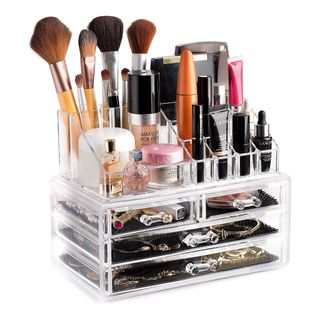 $19.99
15. Masirs Store Clear Cosmetic Storage Organizer
Size: L9.5" x W5.5" x H7.5"
Made from: Acrylic
There's a place for everything in this makeup organizer. Drawers for your smaller items, integrated pots for your brushes, and even separate holders for your lipsticks, eyeshadow palettes, and mascara. The drawers detach from the top shelf for your convenience, and it looks chic on any countertop. More than 22,000 happy reviewers agree.
---
How we chose these bathroom organizers
These bathroom organizers have been featured based on their customer reviews. We only picked bathroom organizers that shoppers have rated highly and raved about. We've also made sure that they are practical (in both design and construction) and stylish, too. We also prioritized containers and units that are affordable and renter-friendly.
Browse more bathroom organizers
Bathroom organizer options are endless, so if our top picks don't include something that would work for you, there are plenty more to browse through below. These are exactly what you need when you're figuring out how to organize smaller bathrooms.