Gone are the days of slapping some magnolia on every wall and only repeating the process when the scuffs or marks become an eyesore. Our homes can change as frequently as our wardrobes and even if you don't consider yourself a trendsetter, a new lick of paint or embracing a new colour palette will make all the difference to the look and atmosphere of a room.
This year a few signature styles are getting a 21st-century makeover. Burnt oranges and browns are back, bringing with them a 70s revival with a modern touch.
So whether you want to decorate in the latest shade, or create a new feel in an old room, here are this year's hottest paint trends.
1. New blues
Invigorating, brightening and surprisingly warm, crisp light blues will bring cheer to even the gloomiest of rooms. This season's blues take a cue from nature, whether that be the deep tones of minerals or sea foam shades.
Keep the look cosy with wood and other natural materials, or cheer it up with yellow, orange and metallic accessories.
2. Colour blocking
Big in the world of fashion, colour blocking is making waves in interiors too this season. You can either choose complementary shades for a sophisticated look, or be bold with clashing colours that really offset one another.
Popular colour combos include green and pink; pastel hued pairings; and hot pink with bold blue, purple or orange. Don't feel restricted to two shades.
Be sure to use masking tape for crisp, straight lines.
3. Botanical green
Lush greens are allover the place, closely snapping at the heels of the botanicals trend. From zingy limes to calming sage, the breadth of shades means there is something for everyone. And, as we automatically associate the colour with nature, it really is strong contender for anyone looking to create a serene and restful space.
4. The dark side
Slate grey and black are still sticking around, but if you want to create a moody interior with a difference, there are a whole host of inky blues, greens and purples to choose from.
For maximum drama, choose furniture, flooring and curtains to match the walls. Then accent the look with pops of colour, metallics or hints of white.
5. Blush pink
Embrace the déjà vu – yes, blush pink is here for another season to soften our schemes and soothe our souls. It's enduring popularity can be attributed to its versatility. It can be worked in to traditional schemes or add a bit of retro glam to a sleek, modern home. Peachier pinks are proving popular and work well with the trend towards earthy pastels.
For an edgier look, pair with black and metallics, or try a Scandi-inspired vibe of layered textures, sheep skins and pale wooden furniture.
6. Updated oranges
Warm, welcoming and bold, oranges range from terracotta to shocking acid shades. They are ideal for cosy living spaces, bright kid's rooms and contemporary kitchen diners.
Orange can really offer a much needed glow to a north-facing room. Temper it with accessories and furniture in cooler, or neutral shades such as grey, blue and white. Or, go full 70s revival and combine with other earthy colours and glam metallics.
7. Earthy pastels
While sweetshop pinks, purples, corals and mint greens never go out of fashion, pastels have had a grown-up makeover this season. Earthier pastels take the lead for a look that is less saccharine and more mellow. Pair with black for a punchy look, or tie in to a Scandinavian-style scheme. These shades also work well together if you want to colour block.
8. Purple power
Vibrant, moody or ethereal – purple is the most mercurial of colours, which makes picking the right shade for your room vital. While heather, lavender and dove shades have been popular for the last few years, more daring aubergines and violets are hitting the interiors scene. Colour-clash with unexpected shades for a more impactful look.
9. Hello yellow
Use even the coolest of yellow tones and your home will be flooded with warm and welcoming light all year round. If you are scared of a bold yellow, choose a muted buttermilk and pair with a palette of neutral fabrics and accessories to keep it in check. Or be brave and embrace the pop with sunflower or lemon.
Grey works really well with yellow and can be a great colour choice when it comes to picking furniture and fabrics. It offers you an easy base tone to mix with a different colour down the line, should you wish to.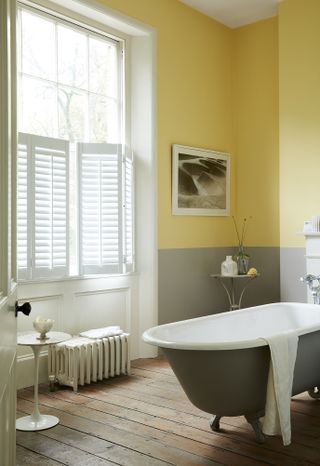 10. Modern neutrals
Don't berate yourself for playing it safe with white walls. Off-white, pale biscuit shades and barely-there greys are the perfect backdrop for any scheme and great for people who like their walls to be a canvas on which to paint the latest interiors trend every season. White is also guaranteed to optimise light in any room, making it feel fresh and cheery.
If warmth might be lacking, lean towards a white with a hint of yellow, brown or pink to prevent the room feeling cold and stark. To amp up the cosiness even more, fill the room with rustic wood, and natural textures like linen, wicker and wool.
Want more decorating advice?