Vacuuming up pet hair is a chore we'd rather forget at the best of times, but when you've got very messy pets or one that moults constantly, it's a necessary evil to ensure your home stays clean and fresh. Finding the best pet and pet hair vacuum cleaner is the key. Here's our round-up of the best models on the market – all at the very best current prices.
Find more best vacuum cleaners in our buying guide, or if you're looking for a cheap vacuum cleaner deal, we've got lots.
Subscribe to Real Homes magazine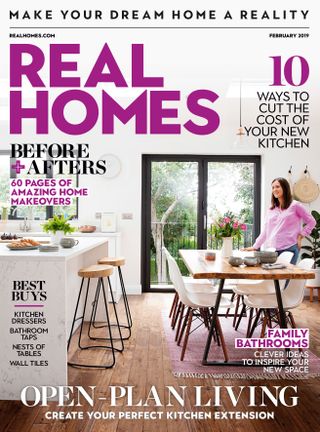 Love your daily dose of Real Homes? Then why not subscribe to our magazine to see our newest content first? Packed with fabulous readers' homes, trend features, project advice and easy updates, you'll wonder how you ever lived without it.
Why buy a vacuum cleaner designed to cope with pet hair?
Not all standard vacuums are good at picking up pet hair, and depending on the animal you have, some hair is more prone to moulting and sticking to carpets, furniture and everything else for that matter.
Most of the major vacuum brands such as Dyson, Miele and Vax have now introduced specialised vacuums for pets, which have much stronger suction and often feature allergy filters for those who are particularly sensitive. They'll also stop the hair from simply being pushed around the carpet and releasing irritants into the air.
What to consider before buying?
When choosing the right vacuum for your pets, there are a few things to consider. First, what type of flooring do you have? If your pets tend to moult throughout the house, it can be beneficial to opt for a vacuum that is adaptable to all floor types such as carpet and hardwood or laminate floors.
Also consider what spaces you will need to vacuum. Dyson's ball technology is great for getting into corners and under furniture, while a cordless vacuum will make it easier to get to those hard-to-reach areas and also allow you to vacuum your car.
Take a look at our guide to the best vacuum cleaners for pets below, to help keep your pets' hair at bay.
1. Dyson Light Ball Animal Upright Vacuum Cleaner
A powerful vacuum for all floor types
Specifications
Best for: Manoeuvrability
Bagless: Yes
Capacity: 1.6ltrs
Noise level: 80dB
Power: 700w
Reasons to buy
+ Lightweight + Three different power settings
Reasons to avoid
- Requires emptying frequently
Dyson is known for its powerful vacuums, and the Animal is no exception. If you have pets, then this is regarded as one of the best vacuums you can buy.
The small head and roller ball technology allow for it to glide easily across all floor types, and it's flexible enough to get into corners and under furniture for a thorough clean.
Since Dyson is known not only for suction power but also filter simplicity, this is the best vacuum easy cleaning of pet hair. You can suck up all kinds of pet hair without worry of blockage or leave stray hairs due to a lack of power. The attachment options also make cleaning a pet bed a simple task too.
This vacuum is very lightweight for the size, which can make it feel a little flimsy. It will need emptying quite frequently if you have a few pets, but overall the suction power leaves carpets looking like new.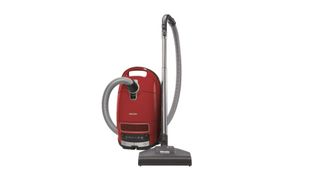 2. Miele Complete C3 Cat & Dog Vacuum Cleaner
A filtered vacuum to reduce the symptoms of allergies
Specifications
Best for: Allergies
Bagless: No
Capacity: 4.5ltrs
Noise level: 79dB
Power: 900w
Reasons to buy
+ Filter traps dust + Extra-long cord
Reasons to avoid
- The bag needs changing
This specialised vacuum for pets by Miele is designed for those who tend to suffer with allergies, particularly to dust and pet hair; making this the best vacuum for allergies to pets.
With a super long cord which allows you to go from room to room with ease, this vacuum is so powerful, it can sometimes make vacuuming carpets and rugs a little bit of a challenge. You can, however, change the settings to suit the floor type when you need to.
The filter system should mean carpets and homes in general feel fresher. The only downside? You have to change the bag when it's full, which happens quite often.
3. Shark DuoClean Corded Stick Vacuum
You won't miss a hair with the motorised pet turbo brush tool
Specifications
Best for: Stubborn pet hairs
Bagless: Yes
Capacity: 0.49ltrs
Noise level: 80dB
Power: 450w
Reasons to buy
+ DuoClean technology + Compact and easy to store+ Perfect for those easy to reach areas
Reasons to avoid
- Small bin
If you don't want to lug around a big and bulky vacuum (who does?), then the Shark
DuoClean Vacuum is lightweight and easy to manoeuvre, plus its thin body makes it easy to store. In fact this is one of the best vacuums for quick pet hair cleaning.
For those who aren't as able, this vacuum is effortless to use and it works well on both carpet and hard flooring. The slim body also allows it to get into more hard-to-reach areas such as underneath the sofa, and thanks to its bendy tube in the middle, you won't even have to bend down. As with any smaller vacuums, the bin will need emptying more frequently, but we can let that slide because of how good the vacuum is.
4. Dyson V8 Animal Cordless Vacuum Cleaner
All the power of the Dyson Light Ball with a slimmer frame
Specifications
Best for: Small spaces
Bagless: Yes
Capacity: 0.5ltrs
Noise level: 82dB
Power: 21.6V
Reasons to buy
+ Slim frame + Quiet
Reasons to avoid
- Limited battery life
The Dyson V8 Animal is one of the best cordless vacuums on the market, and users love how easy it is to use. As a result it is one of the best vacuum cleaners for pets that need regular cleaning.
Without the worry of tripping over cables and not being able to reach certain areas, you can quickly and easily glide around your home with this Dyson. It does have limited battery life, but it is enough to clean a three bedroom house with ease and it is quick to charge if it runs out of juice.
Those who have cats will find this vacuum particularly helpful as you can use this vacuum on upholstery as well as flooring, and it's also ideal for cleaning cars, so those that take the dog out in the boot don't have to worry about the mess.
5. Sebo Automatic X7 Pet Vacuum Cleaner
A reliable upright vacuum cleaner which tackles tough jobs
Specifications
Best for: Classic upright design
Bagless: No
Capacity: 5.3ltrs
Noise level: 80dB
Power: 890w
Reasons to buy
+ Lots of attachments + Computer control system for the best clean
If you can't see yourself getting on with some of the new cordless vacs, then this classic upright vacuum designed for pet hair might be the perfect choice for you. In our opinion, this is the best vacuum cleaner for pets where owners want a solid and reliable bit of kit.
With a great range of attachments allowing you to easily pick up pet hair on all types of floors, upholstery and get to those hard-to-reach areas such as stairs, it is a little heavy, but it effectively picks up pet hair in just one stroke, meaning you won't have to stand there for hours hoovering back and forth.
6. Bosch Athlet Pro Animal Vacuum Cleaner
A flexible cordless vacuum for stress-free vacuuming
Specifications
Best for: Flexibility
Bagless: Yes
Capacity: 0.9ltrs
Noise level: 74dB
Power: 1800w
Reasons to buy
+ 60 minute run time + Ideal for upholstery
Reasons to avoid
- Difficult to change attachments
This cordless vacuum for pets by Bosch is the excellent companion for big homes with lots of pets. In fact this could be the best vacuum cleaner for pets in larger spaces.
You'll have complete flexibility around the home with a long battery life of up to 60 minutes so you can do a thorough job in every room. It also comes with lots of different attachments including a pet nozzle, which can be a little tricky to dismantle and change, but overall, this vacuum works well on both floors and furniture.
That longer battery life also means there's very little need to charge it, and you can take the vacuum to use to clean the car.
7. Vax Power Pet Vacuum Cleaner
A budget vacuum cleaner which is compact and easy to use
Specifications
Best for: Budget
Bagless: Yes
Capacity: 2.2ltrs
Noise level: 78dB
Power: 800w
Reasons to buy
+ Pet odour filter + Sits on stairs
Reasons to avoid
- Suction not as strong
For those who need something reliable that will get the job done, this Vax Power Pet Vacuum cleaner is compact, easy to use and affordable. We think this is ideal for those on a budget that want an affordable vacuum which can clean up pet hair.
The Vax is reasonably light therefore perfect for vacuuming the stairs or cleaning out the car. It has a designated pet hair nozzle, and while not as powerful as some of the others on the list, you can expect it to be reliable and get the job done. The style of this vacuum also makes it easy to store away when not in use.
Read more: