Great flooring is key to a well-designed and spotless bathroom. Choosing a material that can cope with humidity, water spills, and temperature changes is the obvious part. But what about the correct texture, ease of fitting, and longer-term maintenance? We cover everything you need about choosing the best bathroom flooring, whether you gravitate towards the timeless appeal of tile, the elegance of wood, or the edgy cool of an alternative material such as vinyl. 
For more gorgeous bathroom ideas, head over to our inspiring gallery. 
Achieve classic elegance with a tiled floor
Tiled floors are the ultimate choice for bathrooms. Good-looking and hygienic, natural and manmade tiles do well when exposed to moisture and heat, and when laid properly, should last a long time. 
Choose: Marble and travertine if you want a natural option, but pick polished varieties, as both these materials are naturally porous; quartz tiles are a great manmade choice for bathrooms and typically come in a highly polished finish; porcelain and ceramic are can't go wrong options, too. 
Avoid: Granite, which can crack.
Design know-how:  Choose large tiles to complement a big, contemporary or industrial-style room; smaller tiles are perfect for a vintage look in a more compact bathroom. Bold colours or monochromes in graphic designs are a popular look, as are wood-effect tiles in a parquet layout. 
Fitting tile flooring: Installing tiles is a job that even beginners to DIY can tackle. Simply start by finding the centre of the room and lay out the first four tiles with spacers around that point. Then, lay out a few more tiles in each direction to ensure you don't end up with any awkward, thin slivers of tile at the edges of the room. This done, you can apply adhesive in small sections to keep it from drying out. 
Cleaning tiled flooring: Vacuum or sweep before wet-cleaning to prevent scratches; use warm water and mild detergent (water only on natural stone). 
Choose wood for an effortlessly chic look
Wood flooring will lend your bathroom a naturally chic look and feel, and will provide a warmth that tile will not.
Choose: Engineered wood, both of which have a durable top layer betted suited to withstanding humidity and temperature fluctuations. Check with your supplier to make sure that your choice is appropriate for a bathroom. 
Avoid: Solid wood, which will warp quickly from all the moisture.
Design know-how: Wood flooring will look fantastic in a period bathroom; pick a parquet floor for the most elegant look.
Fitting: Most of the ranges now come as a floating floor with a click-lock system, so competent DIYers will be able to install this type of flooring themselves. However, if your bathroom is an awkward shape or you're laying it around existing fittings, consider hiring a professional.
Cleaning: Once laid, engineered wood should be treated as solid wood flooring and swept regularly or vacuumed using a brush setting. Mop up any spills immediately. Clean engineered wood flooring with a damp mop but don't saturate the surface or allow it to become too wet.
Laminate
Laminate flooring, once seen as a cheap and inferior alternative to wood flooring, has evolved into a cost-effective, durable, and versatile option suited to any area of the home, including the bathroom.
Choose: Pick a water- and humidity-resistant fibreboard-based laminate that can stand up to spills and splashing. 
Avoid: Designs with an expansion-prone chipboard core. 
Design know-how: For a wood effect, pick the most realistic finish you can find, complete with bevelled edges and knots. Similar, bevelled edges and detailing will be evident in the best tile-effect laminates, too.
Fitting: You can lay laminate as a DIY job, but if your bathroom is an awkward shape or you're laying it around existing fittings, consider hiring a professional. Make sure that your laminate has a waterproof core and is correctly laid and sealed to prevent rot and mould. Invest in the recommended underlay to prevent future damage and uneven wear.
Cleaning: Sweep any small particles and debris with a soft brush, and mop up and spills immediately. Never leave a laminate floor soaking wet. 
Vinyl and other alternative materials
New technology and printing processes mean that alternative flooring can now compete for appearance and quality with other kinds of flooring, including natural materials, such as solid wood, real stone and ceramic and porcelain tiles. Alternative flooring options such as vinyl and rubber also have a very clear advantage: they are very affordable.
Choose: Vinyl and rubber. Insulating for heat and sound and soft underfoot, these materials come in a range of textured finishes and are slip-resistant. 
Avoid: Leather – it will not be able to cope with the high moisture levels. 
Design know-how: With the wide range of colours, patterns, and finishes, vinyl and rubber are great for creating an edgier, more contemporary look. You may want to steer clear of these materials in a period bathroom.
Fitting alternative flooring: Some products require adhesives for installation, while others come with a peel-off sticky backing or click together like laminate boards. If you are going to lay this type of flooring yourself, choose tiles or planks; if you are laying a single sheet in a large room, then one wrong cut can be an expensive mistake, and is best left to a professional.  
Cleaning alternative flooring: Use a mop, warm water, and mild detergent. Avoid anything abrasive. 
Choose paint for a budget bathroom floor
Painting a bathroom floor – usually on to scrubbed pine floorboards – is a good option if you are on a tight budget. Ensure you choose a water-resistant finish and prepare the floorboards thoroughly before applying the top coat.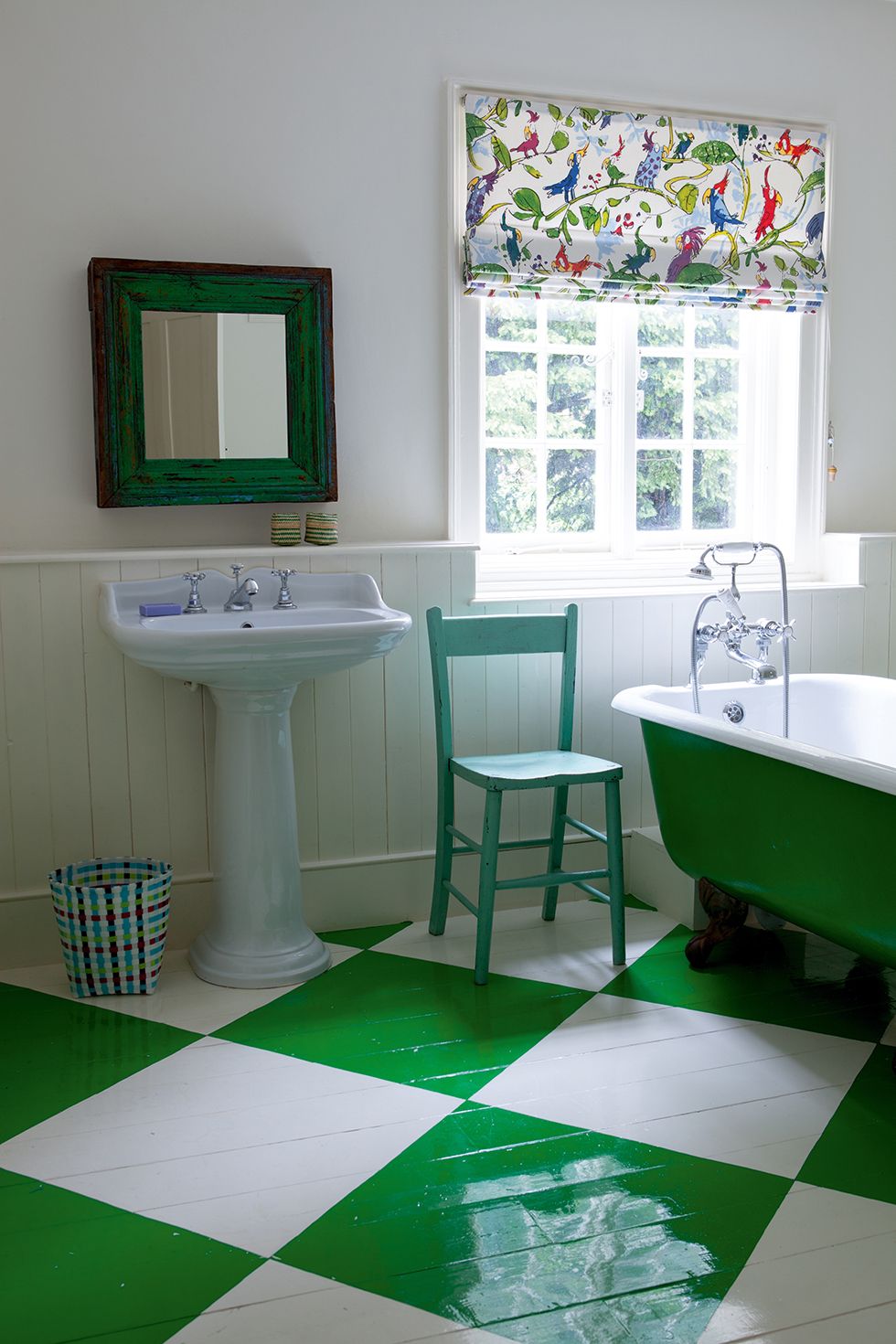 Read more: