Looking for simple kitchen makeover ideas that will give you space a new look instantly? Well your search is over. We believe that yes, while a kitchen should be functional, it is the heart of the home, so it should represent the people who live there. 
So once you've got the designing and planning the kitchen out of the way, it's time to start thinking about how to introduce colour, pattern, texture or style that you really love and build the whole kitchen's scheme around it. That's where our inspiring kitchen ideas come in...
1. Go for a quick kitchen makeover with bold kitchen tiles
Inject personality into your space using wall or kitchen floor tiles in your favourite colour or pattern. If you have gone for a strong pattern on the walls, keep the worktops and units simple. The same applies for shiny and matt: always put a high-shine surface next to a matt one to prevent it looking too over the top.
Patterned, tiled floors make a very strong focal point, but if a full wall or floor pattern is too much, a splashback takes up little room and still adds character, plus it's a more affordable solution. 
We've got a load of kitchen splashback ideas for inspiration, so go and have a read. 
2. Make a feature of the dining table
A table is a fantastic starting point for a quick kitchen makeover. If you already have a gorgeous dining table, factor it into your layout from the start. It is important to ensure your kitchen designer knows what your table looks like and how big it is.
A good design should work with the style of the table, so try highlighting the material or colour with new cabinetry or worktops – or even you kitchen window dressings. If your furniture is timber, think carefully about other woods used and keep the number of wood finishes to a maximum of two per room.
Further highlight and make a focal point of the table with attractive, low-hung pendant lighting and good looking dining chairs. A carefully mis-matched set of chairs can look amazing – as can cheaply-bought chairs that can be painted (find out how to paint furniture in our guide).
If you need some tips when it comes to buying a dining table, we've got you covered. We've rounded up our favourite contemporary dining tables and traditional dining tables, so you can easily find something to match your style and budget. 
3. Introduce eye-catching kitchen lighting
One of the easiest ways to start a kitchen makeover is with really handsome kitchen lighting. As the kitchen is now a multi-functional, family space, it's important to layer practical task lighting with decorative ambient lighting. Overhead lighting is necessary, but not atmospheric, so add low pendants and wall lights where possible.
Visit high street stores, lighting specialists, antique fairs and reclamation yards to find your perfect style. Remember, pendant lights don't have to be overly practical, so long as you factor in task lighting elsewhere, so go for something that looks great and makes you smile. Either highlight the colour or material elsewhere in the kitchen design, or choose contrasting finishes for a unique look.
If you need more inspiration head over to our feature on kitchen lighting ideas. 
4. Work with existing kitchen furniture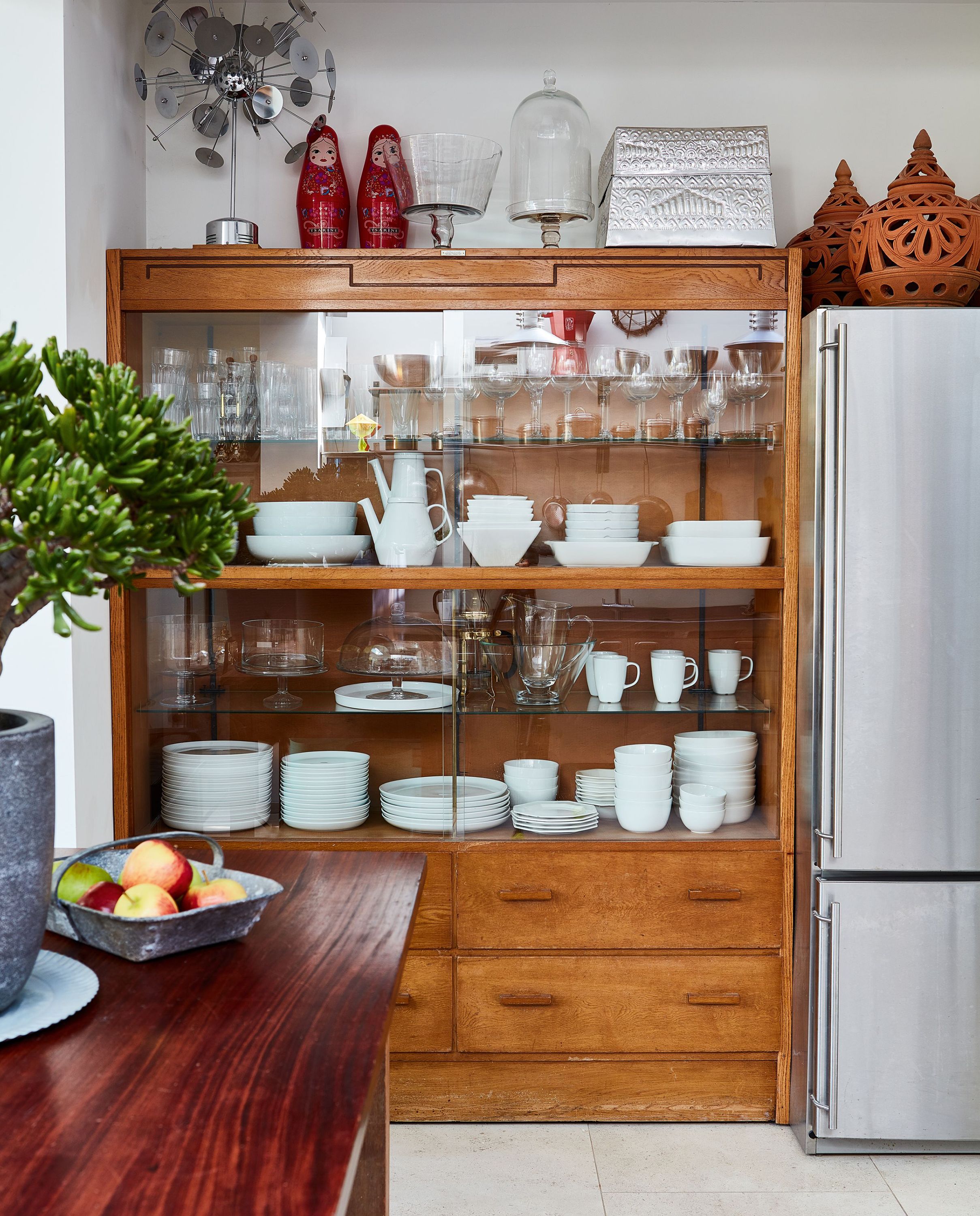 You may have a treasured freestanding cabinet or bookcase that you've inherited or brought from a previous home. Mixing freestanding kitchen furniture and vintage kitchen cabinets with fitted units can create a bespoke look. The trick to incorporating old and new units is to keep them on opposite walls.
For a colour accent, try upcycling a salvaged find in a contrasting shade to the fitted furniture: a simple white kitchen would look lovely with a dresser in dark charcoal or vibrant yellow. Keep an eye on local auctions and markets for one-off pieces.
If your vintage finds are in need of a bit of an update, two words – Chalk. Paint. Literally is there anything a lick of that stuff can't solve? Go and have a read of our guide to painting furniture just so you know what you are doing. 
5. Highlight a favourite pattern or colour
Do you have a favourite painting or fabric that could be a starting point for your kitchen makeover? Nothing needs to exactly match, but should be able to sit comfortably in the same room.
Keep a small swatch of the fabric or a photo of the artwork with you when you visit showrooms and check it against fixtures, such as worktops or splashbacks, to see if the combination looks good. Even if the fabric is going to be on a small blind or a window seat, it's important to ensure it will work.
6. Add colour for an easy kitchen makeover
Paint dated kitchen cabinets to give your room a whole new look for the fraction of the cost of a new kitchen (check out our guide to painting kitchen cabinets). Or, quicker still, paint your freestanding furniture bright or contrasting colours. White-painted walls? Transform your kitchen walls with these on-trend kitchen paint colours.
Look at the stunning palette of encaustic tiles on the market, too. Choose vibrant colours for a splashback, the floor or even just as coasters.
Go bold with fabrics for cushion covers or a table runner, you may only need a little in a kitchen so make it count! Check out our colourful kitchen ideas for more inspiration.
7. Put colour and pattern or texture at the windows
If your kitchen cabinets are a muted colour (and who can blame you, they're easy to redecorate around and will be popular with future buyers), your floors are neutral (ditto) and you've chosen a splashback to match, you can still add colour and pattern with fabulous kitchen window dressings, such as kitchen blinds, or colour and texture with shutters.
8. Curate your own art collection
If you're planning an open plan kitchen, diner and living space, it's likely you'll have plenty of wall space not taken up by kitchen cabinets. So, curate your own art collection, making it a bright and cheerful grouping of your favourite things. Find out how to display photos and pictures to perfection and how to create a gallery wall for instant personality.
9. Add greenery with house plants
Displaying house plants is a super easy kitchen makeover idea. Choose trailing plants for high shelves, spiky plants for kitchen work surfaces, low-growing succulents for the dining table, and a large, leafy house plant for an empty corner. You can't go wrong – especially if you find out which house plants to buy and how to care for them in our handy guide.
10. Throw down a rug
If you've got a living space within your kitchen, a rug's a no-brainer. But putting a rug within the kitchen area – either beneath the dining table or along the length of galley units – is right on trend. Ensure you choose one that can stand up to the wear and tear it will face in a kitchen. Indoor-outdoor rugs are a good option or something similar to the one used here in jute.
11. Wallpaper the kitchens for added interest
Putting a statement wallpaper on a wall or two in your kitchen will give it instant character and make for a really homely appeal. Pick large repeat patterns for a more contemporary feel to complement streamlined or modern cabinetry or to create a boho feel in a vintage kitchen; smaller or ditsy prints suit more traditional style kitchens, such as Shaker-style rooms. 
Use our kitchen wallpaper design ideas gallery to inspire your scheme.
More ways to pep up your kitchen: