Wondering what can you cook in an air fryer (that isn't fries or fish sticks)? Pull up a chair (and some cutlery) — because you're bound to be hungry after this. We already know that the best air fryers can cut down the cooking time of our favorite "beige dinner" staples. If you love your fries, garlic bread, goujons, and other breaded and battered goods — this machine is for you.

I don't know about you, but I also love a boujee (and boozy) brunch. But, let's be honest: they can come at a premium price. Then there's the messy group chat, getting a reservation at said spot, plus working out what to wear!
Save yourself the stress and DIY your coffee bar favorites. From French toast to avo fries, all you need to add is a few bottles of fizz and some orange juice and you can have a fancy meal on a budget, all thanks to your air fryer. And, if you've overspent during the holiday season, but want to see 2023 in good and well, your air fryer is your New Year's Eve BFF as you can cook up endless canapes and ask your mates to BYOB!
Surprising things you can air fry
If you're getting burnt out on your go-to air fryer recipes, it might be time to diversify what you're cooking. Here are a few ideas worth experimenting with.
1. Cheese
Yup, you read right... because who else doesn't get excited over a whole baked Camembert or Brie. And, as long as you keep it in the wooden box, there's little mess to clean up either. Go in with warm baguette or dig in with slightly healthier sticks of celery.
2. French toast
Whether you call it French toast or eggy bread — this fluffy staple is the thing of brunch dreams. According to Jules Domanski, recipe developer at Ocado, you can make this sweet treat in your air fryer.
"For an indulgent morning treat, coat sliced bread in a custard mixture of beaten egg, milk, vanilla extract, and cinnamon, shaking off any excess liquid before adding to your air fryer to cook for around three minutes on each side," she explains. "It's also a good idea to use an air [fryer] liner in the basket to catch any residual liquid."
Jenny Tschiesche, author of Sunday Times Bestseller, Air Fryer Cookbook also says:
"French toast is always a favorite. The air fryer is a much healthier way of enjoying this delicious breakfast. Usually, you'd fry the eggy bread in butter but with an air fryer you can simply coat the bread in a mixture of beaten egg, milk, vanilla extract, and cinnamon prior to air frying. Not only is this a healthier way but also a more cost-effective way of making your favorite French toast breakfast."
3. Avocado fries
Move over smashed avo on toast, there's a new kid in town. "Slice your avocado halves into long fingers and coat each in flour seasoned with a pinch of salt and pepper," instructs Domanski. "Dip the floured fingers into beaten egg and then roll them in panko breadcrumbs. Repeat this process twice for a thick, crunchy coating. Pop your fries into the basket and cook for seven minutes, flipping halfway through the cooking time."
4. Mozzarella sticks
Yes — adding some stretchy sides to your McDonald's drive-thru or Uber Eats order is easy, but you'll be shocked as to how much the occasional treat here and there adds up budget-wise. The solution: Make your cheesy fries at home. It's cheaper and you can elevate the flavor in a flash using herbs from your spice rack. Better still, if you've got a bag of flavored tortilla chips in your cupboard (i.e. Doritos), these can add a smack of seasoning.
"DIY mozzarella sticks are the perfect fast-food alternative," says Domanski. "Take string cheese and coat it in seasoned flour (dried oregano, salt, and pepper will do the trick), beaten egg, and then breadcrumbs, repeating the process twice through. Cook for six to seven minutes until golden-brown and molten."
5. S'mores
You don't need a campfire or even a barbecue to enjoy this childhood classic! Wherever you live in the world, treating yo' self to gooey goodness is easy.
"Air fryers can be used for more than just savory treats," explains Domanski. "An American classic, it's about time we embraced s'mores internationally. For a British twist, grab your chocolate digestives, split large marshmallows in half and press the sticky side down onto the cookie."
She notes to cook them for seven minutes — checking halfway through — until your marshmallows go from white to golden. "Remove and top with a square of milk chocolate, finishing with another digestive on top to encase your oozy choccy sandwich."
6. Turkey
Okay, so we wouldn't wager your whole holiday meal by shoving this big bird into your air fryer, but hear us out. If you're having to cook multiple pieces of poultry at a time, a crown or turkey leg can be cooked in your countertop appliance.
"Whilst most air fryers won't be large enough to accommodate a standard-size turkey, turkey crowns will fit perfectly in some of those fryers with a large drawer," says Tschiesche.

"One such appliance is the Instant Vortex Plus VersaZone air fryer. With its 8.5L capacity it's ideal for not only a crown but also some trimmings such as vegetables or even stuffing alongside."
Oh, and if you're partial to chicken wings, try upgrading to turkey wings. They're obviously bigger, a good source of protein, and are super economical to buy from your butchers. It doesn't need to be Christmas to enjoy this on-the-bone cut. Next time you've got friends around for a sports event or your fave series, try swapping your usual buffalo-sauced spread for these.
If you read our Cosori CP358-AF Pro Air Fryer review, you'll notice it has a rather large basket, so it's good for flatties or drums.
7. Toast
This is a great one if you're looking to declutter your cooking space and organize your kitchen countertops. If your toaster is on its way out, your air fryer can grill bread just as easily. Sure, you'll have to get used to the fact there aren't any numbers to measure "toastiness" (FYI, those dials actually denote the strength of the current), but if your toaster is a deadweight outside of breakfast hours, you can free up some space with an all-encompassing appliance.
The best machine for the job? We reviewed the Cuisinart air toaster oven and, if it's not obvious enough in the name, this one does a good job of browning bread.
8. Pasta
Sorry to any traditional Italian nonnas out there for this one. But did you know you can make pasta in an air fryer? While this isn't your usual al dente or al forno affair, the kids on TikTok think this is molto bene.

Rather than just boiling your pasta in salted water, this air fryer hack involves parboiling your chosen shapes, then "frying" them until they're nice and crispy. You can make air fryer pasta chips or buy a pack of ready-filled ravioli for a fancy entrée when hosting guests. They make the perfect home bar snack. Consider them the boujee alternative to basic potato chips.
"Although we don't recommend cooking traditional pasta dishes in the air fryer, pasta chips are a tasty snack that can be cooked to crisp perfection with this appliance," Domanski says. "Boil the pasta first until al dente before draining and patting dry with kitchen paper, toss the pasta with grated parmesan and your favorite seasonings — I love a blend of sea salt and a pinch of smoked paprika. Cook in the air fryer for seven to 10 minutes until golden and crunchy, and serve with a tasty aioli or tangy tomato dipping sauce."
9. Fakeaway treats
If you've ever wondered whether air fryers are worth it, honestly, they are very cost-effective. And, if you're on a tight budget, cutting down on takeout is wise, but that shouldn't mean you feel deprived of your favorite foods. That's where air-fryers will help. Christina swears by this tried-and-tested prawn toast recipe on TikTok.
The cost of running an air fryer is a lot less than most delivery apps charge for service, so you'll be saving money on the restaurant markup, time waiting, and that awkward thing where you stand outside your house in your sliders, acting as your driver's personal GPS.
Maybe food delivery apps are your way of saving on time. If that's the case, check out our Proscenic T21 smart air fryer review. You can set the air fryer to cook from your smartphone or smart speaker, leaving you more time to shower, get ready for work, or spend time with the family. "Alexa, where's my dinner?"
For vegans, vegetarians, or flexitarians, Domanski has just the (plant-based) thing if you're feeling hungry.
"The texture of tofu can be divisive, but crisp it up and it completely transforms," she says. "Use firm tofu, pressing as much moisture out of it as possible, before cutting it into cubes and coating it with cornflour, soy sauce, garlic, sesame oil, and a smattering of chili flakes. Air fry for 10–15 minutes for the perfect crunch."
10. Cooked fries
Whether you say fries or chips (hey, UK readers), we take this potato snack very seriously. Aside from what cooking fat to use or what condiments are best, no one wants soggy, tasteless fries.
Whether you've ordered the UK classic battered cod and chips for home delivery or a McDonald's drive-thru and need to refresh the fries, you can simply decant your fries into your air fryer to bring them back to life.
It's far healthier than refrying them if you've considered an air fryer vs. deep fat fryer. With an air fryer, you've got the guarantee that a.) your fries won't be greasy, b.) the appliance won't make your kitchen smell, and c.) you won't have to work out what to do with the dirty oil.
11. Hard boiled eggs
The thought of air frying boiled eggs is a little odd, but it's true, you can cook eggs in your machine. This news was obviously a godsend to us as it cuts out the risk of having shattered eggs all over your best saucepan.
Also, if you've ever wondered what can you microwave, eggs are part of that list too. (Yes, but check out our guide before you blow up the place.)
Again, if you've got a small apartment with a teeny kitchen and need to scale back on your appliances, ditching your microwave for an air fryer is a possibility, though microwaves still have their place for "wetter" foods.
12. Popcorn
Movie night is nothing without a bowl of popcorn. While we were all for making those pre-packaged, pre-seasoned bags in our microwave, this air fryer hack is a-maizing (sorry, not sorry).

Personally, I'm too afraid to make this maize snack on the hob, so attempting to cook it in an air fryer is much more up my street. It's also a great way to make it a little healthier for kids you can control how much salt or sugar you use to season the corn. Just watch out for any unpopped kernels which can be a choking and dental hazard.
Now for the hard decision — which film do you watch on your TV or projector?
13. Rice
Cooking rice is always a bit of a funny one. And, hands up, even with an Asian background, mine can turn into a gloopy sludge. If mom is coming round, I'm known for buying a few boxes of boil-in-the-bag or opting for the microwavable pouches. However, if you look at the cost per pound, you'd be nuts to carry on with this buying behavior.

Eat cheaply by playing the economies of scale game. Next time you're at the supermarket or at an independent bulk retailer, look at the cost per pound. Better still, seek out your local ethnic store that is bound to have offers on basmati and other popular types.

It's always good practice to rinse your rice beforehand to get rid of excess starch, then follow this TikTok to cook rice in an air fryer.
14. Jerky
Jerky and biltong are great for on-the-go snacking, and definitely a more socially-acceptable protein-packed snack when compared to boiled eggs. But, these small packets can cost a small fortune (not to mention that little inedible silica pouch can be a slightly unnerving).
Instead, get yourself some lean beef strips, marinate them as you wish, and pop them in an air fryer until they reach the desired consistency. Of course, this could be done in a convection oven or dehydrator, but the latter is a niche appliance to have on hand!
Looking at the findings of our Ninja Foodi dual-zone air fryer review, this would be our go-to gadget for making this meaty chew. Depending on your dietary requirements, you can also try using pork or salmon too!
15. Dog treats
It wouldn't be fair to write a Real Homes air fryer article without paying homage to our furry friends. If you've been to the pet shop recently, you might have noticed that pre-made goodies have shot up in price. Also, observant pet parents may have noticed that the ingredients on the back of the pack can be a bit nondescript.
Take control of your dog's diet by getting some liver from the store, chopping it up into bite-size pieces, and popping it in the air fryer. This vitamin A-rich snack is super nutritious, cheaper than branded tidbits, and saves on plastic!

Of course, if you are a little squeamish about offal, there are some more air fryer recipes online. We particularly like these ones from Rene, blog owner at Spoiled Hounds.
16. Dried fruit and vegetable crisps
If dried orange slices always make it into your cocktails, you could actually use your air fryer's dehydrator setting to "cook" them. Fancy-looking, simple to do, and far cheaper than buying a whole pack when you only need a few!

Plus, have you seen the price of dried fruits and vegetables lately? To cut the cost on these snacks, and the plastic, Domanski has got the method down to a T.
"Thinly sliced apple, parsnip, sweet potato, and beetroot are all great options for a healthier take on your usual bag of crisps," she says. "The best part? No oil involved. Use a sharp knife to thinly slice your chosen fruit or veg and toss through with salt and pepper for a savory snack, or cinnamon and nutmeg for something sweet. Cook in a single layer for 4-5 minutes or until crisp."
Tschiesche also agrees. She says: "We're all trying to save money by not wasting food,"
"Keep your vegetable peelings and these can be made into, wait for it…, vegetable peel crisps. Simply toss your root vegetable peelings in olive oil, salt, paprika, oregano, and garlic powder then pop into the air fryer at 180°C (preheated) until crispy. Eat immediately."
17. Crispy chickpeas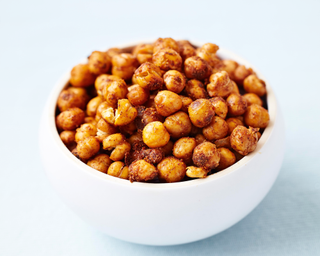 Not sure about you, but I spend a pretty penny on snacks at the health food store. And while I feel virtuous about my purchase at the time, one look at the packet and I'm pretty annoyed to find that not every snack is as nutritious at the brand makes out.
Thankfully, Domanski's crispy chickpea recipe contains nothing artificial and costs next-to-nothing to make. It's a great way to increase your protein and fiber intake too.
"Chickpeas aren't only delicious in curries and salads, they're also a great standalone snack," she says. "Drain and rinse your chickpeas before patting them dry with kitchen paper. Coat them in a spicy paprika seasoning made up of salt, black pepper, and smoked paprika then cook the chickpeas for 12–15 minutes, shaking the basket a couple of times during the cooking time to prevent sticking and to ensure even crisping."
Looking for other seasonings? Try an assortment of different spices for a global twist, like sumac for a Middle-Eastern lemony spin, or add curry powder for an Asian alternative.
What else can you put in an air fryer?
Dried oranges and apples can be used beyond cocktails, think fall and Christmas wreaths. You can use your air fryer for other decor DIYs too, like dried flowers. Petals and stems can be preserved in your air fryer by using the lowest setting of your appliance to dehydrate them.
And, if you're trying to save on your nuptials, start looking for reduced flowers at the supermarket and begin drying bouquets over in batches for a do-it-yourself confetti project. Fill some paper bags and no one will ever know the difference.
Safety notice: Be sure to thoroughly clean your air fryer after using it for any non-edible items.
Never put anything inorganic or foreign in your appliance — it can damage your machine, be a fire hazard, and invalidate your warranty.
Want the expert's answer to this question... We spill the beans on what they had to say: "A good rule to follow is if you'd cook it in a fat fryer, then it'll be done just as well in an air fryer, so treats like chips, wedges, and chicken will come out perfectly," says Nick Small, category manager, AO.com.
"Air fryers are just like mini ovens, so they're really versatile, and you can use them for all sorts like steak, pizza, fish, and even cakes," Small adds. "They're great for vegetables as well, although you might want to give them a sprinkling of oil before cooking to make sure they have that lovely crispy finish."
"The secret is finally out that air fryers are super energy efficient and incredibly versatile — there is very little you can't cook in one," says Wendy Miranda, consumer expert at Lakeland. "Our recent survey found that social media, particularly Tik Tok, is the first place Gen Z turns to for cooking inspiration and kitchen hacks, so no surprise that nearly five billion searches have been racked up."
She also adds that air fryer desserts are wildly popular searches on TikTok. "Apple turnovers are really fab in the air fryer — the puff pastry gets lovely and crisp on the outside," says Miranda. "I also love doing roast chicken, it really speeds up cooking time and produces super moist chicken with a crispy skin."