The Proscenic T21 Smart Air Fryer is the first smartphone-compatible air fryer I've tested. It can be paired with the Proscenic app (which can also be used to control any Proscenic robot vacuums!) to monitor your food remotely as it cooks. I wrote this review in the UK, but the Proscenic T21 is the same model in both the USA and the UK, and the price is very similar no matter where you buy it.
The air fryer has several convenient preset modes for cooking fish, bacon, fries, chicken, and even steak. You can also adjust the timings and temperatures yourself too. As someone who loves to cook I'm not sure these features were as useful to me as they would be an inexperienced cook or air fryer first-timer.
The capacity of this air fryer is an impressive 5.8 quarts/5.5 litres. Many air fryers offer you around 4 quarts, or 3-4 litres, to play with, but bigger is certainly better when it comes to air fryers. This allows more space for your food to cook evenly, and you can cram in enough fries for the whole family.
I'm certainly torn when reviewing the Proscenic T21 Smart Air Fryer. There is nothing actually wrong with it, per se. It's a capable cooking appliance with smart features and a generous capacity, but it's an expensive option. For something with this price tag, I expect a seamless user experience and versatility. There were a few issues I encountered that made the experience bumpy, and even though its actual cooking ability is pretty much without fault, I do think you pay a premium for smart features you don't necessarily need. Does it earn a spot in the best air fryers guide? Keep reading to find out.
Proscenic T21 Smart Air Fryer Review: Specs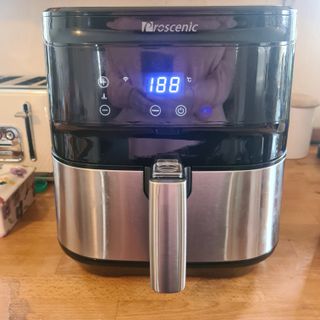 Weight: 5.9kg
Dimensions: L31.4 x W31.6 x H32.6 cm
Cooking functions: Fries, Shrimp, Pizza, Chicken, Fish, Steak, Cake, Bacon
Additional functions: App compatibility, Smart speaker control
Capacity: 5.5 litres/5.8 quarts
RRP: £139, $129
Colour: Black/silver
Cleaning: Dishwasher-safe tray and basket
How does the Proscenic T21 work?
Air fryers are having a bit of a moment, but I've been reviewing them for a while and so I know how they stack up and what to look for. I couldn't recommend buying an air fryer more. It will genuinely revolutionize the way you cook, and it really does give you those crispy results without the amount of fat you'll get if you use a deep fat fryer.
The Proscenic T21 works very similarly to other air fryers - it has a slotted basket that holds your food and allows air to circulate from all angles. Like a fan oven, it circulates even a spritz of low-calorie spray around your food far more efficiently, so it is a good option for those on a diet. The basket is made of aluminium and coated in Teflon for easy cleaning, and it can be detatched from the drawer in a very fiddly motion that requires pushing forward a plastic cover and then pressing a button to lift the tray and handle away from the now handle-less base.
Settings
I recently wrote a review of the Ninja Foodi Dual Zone Air Fryer, which has removable crisper drawers to allow it to air fry as well as bake and roast. The Proscenic T21 is purely an air fryer, and you can't use the drawer without the basket for other types of cooking. Its multi-functionally comes in the form of a menu of eight pre-set modes. These are designed for cooking fries, pizza, chicken, steak, bacon and more. I'm going to ignore the cake setting in this review because I've cooked cake in an air fryer enough times to know that it cannot compare to an oven. It simply can't. Moving on...
The controls are touch activated and you can pair Schedule, Menu and Keep Warm settings to help plan your meals. The buttons are quite hard to press (I prefer a physical button myself), and they let out a very loud beep when you do so. Scheduling a Keep Warm setting is a very good idea, because the machine automatically switches itself off when cooking is done. If you wanted to add an extra few minutes you'd need to start all over again.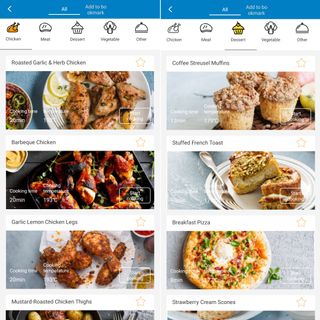 I did have my initial reservations about the menu settings. Something like bacon is fairly universal, but when it comes to cooking chicken the optimum cooking conditions vary depending on the size of the cut of meat. If you're doing strips of chicken breast for a fajita, this won't take as long as a large chicken thigh to cook through, so the menu approach doesn't account for this in my mind.
That concern is easy to overcome though. Simply increase the cooking time of your dish (or decrease, depending on what you're cooking) to account for disparities.
The preset temperature for each mode is almost always 182°C. There are a couple of exceptions - fries and fish are both set to 204°C and pizza is set to 166°C. I think the menu setting actually complicates air fryer cooking, rather than making it easy for those who want to adapt their recipes to this new appliance. It would be a lot easier and less crowded to simply be able to choose the temperature in the way you would an oven or other air fryers.
What is the Proscenic T21 like to use?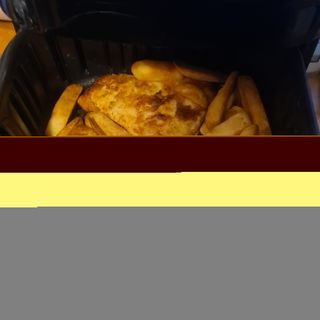 Setting the machine up is easy enough. The drawer does take a firm tug to remove though, and I was worried I was doing it wrong when I tried to remove it the first time. When you do pull the drawer out you'll notice that the basket sits sturdily in your hand while the bottom drawer does hang off slightly. It doesn't feel solid, because the drawer is really just attached at the handle and not throughout the entire structure. This air fryer is also pretty loud. It's definitely louder than other air fryers I've tested, and the beep that alerts you it's finished can't be missed.
In terms of cooking, I've not got any complaints. I tried this air fryer out for several weeks and cooked things such as chicken, fries, sausages, homemade breaded fish and hasselback potatoes in it. The air fryer does particularly well when cooking things from frozen, although I wish there were a frozen setting to make the most of this. My frozen fish and chips came out looking golden and as if it had come from a takeaway, which made myself and my partner very happy.
The basket in the Proscenic T21 is very deep and you'll be able to cook for more than two in it. Expect fries for the whole family and plentiful portions all round. I like to be able to take out the drawer and shake up my fries as they cook, especially when making homemade wedges, but because removing the drawer is a bit tricky I found myself just leaving it to cook and hoping for the best.
How do the Proscenic T21 smart features work?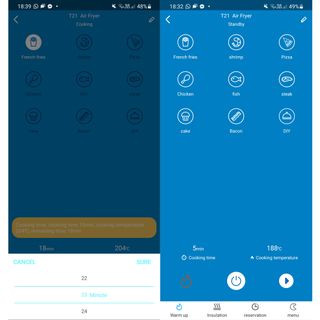 This part required the assistance of my younger brother - not because it's difficult, but because I struggle with even the simplest technological tasks. If you're like me and the task of setting up a robot vacuum (another very easy task that's taken me far too long in the past) fills you with dread, I would recommend a more simple air fryer. You do pay for the convenience of smartphone compatibility with the Proscenic T21, so it would be a shame not to use it.
Setup isn't too tricky. You press the power button down for five seconds and it enters pairing mode. Then go to the Proscenic app and select the T21. You need to connect to this as a WiFi network, and from there it's easy (a lot easier than the manual buttons) to select your mode, adjust temperature and timings, and turn on the keep warm setting.
The Proscenic T21 also pairs with Alexa and Google Assistant smart speakers, but as I don't own one of these I was not able to test this feature. Out of thousands of reviews though, I only found one person who was struggling to connect the Proscenic T21 to their Alexa speaker, and it seemed like customer service was being very helpful in solving this. I could see the part of the app that allowed you to pair it with an Alexa or Google Assistant app, so it appeared to be very easy to access and straightforward.
Cleaning the Proscenic T21
Good news, the basket and drawer in the Proscenic T21 are both dishwasher safe. The bad news is that they're so huge I found it impossible to fit them in mine.
Cleaning by hand is very very easy. The basket is Teflon coated and any grease and crumbs wash off in minutes. The drawer is also very easy to wipe clean, so cleaning is pretty pain-free with this air fryer. That's great to know, because if you're anything like me you'll be using your fryer on a daily basis.
Should you buy the Proscenic T21?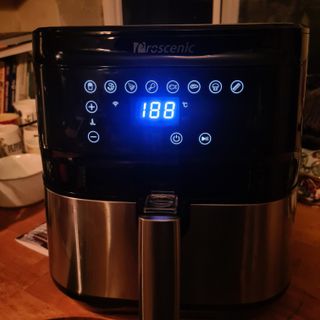 The Proscenic T21 is expensive, so if you just want a basic air fryer to get the job done without any smart extras, look elsewhere. What it does offer is a smartphone app that's easy to use and cuts down on the amount of activity you need to do. Those who have reduced mobility will find this very useful, because something like preheating the air fryer won't require you to go to the kitchen.
The food I cooked in the Proscenic T21 came out crisp and tasty, and the cooking time was faster than in an oven and comparable to other air fryers on the market. It also boasts a huge capacity, which makes it easy to cook for a crowd. The menu settings will come in useful to those who don't know much about the best temperature to cook different dishes, and the in-built timings can be adjusted to accommodate any variations in the recipes you follow for these modes.
If you are a keen home chef who wants a new toy to experiment in, I'm not sure how much you'll use the menu settings. I know the best temperature and time to cook my homemade wedges at, so while I tried the fries setting for the purposes of this review, I'd have been just as happy selecting these options myself.
The way the drawer is attached to the basket does make it feel flimsy, even though it's perfectly safe and secure. Removing the basket is also a bit more fiddly than I'd like, and the controls feel crowded and hard to use if you're not using the app.
About this review, and the reviewer
Millie Fender is an editor at Real Homes, specializing in small appliances and all things cooking. She loves putting new products to the test, whether they're air fryers, blenders, or even pizza ovens, and her family and friends love eating the results.
Millie has a constant stream of new products waiting to be reviewed in her kitchen. It's a little snug, so if she thinks anything deserves to stay there, you know it's something special.