On the hunt for air fryer recipes? If you've recently invested in an air fryer, you may be wondering what you can cook in it. Or maybe you're on the fence about buying and want to know if it's good for more than just french fries. Well, the good news is that the best air fryers can be used for just about any dish you could wish to make.
Air fryer converts will tell you that they use their machine on a daily basis. In fact, it's perfectly possible to make breakfast, lunch and dinner in just the one machine. The biggest issue you'll encounter is that you typically have only one drawer to use at a time, and even then, many people buy a second air fryer or opt for a model with multiple drawers to do even more cooking in their air fryer.
As the small appliance editor for Real Homes, I've reviewed countless air fryers. That means I've had the chance to learn what all the hype is about, and test out a range of recipes in my day-to-day life. Here are 25 things I'd recommend cooking in your new air fryer, from the basics to unusual dishes like cakes and baked oats.
25 air fryer recipes to make today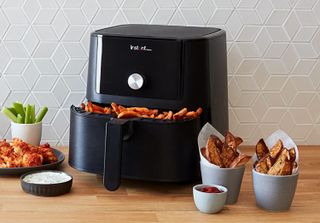 1. French fries
The very first thing most people will cook in their new air fryer is french fries. Whether it's the frozen variety, which simply need to be poured into the basket and set on to cook for 12-15 minutes, or some homemade low-fat wedges, the results in an air fryer are outstanding. I'd recommend cutting a potato into wedges and tossing it in a drizzle of oil, some salt, paprika and pepper before adding to the air fryer for 25 minutes. It's very easy, which is one of the reasons why some prefer air fryers in the air fryer vs deep fryer debate.
2. Bacon
I don't see many people cooking bacon in their air fryer, but if you're still cooking your rashers on the stove, you're missing out. Bacon cooks best when it's dry and the fat is rendered, which is why it comes out delicious in a grill or from the oven. Cook your bacon in the air fryer and the juices will drip away to the bottom of the basket, leaving you with perfectly crisp bacon that's lower in fat, in as little as 8 minutes.
3. Cookies
That's right, the air fryer can do more than just savory dishes. I've used it to make a cookie skillet, which was as simple as laying down some parchment paper and pressing down some premade cookie dough. When it was done I just lifted my cookie straight out of the air fryer and topped it with some ice cream. It had a perfectly gooey inside and was crisp at the edges.
4. Roast vegetables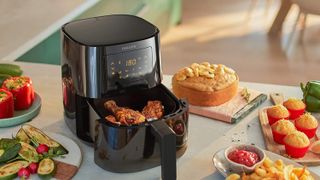 While steaming or boiling veggies is a safe way to get more vitamins in your diet, they taste a whole lot better when roasted. Drizzle on a little oil and whatever seasonings you'd like and put your broccoli, carrots, or brussels sprouts straight into your air fryer basket. You'll never go back.
5. Toast
That's right, toast comes out great when it's been left in the air fryer for a few minutes. Crisp, evenly cooked, and with a soft and chewy texture.
6. Toasted paninis
Let's take the toast one step further and put all your favorite fillings in between two slices. It could be a simple grilled cheese or an extravagant affair with deli meat, pickles, and all your favorite sauces. The air fryer will toast the bread, melt the cheese, and you won't have to worry about fitting your sandwich into a panini press.
7. Grilled chicken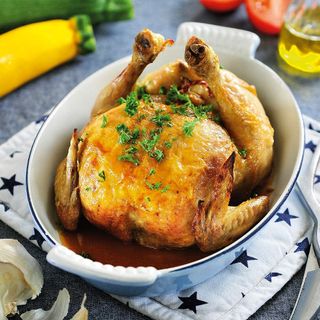 For a simple salad or the perfect filling for a lunchtime sandwich, grilled chicken makes its way into a lot of dishes. Using an air fryer for your grilled chicken will get the job done quicker, because the pre-heat time is significantly shorter than with a regular oven. That means you'll be left with more time to enjoy your lunch break, or you can hit those chicken cravings in a lot less time.
8. Nachos
The air fryer makes quick and easy nachos, and the best part is, you can lay them out on baking parchment to cook and then easily transfer this to your dish.Stick to cheese or add some extra toppings, or mix and match with a two-drawer fryer.
9. Eggs
That's right, you can make air fryer boiled eggs. I did this as an experiment and I've not gone back. To achieve the perfect soft-boiled egg, cook for 12 minutes at 300°F. Be sure to let it cool down before peeling!
10. Cauliflower
Cauliflower wings are delicious veggie-friendly treats, and after doing them in the air fryer, I'll never go back to the oven. Just toss your florets in buffalo sauce and put them in to air fry for 25 minutes. Be sure to turn them over halfway through for a crispy finish.
11. Mozzarella sticks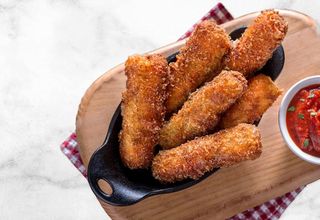 Crispy, creamy, and with the all-important cheese pull, there are few greater snacks than mozzarella sticks. Instead of breaking out the best deep-fryer to achieve that crisp exterior, you can easily throw your frozen mozzarella sticks into the air fryer and let it do all the hard work. As it's essentially a mini convection oven, the air fryer will circulate hot air around your food and make sure it's cooked evenly, with a crisp coating. You could even make your own mozzarella sticks with a pane and some breadcrumbs.
12. Roast potatoes
The perfect addition to any family meal, roast potatoes are not a side dish to be taken lightly. I made the risky decision to cook my Christmas roast potatoes in my air fryer for the past two years, and both came out beautifully. Par-boil first, then shake them to make sure they're a little fluffy on the outside. This will give you a great crisp. Toss in some oil and rosemary and then let the air fryer work its magic.
13. Spring rolls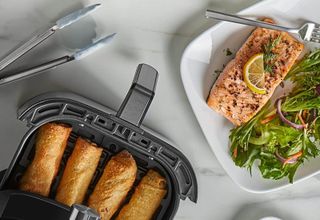 Homemade or frozen, spring rolls are best served hot and crispy. That's what the air fryer was made for, so place your rolls at the bottom of the basket and keep an eye on them as they cook. You might be surprised at how fast they're finished.
14. Tofu
Not everyone is a tofu fan, but you may not have tried it at its best. When it's crispy on the outside and deliciously soft at the center, your tofu works wonderfully when tossed in a simple glaze after cooking in the air fryer for 10 minutes. For extra crisp, shake in some cornflour and spray some cooking oil into the basket before you cook.
15. Chicken parm
Breaded chicken topped with tomato sauce and mozzarella? Sign me up. It can be a bit fiddly to make this without an air fryer, because you'll need to fry your breaded chicken and then put it under the grill with the sauce and the mozzarella. It's easy in the air fryer though. Simply cook the chicken until it's a few minutes away from being perfectly done, and then add your sauce and mozzarella and cook away for the final minutes. Delicious.
16. Steak
We were sceptical about this one, but a pre-heated air fryer does make a mean steak. Make sure it's up to your desired temperature when you add your steak to cook, and rub some oil on your steak before you do. You'll be left with tender steak with a crisp outside and perfectly rendered fat.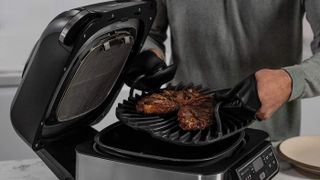 17. Enchiladas
Many air fryers have baskets with removable inserts, which will allow you to cook sauces when this is taken out. Sure, your enchilada sauce may have fallen through the slats if you hadn't removed the insert, but you can just use the base of the basket to line up your enchiladas and top with sauce and cheese. It'll be crispy on top and cooked through in no time.
18. Cake
Yes, cake. I've actually made cake in an air fryer for my Ninja Foodi Dual Zone review and while it was a little darker than if I'd cooked it in the oven, the taste was still delicious. Most air fryers have a mode for baking, so simply line the tray and pour in your batter for a tasty (if unconventionally shaped) treat.
19. Dehydrated fruit
Dehydrated fruit makes a delicious snack. Whether it's banana chips to top off a coffee cake or slices of sweet potato to feed your pets as a trest, you'd be surprised at the quality dehydrating you'll achieve in an air fryer. Many have a specific mode for this, so cook slow and low until you've hit the desired consistency.
20. Pastries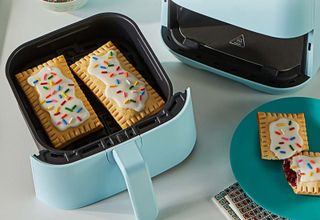 Croissants and pain au chocolats are best served warmed up, but you can't exactly fit them into the toaster to get the perfect crisp pastry. Air fryers will do this job in just a couple of minutes, for bakery-quality pastries.
21. Leftovers
Pizza, fries, even mac and cheese – whatever you couldn't quite manage of last night's dinner will be reheated with your air fryer in no time. I particularly like reheating my leftover pizza in the air fryer, because it crisps up.
22. Pasta chips
Cook up some of these famous TikTok snacks in minutes using an air fryer. Pasta chips are very easy to prepare. Simply par-boil some of your favorite shape, toss it in some oil and seasoning, and put in the air fryer to crisp up for a few minutes. They make a great alternative to potato chips, and we also love them on salads to add some crunch.
23. Chicken wings
Chicken wings couldn't be easier to cook than in an air fryer. Because they have a higher level of fat you won't even need to add any to the basket. The juices will drip away and leave you with delicious, crispy wings ready to be tossed in a sauce of your choice.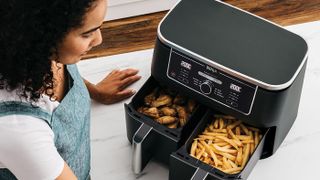 24. Baked oats
Baked oats are a popular breakfast choice, but pre-heating the entire oven just to cook a ramekin of oats for a few minutes can feel like a bit of a waste. If you add your ramekin to an air fryer your oats will be done a lot faster, and you'll save on energy.
25. Pizza
Making pizza from scratch is easy with an air fryer. Put some rolled-out dough onto your base and let it pre-cook before adding your toppings. This shouldn't take long, and then all that's left to do is choosing your toppings. By crisping up your pepperoni and perfectly bubbling the mozzarella, an air fryer will deliver that tasty cheese pull, every time.