I don't usually fall into the trap of trendy kitchen purchases. However, I heard that this Cuisinart Air Fryer Toaster Oven was worth the hype and had the potential to put my oven on standby.
From appearances alone, this appliance looked like a grown-up version of those Easy-Bake toys that were popular in the '90s. So purely for nostalgic reasons, I was excited to try this.
Thirty-something years later, and with air fryers being the 'in' thing at the moment, now seemed a great time to see if I could declutter my worktop, cook meals quickly, and spend less on energy costs when prepping meals.
Cuisinart Air Fryer Toaster Oven specifications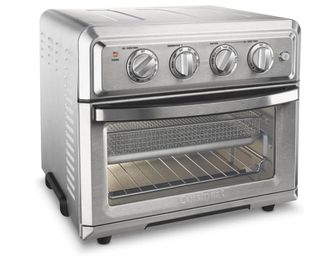 Weight: 21lbs / 12kg (with 18-quart capacity)
Dimensions: H14" x W15.98" x D15.5"
Temperature: 194–446F
Power: 1800W
Cost to run this air fryer per hour: 27c
Cooking modes: air fry, roast, bake, grill, toasties, toast, and keep warm functions
RRP: $279.90
Colors: Polished stainless steel / Black
Unboxing the Cuisinart Air Fryer Toaster Oven
Clear your kitchen clutter and make room for a Cuisinart combo toaster oven/air fryer. The best thing since sliced bread to, well, toast your bread, has arrived. Air fryers have been all the rage for years now, and there are so many options. I was lucky enough to receive one of these brilliant appliances to test and feel compelled to tell you why you need one, too.
So what exactly does an air fryer do? Turns out, it works pretty similarly to your oven. Both use a fan to circulate hot air. An air fryer is obviously a smaller appliance, so your food is cooked faster, and in my experience, more evenly. Biggest advantages? No waiting for your oven to preheat, and no need to crank up the AC or your extractor fan.
We are a family of five, so at first, I was concerned it may not be large enough to feed us all in a sitting. Don't worry, though, I tested tons of air fryer recipe ideas and have the scoop on what you can cook in an air fryer (including a whole chicken!)
What is the Cuisinart Air Fryer Toaster Oven best for?
If you're in a crunch for time — this was made for you. The Cuisinart Air Fryer Toaster Oven combo will cook your food quickly, with no risk to the integrity of your food. One of my initial concerns was, what if it's crisp on the outside, but raw on the inside? Come on, we've all been there before! Luckily, I found the air fryer cooked foods all the way through.
Overall, here are my favorite things to cook (so far):
Chicken nuggets: I may never turn my oven on again for frozen kids' food. This air fryer is a living miracle and can whip up chicken nuggets in seven minutes! Did I mention the nugs were perfectly crispy? If you're not a meat eater, the vegetarian option fares just as well in this machine. 'Quorn' in the USA?' You got it.
Chicken fajitas: The air fryer cooks the chicken breast strips quickly and evenly. They were so juicy too! Also, I was shocked at how great the bell peppers and onions cooked up. (I recommend using bigger slices, as smaller ones cook super fast.) Great if you don't mind a slightly charred edge, but serving up acrid veg is not the way to persuade the kids to eat the rainbow.
Sweet potato fries: or any fries for that matter! Whether they're fresh-cut or frozen, white or orange — they've turned out great each time.
Cooking bacon in the Cuisinart Air Fryer Toaster Oven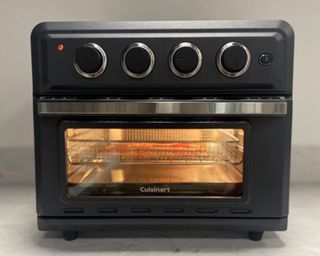 Yes, bacon. I cook it in the air fryer basket with the pan underneath (catches the bacon grease!) and it tastes even better than your local breakfast joint. Don't knock it 'til you try it! My only concern is that the hot air was quite powerful, so your rashers are at risk of curling up onto themselves.
Pizza: My kids have a pizza cookoff every Friday, and this air fryer has halved our cooking time! The crust of a 12" pie is crispy in 10 minutes, there are no arguments over toppings, and it saves a lot of dough (sorry, couldn't resist). Being a mom, I'm also trying to find a way to reduce our sodium intake, so making them from scratch means I can keep an eye on everything from the dough, sauce, and the ratio of pepperoni to pineapple. Yes, we sit on that side of the fence when it comes to this very divisive pizza topping.
Toast: Okay, so, heads up that you're not exactly going to score points against Chef Ramsey for this one. But if your space is a kitchen nightmare because of how cramped your counter is, you can use this machine to brown bread. Choose your level of 'toastiness' (I like a four) and watch your fluffy slices get a good grilling.
First impressions of the Cuisinart Air Fryer Toaster Oven
The Cuisinart Air Fryer Toaster Oven arrived with everything needed to bake, air fry, and toast. Included in the box were the air fryer toaster oven, a baking pan, an air frying basket, and a perfectly-sized rack to bake foods like pizza.
I didn't expect the oven to be quite so large, but it did fit nicely on our countertop. If you have limited space between your cabinets and countertop, I would measure before purchasing. It's a little over a foot tall and deep and requires a few inches between the outlet and the appliance.
A major difference between this model and traditional air fryers is aesthetics. When shopping for an air fryer, you'll likely notice most are black cylinders with a removable basket. If your kitchen boasts stainless steel appliances, you may want what's on your countertops to match. If you've got a dark scheme, you'll be pleased to know this also comes in a smart-looking black colorway too. This Cuisinart air fryer is sleek and trendy, and you won't feel bad displaying it.
I unboxed the air fryer solo, and while it was a bit heavy, it was totally manageable setting up on my own. The oven itself was already assembled, so all I had to do was pick a place to put it, and plug it in. The instructions were clear and even included a handful of recipes!
Before its first use, the directions recommend washing the removable trays with dishwashing liquid and water. Easy-peasy and literally ready to cook within minutes. Additional parts and accessories are available online and are very reasonably priced.
Cuisinart Air Fryer Toaster Oven cooking functions
Cuisinart wasn't fooling around when they created this top-notch gadget. Pick a food in your freezer and this can cook it. Air fry, bake, broil, convection bake, convection broil, warm, and toast. Pretty impressive, right?
To be completely honest, I've opted to use the air fryer option for nearly everything. It somehow manages to cook everything just as well as baking in the oven. The air frying basket is the ideal size for snacks like fries, chicken nuggets, and veggies. It's large enough for one layer with nothing overlapping, which ensures even cooking.
Speaking of the air fryer, did you know it is basically famous for cooking chicken wings? Raw chicken wings, frozen chicken wings — you name it — and they all turn out delicious! Crispy skin and juicy meat in a whopping 15 minutes.
The toast function makes a killer bagel and gets both sides perfectly brown. This is the setting I used for grilled cheese, which I'd 10/10 recommend. I was pleasantly surprised with the broil option, as it melted cheese into golden brown gooey greatness without burning.
Using the bake feature, I noticed the temperature is hotter than my oven. I've reduced the temp by 10-20°F to get the same results. Prepare yourself for the smell of burning plastic the first few uses, and for the sake of your nose, open up a window. After ruining the taste of a whole chicken (which, although had notes of said plastic, cooked nicely), I recommend baking plain bread until the odor is gone.
Alright, now that we've talked about the delish foods, let's talk about maintenance.
Cleaning the Cuisinart Air Fryer Toaster Oven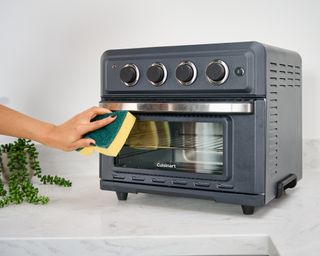 The instructions recommend you clean the top of the oven after each use. This part was simple. I washed the glass off after each use too, as I noticed it was looking a little greasy. Heads up, the included baking pan is impossible to clean. I washed it as soon as it cooled — it was spotted with brown stains after the first use.
These spots worsened the more it was used. The instruction manual recommends against using foil, which is my go-to in preventing stained baking sheets. Instead, I'd recommend using a shallow rectangular air fryer liner, which you can find pretty cheap on Amazon.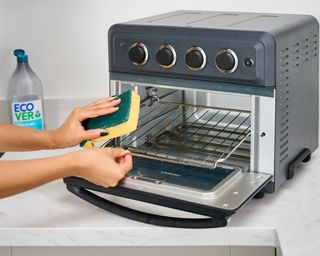 The air fryer racks and baskets are simple to clean, and I didn't run into the same problem of staining with these two. Soap and water removed all signs of use!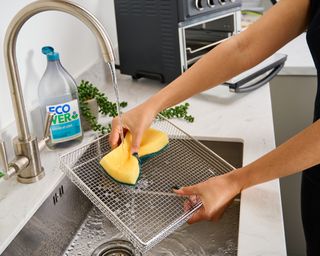 Our eCommerce editor Christina Chrysostomou tried to clean this air fryer too and also noted difficulty getting stains out of the baking pan after one use. She tried using eco-friendly washing-up liquid and a sponge, but this wasn't strong enough. Eventually, she tried using a whole dishwasher tablet as a last-resort stain removal solution.
Cuisinart Air Fryer Toaster Oven: Ease of use
What is this air fryer like to use? Well, I've used it every single day since it arrived on my doorstep right before summer started. I love it. It has replaced my oven use by at least 85 percent, and that's not an exaggeration. I've even used it to make grilled cheese! Totally kid-approved, by the way.
This convenient machine has an impressive temperature range of 80–450°F. It can keep food warm and even broil. There's a handy interior light that's way better than an oven light and allows you to check on food without opening. If you bake, you know opening an oven can be the death of your cake.
If I trusted said kids with a hot device, I'm certain even my five-year-old could use this Cuisinart Air Fryer Toaster Oven. The settings are clear and easy to read, and the timer is self-explanatory. The loud retro-sounding ding alerts you once the time is up. Another nice touch — especially with young kids in the house — is the auto shutoff function.
The instructions give great advice as far as how to cook a wide array of foods (chicken, pork, beef, etc.) and they seem to be fairly spot on.
Is the Cuisinart Air Fryer Toaster Oven worth it?
A quick search on google will pull thousands of five-star reviews, so it's not just me spreading the gospel of this countertop convection oven. Going for just under $200, this air fryer is worth it: every single cent, without question. We've eaten way more meals at home since the air fryer moved in, and it's definitely saved us at least the $200 investment.
How does it compare to similar products?
I've never used an air fryer before, however, I now rarely turn on the oven anymore. It toasts bread better than a toaster, makes the most delish crispy bacon, and even broils food (think perfectly bubbly and gooey golden brown cheese).
Lots of comparable products look much smaller, which online reviews confirm. We've got a big family, so this Cuisinart air fryer is awesome. A common complaint among air fryer users is that overlapping food becomes soggy. The air fryer basket included is large enough to avoid that problem.
Unless I'm cooking Thanksgiving dinner, my vote goes to this air fryer!
About this reviewer/review
I'm not a gourmet chef, but this air fryer makes me feel like one. With three young kids, you can't put a price tag on convenience, but this is the real deal. I wish I bought one sooner, as it quickly became a family favorite.
Living in Columbus, Ohio, there are plenty of restaurant options to choose from and this air fryer has undoubtedly saved us hundreds of dollars. Moving to a larger house offered extra countertop space to store appliances, but this one has taken the place of them all. (Except for the coffee machine — that's going nowhere!)