Air fryer vs deep fryer: which should you buy? Although air fryers are incredibly popular these days, deep fryers have been preparing our favorite fried treats for years and years. From donuts to fried chicken, there's a lot of versatility in a deep fryer. However, they do use a lot of oil, and can be quite messy to use in the home, so is it best to leave the deep frying to your favorite takeout spots and opt for an air fryer at home?
We've been reviewing many of the best air fryers and the best deep fryers to bring you our product recommendations, and we thought it was time to answer the question: air fryer or deep fryer?
In this head-to-head comparison, conducted by our cooking editor Millie Fender, we made two batches of fries from scratch. In the test, we compared the preparation process, the cooking experience, and the cleanup afterwards. And of course, the all-important taste test.
Price is an important factor, too. Air fryers are typically more expensive than deep fryers, but they also go on sale a lot more frequently. While we think there's a place for both deep fryers and air fryers in every kitchen, if you're trying to decide between the two, this taste test is for you.
Air fryer vs deep fryer: fried and tested
In this test we cooked fries simultaneously in an air fryer and a deep fat fryer to compare every part of the process. That includes prep, process, and the all-important taste test. As small appliances editor on the Real Homes team, I used the best of the best when it came to quality appliances and my tried and tested recipes, to make the test as fair as possible.
I review a lot of air fryers, so my recipe is well-honed at this point. I stuck to this in the air fryer test, and followed the all-important double-fry technique when making my deep-fried batch.
Here is what I thought…
1. Prep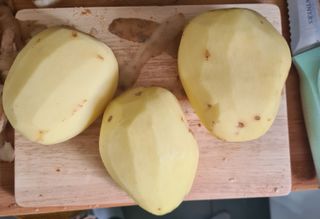 The experiment started with three medium-sized potatoes. I peeled them, cut them into roughly half-inch sticks, and soaked them for an hour to remove any starchiness before cooking.
If you don't have time to do this, I recommend rinsing them in running water for a minute or two, at the very least.
When it came to putting half of the chips in the air fryer, for this review I used the T-Fal ActiFry Genius+ Air Fryer (or as it's known in the UK, the Tefal ActiFry 2-in-1). I went ahead and poured over a tablespoon of sunflower oil, which is the same oil I used to deep-fry. I also sprinkled over some seasoning. Then, I pressed the fry mode, and pressed 'go'.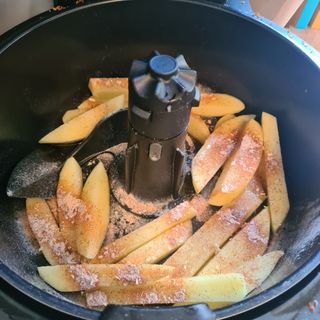 As for the deep fryer, there was no prep needed. All the seasoning would happen after frying, so in terms of prep, all I had to do was add my oil and turn on my deep fryer. It took no time at all to come to 300 degrees Fahrenheit (150 degrees Celsius) and I simply added my potatoes and dropped them into the oil.
The deep fryer I used in this review was the Progress EK2969P Compact Deep Fat Fryer, which is easy to store when not in use thanks to the neat little design.
2. The cooking process
The T-Fal ActiFry Genius+ Air Fryer is self-stirring, which means there's a paddle that keeps the fries moving while they cook to make sure they're evenly coated in the oil, and perfectly crisp. This meant that it was simply a case of waiting (and occasionally peering through the viewing window) for them to be done. This took 25 minutes in total.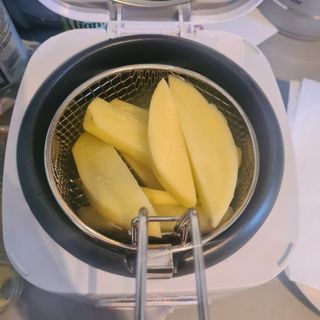 As for the deep fries though, there was more effort. I double-fried them to make sure they were cooked through and crispy, which meant removing them from the deep fryer basket after 10 minutes, letting them sit on a towel to drain off any excess fat, and ramping up the temperature to 190°c (370°F) for an extra crispy second fry.
After letting them sit for about five minutes I added my fries back into the deep fryer for their final round. All it took was four minutes for me to have crisp and slightly browned fries. In terms of speed, the deep fryer wins. However, it was a much more involved process. I could have spent the 25 minutes that the air fryer takes sitting on the couch, watching Love Island – but when deep frying, I couldn't take my eyes off of the hot fat that was bubbling away.
3. Cleaning up
While my air fryer finished off, I let my deep-fried treats sit on some tissue to drain away any excess fat. I then switched them over to a bowl where I tossed them in salt, ground pepper, and paprika.
I had to wait for my deep fryer to cool down completely before emptying out the excess oil. Because it had just been used once, I was able to preserve the oil for next time, which is something that more advanced deep-fryers will let you do using a draining spout.
Then, I had a lot of oily tissue to dispose of, as well as the bowl I had used to rest the fries, and any drips of oil that had ended up on my counter. Deep frying also has a very potent smell, so I lit a scented candle to try and clear that.
Cleaning the air fryer was so much easier. Once my fries had finished cooking, I poured them onto a plate and was able to put the cooking elements from the T-Fal straight into the dishwasher.
Air fryer vs deep fryer: the taste test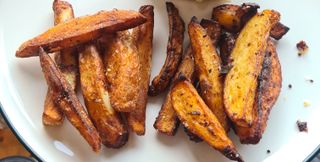 The deep fried potatoes were undeniably crispier than the air fried ones. They were also noticeably fluffy on the inside, and while I'm far from replicating my favorite takeout, I'd be happy if I was given them at a restaurant.
The color was more even, too, and they had dried out well after being left to drain on the tissue.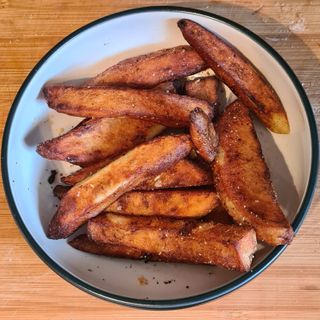 While the deep fryer wins on texture, the air fryer definitely delivered a better taste. Because my potato had cooked in all of my flavor and seasoning, it had absorbed it far better than the deep fried fries. This resulted in an almost-caramelized taste which was incredibly delicious.
While they didn't have that deep-fried crisp, the fries were still very crunchy when finished cooking in the air fryer.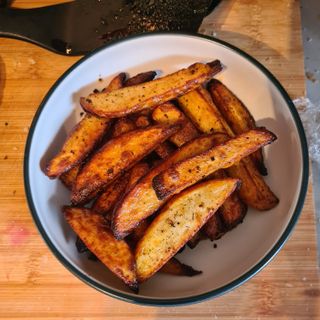 What about other fried treats?
Fries are one thing, but what is the difference between an air fryer vs deep fryer when it comes to making other crisp goodies, such as fried chicken?
For a start, it's not possible to air fry anything that's in a wet batter, and because dredged chicken thigh needs to be deep-fried in order to cook out the flour, you can't do your family favorite fried chicken recipe in an air fryer.
An alternative to this is breaded chicken, which means covering your chicken in an egg wash and then coating it in panko breadcrumbs. This creates delicious and crispy chicken, and if you use a basket air fryer such as the Instant Vortex Air Fryer your chicken will be crisped from all angles.
Chicken wings are famously delicious when cooked in an air fryer, because it will allow your chicken to crisp up and let the fat drip away, which makes sure that the skin is crisp all over.
Air fryer vs deep fryer: let's talk price
No doubt about it, unless you opt for a seriously premium deep fryer, it will cost less up-front than an air fryer. Air fryers can cost $100 at an entry-level price, whereas you can pick up a deep fryer for as little as $25. However, with all the cooking modes available with an air fryer, you can use it as a substitute for even your best microwave or multi-cooker.
It can also be used to cook up chicken for adding to salads, bacon for your morning pancakes, and even reheating leftovers for tomorrow's lunch. Deep fryers, by contrast, have one job. Over time you will find that the cost of oil adds up when you use your deep fryer a fair amount, too.
Air fryer vs deep fryer: which should you buy?
Deep fryers are handy to keep around, especially because they tend not to cost much. However, they're a lot of effort when compared to an air fryer. Even if you don't use one with a stirring paddle, all you'll need to do is shake your fries mid-way to get an evenly cooked result with an air fryer
As for the fries, there was no clear winner, as the results was so dependent on personal preferences. The deep fryer definitely delivered a crisp exterior and that classic fluffy french-fry middle, whereas the texture of the air fried potatoes was less complex.
I'm all about flavor though, and for this I personally think the air fryer is a winner. Not only did it require less setup, less maintenance, and easier cleanup, but the fries had far less oil and tasted that little bit better, because they had been cooked with all the flavor I wanted.
Air fryer vs deep fryer – healthiness
You're probably wondering: 'How healthy are air fryers when compared to deep fryers?' If it wasn't evident enough already, you need large quantities of oil to operate a deep fryer, and all of that fat equals extra calories (and clean-up time).
'There's a big difference between air fryers and fat fryers – air fryers don't actually fry your food.' says Nick Small, category manager, AO.com
'They use fast-spreading hot air instead, which means you don't need extra oil to get those delicious meals cooked to perfection. And when you do need a drop of oil for that crispy finish, it'll be far less than a traditional fat fryer, so your dishes will be a lot healthier and just as tasty.'
Not having to invest in gallons of oil is one of the biggest reasons to invest in an air fryer vs a deep fryer. Even looking at large quantities of vegetable oil in the store is enough to make us feel queasy about how much we're consuming.