If you're planning a home extension but don't know where to start, our guide to extending your home is here to help. Covering everything from costing and designing extensions to permitted development and building regulations, you'll find everything you need to know about building an extension before you get started.
Find out more about extensions – from single storey extensions to loft conversions – on our dedicated page to get the very best from your home transformation.
How much will an extension cost?
You can get a comprehensive extension cost calculation using our free extension cost calculator, but for a rough idea of what you might have to budget, see below.
For a single storey extension, expect to pay the following:
Building work costs depend on the results you're after, but reckon to pay around £1,500 to £1,900 per square metre for basic quality; £1,900 to £2,200 per square metre for good quality; and £2,200 to £2,400 per square metre for excellent quality.
For an average extension of 4m x 5m, the build cost would therefore be £30,000 upwards for basic quality; from £38,000 for good quality; and from £44,000 for excellent quality.
Remember, this is without professional fees (see more on this below), which come in at around 10 to 15% and VAT. With these added, the lowest cost for a 4m x 5m single storey extension would be just shy of £40,000, with the upper end nearer £58,000.
For a two-storey extension, expect to pay:
Labour costs vary across the UK – and the design, build spec and materials you choose will affect the final price. As a guide, the finished cost per square metre for a standard-quality two-storey extension will be £1,320 to £1,620; for a good quality design it's £1,620 to £1,860; and for excellent quality, £1,860 to £2,100. The cost of fitting out your two storey extension will depend on the rooms within it.
'As a very rough rule of thumb, costs should be split into 50 per cent for construction and 50 per cent for the interior,' says Hugo Tugman, founder of Architect Your Home . If you do not want to compromise on the size of what you are building, you may be able to make considerable savings on interior finishes.
It is important that you get quotes from at least four builders as it is almost certain that each of the builders will provide different costs for exactly the same work using the same materials. If you only approach one or two builders, you run the risk of only obtaining high quotes, rather than getting an idea of an average.
Additional extension costs to factor in
Architects' fees, which will be around three to seven per cent of the construction cost; planning drawings and construction drawings cost around £2,700 each. You can get in touch with architectural technologists on CIAT and architects via Architects Register or RIBA;
Structural engineers' fees cost around £500 to £1,000 (if roof joists and foundations are specified);
Surveyors' fees, if a survey of the existing house is required are somewhere between £500 and £1,500;
Planning fees for a residential two storey extension in England is £206;
A certificate of lawful development (if needed), is £103;
A request for discharging planning conditions costs £34;
Building control charges vary according to your extension's size, but expect to pay between £200(for an extension of 10m sq) to £900 (for 80 to 100m sq);
A party wall agreement (if needed) will cost £700 to £1,000 per neighbour;
Plastering or dry-lining and painting will cost around £85 per square metre;
Bi-fold or sliding doors will cost between £1,500 to £2,000 per linear metre;
Additional fees might include a tree report; a flood risk assessment within flood zones (both £250upwards); an ecology report (from £400); an archaeological report (possibly several thousand pounds); a historic building report, likely if your home is listed;
Interior fit-out costs (below).
The cost of project management is another big factor. A building contractor or architect will charge 15 to 20 per cent on top of the net cost of labour, materials and overheads. Find out how you can save money if you manage your own project.
Remember to consider VAT, which is at 20 per cent of the labour, materials and services. If your individual sub-contractors turn over less than the VAT threshold, they won't charge you any VAT on labour. This can result in a big cost savings.
What does an extension's interior fit out cost?
The cost of fitting out your single storey extension will depend on the rooms within it, but these interior fitting costs for extensions will give you a good start:
The cost of fitting out a two storey extension will largely be dictated by the room types you're adding – a kitchen will be more expensive than a living room; adding an extra bathroom will be more costly than another bedroom or a home office, for example. Add these figures to the ones above to give you a good idea:
The cost of adding heating will depend on all sorts of variables. Extending an existing central heating system may only need a few days' work by a plumber, at around £150 per day (excluding materials). Underfloor heating will be more expensive, but is worth considering for a large, open-plan kitchen diner, orangery or conservatory. Electric underfloor heating is a cheaper installation choice, some elements of which you can do yourself, but will be more expensive to run than water-fed underfloor heating, which has a more expensive installation cost. You may also need a new boiler; expect to pay around £2,500.
Planning permission and permitted development for extensions
Planning permission and permitted development are an important stage in the process of building an extension, but can be tricky to navigate if you're not in the know.
How to extend without planning permission
'Homeowners are sometimes surprised at how much can be built on to a house under permitted development rights,' says Alan Cronshaw of Acronym Architecture & Design. Even in conservation areas you can build rear extensions as long as they meet the size criteria and are in matching materials.
If you are planning to build an extension under permitted development rights, study the criteria carefully and apply for a certificate of lawful development from your local authority. This only costs £86 and you will then have the paperwork in place to prove that your extension did not require planning permission.
Making a planning application
The planning fee for a residential single storey extension in England is £206. A certificate of lawful development will cost you £103 and the fee for discharging planning conditions is £34 per request.
Make sure you have gone through your plans thoroughly with an architect or builder who is familiar with the local planning authority and their preferences.
When building a more ambitious extension you will need planning permission if:
Your extension covers half the area of land surrounding your home
If you are extending towards a road
You are increasing the overall height of the building
You are extending more than six meters from the rear of a semi-detached house*
You are extending more than eight meters from the rear of a detached house*
Your single storey extension is taller than four meters
Your single storey extension is to the side of the property and more than half the width of your house
You are using materials that differ from the original style of the house
You plan on building a balcony or raised veranda
Find out how to apply for planning permission.
*For a period of six years, between 30 May 2013 and 30 May 2019 – householders will be able to build larger single-storey rear extensions under permitted development. Take a look at the planning portal for more information.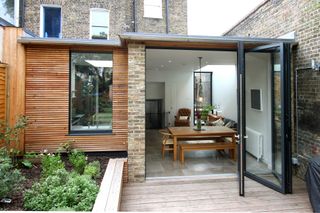 What to do if a planning application is rejected
'First, it's important to try to understand exactly why the application was rejected,' says Hugo Tugman. 'The proposals may be largely acceptable, but simply contain a detail that the local authority can't approve, in which case resubmitting a new application that has been amended accordingly should be enough to get the permission that you require.
'It may, however, be that what you are proposing is fundamentally outside the planning policy or guidance the planners are working with. If that is the case, you really need to understand what these policies are and redesign so that your scheme falls within these parameters.
'The third possibility is that you feel your scheme was within the policy guidance, but the planning department has made an unreasonable interpretation of the rules and refused it. In this final case it may well be worth going to an appeal, where an inspector (not local authority) makes an independent assessment of whether policy has been applied correctly and reasonably.'
Changing your extension design
Changing your extension design after your planning application has been accepted will require a retrospective amendment, or a new application all together. The key to avoiding this situation is to study your plans in detail and have a physical or digital model created to help with visualization.
'Occasionally, situational developments may mean that changes are unavoidable and retrospective amendments sound like a good idea. However, in recent years planning departments have been less ready to go down this path.' says Hugo.
'If the changes are very slight, it is indeed possible to apply for a "non-material amendment", but changes that may affect anything significant, such as the overall height or positioning of upstairs windows, would be "material", and the planners would have to advertise all over again, so they generally push you down the route of a new application.'
Extension design considerations
It's important to ensure that your extension suits your needs during the planning process, as it can be costly to make changes further down the line. There are many options to consider, including:
In many cases, two-storey side extensions should not be a problem, but it's a good idea to discuss your proposals with the planners before spending money on drawing up detailed plans, especially if you are extending over two storeys. They will consider:
The extension's footprint
There are few limits on the size of your extension's floor area unless it's likely to cover more than half the garden (including any existing extensions and outbuildings).
The height of your extension
You're not normally allowed to build higher than the existing house. However, side-extension roofs and walls often need to be set back slightly from it (perhaps by 10cm to 15cm).
Overlooking neighbours
Features such as upper-floor balconies can be contentious if they overlook the neighbours. For windows, you can use obscure frosted glass, install them at a high level, or fit skylights.
Overshadowing neighbours
Building a two-storey, or higher, extension too far out from the back of the house into your garden may overshadow the neighbours, which will limit the permissible size.
Highways and your extension
If your proposed extension could interfere with visibility for motorists, it will also limit how far out you can build.
'Another factor to bear in mind when building within three metres (or in some cases, six metres) of neighbouring buildings is the Party Wall etc Act, which requires you to formally notify the adjoining owners two months in advance of the proposed project,' says Ian Rock. (See planningportal.gov.uk.)
Matching your extension with your existing home
'There are no hard-and-fast rules on what materials will be accepted by the planning office. It depends on the building, the area, local planning policy, and you — the homeowner,' says Hugo Tugman.
'It used to be that planners generally wanted extensions to be in keeping with the original building, which led to a rash of pastiche additions to older buildings, but these days there is more and more of a prevailing view that allowing an original building to be itself.
'Contrast does not have to mean shiny modern or hi-tech. It is generally a good idea when extending an old building for the extension to play a quieter role to that of the original building, and it is quite possible to produce a relatively contemporary design that is modest and calm in its expression.'
This said, it's important to consider the transition between an existing building and a new extension. Renovation expert Michael Holmes suggests the following:
Maximise the opening
The wider and taller the opening that links the two spaces, the more they will feel like a single room.
All new openings will need to be spanned by joists, usually steel, to support the walls and floor above. The joist size and its supports should be calculated by a structural engineer (you can find one via the Institute of Structural Engineers at istructe.org). The smaller and less visible these elements, the more seamless the flow between old and new. In most instances it is possible to conceal the joist within the ceiling void, especially if you're removing only a non-load-bearing partition wall.
Create a continuous ceiling level
The ceiling height between old and new spaces should, ideally, be the same. If they're different, however, the higher ceiling can often be brought down by adding new battens and plasterboarding over the top.
There is no minimum ceiling height under the Building Regulations, other than above staircases, but 2.3-2.4m is standard. If this is not a practical solution, then it is best to have a smaller opening with a boxed bulkhead to conceal the step-in ceiling levels.
Make sure the flooring is laid at the same elevation
When setting out floor levels for an extension, it is important to work backwards from the finished floor level in the existing property to ensure they will be identical once they're linked.
When you're remodelling, rather than extending, any differences in floor level can be overcome by building up – often using a quick-setting silicone floor screed. If the same level can't be easily achieved, it is best to create a full step, (H)19-22cm, rather than a small difference that could end up being a trip hazard for children.
Use matching finishes
Old and new spaces can be linked seamlessly by using the same flooring material throughout. This principle also applies to the same architectural detailing such as windows, doors, skirting, architraves and coving; and the same décor, including colour schemes, flooring, curtains and furniture.
How to create an open-plan living space
'Open-plan or, more frequently, semi-open-plan living, is very popular, as it suits most people's modern lifestyle and enhances the sense and use of space within the home,' says Hugo Tugman. 'I do generally encourage people to go this way; however, there are a number of things to bear in mind when working out how best to use the space.
'It's usually a good idea to identify different zones within your layout — such as the kitchen, dining and living areas. The look and feel of your space can be fine-tuned by the extent to which the boundaries of these are defined or blurred, and there are lots of devices, such as continuing through or changing the floor finish, for example, which can control this degree of separation.
'While walls can block up an open space, they can be helpful when it comes to positioning furniture, storage and radiators, for example. One of the reasons that underfloor heating works so well in an open-plan space is because often there are not enough suitable walls on which to position radiators.'
Choosing bi-fold doors for your extension
'There are a range of different options available for bi-fold doors, from two-door models through to large eight-door configurations, set-ups for bay arrangements and entire 90-degree corner sections,' explains Neil Ginger, CEO at Origin. 'The price of bi-fold doors varies but, as a guide, a bespoke, aluminium design would cost from £1,200 per door leaf.
'The space allowance for the doors to open outside depends entirely on their width. Bi-fold doors can be as narrow as 40cm, protruding less than half a metre outwards, while you will need to allow just over a metre of space for doors with a width of 1.2 metres.
'Doors that open inwards are ideal for projects where space outside is limited — on a balcony, for example. In the majority of cases, it is recommended that outward-opening doors are chosen to prevent any rainwater from coming into the home when the doors are opened after it's been raining.'
Bi-fold doors can also be installed internally, as the low threshold of the design can create a seamless transition from one room to another.'
Building regulations for extensions
'All home extensions need to comply with the building regulations,' says Ian Rock. 'Most obviously, this relates to structural stability — including foundations, window and door openings, lintels, beams and roof structures. Therefore, your design will normally need to incorporate a structural engineer's calculations, submitted together with drawings as part of your building regulations application.
'When it comes to submitting your application, you can either do this via local authority building control, or an independent firm of approved inspectors. Either way, there are two ways of making an application — either "full plans", or the short-cut method known as a building notice.
For a major project such as an extension, it makes sense to get your design approved with the former before you start work, otherwise you could run into trouble if your project doesn't comply with the regulations.
'When work is due to start, it is essential to liaise regularly with building control, as they will need to carry out site inspections at key stages, commencing with start on site and excavation of foundations. Finally, once your new extension is built, don't forget to obtain proof of compliance in the form of a completion certificate — this is a key document when you come to sell.'
What to submit to make sure you comply with building regulations
For all applications:
Completed application form;
estimate of costs;
the appropriate fee;
two copies of detailed drawings at a scale of 1:100 minimum;
two copies of a site plan showing the proposal, site boundaries and sewer positions;
two copies of any plans and specification to accompany drawings including structural design and calculations;
four copies of plans for buildings covered by fire safety legislation, showing fire resistance, fire detection, alarms, emergency lighting, means of escape and signage.
*If online applications are accepted, only a single copy of each plan is required.
Complying with fire regulations for a new extension
'Most extensions should naturally comply with fire regulations thanks to the inert qualities of building materials such as plasterboard, bricks and concrete blocks, which can normally resist the spread of fire for at least 30 minutes,' says Ian.
'However, where you have any exposed major structural components such as timber posts and steel beams, they will normally need to be protected, for example with skimmed plasterboard lining. Also, where holes are cut in ceilings for recessed lighting, they may need to be fitted with fire hoods. Extensions built with modern timber-frame wall panels are lined internally with inert plasterboard and also incorporate integral cavity barriers to slow the passage of smoke and fire.
'If your design includes an integral garage, then the walls and ceilings need to resist fire — which most materials should manage, although special pink- coloured plasterboard (fireboard) is the ideal cladding for ceilings and stud walls. Ceilings to integral garages must be plastered, and any doors from the house must be fire doors with a suitable step down into the garage (normally 10cm).
'Requirements become a lot more demanding for extensions of three storeys or more. Considered as part of the newly enlarged house, this might involve fitting special fire doors to all new and existing rooms as well as ensuring there is a safe escape corridor (usually via the landing and stairs) down to a main exit door, with the stairs protected with a fireproof lining.
'If your extension is two storeys or higher, it is best to assume that you need to fit a mains-operated smoke alarm to the upstairs landing(s) in the newly extended house.'
Hiring professionals
More extension planning help