It won't surprise you to know that there are some things that cleaning experts always do in a small space to ensure it stays spotless. Because, while you might think that cleaning a small space, whether it's a dorm room or a compact apartment, would be super simple, that isn't always the case.
Indeed, as experts tell us, small space cleaning can be really tricky. So, we asked cleaning professionals for their time-saving tactics, clever shortcuts, and, importantly, what they would never do when cleaning a small space.
Once you've spent time and money decorating your small space and ensuring that it's exactly how you want it, naturally you'll want to ensure that it stays neat, tidy, and mess-free. This is how.
What cleaning experts always do in a small space for best results
Of course, there are lots of cleaning hacks, from tools and products you can use to speed up the process to cleaning techniques that can work effectively even in the most compact of spaces, but you there's much more to it than that. Your first task? Decluttering.
1. Declutter before cleaning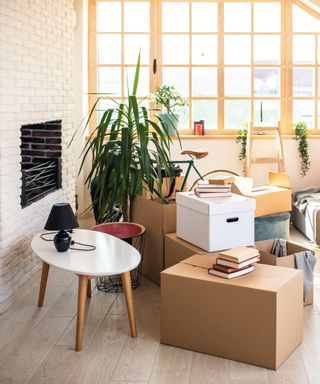 "Decluttering your home has to be the most important first step in cleaning a small space," says Lucy Searle, Content Director, Real Homes.
"Decluttering obviously makes a space feel neater, and will make it easier to clean, but it can also allow you to reorganize a cramped room, and will make a small room look bigger, too.
"It may also help you work out whether you need to invest in new small space storage ideas, too, to hide away clutter; this, in turn, will ensure less dust settles on your belongings, cutting down on dusting in the future."
Lucy Searle has written about interiors, property, and gardens for over 30 years, starting within the interiors departments of women's magazines before switching to interiors-only titles in the mid-1990s. In 2018, Lucy took on the role of Global Editor in Chief for Realhomes.com, taking the site from a small magazine add-on to a global success. She was asked to repeat that success at Homes & Gardens, where she also took on the editorship of the magazine. Lucy is now Content Director across Homes & Gardens, Woman & Home, Real Homes, and Ideal Home. Lucy is a serial renovator and also owns rental properties in the UK and Europe, so brings first-hand knowledge to the subjects she oversees.
2. Opt for multi-purpose cleaning products
When cleaning a small space, you're obviously going to need a selection of cleaning products to tackle each different area of your space. But have you considered opting for multi-purpose cleaning products, instead of stocking up on a whole range of different cleaning products? Doing so will save you a ton of space in your cleaning cabinet, too.
But there's more. "I love the Method all-purpose cleaner in Clementine," says Emily Lambe, Deputy Editor, Real Homes. "You can use it on just about any surface so it scents the whole house. It cleans brilliantly and comes in a variety of fragrances. It's definitely one of those products that people with nice-smelling small spaces tend to use. I'm also a big fan of The Pink Stuff The Miracle All Purpose Cleaning Paste at Amazon, which is a near-miraculous all-purpose stain remover.'
Emily Lambe is the deputy digital editor at Real Homes. She graduated with a degree in journalism from Rochester Institute of Technology and has been writing ever since. Emily writes about all things decor, fragrance, organization, and other home essentials.
3. Be consistent with the cleaning routine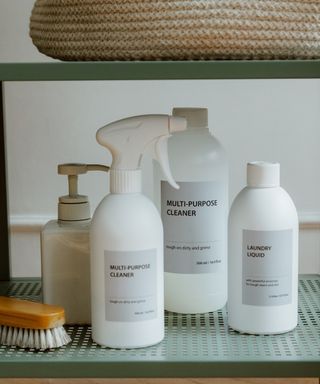 The reality is that in small spaces, clutter and grime can accumulate quickly, which is why being consistent with your cleaning routine is vital.
Hashi Mohamed, President of Ivy Cleans, says: "Create a cleaning schedule that includes daily, weekly, and monthly tasks to ensure your small space stays tidy. Small, frequent cleaning sessions are often more manageable and less overwhelming than occasional deep cleaning."
By creating a cleaning schedule you're more likely to remain consistent and keep on top of necessary cleaning. Remember, small spaces tend to get messier faster than larger ones, so it's important to aim to stay on top of each and every task.
Hashi Mohamed is the President of Ivy Cleans; a premier cleaning and
lifestyle solutions company based in Minneapolis, Minnesota. Specializing
in cleaning, organizing, and promoting a holistic lifestyle, we are
passionate about transforming spaces into clean, organized, and vibrant
environments.
4. Use space-saving cleaning tools
When space is a luxury, the last thing that you want is to clutter up your home with lots of cleaning tools. So, to keep your space free of clutter, aim to opt for space-saving cleaning tools wherever possible.
Mohamed says: "In small spaces, storage can be limited. Invest in cleaning tools that are compact and easy to store, such as collapsible brooms, lightweight vacuum cleaners, and microfiber cleaning cloths. Opt for multi-purpose cleaning products to minimize the items you must keep on hand."
I have limited space in my home so I opted for the Miele Boost CX1 from Amazon because it's powerful but compact.
As a team, we regularly test cleaning tools and our favorite space-saving options include this collapsible broom from Amazon and these microfiber cloths, also from Amazon.
5. Make adequate ventilation a priority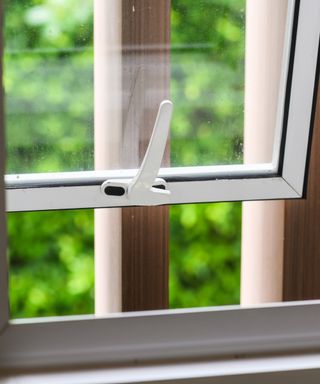 When you're cleaning a compact space, having adequate airflow is essential. This is especially true if you're using harsh cleaning chemicals to clean the space.
Karina Toner, Operations Manager at Spekless Cleaning, says: "Adequate ventilation is a key aspect of cleaning small spaces. Proper airflow helps in quick drying, prevents the buildup of moisture and mold, and contributes to a healthier living environment.
So, if you're living in a small space (think: compact apartments and shared dorm rooms), make sure to always have the windows open or an air purifier running while you're cleaning.
6. Utilize microfiber for cleaning
For easier and quicker cleaning, microfiber cloths are a godsend. And, because they're able to fit easily into more compact spaces, they work wonderfully when being used to clean smaller rooms.
Toner recommends using microfiber cloths for easier cleaning in smaller spaces and says: "These tiny fibers capture and trap dirt, making them ideal for small spaces where precision cleaning is crucial. They're reusable, reducing waste, and easy to wash for the next use."
If you fancy trying out microfiber clothes for cleaning that's a little easier, these microfiber cloths from Amazon, which have over 65,000 five-star reviews, are a great option.

7. Create a cleaning station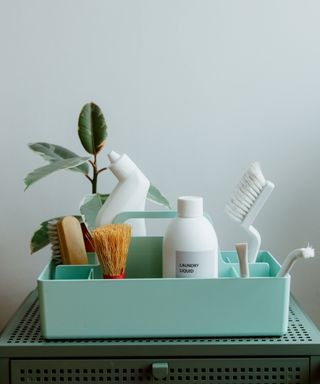 Creating a cleaning station is a really great way to make cleaning even easier. Because, by setting up an accessible area where all of your essential cleaning products are kept, it means that everything is within easy reach and you know where each item is.
Shabbir Alam, Cleaning Tuts Founder, says: "Dedicate a small, easily accessible area for your cleaning supplies to streamline your routine."
I have organized the cabinets in my small kitchen so that I have a cleaning station set up next to the island and, honestly, it has made keeping the room clean and organized, a lot easier to achieve.
Shabbir Alam is the CEO of CleaningTuts, a dedicated platform offering cleaning solutions. He provides cleaning tips, techniques, and guides to assist individuals in achieving and maintaining clean and organized spaces.
FAQs
How do you keep small spaces clean?
To ensure that a small space stays clean, it's important to put in place a regular cleaning routine that will help to keep the room free from clutter and the ensuing mess that can build up. 'I have a range of bendy microfiber cleaning tools, like these from Amazon,' says Lucy Searle. 'I find that they make not just cleaning in small spaces easier, but reaching into tight spaces or narrow gaps much quicker and more effective.'
---
One of the reasons cleaning small spaces is more of a challenge is the lack of space for storage, so you will find that one of the things cleaning experts never do in small spaces is invest in lots of single-purpose products or ill-thought-out cleaning stations. So, choose cleaning solutions that are designed for more than one purpose, cleaning tools that are made for small spaces and which are easy to store (think hooks on brooms for hanging on the back of a door), and invest in vertical storage: a tall, thin cleaning cabinet takes up less floorspace and can house much more than a shorter, wider piece of furniture.