You may be looking for some ways to organize cabinets in a small kitchen. It's great to have room to chop, slice, and dice everything from fancy feasts to quick snacks but if your kitchen is small, everything just feels cramped.
While it may seem like a pain, organizing your cabinets isn't impossible. You just need to know what to do. I spoke with two pro organizers to learn how they organize their clients' small kitchen cabinets.
Here's how they do it along with some other great small kitchen ideas. You'll never wonder where you should put something ever again.
How to organize cabinets in a small kitchen
Small kitchens often make it difficult to store anything. From oddly-shaped cabinets to lack of a pantry or simply poor design, it's difficult to fit all of your cookware, plates, and cups. Even if you have the room, trying to store things in a neat and organized way is super hard.
That's why I found the easiest tips for organizing your space and keeping things neat and tidy.
1. Use turntables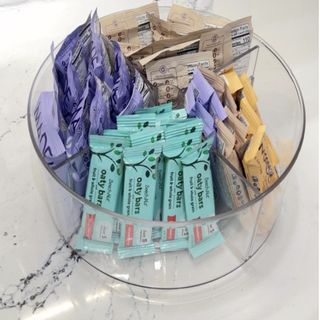 Most pro organizers tout the benefits of turntables, such as this lazy Susan from Container Store. They make it easy to access more things in less space.
"In upper cabinets, I always suggest using turntables for spices, oils, and vitamins. They bring everything front and center and accessible," says Ashley Stewart, professional organizer and owner of OCD.
Depending on the height of the cabinet, you can even use multi-tiered turntables.
2. Nest pots and pans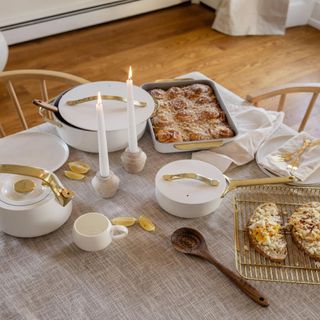 Pots and pans can take up a lot of space. So, the key according to Stewart is finding a set that easily fits in your kitchen.
"Nest the saucepans with the saucepans. Nest the frying pans with each other. Keep the lids separate. Lids are not used all of the time so they don't need to be in the same drawer/shelf if possible."
It's best to buy a set of pans that's designed to nest, such as this set from Caraway so you don't have to worry about getting your current set to fit.
3. ...Or use a rack

On the other hand, if you live in a very small condo or studio, you might not even have enough space to store a nesting set. If that is the case, you may want to invest in a rack, like this KES wall-mounted rack available on Amazon, to hang your pots and pans.
If you don't want to buy a hanging rack, a cabinet rack like this Vdomus adjustable rack from Amazon, may do the trick according to professional organizer Sam Lund of Simply Sam.
"Work with the sizing of the cabinet you have, you can get a pots and pans organizer that will help hold the items upright or sideways helping give you a place for each item."
4. Use a bin or basket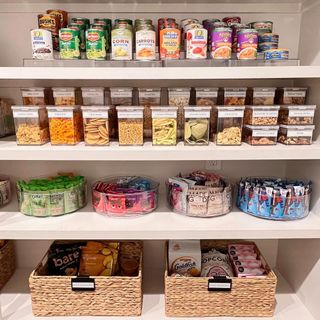 From snacks to boxes of pasta, it's far easier to keep everything neat and contained in a basket or bin like these bins from mDesign. This is also an ideal way to group similar items together.
"Group like items with each other in bins and baskets. For example, cooking appliances together and baking together," says Stewart.
She also tells me this is an ideal way to stash hand towels. "if you don't have a drawer for hand towels, use a basket and store under your sink."
5. Go low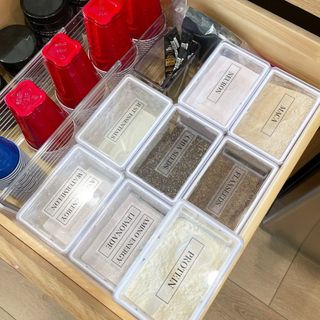 Not sure what to put in your lower cabinets? "Lower cabinets are good for food storage and cookware," explains Stewart.
"It is best to use bins and drawer dividers to create designated zones in the cabinets. They also help contain items so they aren't bouncing around everywhere."
6. Store small appliances strategically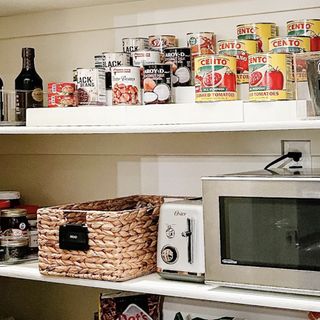 Between coffee makers, espresso machines, air fryers, and blenders, it's easy to accumulate a lot of kitchen gadgets, which can be problematic in a small kitchen. It means the potential for too much clutter.
"Small appliances can be tricky to keep organized but storing them all depends on how often they are used," says Lund.
"If they are used a lot keeping them on the countertop or in an easy-to-reach cabinet is the best. If the appliance is rarely used it is best to put up height since they are not too heavy and you won't need them often."
Meet the experts
Ashley Stewart is a professional organizer based in Arizona.
FAQs
Where do you put things in a small kitchen?
It's best to put as much as you can inside the cabinets so the countertop does not become overly cluttered. Use a variety of products including turntables, baskets, and bins. Then group like items together.
Where do I decide to put things in my small kitchen?
Most pro organizers will tell you to store things closest to where you use them. For example, stash your knife block not far from your cutting boards. Store your mugs near your coffee maker.
---
Storing things in a small kitchen, like a trash can, can be very difficult, but with the right strategy, you can make it easier. Having a container for everything and making use of vertical space is an excellent place to start.