In search of small bathroom towel storage ideas? Interior designers have quite a few ways to keep your linens in order, from utilizing traditional methods to trying new hack-worthy gadgets you wish you'd heard of sooner.
Though working with minimal space isn't always ideal, there's no need to sweat the small stuff, quite literally. All you need is to be open to some creativity and ingenuity.
These small bathroom ideas will have you up and running in no time. As for how to store toilet paper in a small bathroom, we have that on lock, too.
Small bathroom towel storage ideas
Trying to nail down a specific look? Good luck trying to pick just one—we have a feeling you'll be partial to quite a few.
1. Shelves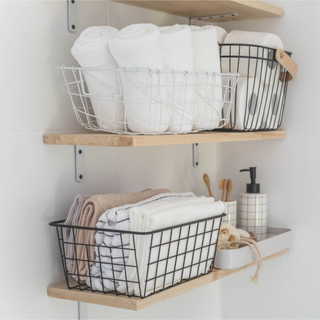 Designers are convinced that adequate shelving should be high on the list of small bathroom must-haves. Though it's arguably the most revered solution according to the pros, most of us leave our wall space underutilized, and therefore, have no place to put our towels.
"Embrace verticality," says interior design expert Artem Kropovinsky. "Wall-mounted storage or floating vanities can give an illusion of space while being functional."
Artem Kropovinsky is an interior design expert and founder of Arsight, an award-winning interior design studio based in New York.
2. Wall cabinets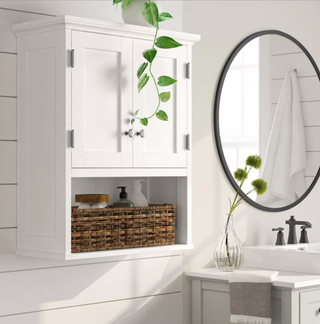 When shelves just won't cut it for your linen collection, it's time to take your small bathroom storage up a notch.
"If your small bathroom has little inbuilt storage, it's worth investing in a high-quality wall cabinet that won't impact on floor space but adds storage that is discrete and looks great," says Laura Price, the founder and director at The Home Organisation. "You'll be able to find a design that beautifully enhances the look of the room, and extra storage means less surface clutter!"
Laura Price is the founder and director at The Home Organisation. After a career in PR for national events and with three young children, she realized that creating organized spaces brought her moments of calm in a busy life. With a vision to help many others experience the benefits of living an organized life, The Home Organisation was born.
3. Over-the-door racks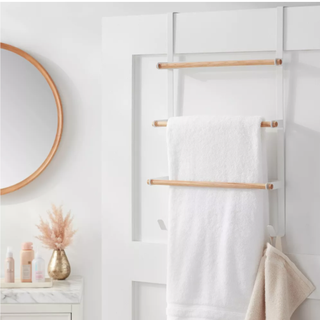 If you can have an over-the-door mirror, you can also have an over-the-door shelving system to house your towels. Just make sure to keep an eye on them throughout the week and move the appropriate suckers to the hamper.
"Regularly check in with your bathroom and make sure any surface clutter is either removed or re-homed," Price recommends.
4. Baskets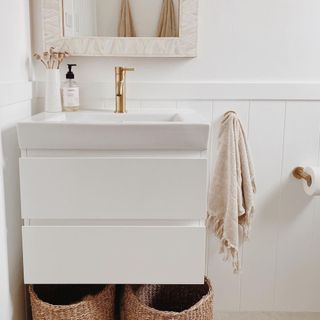 Baskets are not only a way to keep your items in check, but they can elevate the aesthetic you're trying to achieve. You can check style and functionality off the list with this option.
"To keep things stylish, always try to match your add-on solutions with your hardware," Warren Kinloch, Bathroom Interiors Expert at Bathroom Deal, previously told Real Homes. "For example, if you have matte black taps, choose matte black shower caddies, soap containers, and storage baskets. This helps to tie your color scheme together and create a truly seamless and stylish look for your bathroom."
Warren Kinloch is the bathroom interiors expert at Bathroom Deal, a retailer that aims to "supply the highest quality bathroom products at the very best price."
5. Freestanding cabinets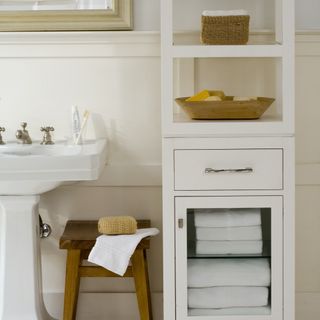 If you have enough floor space to dedicate to a freestanding cabinet, this could be an elevated version of the baskets option: a stylish and practical method that ties the whole room together. There are plenty of selections to enhance the boho vibes you're trying to achieve or the rustic bathroom of your dreams.
6. Ladder shelves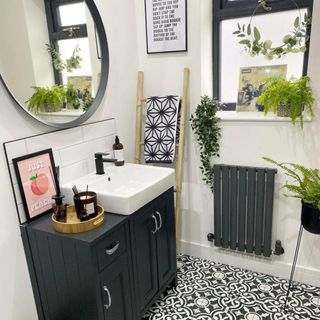 What'd we tell you about that vertical space? Select a cute and colorful bundle of bath towels and the next thing you know, you'll have a little bit of artwork right in your W.C.
7. Over-the-toilet shelves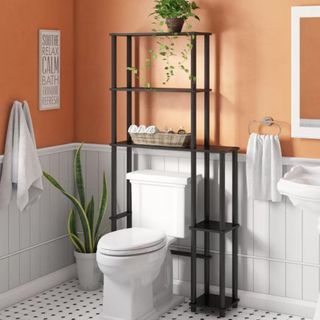 Perhaps the most overlooked space in a small bathroom is the vertical area above the best seat in the house, for obvious reasons. But now, over-the-toilet storage has gained traction. If you're going to opt for this newly-popular location, try to choose a shelving unit with some sort of cabinetry to keep the towels somewhat removed from the toilet itself.
And, when you choose a vertical option this hefty, Melony Huber, designer and co-founder of La Peony, recommends keeping it to a minimum.
"I wouldn't do this in multiple areas of the bathroom," she previously told Real Homes. "Stick with one location and maximize it."
Melony Huber is a global travel fashion, textile, and exclusive interior design stylist/buyer and co-founder of ethical lifestyle collection La Peony.
8. Hooks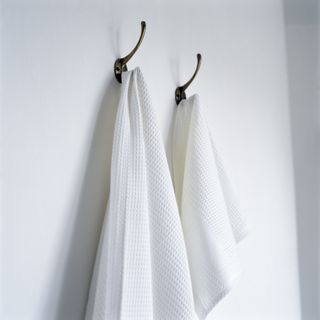 An oldie but a goodie, hooks will definitely get the job done. With so many cute styles to choose from nowadays, a once-considered "simple" selection is anything but boring.
9. Utility carts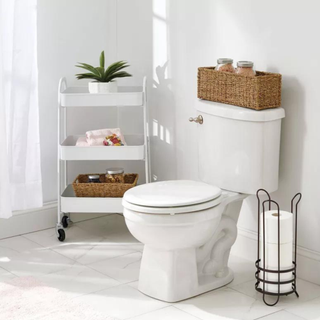 Utility carts have rolled their way into our hearts and just about every room of the house, whether they're a go-to for kitchen accessories, a home for our ever-growing plant collection, or a place to store our TBR piles. Keep your towels and toiletries in a rolling cart, and when you need a little extra space for doing your hair or putting on makeup, roll it right on out.
10. Garment racks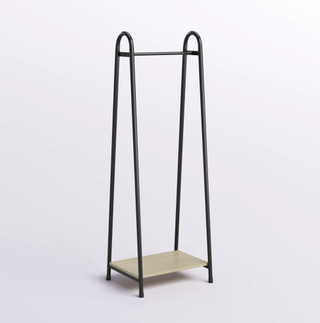 For an elevated take on the utility cart, a garment rack can be an option—plus it makes for a great place to store your bathrobe, too!
11. Ottomans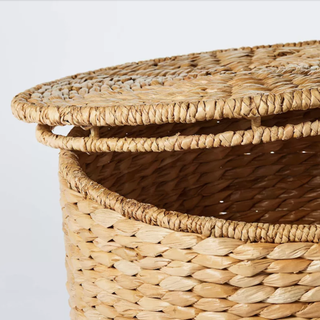 Storage ottomans are a fan-favorite small bedroom must-have, so why can't the same idea be applied to the W.C.? Just choose an appropriate material for the dampness, perhaps something woven, and throw your babies right on in.
12. *Not* in the bathroom
There's this misconception that towels have to be stored in the bathroom. While it might be nice to have all of your wellness needs right in one place, it's OK to place the towels elsewhere. In fact, designers actually encourage it so nothing gets sloppy-looking.
"Simplicity is key" Huber notes. "Don't overcrowd your bathroom."
There are plenty of easy and functional ways to organize a linen closet, so don't be afraid to store your plush goodies from Brooklinen elsewhere.
Towel storage ideas to shop
FAQs
How do you organize towels in a small space?
Organizing towels in a small space might be easier than you think, but regardless of what option you choose, the important thing to remember is to make your space clutter-free. Common ways to organize towels in a small space, if you're planning on keeping them in the bathroom, include over-the-door racks, floating shelves and cabinetry, and ladder shelves.
Is it better to roll or fold towels for storage?
Though it might depend on the space you're working with, and the length of your towels, interior designers are in favor of rolling towels and placing them in a secure spot, like a basket.
---
Want more ways to upgrade the look and feel of your bathroom? Designers know exactly how to make a small bathroom look luxe, and organization experts have the lowdown on small bathroom feng shui tips to keep the chi flowing properly.