Sure, moving into a small apartment could either be a go or a no. Many stress the fact that they won't be able to fit all of their prized possessions in their tiny little living space. Not without some genius home organization products, that is.
With that in mind, it isn't sugar-coated that you'll have to get your creative juices flowing when it comes to organizing and storing your belongings in your small apartment. Although putting your creativity to work is fun throughout all aspects of life, especially when it comes to organizing your home, you may run out of ideas if you live in a small space. Let's face it, decluttering isn't easy because there may be certain items of sentimental value that you may want to keep. Therefore, you'll need to gain some more inspiration for making the most out of your small apartment's storage space, if you want to keep the majority of your stuff.
Organization expert Jamie Hord of Horderly gave us her insights on taking advantage of a small apartment's space and how to make it work in terms of storage.
1. Make the most of empty space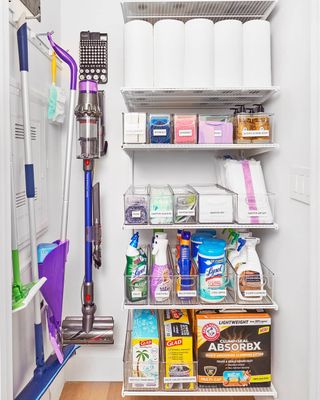 When it comes to maximizing closet space, Hord states to take advantage of the inside of the door space by using an over-the-door shoe bag (like this Amazon's Choice one) for shoes, winter accessories, or grab-and-go items. You'll also want to consider taking advantage of any empty wall space where you could hang hooks (like these damage-free ones from Amazon) for hats, cross-body bags, or robes. If you have a lot of height in your closet but are unsure what to do with it, make use of some modular stacking cubbies or other handy closet organizers.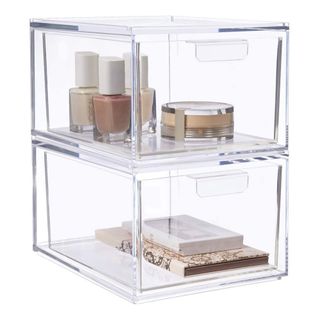 $23.99
STORi Audrey Stackable Clear Plastic Organizer Drawers
These genius stackable organizers are the perfect example of function and form. They're great for keeping everything within reach.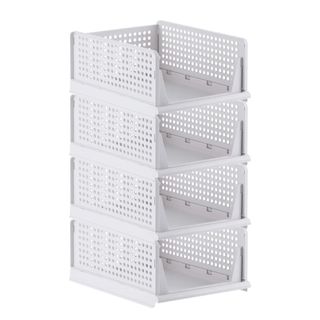 $41.99 for 4
20. Ctsnslh 4-Pack Folding Closet Organizers Storage Box
They're foldable, stackable, and you can use them to separate all of your things without them intermingling and getting messy.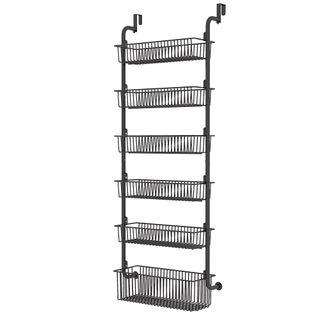 $34.99
Covaodq 6-Tier Pantry Door Organization
Fake it 'til you make it with this pantry organizer that slides over your door — no drill necessary.
2. Harness the power of shelves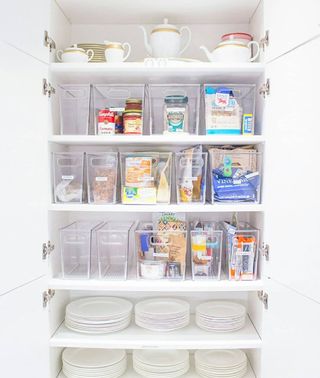 When working with only a little square footage, Hord advises thinking vertically, which means considering wall space. Shelving keeps things off the floor and provides you with additional storage, especially for decor items that might be taking up space on your counters. If you find that open shelving is too visual for you, you can put baskets on the shelves where you can store items such as washcloths or journals.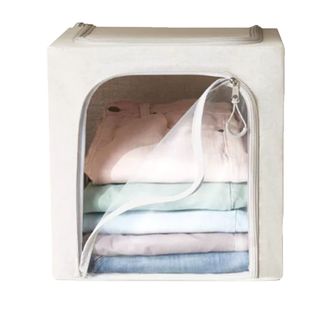 $22.40
Brightroom Fabric Storage Cubes
For excess clothes or bedding, use these on top of shelves to maximize space.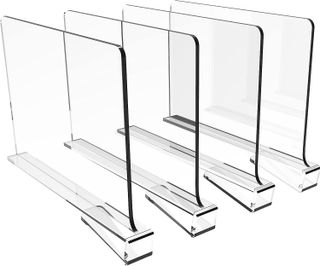 $17.99 for 4
Cq acrylic 4PCS Shelf Dividers
Use these clear shelf dividers to keep your T-shirts from your pants, or your scarves from your hats.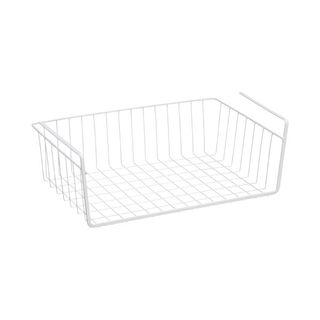 $12.99
Metaltex Medium Undershelf Basket
If you have built-in shelves in your kitchen cabinets, then you need to buy a couple of these. They make the most of that annoying empty space and you can hold pretty much anything.
3. Think outside of the box with drawers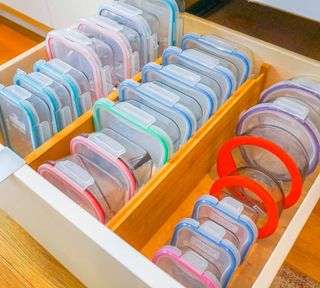 Have you also just thrown all your food storage containers in a drawer and called it good? Relatable, but there are better ways to work the system. Drawer dividers can make a huge difference in how much you can fit. This doesn't just go for kitchen drawers either. Dressers do more than store your favorite outfits and undergarments. It could be utilized to place your television set or Playstation. A dresser (like this Amazon's Choice one) could even store your kitchen utensils and more of your off-season clothing.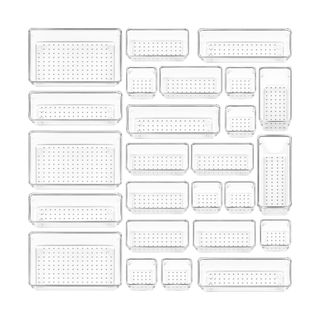 $20.99 for 25
Vtopmart Store 25-Piece Clear Plastic Drawer Organizers Set
Bulk buy this set of drawer organizers and use them anywhere, from the bathroom to the kitchen.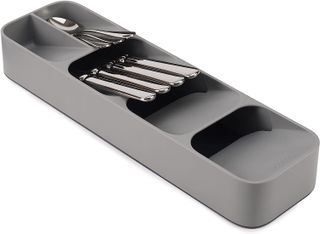 $11.99
Joseph Joseph DrawerStore
A Real Homes team favorite, this is the ultimate buy to clean up your cutlery drawer. This is really one of the best kitchen organizers you can buy.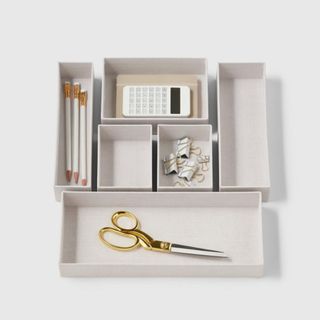 $24.99
Marie Kondo Hikidashi Drawer Organizers
The modular desk organizer setup from the Queen of tidy. It's perfect for your desk or your nightstand.
4. Use unexpected areas for storage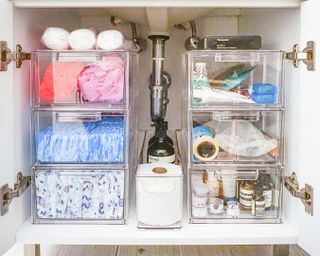 The under-sink area is often either forgotten about or stuffed with cleaning supplies, but this is a great place to streamline and make it work harder. That being said, there are some things you shouldn't keep in your bathroom cabinets or other sink areas (like toilet paper). Other items? Totally fair game. Your windowsills also serve a great purpose, especially if you live in a smaller apartment! Your windowsills could provide space for you to place plants, books, or any other small objects you own that need a home.
This is our favorite under-sink organizer, and you can buy it from Amazon for $24.99.
5. No closet space? Utilize the doors and extra shelves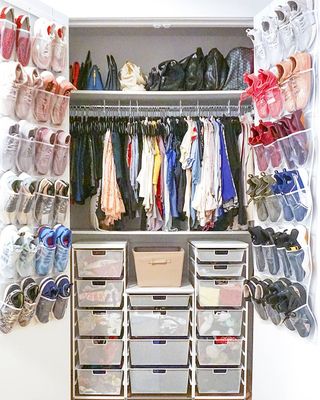 If your small apartment or studio doesn't have enough closet space, you can always grab a couple of freestanding shelves or racks or (if you get permission from your landlord) drill them into the wall. You can also create a masterpiece of a closet replacement with a rod and curtains. On top of additional racks or shelves, door space is usually underutilized. Grab over-the-door organizers to store shoes, accessories, and other items.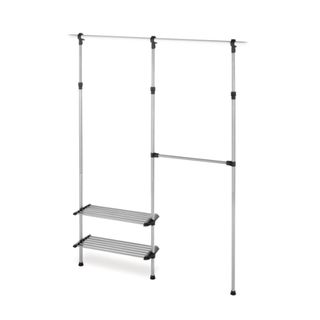 $53.45
Whitmor 2-Shelf, 2-Rod Adjustable Closet System
If your closet is currently just an empty hole in the wall, without any shelves or a very substantial rail, then you need this affordable Walmart closet organizer.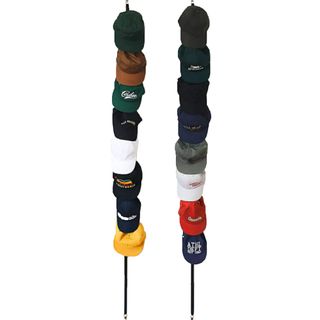 $9.99
Jokari Over The Door 16-Hook Cap Rack
Got a lot of baseball caps to store? Don't stack them on a shelf in your closet. Instead, put this over-the-door organizer to use.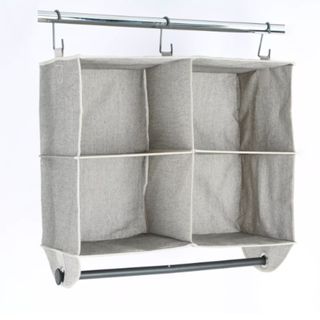 $19.72
Better Homes & Gardens 4-Shelf Hanging Closet Organizer with Hanging Rack
While this one is great for your bedroom closet, it'll also work wonders in an entryway closet. It adds four shelves complete with a rail to your space, and it hooks on with ease.
6. Keep under the bed clear
Hord explained that one of the goals at Horderly is to keep under the bed as clear as possible since it will create better airflow in your bedroom and make it easier to clean. At times, you'll have to take advantage of storing items under the bed depending on your belongings and space. If you do have to store items under the bed, be sure to use containment with lids to keep items safe from debris and label the bins so that you remember what you have under there!
Hord suggests using bed risers (which you can buy from Amazon) to lift your bed if you do need somewhere to keep your winter coats and seasonal decor.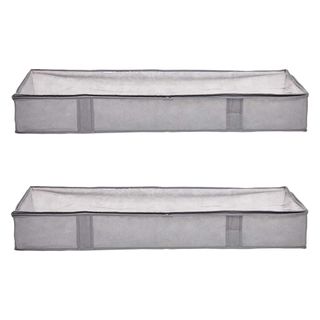 $13.64 for 2
Amazon Basics Under-Bed Storage Bags
This uber-affordable Amazon under-bed storage bag comes in a set of two, and it's complete with handles and zip closure.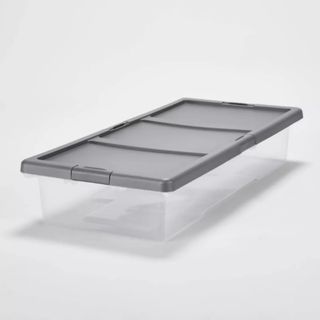 $16
Brightroom Under-Bed Storage Box
Complete with built-in handles for easy transport, this is a hardwearing choice with a fuss-free design.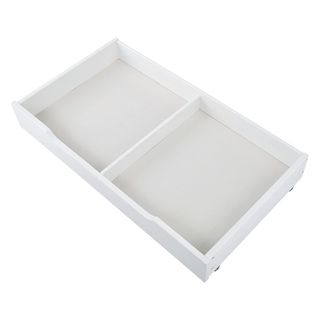 $79.90
Musehomeinc Under-Bed Storage Drawer
Sized to suit a queen- or king-sized bed, this wheeled design is built with a long-lasting MDF, promising plenty of years of use.