Knowing what things people with nice-smelling small spaces always do is useful for those living in rentals and apartments. The compact size of these can mean unpleasant smells can stay all in one place — so it's a good idea to know how to tackle these with more lovely scents.
I live in a small rental, and I find that bad scents can travel quickly in my place. I also love making my home smell super fresh, but don't have all day to keep spraying around room spray. I was curious to find out what people with consistently good-smelling homes do instead — and I was pleasantly surprised to find out there are lots of budget-friendly tricks.
Want to know what people with nice-smelling homes do to make their place smell amazing? I've spoken to experts to find out how they wow their guests with home fragrance.
Things people with nice-smelling small spaces always do
From lighting the best candles you can afford to using fresh plants, these tips are all implement at home.
1. Utilize natural scents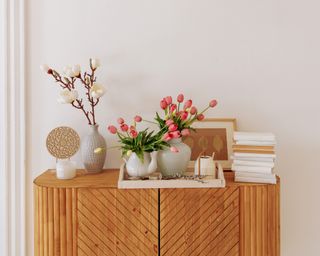 Instead of relying on synthetic fragrances, opt for natural sources of pleasant aromas. "Place fresh flowers, herbs, or citrus fruits in small vases around your home," says Vitaliy Vinogradov, interior designer at Modern.Place. Their natural fragrance will infuse the air with a delightful smell. However, if you do own a pet, choose your foliage carefully. Lillies, for example, can be toxic to cats.
Vitaliy Vinogradov is an interior designer at Modern.Place. With years of experience in the industry, he is an expert in creating beautiful and functional spaces.
2. Make DIY air fresheners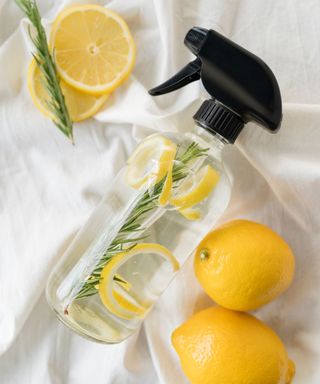 While store-bought air fresheners are quick and easy to use, making your own will give your home a unique scent. "Make your own air freshener using natural ingredients like essential oils, baking soda, and water," suggests Vinogradov. If you want to copy this trick, this Pure Aroma essential oil set is Amazon's Choice.
3. Create an aroma bowl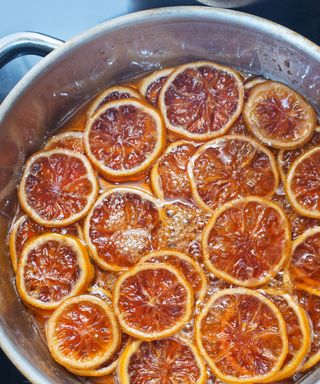 You can elevate your small space's scent by crafting a DIY aroma bowl. "Simply fill a decorative bowl with water, add citrus slices, fragrant herbs, and a few drops of essential oil," explains David Mason, interior designer and founder of Knobs.co. "Allow it to sit and disperse its refreshing aroma, transforming your room into a fragrant oasis."
David Mason is an interior designer and the founder of Knobs.co. He has 10+ years of experience in home improvement, architecture, and interior design.
You can also do this with a simmer pot. "Fill a small pot with water, add spices like cinnamon, cloves, or vanilla extract, and simmer it on low heat," adds Vinogradov. This technique will release a wonderful scent throughout your home and also add some moisture to the air. If you want to try doing this with seasonal scents, try out our fall simmer pot recipes.
4. Decorate with indoor plants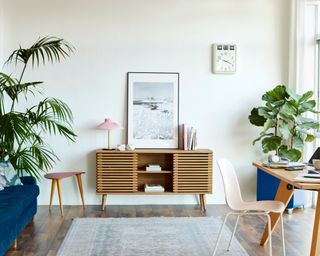 Some of the best indoor plants can actually add fragrance and style to your home. "Lavender, jasmine, or eucalyptus, will not only add beauty, but will also release natural fragrances," says Vinogradov. If you're green-fingered, you could use this Back to the Roots lavender plant kit from Amazon to grow your own. "Aromatic plants will improve the air quality and provide a pleasant scent." Air purifying plants are also a great way to keep the air fresh and clean.
5. Layer scents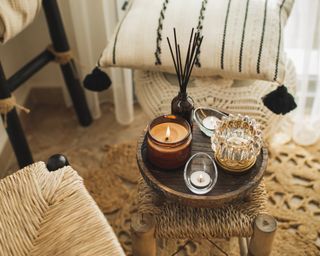 Another tip used by those with enviable-smelling small spaces is to layer fragrances. "This means using different scented products such as candles, reed diffusers, and room sprays that complement each other," explains Fred McGill, interior designer at Next Modern Home. This creates a more complex and luxurious scent that lingers in the air.
Fancy making your own reed diffuser to personalize your home scent? We've got a 4-step guide on how to do just that!
Fred McGill, is an interior designer and founder of Next Modern Home. He specializes in creating unique and functional spaces for clients, while also making sure they are strategically laid out for maximum efficiency.
6. Make sure your space is well-ventilated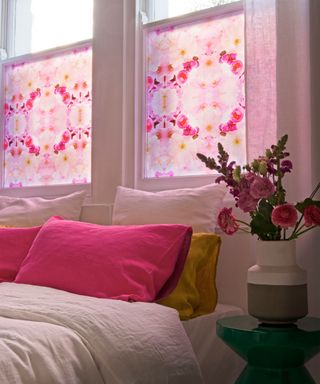 Smaller spaces like apartments can get overly warm, which is why it's important to keep them well-ventilated. "Open windows and let fresh air circulate, as this can help eliminate any stale odors and bring in a natural fragrance," says Vinogradov. "Strategically placing scent sources near ventilation or in corners where air circulation is good will ensure a consistent distribution of fragrance," adds McGill.
7. Place bowls of coffee grounds around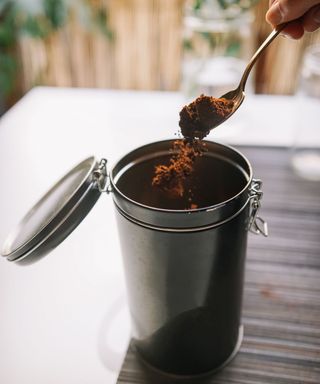 Don't let the grounds from your coffee maker go to waste. Instead, fill small bowls filled with them in various corners of your home. "Coffee has a strong aroma that can neutralize unpleasant smells, leaving your space refreshed," Vinogradov tells me. Just remember to change the coffee grounds regularly, so they don't go moldy. You can also use coffee grounds to keep your kitchen clean, and free from odors. Pop a bowl of spent coffee in the fridge, or a few spoons in your trash can to deodorize any whiffs.
Three buys that will make your small space smell amazing
Want to put our experts' advice into practice? These renter-friendly buys will help you do just that.
The prices below were correct at the time of publishing this article.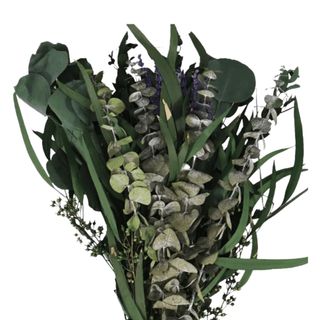 Dried plants
1. Nyidpsz Mixed Eucalyptus and Lavender Bouquet
Price: $14.89 for 123pcs
How cottagecore is this? Make the most out of it by breaking up the bouquet into smaller bunches, and placing them around your home. You could also hang the bunch above your shower, to add a natural fragrance to your bathroom.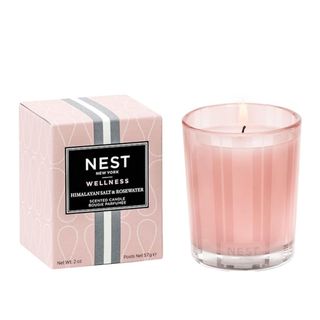 Editor's pick
2. NEST New York Salt & Rosewater Votive Candle
Price: $17
This is our fragrance expert Annie Collyer's favorite candle for year-round use. She loves its chic color, as well as how well it floods the room with its scent. I think this would also make a great housewarming gift for someone moving into their first apartment.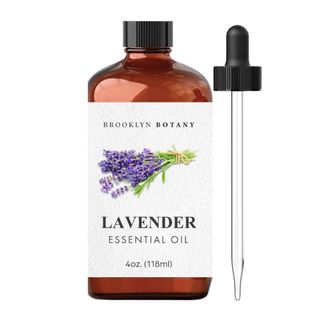 Highly rated
3. Brooklyn Botany Lavender Essential Oil
Price: $9.99
There's a reason why everyone always goes on about essential oils. They smell so good and they're really budget-friendly, as you don't have to use a lot to get a powerful scent. Add this to your DIY air freshener or to your aroma bowls.
FAQs
Why is it important to make a small space smell nice?
Making your small space smell good will make it a more pleasant place to relax in, especially if you use relaxing scents like lavender and eucalyptus. This will also impress any guests that you have.
How can I make my small space smell great?
Using aroma pots, keeping your home well-ventilated, and decorating with indoor plants are all easy ways to make your small home or apartment smell good, that won't take up too much space.
---
Now that you know how others make their homes smell good, you can get started on making your own home smell good. Essential oil diffusers are a low-maintenance way to add fragrance to your home, as you can just set a timer on them and let them do their thing.