Sorry, but if you're not making use of an under-bed storage solution, then you're doing it all wrong. Underneath your bed is arguably the biggest amount of actually useable floor space in a bedroom, so why ignore it? Those with fancy storage beds can skip past this guide (we're chatting about other bedroom organizers elsewhere) but if you're in a sticky sitch where you've got way too many clothes — and shoes, and purses — then this is what you need.
Put simply, an under-bed storage solution will ensure you fill every inch of useable space underneath where you snooze. And before you ask: just shoving pairs of sneakers underneath there and plastic bags of clothes doesn't quite cut it. Especially if these are on show. So, enter all of the best under-bed storage buys that shoppers absolutely love.
This is just one of the bedroom storage ideas we'd recommend if you're tight on space, and below you'll find a range of buys that will truly change the game. From under-bed storage bins to drawers on wheels to bags, it's all here.
12 of the best under-bed storage solutions, as rated by shoppers
Under bed storage bins
Why you can trust Real Homes Our expert reviewers spend hours testing and comparing products and services so you can choose the best for you. Find out more about how we test.
If you're working with a smaller bed, your best bet might be to go for under-bed storage bins. These come in various shapes and sizes, and we've featured three types — a plastic, a felt, and a canvas under-bed storage bin — so that you can find what you're looking for. Go for one with a lid if you're storing seasonal items you won't touch for months to prevent dust!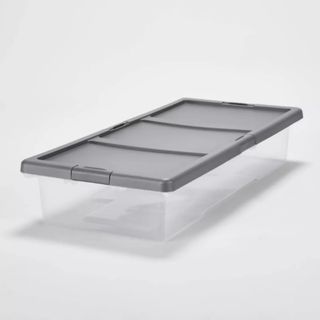 $16
1. Brightroom Under-Bed Storage Box
Size (in): H6.63 x W35.87 x D16.65
Made from: Plastic
Color: Clear
Complete with built-in handles for easy transport, this is a hardwearing choice with a fuss-free design. In fact, it's this pared-back approach that first caught my eye when I was looking for something subtle and slick for my new apartment. Again, because it's completely transparent, remembering where you put your clothing and footwear is never an issue, and the smooth plastic surface is easy to care for — just a few wipes every now and then.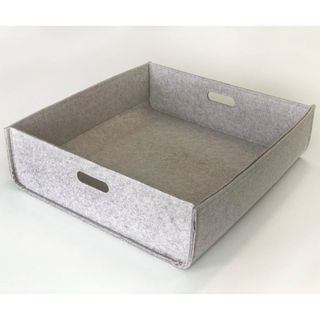 From $43
2. Woolly Clouds Storage Bins
Size (in): Custom
Made from: Felt
Colors: 7
Available in a spectrum of hues, from oatmeal to mossy green, this design can be sized to suit your needs (there are plenty of dimensions to pick from). Constructed using premium felt, it features handles and works wonders under the bed. It also has a special, crafty touch, thanks to its bespoke design. Plus, according to shoppers, it's a sturdy piece that nailed their individual briefs. Modern, contemporary, and above all, unique. That's a full house!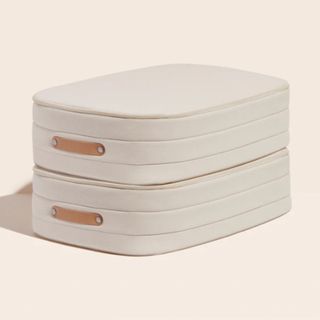 $148 for 2
3. Open Spaces Underbed Storage
Size (in): H7.9 x W28 x D17.9
Made from: Canvas
Color: Beige
Neutral tones are the way forward — especially when you're sharing and can't decide on decor. Something like this soft-lid design is going to appeal to you and your roommates, offering a homey feel thanks to the canvas outer (designed especially for breathability) and a sustainably sourced leather handle. Add to this an easy zipping function that allows you to retrieve items without completely opening the bin, and we have a winner. Oh, and the zipper seals your contents, so don't be fretting over dust on your favorite cashmere. Did I mention the full set can be zipped together, too? Ideal.
Under bed storage bags
Looking for under-bed storage bags instead? These usually have a soft frame and come with handles for you to easily drag them back out. If you're on a budget, then this is the best under-bed storage solution out there!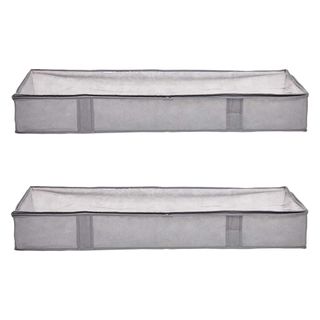 4. Amazon Basics Under Bed Storage Bags
Size (in): H6 x W42 x D18
Made from: Fabric and vinyl
Color: Gray
Topping the charts, this uber-affordable storage bag comes in a set of two, freeing up plenty of space in your cabinets and drawers. With a see-through top, it's ideal for storing clothes and items you still frequently use, acting like an under-bed wardrobe in itself. Plus, thanks to the zip closure, items prone to dust or moth holes are kept safe and sound. According to users, it's also relatively sturdy for the price and can hold a whole lot of clothing. Ten points all around.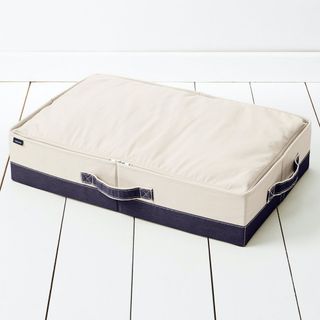 $27.96
5. Lands' End Canvas Under-Bed Storage
Size (in): H6 x W28 x D18
Made from: Cotton canvas
Colors: 2
Whether you opt for the "natural true navy" or "natural khaki pebble" shade, just know that this design will look aptly cozy in your home, offering those iconic seaside aesthetics the brand is known for. Primed with a hardwearing canvas construction and YKK zippers, it's built to last and offers an ideal home for off-season garments and extra throws. Aesthetically speaking, this would work effortlessly with any light and airy home. We're talking cream floorboards and big windows.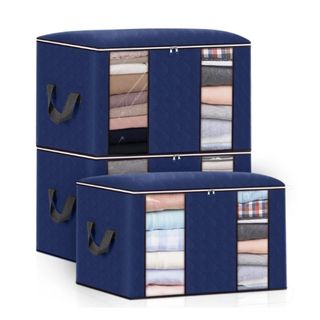 $15.99 for 3
6. Honeier Closet Organizers and Storage Bags
Size (in): H13.7 x W23.6 x D16.9
Made from: Polypropylene non-woven fabric three-ply composite
Colors: 4
These are Walmart's best-rated under-bed storage bags, and they're also great for storing extra bedding and pillows, too, as they're pretty deep. They come in a pack of three and they have handles for easy dragging. Reviewers say they are super sturdy, plus they can hold a bunch of clothes (11 pounds to be exact). Each bag has a see-through PVC window so you can easily view what's inside without having to unzip each one, plus they have double zippers.
Under bed storage drawers
Looking for a drawer to sit underneath your bed? This will look much neater than a bag, especially if it'll be on display. The drawers we've featured below sit on wheels to make them easy to reach, plus they're sturdy and spacious. Perfect for bedding, extra shoes, and purses you might not use all the time. They'll keep your stuff super protected, even though they don't have a lid.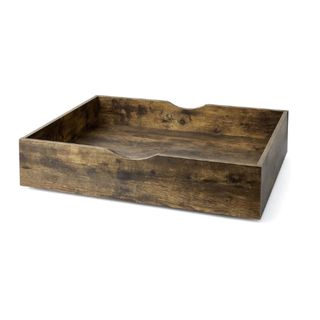 $97.59
7. The Storage Max Under-Bed Wooden Organizer
Size (in): H8 x W33.8 x D26
Made from: Wood
Colors: 4
Who doesn't love a little bit of reclaimed-industrial chic? Honestly, this design came to me like love at first sight, offering a simple set-up (dreamy), a hardy construction, and swiveling wheels for easy access. At home with most decor styles, the dark wood color is my favorite, however, there are other equally versatile shades to choose from. Whether it's winter sweaters, denim, or even blankets you need to store, this has your back. Count me in.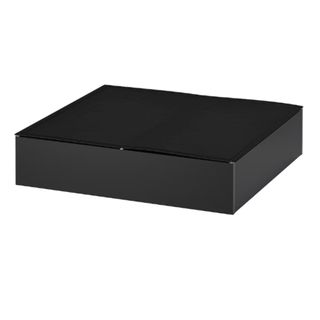 $49.99
8. IKEA VARDÖ Under-Bed Storage Box
Size (in): H7.125 x W27.5 x D25.625
Made from: Fiberboard, fabric, and plastic
Color: Black
IKEA has always been known for its understated but timelessly cool designs, and this container box is no exception. Perfect for storing away seasonal clothing, bedding, and other odds and ends that can clutter your bedroom, it's a hardy construction with a soft-top fabric cover that zips up, keeping dust at bay. As for keeping yours in the best condition possible, this is easy: Simply use a damp cloth and gentle cleaner, et voilà. Style-wise, it says young professional with everything together. Here for it!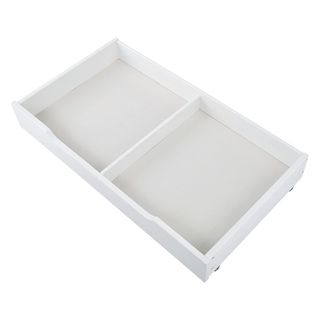 $79.90
9. Musehomeinc Under-Bed Storage Drawer
Size (in): H5.8 x W35.4 x D19.7
Made from: Manufactured wood
Color: White
Sized to suit a queen- or king-sized bed, this wheeled design is built with a long-lasting MDF, promising plenty of years of use. As for storage space, there's a lot to play with, making it perfect for chunkier items like bedding, thick wool sweaters, or giant teddy bears you still haven't parted with (guilty as charged). Plus, the assembly is an absolute breeze, so even the clumsiest DIYers can manage, which is always music to my ears. As for looks, it's as classic as it gets, divided through the middle for separating your storage.
Under bed shoe storage
Storing shoes can be difficult, especially if your closet is tiny and available floor space is completely taken. With help from these under-bed storage solutions, you won't need to throw a single pair away. These shoe storage buys mean your sneakers, sandals, and boots will all be kept safely out of the way.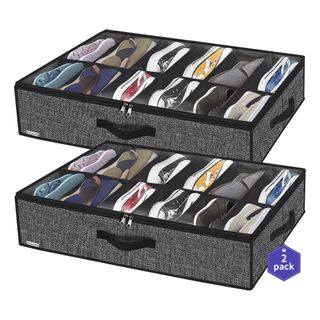 $20.99 for 2
10. Onlyeasy Sturdy Under Bed Shoe Storage Organizer
Size (in): H5.9cm x W23.6" x L29.3"
Made from: Non-woven fabric, cardboard
Color: Gray
Amazon's Choice for shoe storage, these bags slot straight underneath your bed, and each one has space for 12 pairs of shoes. You can keep your footwear secure thanks to its zipper, and your shoes won't touch inside since it has a plastic lining, separating your sets. Handily enough, it has a see-through lid so can find your favorite pair in seconds. It has handles for easy grabbing, too.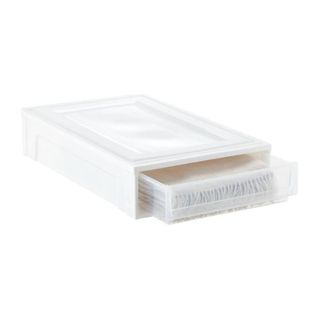 $31.99
11. Iris Under Bed Drawer
Size (in): H14.25" x W27" x D4"
Made from: Plastic
Color: White
These genius drawers are PERFECT for keeping your shoes in the best condition but out of the way. They're especially good for chunky shoes and boots thanks to how spacious they are. Depending on the type of shoe you're trying to store, you can fit around eight pairs in each drawer. These drawers are stackable, making it easy to hide them in a closet or store them in an entryway. They've earned an overall rating of 4.6 stars from customers.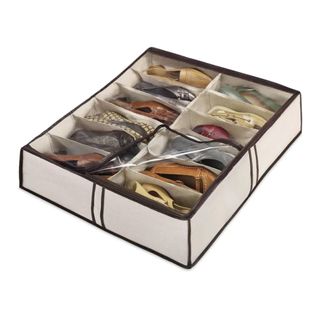 $11.99
12. Rebrilliant Fabric Underbed Shoe Storage
Size (in): H6'' x W28'' x D23''
Made from: Plastic, polyester
Colors: Beige/Brown
This elegant shoe storage bag from Wayfair has 500+ reviewers raving about it. With individual slots for pairs of shoes, one bag holds 12 pairs of sneakers, heels, and other styles. They'll be concealed by a zipper and thanks to a see-through lid you can view your collection without opening the bag. Even if this shoe storage bag does end up on display, it won't be the end of the world as its brown detailing makes it look ultra chic.
---
FAQs
Should you use under the bed as storage?
Absolutely. What else are you going to do with all that space? Whether it's to store your summer clothes during winter or vice versa, the unused vacuum of space below your mattress is a far better alternative than dumping it in a cramped closet. Out of all the small-space bedroom ideas I've considered recently, under-bed storage containers, baskets, and bags are by far the most ingenious.
How did we choose these under bed storage buys?
These under-bed storage finds have been carefully selected because of their high ratings. When doing our research, we checked all of our favorite stores, including Amazon, Walmart, and The Container Store. Everything featured has brilliant reviews from people who truly love them and use them every single day.
Where to buy under-bed storage?
If you're still on the search for under bed storage, then we recommend checking these shops: