Christmas is upon us, and with it comes the seemingly inevitable avalanche of unwanted gifts, glittery wrapping paper, and endless plates of festive snacks. Or at least that's how it used to be as many of us are now rethinking our lifestyles and our impact on the planet. Enjoying Christmas in a more mindful way is becoming more appealing.
We all need festive cheer and nice gifts more than ever, this year of all years, but there's a way to enjoy all of it that's less harmful to the environment. From choosing eco-friendly gifts for Christmas to decking the halls more sustainably, we have compiled a list of easy-to-follow tips that will make your Christmas no less fun, but with a bit less of a footprint.
1. Source your tree and dispose of it responsibly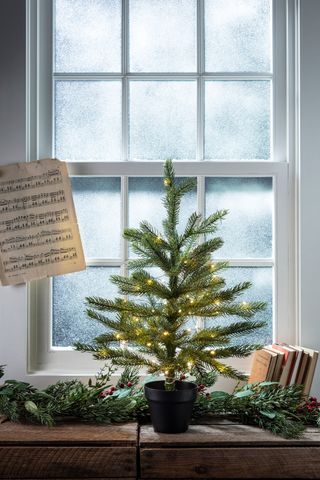 When it comes to choosing a real tree, in the UK, look out for FSC Certification as only this will confirm that your tree has been sourced sustainably. If you're in the US, look for local Christmas tree farms to choose your own. It's also worth checking for Soil Association approval if you're concerned about your tree being organic.
Once Christmas is over, dispose of your real tree by taking it to a local center where it will be processed and (eventually) turned into something new, or by looking out for local recycling and disposal programs.
If you've decided that you'd prefer an artificial tree, picking one up secondhand from eBay, Gumtree, or Facebook Marketplace is a better option than buying one brand new to reduce your impact on the earth.
2. Choose DIY decorations or options that will last a lifetime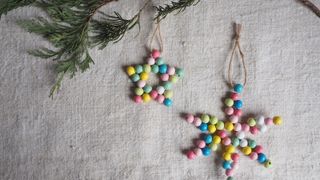 Decorations made from recycled wood, fabric, and glass make great alternatives to plastic or PVC options that are non-recyclable. When choosing Christmas decorations, we'd recommend opting for classic designs that will be loved for years, as opposed to trendy pieces that you'll be tired of by next Christmas. Even better, make your own decorations and get creative with what you have. We're into paper garlands as well as these cute beaded Christmas stars that are perfect for a mini tree or a small space mantel.
3. Select eco-friendly gifts
Eco-friendly gifts have come so far over the past few years and now there are some truly gorgeous finds that won't impact the planet so much.
Gifting homemade creations or your favorite thrifted finds is an even easier way to lower your holiday environmental impact. It goes without saying that choosing to shop with up-and-coming brands, independent stores on Etsy, or small businesses on Amazon is a no-brainer too. Also keep an eye out for fair trade credentials and companies that generally keep their carbon footprint low but love for the planet and people high!
If you're gifting furniture or homewares, there are some great sustainable furniture brands that are committed to making pieces that are high quality and will last.
4. Gift wrap differently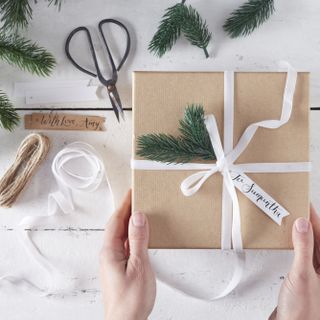 First off, you want to avoid using shiny gift wrap as it can't be recycled. That's because glossy or foil-like wrapping papers use a mixture of materials that can't be easily separated for recycling purposes. Choose brown paper instead and add color with sustainably dyed paper labels. Use brown thread for a cool, natural look or keep it festive with ribbon but be sure to reuse it year after year.
5. Shop stores that use minimal packaging
More and more stores are trying to use way less packaging nowadays as well as plant-based bubble wrap and more in a bid to make any necessary packaging less harmful. Still, not every company is at that point yet. Keep an eye out for online stores that have total respect for the planet, and if you go traditional and do your Christmas shopping in stores, reuse your bags!
6. Suggest a secret Santa exchange
It's easy to panic at Christmas, buying things you don't need and unwanted gifts only to have to return them. Between the environmental impact of transporting those goods to and from your home and the potential of them ending up in landfill, it's better to be more conscious of what you pull off the shelf.
An NPT holiday shopping report on Christmas 2021 showed that more than half a trillion dollars of items bought by U.S. shoppers over the holidays were all returned and that a huge amount of retailers actually throw these items out. So think twice before you click buy and double-check the company's returns policy.
While it's tempting for many to go overboard when it comes to Christmas gifts, it's worth resisting if you want to be more conscious of your impact on the planet and how ethically your gifts were made. Try and avoid the stress altogether by suggesting a Secret Santa as an alternative to the usual gift exchange with friends and family. It will allow you to invest more money into a single, better-considered gift.
7. Get into composting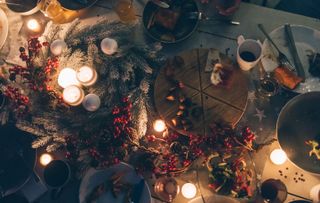 A staggering amount of food goes to waste every Christmas as we all still over-buy ahead of the big day. While having too little food is many people's idea of a Christmas nightmare, writing a list (and then sticking to it) is a must before hitting the supermarket if you want to avoid panic buying and the waste it incurs.
If you do end up with leftovers, or begin to notice food going off before you get the chance to eat it, think before throwing it in the trash can. Try to rescue leftovers or invest in a cool countertop composter.
8. Opt for natural Christmas candles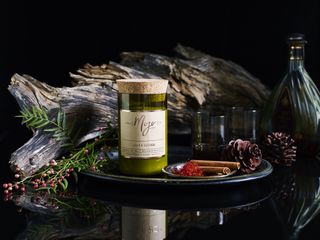 Candles are certainly a big part of the holidays and whether you enjoy them as part of the holiday or simply use them to make a room feel cozy in the colder months, it's worth thinking about their impact on pollution levels as well as your health.
Rather than paraffin-based candles, we'd recommend switching to options made from natural wax. It's more sustainable and better for your health.
9. Consider your Christmas card list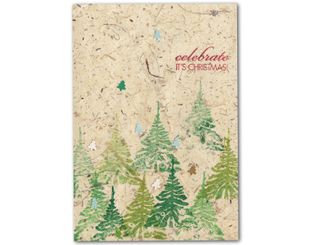 10. Be a super responsible host
Disposable cutlery, plates, and cups that can be thrown away after a meal sound easier than the dishwashing that follows, but it's better to think twice. Most of these single-use plastic items are non-recyclable and end up going straight to the landfill.
Don't have enough items? An easy solution is to ask guests and roomies to help a pal out and bring along plates, cups, and cutlery that can be washed and returned to them. If you want to jazz up a tablescape for the holidays, choose napkins and table settings that can be used for future Christmas parties.
11. Choose LED Christmas lights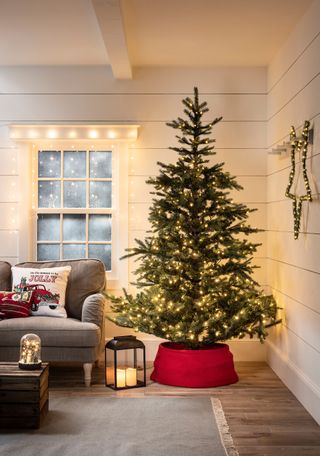 An easy change that everyone can make this Christmas is ensuring your Christmas lights are LEDs, and if they're not, switching them to lights that are. It'll make no difference to your experience of Christmas but a huge difference to the amount of energy used during the festive season.
LED lights use an average of 75% less energy and can last up to 25 times longer, meaning you'll save both energy (and money from your pocket).
12. Opt for a real DIY Christmas wreath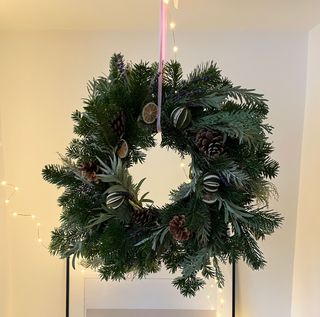 Ditch the plastic wreaths in exchange for the real thing as they're cheaper and much better for the environment. Picking up fallen sprigs of winter greenery from your garden or local park (with permission) — holly, pine, and eucalyptus are great examples — doesn't cost a penny and makes for a fun (and festive) afternoon.
Once you have your greenery, take a look at our guide to making your own wreath; it'll talk you through the process step-by-step.
Quick eco-friendly Christmas tips
Reuse gift bags, boxes, tissue paper, and ribbon from last Christmas. Didn't save any? Make a point to do it this year.
Choose a gorgeous fabric scarf to wrap your gift in. The recipient will love you for the 2-in-1 present. Charity shops and secondhand stores are good places to shop for them.
Use brown paper to wrap gifts, tie everything together with string or raffia, and spruce up the presentation with pine tree sprigs for a pretty finish.
Buy a reusable wrapping bag. We love the Star Pattern Fabric Gift Bags from Not On The High Street.
If you're buying wrapping paper, be conscious of choosing something free of foil or glitter as these varieties cannot be recycled. Make sure any paper recycled has tape removed.