Knowing the best paint colors for small entryways is important, so you can make yours as welcoming as possible. The hallway is the first area that your guests will walk into, so it's a good idea to make sure it gives the best first impression possible.
The entryway is an easy area to overlook and forget about when you've got all the other rooms to decorate — but once you give it a little love and attention, you'll totally thank yourself. Walking into a home that feels warm and welcoming after a long day of work is the best feeling — and that starts with having the perfect entryway paint color.
Been scoping out small entryway ideas, and want to paint your walls? I've spoken to experts to find out what the best paint colors are for small entryways, so you can get it right the first time — because hey, we just don't have the time and money to waste on endless tins of paint.
These 7 paint colors for small entryways are expert-approved
Looking for the best paint colors for your small space, and want to focus on your entryway? Here are the shades designers say will make an impact.
1. White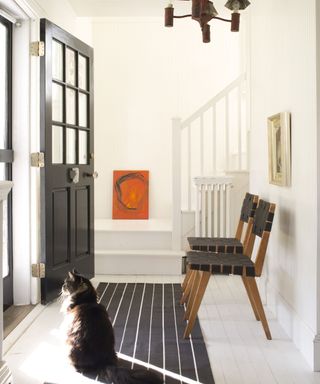 I can hear all you fellow renters who can't paint cheering with me. Yes — classic white paint actually works very well in small entryways. "This not only makes the space feel bigger but also provides a clean and timeless look," says Zev Freidus, house interior specialist at ZFC.
Zev Freidus is a house interior specialist and the founder of ZFC, who has 10+ years of experience within real estate, home improvement, and interior design
"What I love about white is its versatility and the ease with which it pairs with different shades, textures, and decorative elements," adds Keely Smith, interior designer expert and artist at Home Stratosphere.
Keely Smith is an interior designer expert and artist at Home Stratosphere. With over 10 years of experience, Keely has helped numerous businesses and individuals realize their interior design goals.
Different shades of white can create a more nuanced and layered aesthetic, ensuring the space is not sterile, but relatively fresh and open. If this is too plain for you, Freidus suggests adding pops of color through accessories like entryway rugs, artwork, or indoor plants.
2. Blue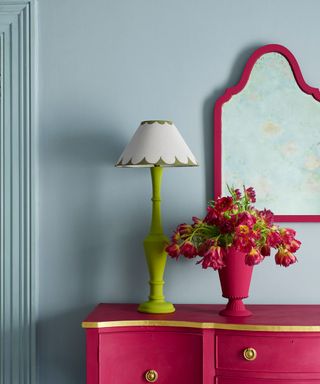 There's a reason why most of your social apps are blue — it's because the color is supposed to have a calming effect. "From the palest sky blue to the deepest navy, blue is versatile enough to work with neutrals or bold tones, allowing you to personalize your space," says Smith. "It evokes the sky and the sea, bringing depth and drama to smaller spaces without infringing on the sense of area."
3. Gray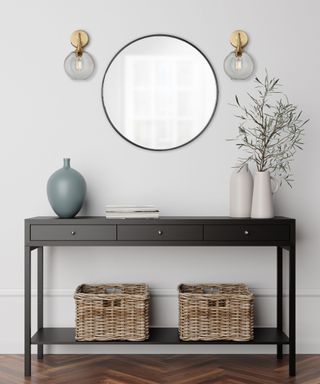 For a distinctly contemporary look, gray is an especially sophisticated option. "The key with gray is exploring its spectrum — from lighter tones to charcoal — to capture the desired ambiance," Smith tells me. She adds that it pairs beautifully with metallic accents and rich fabrics, enhancing the modern appeal of any entry space.
Don't want to take too many risks with it? "Light grays are always a safe bet for small entryways," Freidus adds.
4. Green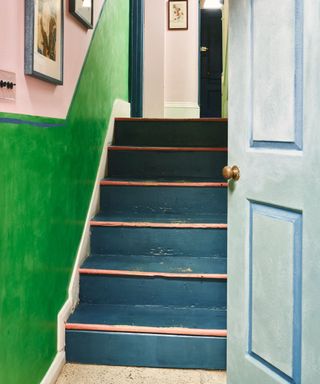 Reminiscent of nature and the outdoors, green is particularly suitable for rural homes or those seeking to bring an organic, natural serenity indoors. "The color green revitalizes a space and promotes a sense of balance and harmony, which is ideal for an entryway where these qualities are appreciated," says Smith. Want to make your small entryway even more relaxing? Here's how to practice Feng Shui in it.
5. Indigo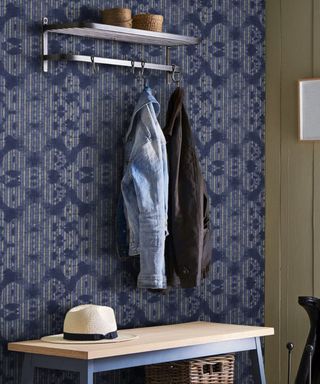 This one might come as a surprise — surely dark colors are a no-go in small spaces? "For those willing to play with contrasts, a deep indigo can actually bring an illusion of depth," explains Artem Kropovinsky, interior designer and founder of Arsight. It's about creating a dramatic, welcoming first impression, and then balancing it with lighter decor elements.
Artem Kropovinsky is an interior design expert and founder of Arsight, an award-winning interior design studio based in New York.
6. Beige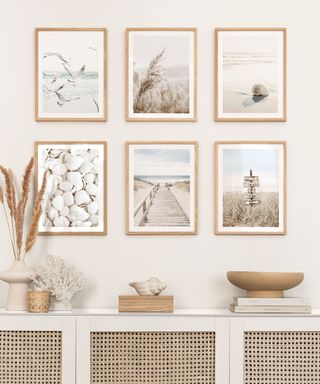 There's nothing wrong with going for this classic shade — in fact, it can even add a touch of chicness to your place. "It embodies 'quiet luxury' and simplicity, establishing a soft backdrop that allows other decor elements to take center stage without overwhelming the senses," Smith says. "It's a hue that invites light while retaining a cozy ambiance." This makes it ideal for entryways that need to feel expansive yet intimate.
7. Lavender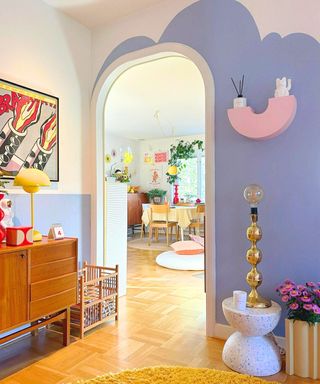 Want to add color to your small entryway, but don't want to go too bold? "Soft lavender will not only enlarge the space visually but also add a touch of unique charm." Pair it with Scandi and boho decor such as wooden entryway benches and woven storage baskets for a refined finish, or with colorful decor to create a bold statement.
6 paint color buys for small entryways
Want to get the look in your home? I've rounded up six of these shades, so you can get started painting ASAP (FYI: I've left out white as that's a pretty easy color to find).
The prices below were correct at the time of publishing this article.
FAQs
Why is it important to paint a small entryway?
Wondering why it's a good idea to add color to your hallway? "Small entryways are often overlooked when it comes to interior design, but they play a crucial role in creating a good first impression for guests entering your home," explains Freidus. "Therefore, it is important to choose the right paint colors for your small entryway, so it will feel welcoming and look visually appealing."
What to keep in mind when choosing paint colors for a small entryway?
To choose paint colors for small entryways, the key thing to consider is the size of the space. "Small entryways can feel cramped and claustrophobic if the wrong colors are used," says Freidus. He recommends using light and airy colors like whites and beiges if you want to make your small entryway look bright.
---
Now you know what paint colors are suitable for small entryways, you might be wondering what other ways you can improve the space. Utilizing the right entryway storage ideas will make your space less cluttered and more spacious.