If you're curious how to make a small bathroom look luxe, don't let four tight walls intimidate your impending makeover. You can add elegance with only a little bit of effort — and space. Take it from the pros.
Whether it's a matter of simply getting organized or taking the styling up a notch with some cute textiles, your bathroom is quite capable of making a statement. Sure double vanities and garden tubs might not be in the equation, but that's totally fine.
As you start to contemplate small bathroom ideas, adding a glam factor is easier than you'd think. It only *looks* high-maintenance!
How to make a small bathroom look luxe
It's time to feel fancy, friends! Luxury awaits with just a few simple moves. Ready to get started?
1. Find a fragrance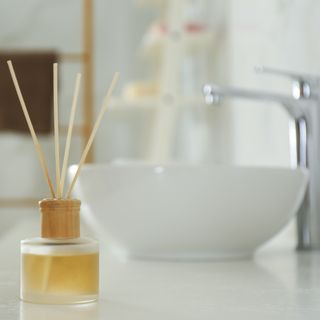 One of the things people with nice-smelling homes always do is stock up on the proper accessories.
"To elevate bathroom scents, add French milled soaps on a porcelain soap dish for a luxe hand-washing experience," suggests HomeGoods style expert, Jenny Reimold. "Replace candles with an amber or sandalwood reed diffuser to continually scent the air with aromas that remind you of high-end hotels."
Jenny Reimold is a designer, HomeGoods style expert, HGTV contributing designer, and a mom of seven, whom she shares with her MLB husband.
2. Paint with light colors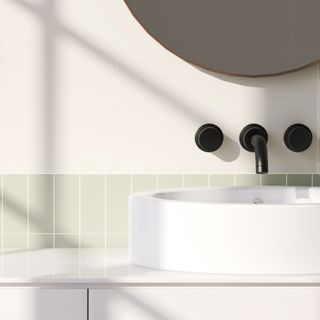 If you're in need of ways to brighten up a small bathroom, the first thing to take into consideration is the shade you want to use on the walls.
"When painting a space that typically has less natural light, dark hues on all walls may create the illusion that the bathroom is smaller than it actually is," says Sue Wadden, Sherwin-Williams' director of color marketing. "I recommend using lighter hues that provide a clean and elegant look."
But that's not to say navy and emerald enthusiasts are out of luck. If you truly had your heart set on a deep hue, considering making a statement wall and let the dark color pop, rather than overwhelm the roomy with an overly moody shade. Plus, there are a few other workarounds, too.
"In a small bathroom, you can also add a bit of a flare by painting the bathroom vanity without losing any organizational space," Wadden adds.
But whatever you do, the worst colors for a small bathroom should definitely get the boot.
Sue Wadden is Sherwin-Williams' director of color marketing, where she's responsible for conception and execution of effective marketing materials, development of color systems, consumer and professional education tools, research of color and industry trends, media relations, and public speaking engagements.
3. Get a big mirror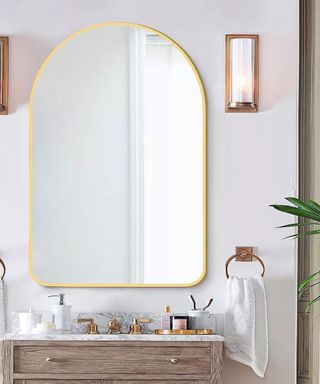 Mirrors can make us do a double-take, that's for sure.
"Install large mirrors to reflect light and create the illusion of depth," suggests Danielle Nash, a project director at Freemodel. "Use glass shower doors instead of opaque curtains to visually expand the space. And opt for seamless or minimalistic shower enclosures to avoid visual barriers."
Danielle Nash is a project manager at Freemodel. Her career in the interior design/project management industry began over a decade ago when she was introduced to home staging. From there she was able to work for various staging and design firms as a lead designer, stager, project manager, and senior operations manager.
4. Opt for large tiles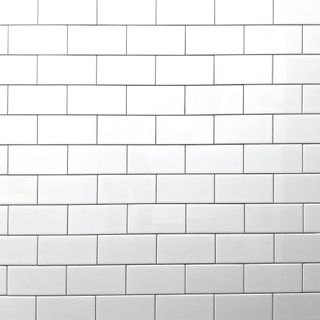 "Tile strategically," Nash says. "Use larger tiles to create the illusion of a larger space, and consider a continuous tile design."
Even if you're working with peel-and-stick tiles, select what's larger rather than smaller. Just like the mirrors, it's all about the illusion!
5. Have a cohesive storage system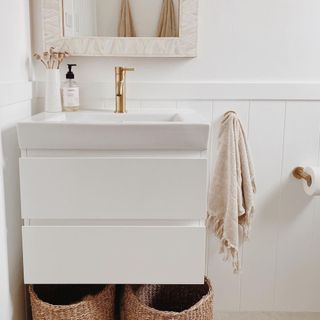 Decluttering a small bathroom starts with a good storage system—one that complements its surroundings.
"Always try to match your add-on solutions with your hardware," says Warren Kinloch, bathroom interiors expert at Bathroom Deal. "For example, if you have matte black taps, choose matte black shower caddies, soap containers, and storage baskets. This helps to tie your color scheme together and create a truly seamless and stylish look for your bathroom."
While you're at it, make sure to store only what you truly have space for. Accept the fact that some items might have to find a home elsewhere.
"Whilst it'd be lovely to have all our toiletries, cleaning products, and bathroom backstock in the bathroom, sometimes it's just not feasible without the space feeling cramped and cluttered," says designer Laura Price. "It's better to prioritize your daily use items and find a cupboard close to the bathroom to store the rest."
Warren Kinloch is the bathroom interiors expert at Bathroom Deal, a retailer that aims to "supply the highest quality bathroom products at the very best price."
Laura Price is the founder and director at The Home Organisation. After a career in PR for national events and with three young children, she realized that creating organized spaces brought her moments of calm in a busy life. With a vision to help many others experience the benefits of living an organized life, The Home Organisation was born.
6. Decant soaps and shower products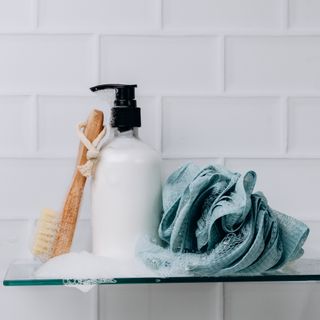 Let's face it: your skincare routine is extensive, and you have enough shampoos and conditioners to supply the whole neighborhood. All of those different-sized bottles and different colors could make you feel frazzled. Find a way to unify it all.
"I recommend decanting your soaps and shower products into beautiful matching dispensers to add a great finish to your bathroom," Price adds. "It'll reduce the amount of visual clutter in the room and can also be better for the environment. Store your refills in a cupboard close by so you can top up when you need to."
7. Get Matching Towels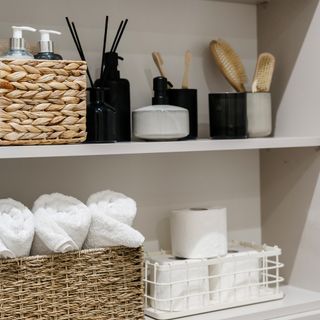 An essential for small bathrooms? A cohesive style.
"Invest in good matching towels that match the vibe you are going for," says Chantelle. "This means having the same towel brand from the hand towel to the bath towel."
Chantelle Hartman Malarkey, a.k.a. the Lifestyle Alchemist, is an interior designer, photographer, home chef, hosting expert, and blogger who shares ideas about family travel hacks, beauty must-haves, delicious recipes, among other topics, with her followers.
8. Add plants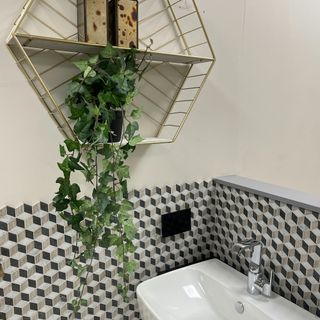 We are never one to deny ourselves a succulent. Why not add one of the best plants for apartments to your W.C.?
"Adding plants will give you a tropical feel," says designer Melony Huber, co-founder of La Peony. "If you can manage taking care of the house plant, add them to your bathroom. Win-win—you can water them there."
Melony Huber is a global travel fashion, textile, and exclusive interior design stylist/buyer and co-founder of ethical lifestyle collection La Peony.
9. Keep your vanity organized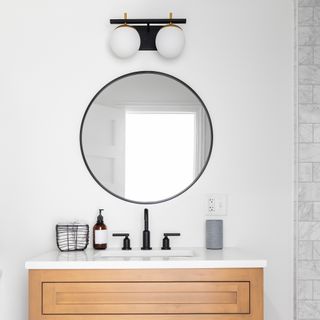 Part of achieving a sophisticated look is making sure that you're not overly scattered. Keep the moisturizers separate from the Band-Aids and so on. A clear vanity is a happy vanity.
"Don't over decorate here, especially with bins, shelves etc.," notes Price. "I know it may seem like you are making the most out of your space but it may end up looking overcrowded at the end."
If you find yourself running out of room, look up.
"Put a built-in or shelves above the toilet," Price adds. "I just wouldn't do this in multiple areas of the bathroom. Stick with one location and maximize it."
10. Opt for calm lighting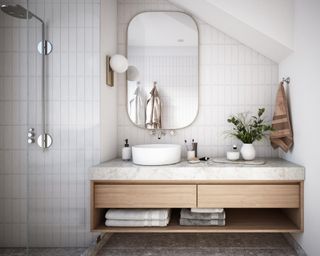 LED lights can add a soft aesthetic to your space, and you don't want something overly harsh while you're applying your cosmetics. Additionally, a few smaller light sources might make things easier for you.
Incorporate ambient lighting," says Artem Kropovinsky. "Under-cabinet or behind-mirror lighting can subtly redefine the space."
Artem Kropovinsky is an interior design expert and founder of Arsight, an award-winning interior design studio based in New York.
Quick tips
"To make your bathroom appear more luxurious, you can focus on three key elements," Kinloch recommends. Firstly, start with a neutral color palette choosing soft grays, creams, or muted pastels for a sense of tranquility and spaciousness."
From there, you'll want to accessorize and have a look into cost-effective shower panels.
"These panels eliminate the grouting hassle and can transform an ordinary space into one that exudes luxury," Kinloch adds. "Opt for granite or stone-effect panels in neutral colors like white, gray, or soft blue to create an illusion of more space, often seen in luxury bathrooms."
Shop the look
Now's the time to luxe up your aesthetic. There are certainly a few products that are willing to assist.
All prices were correct at the time of publication.
FAQs
How can I decorate my bathroom to look elegant?
According to Elizabeth Vergara, the owner, designer and lead project manager of Vergara Homes, it's important to focus on the details.
"To create an ultra-glam bathroom try to source sleek, chic fixtures and luxe marble or granite materials," she says. "A touch of bling for the vanity knobs, plush towels, and scented candles will help create the overall vibe as well."
Interior design expert Artem Kropovinsky says, "Consider artisanal fixtures, perhaps handcrafted or bespoke. It's these unique touches that speak luxury."
What does a luxury bathroom need?
In order to have a luxury bathroom, the first thing you need is a good organization system that will hide your toiletries and prevent clutter. From there you should choose a light color palette and textiles to match.
"Simplify with two to three complementary shades, it reduces visual clutter and adds sophistication," says interior design expert Artem Kropovinsky.
Opting for a larger mirror will help the space appear bigger than it actually is.
Elizabeth Vergara is the owner, principal designer, and lead project manager at the Latina owned luxury design and build agency Vergara Homes. Over the past 13+ years, Elizabeth has been helping homeowners design and renovate their upscale homes as a Design Build Specialist.
---
Want more tips for your tiny W.C.? Here are the small bathroom storage mistakes to avoid if you want order and organization.