Sure, finding toilet paper storage ideas for small bathrooms might not *sound* like one of the more riveting design tasks. However, it's a necessary one, and there's no reason we can't make it fun.
While you're mapping out a blueprint for your itty, bitty W.C., designers have a few suggestions for what to do with those rolls you just stocked up on at Target. (Now, there's no need to decide between the essentials and your bath bombs.)
Small bathroom ideas would be incomplete without these genius tips below. Let's get rollin'.
Toilet paper storage ideas for small bathrooms
"Making a small bathroom feel luxurious is about reducing visual clutter so the room feels sleek and spacious," says Laura Price, the founder and director at The Home Organisation. "Too many different products and toiletries on show and your small bathroom will feel overwhelmed."
Let's get less overwhelmed, shall we?
Laura Price is the founder and director at The Home Organisation. After a career in PR for national events and with three young children, she realized that creating organized spaces brought her moments of calm in a busy life. With a vision to help many others experience the benefits of living an organized life, The Home Organisation was born.
1. Rolling Carts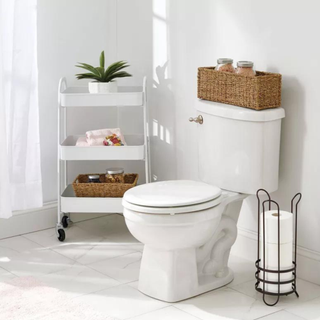 There's one trendy item that truly knows no bounds—the kitchen, the bedroom, the office, and yes, even the W.C.
"Add a rolling cart that you can pull in and out when needed," suggests Jenny Reimold, HomeGoods style expert. "A metal one with mesh shelves is great for a damp bathroom."
Not only are there a variety of fun shades to choose from, but thin, slender options are also available for extra-tight spaces. If you're in search of how to declutter a small bathroom, consider anything horizontally-friendly is a win.
Jenny Reimold is a designer, HomeGoods style expert, HGTV contributing designer, and a mom of seven, whom she shares with her MLB husband.
2. Baskets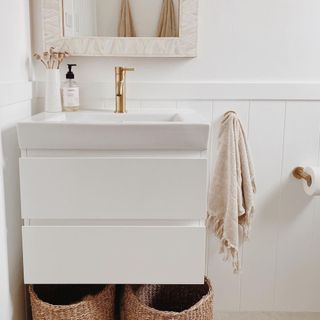 The best storage baskets are tried and true staples for a reason, folks. Not only do they complement the decor, but they easily conceal what would otherwise be on the floor or draped over the bathtub. We're all for functionality and aesthetics.
3. Over the Toilet Shelves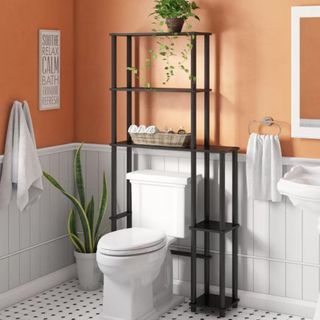 Ladder shelves have become one of the go-to ways to keep our abodes clutter-free. But when organizing a small bathroom, you'll realize you're likely working with far less space than other rooms in your apartment—which could only mean one thing.
"Put a built-in or shelves above the toilet," Price adds. "I just wouldn't do this in multiple areas of the bathroom. Stick with one location and maximize it."
4. Floating Shelves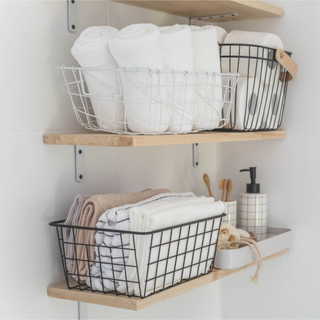 When floor space seems to be closing in, the only option is look up.
"Maximize vertical space," says Danielle Nash, a project director at Freemodel. "Install shelves or cabinets on the walls to keep items off the limited counter space."
Though vertical storage seems to be a popular suggestion amongst interior experts, it becomes a bit more challenging when you're tasked with finding a home for heavy items. It's a cinch when all you have to worry about is toilet paper!
Danielle Nash is a project manager at Freemodel. Her career in the interior design/project management industry began over a decade ago when she was introduced to home staging. From there she was able to work for various staging and design firms as a lead designer, stager, project manager, and senior operations manager.
5. In the vanity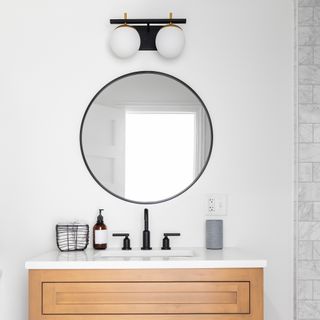 Likely the most popular choice, the vanity is a go-to for all bathroom toiletries. However, given that it's such a hot commodity with high-value real estate, it's essential to keep the space clutter-free with an organization system.
"Stackable, acrylic bins are a must-have functional design solution perfect for any small bathroom," Reimold adds. "Whether you use open bins or drawer options, you can store everything from small towels to makeup wipes by maxing out vertical space."
6. Freestanding cabinets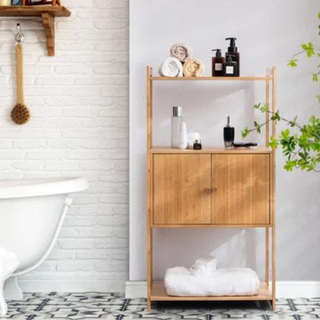 In the event a little extra storage is required, and you have the square footage to work with, a freestanding cabinet is a go-to, not only for toilet paper but other necessities that can't make their way into the vanity for space reasons.
Shop toilet paper storage ideas
FAQs
How do you store toilet paper in a small bathroom?
If you're working with minimal space, design experts believe you should utilize vertical space to stall toilet paper and other essentials, including floating shelves or over-the-toilet storage shelves. Should you have a bit of space on the floor, you can opt for a rolling cart or a freestanding vanity to house your toilet paper and other necessities.
---
Now that you've nailed down a bathroom storage system, take note that these are the worst colors for a small bathroom that should definitely be avoided. (Pro tip if you're thinking about a painting project!)