Ready to revel in positive vibes? Then you can't neglect small bathroom feng shui tips—they'll squeeze good chi out of every possible square inch of your abode, even in the most...unexpected location.
We'll admit, the bathroom, a small one at that, might pale in comparison to other rooms. But in terms of creating a calming atmosphere and promoting positive energy, every spot counts.
If you're trying to incorporate functional small bathroom ideas, start with feng shui apartment tips and tricks to get the ball moving and the chi flowing.
Small bathroom feng shui tips, straight from the experts
Feng shui is an ancient Chinese belief system that involves the placement of objects to promote positive energy (chi), all while the yin and yang energy stay balanced. Despite it being around for so long, many people still don't know how to take advantage of the practice, so experts have decided to weigh in on the subject and keep their tried-and-true tips bathroom-focused.
1. Keep it clean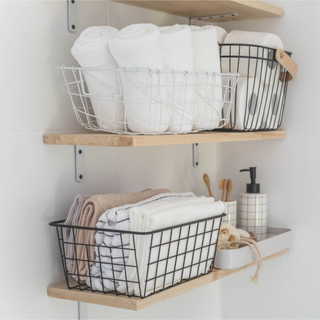 Clutter is not only a visual eyesore but an energetic one as well. How is the chi supposed to get to its destination when dirty towels and empty shampoo bottles are crowding the vicinity? Quite simply, it can't.
"The bathroom is a space where energy is seen as getting 'flushed' away," says feng shui consultant, Priya Sher. "Always keep this room clean, well ventilated and keep the door closed and toilet lid down to slow any beneficial energy from leaking away."
Learning how to declutter a small bathroom and keeping essentials situated is half the battle. The next is instilling a few regular habits, such as opening the window and organizing the vanity.
As a full time professional feng shui consultant, Priya works at enhancing her clients lives by aligning their space to suit them to its full potential, using her feng shui skills. The homes in London and abroad range from small studio apartments to large luxury developments, mansions and even opulent yachts
2. Add plants
If you ask us, no room is complete without at least one piece of greenery. We're delighted to learn that feng shui experts seem to feel the same.
"This is the area where wealth may get drained (depending on calculations) so introduce some plants in here, as plants soak in water which slows the flow of wealth draining away," Sher notes. "Peace Lily and snake plants are great plants for the bathroom, as they reduce mold toxins."
3. Choose the right color
Brightening a small bathroom starts with paint colors, and if you're looking for that serene and harmonious feeling, a neutral shade is the way to go.
"White is a good overall color for a bathroom because it is minimal and clean," says feng shui expert Laura Morris of Mindful Design Feng Shui School. "You can also use what we call wood element colours in feng shui such as teal or green."
However, certified feng shui consultant, Marianne Gordon, takes things a step beyond paint hues.
"Create visual interest in the upper part of the room," she recommends. "Say you have tiles up to your waist, it could be interesting to paint the top of the wall in earthy or wood colors, yellow, wood, or use interesting wall paper to create ascending energy."
But whatever you do, the worst paint colors for small bathrooms should definitely get the boot.
4. Watch where you hang mirrors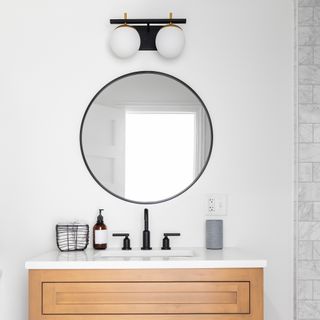 Everyone loves adding a large mirror to a small space in order to make the room appear bigger than it is. But more importantly than size perception, mirror placement is a big determining factor, according to feng shui experts.
"A small mirror outside the bathroom door is considered good as the mirror pushes the energy away from entering the bathroom, thus the energy is prevented from going down the drain," Gordon adds.

Marianne Gordon is a certified Feng Shui consultant and renowned educator, revolutionizing how people approach their living and working spaces. With over a decade's experience and training from institutions like the Western School of Feng Shui, Gordon empowers individuals to tap into their best selves through Feng Shui.
Gordon's notable career accomplishments include being featured in prominent publications such as Mind Body Green, Voyage LA, My Domaine, Vie Magazine, and Well+Good. Her expertise and holistic approach have garnered recognition for their transformative effects on clients' lives.
As the founder of Feng Shui with Me, Gordon empowers individuals to reach their goals through Feng Shui transformations in homes and workplaces.
5. Create a divide
No one wants things right on top of each other, so it's important to section off space appropriately.
"If your bathroom is directly facing your bed, it is important to create a visible separation between the bathroom and the bedroom—a curtain, a standing shelf, a screen, or some plants," Gordon adds.
If both spaces are in a confined area, a few small bedroom feng shui tips might also be useful so that the chi is able to flow naturally.
6. Use crystals
Crystals have a design element that we can't get enough of, but they're also used for their healing powers. Needless to say they're accessories that go well with feng shui.
"You can hang a round faceted crystal five inches from the ceiling, above your sink, tub and shower drains to bring the energy up," says Kimberly Archambault, Professional feng shui practitioner (CFSP).
Using the principles of feng shui and a personalized approach, Kimberly facilitates transformative shifts that bring vitality, contentment, and balance. She founded Joy Feng Shui to help clients gain an understanding on the influence their environment can have on their lives.
7. Keep windows open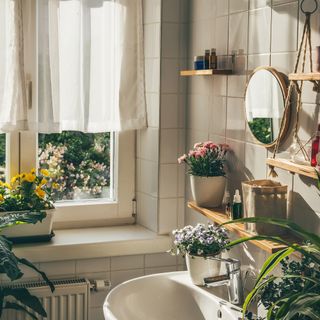 When there's an opportunity to keep chi flowing, seize it—it won't require much in the way of effort.
"If you have a window in your bathroom, open it up regularly to let in fresh air and energy," Archambault adds.
8. Watch the placement of your bathroom
Renters likely don't have much control over floor plans in comparison to homeowners, but if possible, avoid keeping the bathroom in the center of the house, as it's believed to drain energy.
Shop small bathroom feng shui helpers
FAQs
What is bad feng shui for bathrooms?
In order to keep the energy flowing properly, you need to practice good fung shui in the bathroom, especially a small one that's overcrowded. Bad practices include keeping things cluttered, painting with a dark and overpowering color, not utilizing the windows, and relying too heavily on large mirrors to open up the space, though design experts would argue that this isn't necessarily a negative.
How do I get positive energy in my bathroom?
You can practice good feng shui in order to bring positive energy into your bathroom—and beyond. According to Laura Morris, the co-founder of the Mindful Design Feng Shui School, you should "treat your bathroom as a mini sanctuary that is a go-to place to recharge."
---
To keep the W.C. organized, don't forget to add small bathroom must-haves like storage carts and plastic bins in your shopping cart.