Choosing the best paint color for a small kitchen can be a daunting task that involves understanding the natural and artificial light of your space, its architectural feel, and the surrounding color tones. Since small kitchens can often feel cluttered, it's necessary to understand which tones can help brighten or lighten your space.
As colors are said to have an impact on our emotions, it's also worth keeping in mind how you want your kitchen to feel, as well as how you want it to look. For example, brighter tones such as red or orange are said to increase energy while cooler tones such as blue or green are said to promote a serene feeling.
Finding inspiration for small kitchen ideas can be so helpful when redecorating. Whether you want to design a kitchen that feels modern and relaxing or traditional and energetic, here are a few expert opinions on how to design with the best colors for your small kitchen.
5 color ideas to transform your small kitchen
Have you looked through apartment kitchen ideas, and want to give painting a go? Here are five beautiful colors that will elevate your cooking space.
1. Brighten up with yellow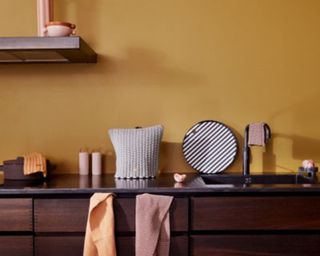 Raf Michalowski, interior designer and founder of Meble Furniture, suggests going with a color tone that will make your space appear larger and brighter. "Yellow is an excellent choice. It reflects natural light, giving a sense of openness in a small kitchen. It also adds warmth to the room, making it more inviting and comfortable for cooking and dining," Michalowski says.
2. Calm down with cool colors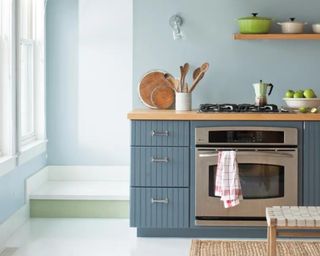 Another tone that can work well with natural light to create a bigger and brighter feel? "Soft blue or pale green," says Michalowski. "They both have a calming effect that can make the kitchen feel more spacious and relaxed."
When it comes to colors to avoid, Michalowski is clear. "Avoid a color that's too dark like black, as it can make the space feel cramped and overwhelming. Opting for light and airy colors will help create a harmonious and cozy atmosphere in your small kitchen," he says.
3. Don't shy away from bold tones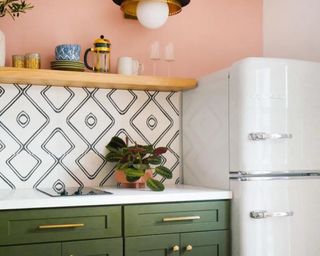 For designer Lukas Berezowiec, CEO of the 3D architectural rendering studio NoTriangle Studio, staying on the safe side with light tones isn't always the best choice. "For low-commitment vibrancy, hear me out, lively green and bold prints add an uplifting retro pop. Plus, green kitchens have an intrinsic happy effect thanks to natural associations."
4. Warm creamy colors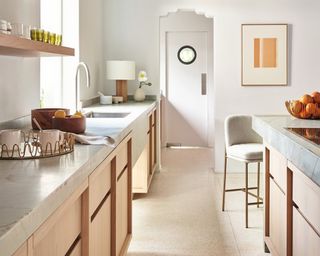 Interior designer, founder and CEO of the interior design company that shares her namesake, Kathy Kuo believes that when it comes to your kitchen, inviting a feeling of warmth is key. "When it comes to painting a small kitchen, my advice is to go with warm cream tones. Warm colors are always nice for a kitchen because kitchens are generally a place in the home that invites gathering and feelings of warm coziness. For a small kitchen, a warm cream or off-white is nice because you get that homey feel, but also the brightness and depth that comes from a light wall color," she says.
For renters who are stuck with the all-too-common stark white wall, making the right decorating decisions using other neutrals and cream tones can accomplish this same warmth.
5. Get moody with dark blue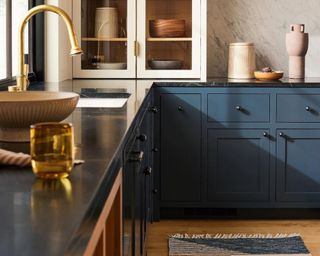 Although painting your kitchen a darker color tone won't make it feel larger or brighter, it can set a mood. "Embrace moody. Enveloping navy blue for drama, even on an accent wall in a deep blue can make tight quarters feel intimate," Berezowiec explains. "A deep shade of blue behind your stove or oven with bright bright brass fixtures and pots and pans hung on the wall will also provide light-catching contrast."
Meet our expert panel
Raf is a visionary Interior Designer and the founder of Meble Furniture, one of the premier furniture retailers in North America. He helps customers design, create, and purchase the perfect furniture for their homes. His company has helped over 10,000 people find their dream furniture and create a personalized interior space suited to their lifestyle.
With a Masters Degree in Architecture and a background in design communication fields, Lukas founded NoTriangle Studio in 2013. His innovative ideas and creative solutions have helped drive the success of the company. Now, with his meticulous approach, he oversees the entire workflow and process to ensure top-quality products and services for clients.
Kathy Kuo is the CEO of Kathy Kuo Home, a recognized TV personality, and a celebrated interior designer. Published in the press as an international guru within the home and lifestyle space, Kathy has an unmatched eye for curating, sourcing, and designing luxury furniture and homewares.
Where to buy paint samples for small kitchens
Want to see what paint colors will look like in your own kitchen before you buy? Here are our favorite stores that you can grab samples from:
FAQs
What is the best color for a very small kitchen?
Whites and pastel colors are the best for very small kitchens, as they will make a space appear brighter and more spacious.
Should small kitchens be painted in light or dark colors?
Small kitchens should be painted and decorated in light colors, as they will make a space look more airy and open. Darker colors will make a small kitchen appear smaller than it is.
---
In the end, finding the right color tone shouldn't always be based on how you want your kitchen to look but how you want it to feel, and whether that feels right for you. Want to explore more ways you can change up your cooking area? These are the best ways to refresh your small kitchen.