Hair maintenance is nothing if not elaborate, so it's crucial to know how to organize hair tools in a small bathroom. Your storage system needs to be functional, your aesthetic cute, and your curls bouncy.
This can be a tall order for a tiny space, but given that you're using it so frequently — and perhaps even sharing it with roommates — there needs to be a system in place. No one wants to spend precious time in the morning detangling straighteners or searching for missing brushes when they could be sipping coffee en route to the office.
With the help of interior designers and organization experts, your small bathroom ideas are going to get a refresh and your favorite products will find a permanent (and easily accessible) home. And with more space comes an opportunity to add one of the best plants for a small bathroom to complete your look. No need to tell us twice — we're already eyeing a Boston Fern.
How to organize hair tools in a small bathroom
As you begin making more space in a small bathroom, you might realize that storing your Dyson Wrap and curling iron can feel a little cumbersome. Fear not — we've got plenty of practical and adorable ways for you to organize a small bathroom, hair goodies included.
1. Use decorative bins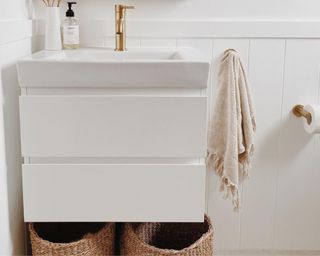 Since we know you're utilizing vertical space adequately — no longer a small bathroom storage mistake to correct — why not embrace the opportunity to create room for your items and add a cute stylistic element to boot?
"You can hang decorative baskets from hooks where you can store hair products, hair tools, or makeup," says interior designer Soledad Alzaga.
Sarit Weiss, the founder and lead organizer of the professional organizing company, Neat & Orderly, is all for this method, but recommends adding a DIY component to it.
"Hang two strong hooks a few inches apart from each other and 'hang' a wired bin on it," she notes. "Place any hair products, tools, or accessories inside the bin and you've got yourself a super convenient storage box."
If you have the floorspace, you can use an oversized bin and add other items to it in addition to your dryer, straightener, etc.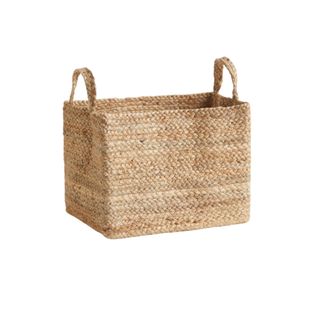 Not washable
Price: $29.99
Dimensions (in.): 10 3/4 x 11 x 15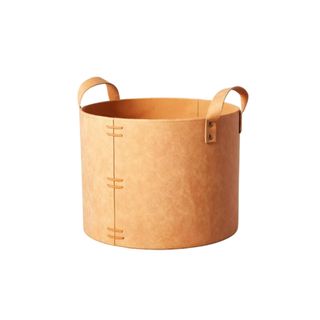 three sizes
Faux Leather Storage Bin Camel Brown
Price: $34.99
Dimensions (in.): H10 x W13 x D13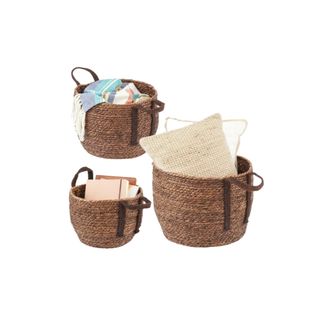 set of three
Braided Seagrass Woven Storage
Price: $56.99
Dimensions (in.): 14 x 8 (Large), 11.75 x 8.5 (Medium), 10 x 6.8 (Small)
Soledad Alzaga is the founder of her eponymous business, a boutique residential and commercial interior company based in San Francisco, which was named one of the top 15 best interior design companies in the city. It assists in all aspects of the design and build process of residential and commercial properties from start to finish including consulting and working with architects, builders, and engineers
Sarit Weiss is the founder and lead organizer of the professional organizing company, Neat & Orderly. Its specialty is to create organized spaces for clients while making the space easy to maintain and an expression of clients' personal style.
2. Look for underutilized spaces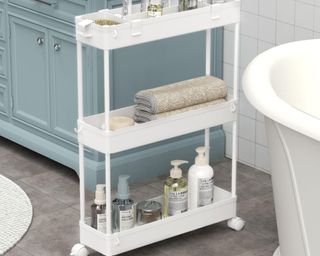 If you've successfully mastered how to fit a shower and bath in a small bathroom, chances are you can do anything with a tight floor plan. That means taking a second look at those areas you weren't necessarily paying attention to before and assessing storage opportunities.
"Those few inches of space between the toilet and the sink that are usually forgotten about can be put to use with a thin rolling cart," Weiss suggests. "It can be used for hair tools, styling products, accessories, etc."
We recommend the SPACELEAD Slim Storage Cart on Amazon ($18.89) with three tiers.
3. Utilize over-the-cabinet space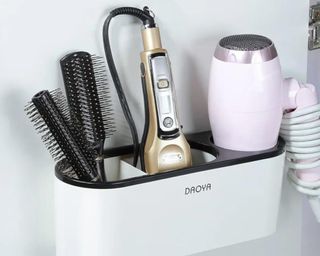 Thinking vertically is the trick, folks. Half the time, there are plenty of storage options right in front of us that we're too busy to see.
"Utilize the inside of cabinet doors for added storage with stick-on pods or organizers," says designer Artem Kropovinsky. "It's out of sight and utilizes often wasted space."
When you're working with a cramped room, wasted space is not an option.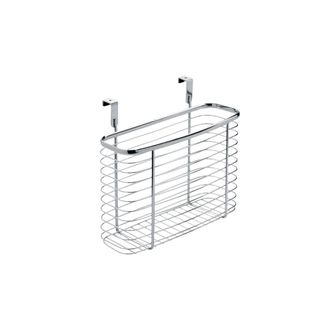 Metal
InterDesign Axis Over the Cabinet Basket
Price: $15.01
Dimensions (in.): D11 x W5 x H9.75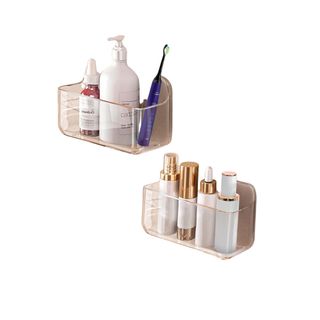 three sizes
CGBE Cabinet Door Organizer
Price: $28.88
Dimensions (in.): D3.5 x W12.2 x H3.1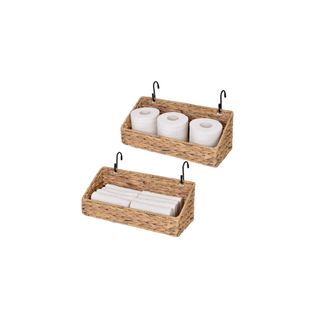 two pack
StorageWorks Woven Wall Baskets
Price: $32.99
Dimensions (in.): D6.5 x W15 x H6
Artem Kropovinsky is an interior design expert and founder of Arsight, an award-winning interior design studio based in New York.
4. Streamline your storage
It won't be possible to share a small bathroom with a roommate without some sort of method of organization. Even if you're living solo, you'll want to minimize the cutter and chaos as much as possible, which could potentially mean scaling back.
"The rule for a small bathroom is to only store what you need and this is the same for hair products," says Laura Price, founder and director at The Home Organisation. "Store daily-use hair products and tools in your bathroom but for anything else, store it in your bedroom instead."
What you're not able to fit within the bathroom cabinets or on a floating shelf could make their way into your sleep space.
"I'd recommend getting a vanity table for your bedroom so you can keep hair and makeup together there and leave the bathroom just for shower, body and dental products," Price adds.
If you need a little extra convincing about this method, we're certain Urban Outfitters vanities will sucker you into a purchase. (Just a hunch.) Likewise, should you need to find additional real estate for your hair products, not just tools like dryers and straighteners, professional organizer Jean Prominiski.
"If needed, decant large bottles of products into smaller containers, and store the back stock somewhere that isn't such high value real-estate," she says. "If you have a big hair dryer and diffuser that you don't use regularly or other tools, store those elsewhere as well."
Remember, not everything needs to make its way into the bathroom.
Laura Price is the founder and director at The Home Organisation. After a career in PR for national events and with three young children, she realized that creating organized spaces brought her moments of calm in a busy life. With a vision to help many others experience the benefits of living an organized life, The Home Organisation was born.
FAQs
How do you store hair tools in a small bathroom?
There are several ways to store hair tools in a small bathroom. You can utilize the inside of the cabinet with a hanging basket and place your items in there. If you have vanity storage space, you can get stack bins with various products. You could also use decorative baskets to put your hair tools as well. Some designers insist that items that aren't utilized every day don't necessarily need to be placed in the bathroom; if your curling iron or straightener isn't a hot commodity, considering putting it elsewhere to free up room for toiletries.
How do you organize hair products in a small spaces?
Hair tools don't necessarily have to reside in the bathroom. They can be placed in bins or baskets in your bedroom closet or dresser. Laura Price, founder and director at The Home Organisation, recommends keeping hair tools and makeup on a vanity in the bedroom to free up bathroom storage for body, dental, and shower products.
---
Attempting to conquer where to put your other necessities? Experts have provided us with toilet paper storage ideas for small bathrooms as well as small bathroom towel storage ideas. It's time to get organized, friends.