A little greenery goes a long way, which is why the best plants for a small bathroom are equally essential as your toothpaste and skincare products, in our opinion. No matter how tiny a space might be, we believe there's always room for your flora finds to thrive — it's just a matter of finding the right ones.
As you set up shop and aim to make your W.C. feel zen, what better accessory than a leafy friend or two? They can relieve stress, boost moods, and improve the air quality. Sounds like one should make its way onto the vanity next to the hand towel, if you ask us.
Now that you've undoubtedly been convinced, ensure that your small bathroom ideas include one of the babies below and a few cute plant accessories for good measure. (Anyone else eyeing that brass mister?)
The best plants for a small bathroom, according to experts
As you figure out how to organize a small bathroom, make extra room on the shelf next to the towels for one of these friends below — all of whom can take the heat. We promise you won't regret it. (And just in case it's not obvious, you'll need a cute planter to complete the look, too.)
1. Plants that like humidity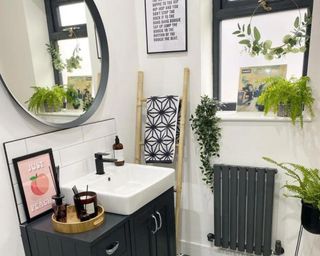 If you're searching for a simple way to brighten a small bathroom, a little floral action could work wonders, but it's imperative to select one that will be suitable for its damp surroundings.
"The steam a shower or bath produces creates the perfect environment for humidity-loving houseplants," says Jenna Navarro, the director of marketing at Lively Root.
So, what does that include? Ferns are particularly fond of a W.C.'s ambiance. Pick up a Boston Fern (Nephrolepis exaltata) or a Lemon Button Fern (Nephrolepis cordifolia) on your next trip to the nursery.
"Both of these varieties are fairly easy to care for, you should keep the soil evenly moist yet don't let them sit in standing water," Navarro adds. "Both plants prefer indirect light and are light feeders, only requiring fertilization every couple of months during the spring and summer."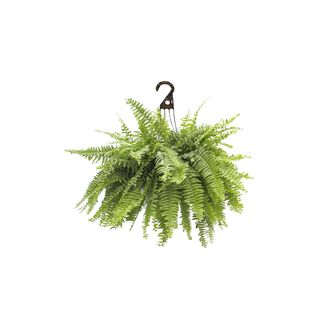 water to keep pot moist
Boston Fern Hanging Basket
Price: $29.98
Dimensions (in.): L10 x W10 x H28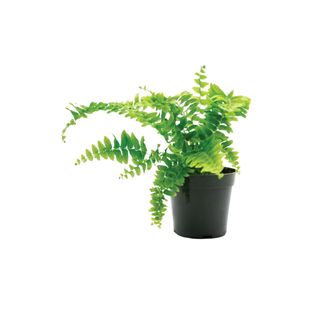 Indoor or outdoor
Boston Fern, Compact Form
Price: $11.25
Dimensions (in.): L4.5 x W4.5 x H12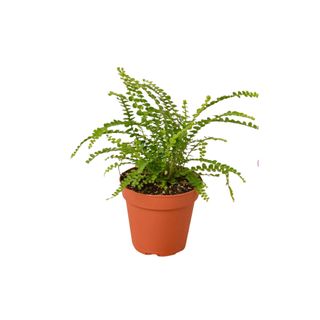 1 lb.
House Plant Shop Live Fern Plant (Lemon Button Fern)
Price: Was $21.17, now $15.89
Dimensions (in.): H10 x W4 x D4
Jenna Navarro is the director of marketing at Lively Root, whose mission is to inspire green spaces by connecting people with plants. With over 200 combined years of horticultural experience, the founders are fathers who want to pass their love of green spaces down to their future generations
2. Plants that can handle indirect sunlight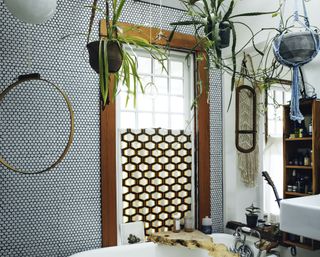 Though uncovering how to fit a shower and bath in a small bathroom, an equally desirable feature is a window, something that not all tiny spots have. If you're lacking natural light, opt for a plant that can still thrive without the sun's rays being directly available.
Paris Lalicata, plant education and community engagement at The Sill believes there are plenty of varieties that can work well in this situation. A parlor palm has air-purifying qualities, while maranta red leaves add a design element to the mix, and philodendron green is low-maintenance. Plus, they will do OK if your window looks more like a box — but that doesn't mean you shouldn't position these babies near said window/box.
"Keep your plant directly in the window or no more than a few feet away where it is still aligned with the window and can see the sky," Lalicata says. "Humidity being high is great but you still want to make sure you have ample airflow too- so ensure to keep the fan on for a little after a shower or a window (not during winter).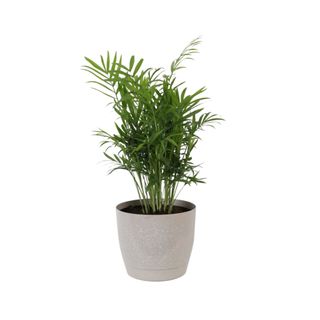 pet friendly
Costa Farms Live Palm Plant
Price: $29
Dimensions (in.): H12 x W6 x D6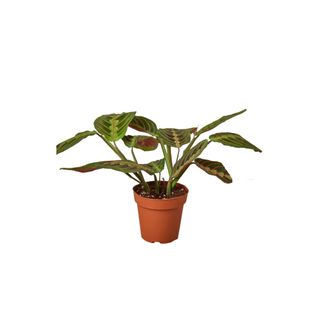 moderate lighting
House Plant Shop Live Foliage Plant (Maranta Red)
Price: $23.54
Dimensions (in.): H10 x W4 x D4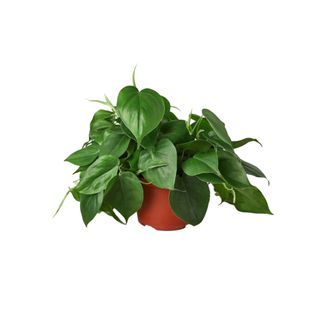 three sizes
House Plant Shop Philodendron Cordatum Heartleaf
Price: $11
Dimensions (in.): 6" pot
Paris Lalicata works in plant education + community engagement at The Sill, which was founded on this simple premise—plants make us happier, healthier humans. Now, after its start in 2012, The Sill has locations across the country.
3. NOT arid plants and succulents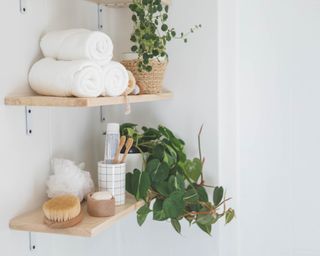 We can't resist a succulent, and it's not easy to say no to a cactus, but it's best to leave them in another part of the house, not the bathroom.
"Plants such as cacti and most succulents prefer the dryness of their native deserts and will show stress when exposed to humidity," says Jenna.
FAQs
What is the best plant for a small bathroom?
The best plant for a small bathroom is one that can handle a high-humidity environment, one that does not necessarily need direct sunlight — as there might not be much in the way of natural light — and one that is rather low-maintenance to make things easier on you as a plant parent. Some options include Maranta Red, Boston Fern, and Parlor Palm, to name a few.
What plants keep bathrooms fresh?
Any plant that loves humidity will keep your bathroom feeling fresh: think ferns and air plants. As much as you might like succulents, they're best left for other rooms in the house, as they do not handle high humidity well.
---
Now that your small bathroom must-haves are out of the way, you'll want to make sure there's enough greenery in other parts of your home. The best plants for apartments and the best indoor plants are here to assist.