Anyone else curious how to fit a shower and bath in a small bathroom? Is magic involved? Are the fixtures Polly Pocket sized? Believe it or not, there are a few ways to achieve the unthinkable.
While showers are necessities, some of us cannot fathom the thought of foregoing a bath to soak in with a book and a glass of wine. Feng shui experts insist the bathroom should be a sanctuary, and there isn't a more peaceful combination than a bath bomb, a bestseller, and a little vino. Needless to say, both commodities are top priorities.
Though small bathroom ideas can be challenging, we'll admit, this particular task is one of the trickiest of them all. Fortunately, the pros are willing to shell out their secrets to make your reno a little easier.
How to fit a shower and bath in a small bathroom
Cleanliness and organization are going to be non-negotiable if you're trying to squeeze both fixtures into the room. Figure out how to declutter your small bathroom and get a functional storage system into place. These are the best ways to start making more space in a small bathroom, especially when every inch counts. Once you've decluttered, have a look to see if there's a corner that can be utilized more efficiently, or take a gander at different types of fixtures you hadn't even considered before.
"The art of spatial design lies in choices, whether embracing the fluidity of a wet room or juxtaposing a slender tub with a corner shower," says designer Artem Kropovinsky. "The secret? Keeping it seamless, functional, yet unfailingly stylish."
(We have style on lock, too. We spoke to interior experts about how to make a small bathroom look luxe, and before you know it, you'll have a mini spa right in your apartment.)
Without further ado, let's get those small bathrooms up and running, folks!
Artem Kropovinsky is an interior design expert and founder of Arsight, an award-winning interior design studio based in New York.
1. Create a wet room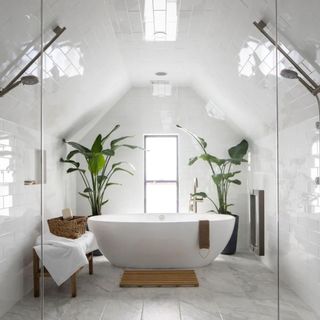 You know how people fell for the open-concept kitchen/living room scenario? A wet room is something similar, but for the bathroom.
"In a wet room, there is no separation from the shower area to the rest of the bathroom," says interior designer Jane Barnes. "The entire floor is waterproofed, and the shower is usually fitted with a drain in the center. This design allows you to save space by eliminating the need for a separate bathtub and shower enclosure. It's a very hip look."
Oftentimes, if you're keen on having a bathtub, there can be a freestanding one placed along the shower area. (The best high-pressure shower heads will add to the spa-like feel.) Should mobility issues present themselves for someone in your home, a wet room can be more accessible solution than a bathroom. However, they can be challenging, as they need to be waterproofed and well-maintained, otherwise mold issues could arise.
As an interior designer, Jane Barnes has always had a passion for creating beautiful and functional spaces. With over 10 years of experience in the industry, Jane has worked on a wide range of projects from residential homes to commercial spaces. Her keen eye for detail and ability to seamlessly blend different styles and concepts have won awards as well as praise from clients and colleagues alike.
2.Try a corner shower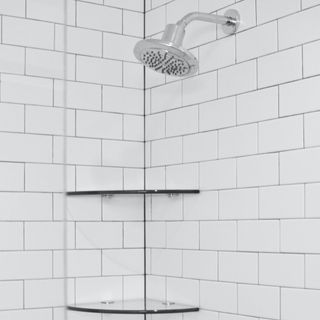 One of the biggest small bathroom design mistakes is not properly utilizing the space and leaving areas empty. Perhaps you might not be able to go for a tub or shower as spacious as you might've imagined, but you could have both on smaller scales, or in different parts of the W.C.
"Depending on the size of a bathroom space, it might not be possible to add a bathtub without completely taking over the room," says Siobhán Alvarez-Borland, DIY and lifestyle expert. "Instead, consider a corner walk-in shower, as it takes up minimal space. Corner showers are great as they can also fit into nearly any size bathroom."
Likewise, Warren Kinloch, bathroom interiors expert at Bathroom Deal, says, "A corner tub-shower combo can efficiently fit into the room's corner."
Siobhán Alvarez-Borland is the founder of She Shines Media, the parent company behind the websites Mimosas & Motherhood (a family and lifestyle blog focusing on pregnancy, postpartum, and parenting through the little years); Fun Family Meals (focused on easy, affordable recipes for families); and Budget Baby Budget (focused on empowering families towards financial freedom). Additionally, she is a postpartum doula at Fresh Starts Registry.
Warren Kinloch is the bathroom interiors expert at Bathroom Deal, a retailer that supplies "the highest quality bathroom products at the very best price."
3. Try a slipper bathtub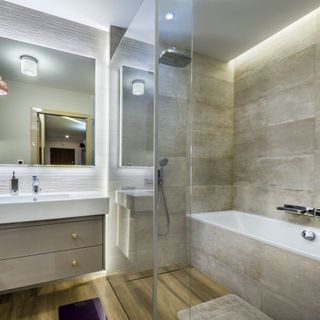 If the corner is a no-go — there's still hope.
"You could opt for a slipper bathtub, which is often smaller than a traditional tub, but still deep enough to have a nice relaxing bath," Kinloch adds. "Choosing either of these two options should help create more space to fit a square shower."
However, he reiterates that tidiness and storage-friendly features are key to making both items fit.
"To maximize space further, consider wall-mounted fixtures like a wall-hung toilet and a vanity with open shelving," he adds. "These fixtures not only save floor space, which will help allow space for a shower, but also contribute to a more open and airy atmosphere."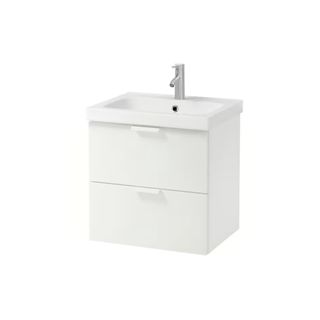 Floating vanity
GODMORGON / ODENSVIK Sink cabinet
Price: Was $394, now $333
Dimensions (in.): L24.75 x W19.25 x H25.25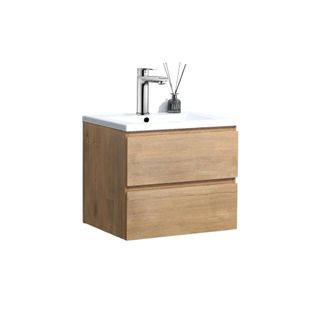 Warranty included
Wall Mounted Single Bathroom Vanity Base
Price: Was $319.52, now $271.02
Dimensions (in.): D18.9 x W23.6 x H19.7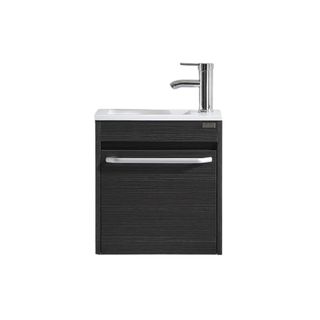 Four finishes
wonline 16" Bathroom Vanity Sink Combo
Price: $161.70
Dimensions (in.): L16 x W9.6 x H
4. Choose sliding doors
"Designing a small bathroom to accommodate both a shower and a bath requires careful planning," Kinloch notes.
Before you even make your way into the room, consider the door. Are you eliminating room by opening a door when you could be sliding one?
"If feasible, you can install a sliding or pocket door to eliminate the need for clearance space required by traditional swinging doors. This not only enhances functionality but also contributes to a streamlined look," he adds.
5. Opt for both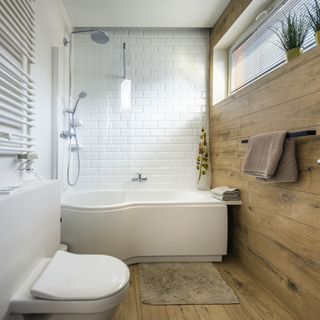 "When designing a bathroom with limited space, there are a few options to consider; if a bathtub is required, a tub/shower configuration is the best solution," says Alice T. Chan, a designer at Freemodel.
Whoever said you could only have one or another? Not that cramped floor plan, right?
Over the past two decades, Alicehas helped hundreds of clients efficiently transform their homes so they can enjoy living in their homes and not a job site. She created The Renovation Planner™, which is a suite of renovation guides with a simple framework for planning and managing your home renovations. This is the only planner system that guides you through the home improvement process from start to finish and empowers you to achieve the results you want.
FAQs
How big does a bathroom need to be to fit a shower and bath?
According to Badeloft Luxury Bathrooms, in order to fit both full-sized fixtures into a small space, you'd need roughly 40 square feet. However, you can opt for a corner shower, which will take up less space, and you can also utilize floating vanities and storage units to create more room on the floor. By opting for a slipper bathtub as well, you could be able to fit both in. Or, as Alice T. Chan, a designer at Freemodel, recommends a tub/shower configuration.
Can a small bathroom have a walk-in shower?
A small bathroom can have a walk-in shower, provided there are other space-saving techniques utilized as well, such as floating storage systems. It's all about figuring out the proportions that will work well in your space and decluttering/reorganizing where possible.
---
While these ideas have been given the green light, what doesn't work? Our edit of outdated small bathroom trends that designers want you to kiss goodbye will help with your reno.