You don't need to pull a magic trick; there are plenty of tips for making more space in a small bathroom, according to designers. Feel free to put the wand down now.
While navigating tight quarters — and a wet, damp one at that — seems unfathomable, the pros have worked hocus pocus of their own with storage hacks and design solutions to create a more breathable W.C. If anything is worthy of an "abracadabra," these words of wisdom are it.
While figuring out how to put all those small bathroom ideas into motion, ensure you're following designers' rules to make things feel a li'l larger.
8 tips for making more space in a small bathroom
1. Utilize vertical space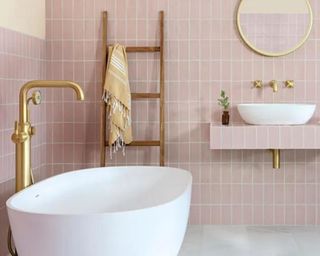 Don't let wall space go underutilized — it's a great locale to create a certain aesthetic and give your necessities a much-needed home. Your hair clips and lip balms need to live somewhere.
"Floating shelves on the walls that are sturdy and substantial are a great hack," says designer Chantelle Hartman Malarkey. "They can be functional, as you can actually store bathroom items here, but they are also decorative because they all texture and are a focal point on the walls."
Should you have a lot of moisturizers and hair treatments (guilty), perhaps you can take the small bathroom storage up a notch with a floating cabinet instead of just a shelf.
Chantelle Hartman Malarkey, a.k.a. the Lifestyle Alchemist, is an interior designer, photographer, home chef, hosting expert, and blogger who shares ideas about family travel hacks, beauty must-haves, delicious recipes, among other topics, with her followers.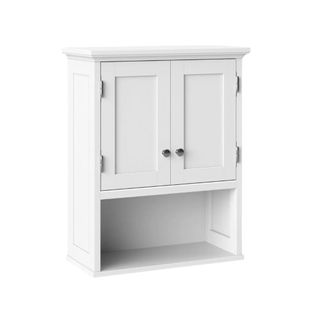 Easy Instillation
Threshold Wood Wall Cabinet
Price: $90
Dimensions (in.): D14.5 x W20 x H7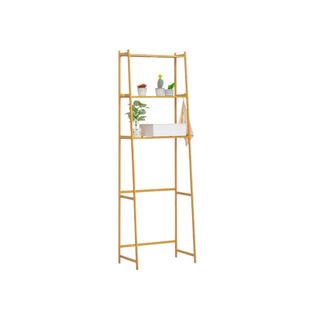 Bamboo
MoNiBloom Over the Toilet Shelf
Price: $45.99
Dimensions (in.): D20.5 x W12.10 x H65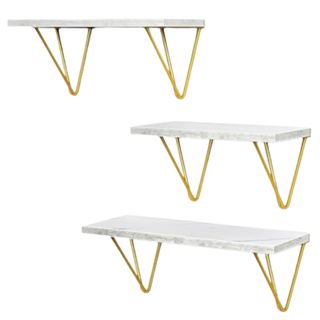 Three finishes
Everly Quinn Floating Shelves
Price: Was $33.99, now $27.99
Dimensions (in.): D6.1 x W11.41 x H6.1, D6.1 x W13.77 x H6.1, D15.74 x W6.1 x H6.1
2. Don't overdo the storage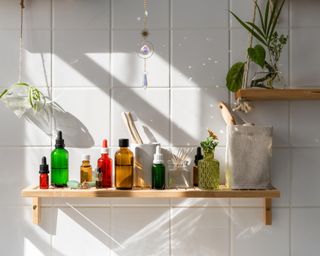 You might have to show your toiletries a little tough love, and that's totally OK — we give you permission. You don't want an already small bathroom to feel even smaller with an excess of items.
"Remove anything that is not a necessity," Hartman Malarkey adds. "If you don't use it every day (or weekly) while getting ready, chances are that item can live in another room and make more room in the bathroom."
Overdoing it takes the gold medal for small bathroom storage mistakes, without a doubt. It's definitely time to curate, friends.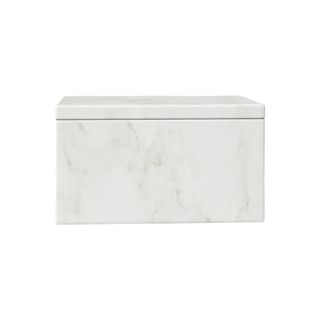 Italian marble
Nyla Bathroom Storage Container
Price: $57
Dimensions (in.): D3.35 x W5.91 x H3.94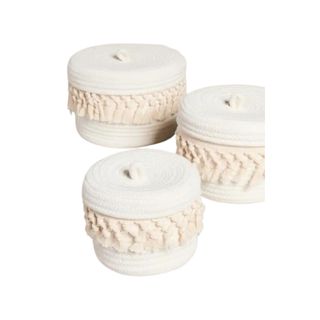 Set of Three
Shiraleah Round Dharma Organizer Baskets
Price: Was $57, now $42.75
Dimensions (in.): H4.75 x D5.5, H5.5 x D7.5, H6 x D9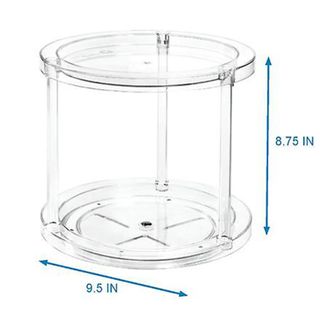 Handwash
The Home Edit by iDesign Lazy Susan
Price: $27.99
Dimensions (in.): D9 1/2x W9 1/2 x H8 3/4
3. Use hooks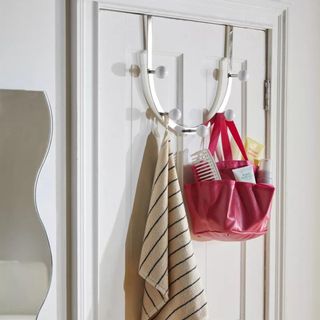 Sometimes, the simplest methods are the most efficient, like utilizing hooks when you want to make room. And it just so happens that there are plenty of eye-catching selections that work double duty as storage and style accessories.
"Explore the practicality of using hooks in place of a towel bar, as this often allows for more towels to be accommodated," says designer Erica Davis, co-founder of Eralyn Interiors.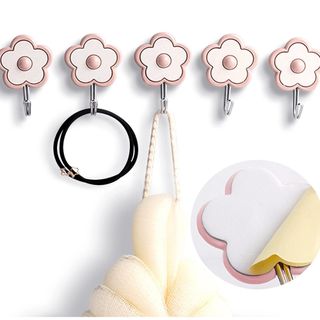 Three Colors
Price: Was $14.99, now $11.99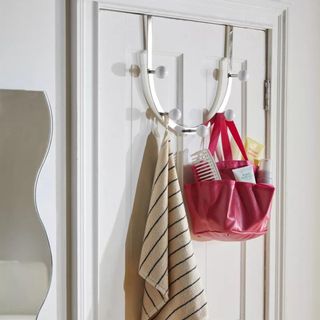 Five Hooks
Price: Was $49, now $34.99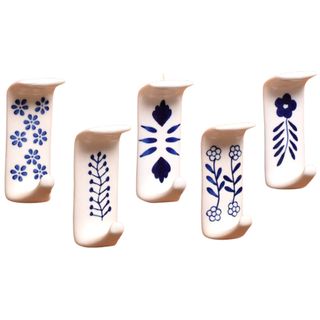 Various designs
Erica and her mother Laurie Davis are co-founders of Eralyn Interiors. The two luxury interior designers support professionals in designing their forever family homes that are livable, functional , and elevated.
4. Keep vanity storage neat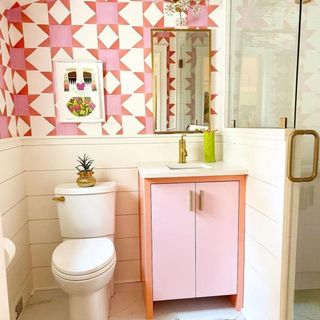 Chances are you're going to have quite a few toiletries to keep track of. Just because they're tucked away under the vanity, out of sight, doesn't mean that they should be disheveled.
"Incorporate tiered storage solutions or a lazy Susan under sinks to accommodate taller items," Davis suggests.
After all, thoughtful storage is one of the important aspects of small bathroom feng shui, and you want that energy to flow well, don't you?
5. Be thoughtful about the layout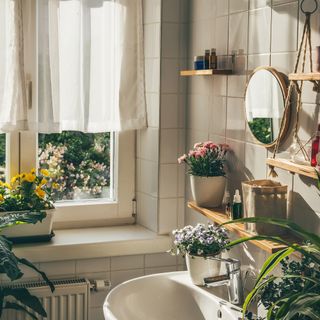 Small bathroom mirror ideas not only add a cute aesthetic to the space, but they can trick you into believing that your room is larger than it actually is. (Remember when we were talking about magic?) So strategic placing is crucial here.
"Consider placing the vanity under the window and hanging or floating a mirror to allow natural light to still flood into the space," Davis notes. "This is a great solution when wall space in limited."
6. Don't overdecorate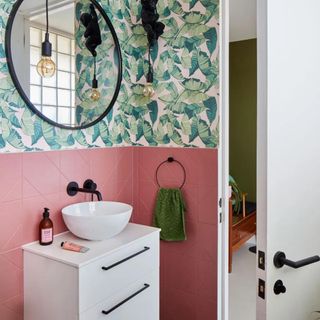 Though our inclination is to always add cute trinkets to our space, the bathroom is one place in your abode where less is more. You can't be knocking over decor items while plugging in hair dryers and straighteners in the morning.
"Keep it clean," says interior expert Artem Kropovinsky. "Declutter and aim for a minimalist look. Keep decorations minimal."
Artem Kropovinsky is an interior design expert and founder of Arsight, an award-winning interior design studio based in New York.
7. Invest in dual-purpose pieces
When floor space leaves a lot to be desired, quite literally, you have to carefully select what you bring into the space.
"Pick dual-purpose items," Kropovinsky suggests. "Think of a mirror that's also a cabinet."
Likewise, home improvement specialist Joshua Bartlett is all about thinking outside the box.
"Choose wall-mounted fixtures like toilets or farmhouse-style sinks to minimize the footprint," he says. "A corner sink is a good option if you don't like wall-mounted options."
As a homeowner, you want to create a space that is comfortable, functional, and reflects your personal style. I'll Just Fix It Myself is dedicated to helping you achieve just that with expert advice, tips, and tutorials on all things home improvement, DIY projects, and home maintenance.
8. Accessorize accordingly
There's a reason why certain shades have been crowned the worst colors for a small bathroom and why certain items are a no-go.
"For accessories, consider a large mirror, light wall paint colors, and bright, natural lighting to make the space feel bigger and brighter," Bartlett adds.
Whenever you opt for a moody hue or a small mirror, you run the risk of feeling more confined than you originally had before.
FAQs
How do you maximize space in a small bathroom?
To maximize the little space you have in a small bathroom, it is important to utilize vertical storage space, work with light colors and decor for an airy feel, add mirrors to trick the eye, and of course, keep products stored neatly.
Where do you hang towels in a small bathroom?
Small bathroom towel storage ideas include hooks, vertical shelving, over-the-toilet shelves, free-floating cabinets, storage baskets, and shelves, to name a few.
---
Looking to go glam? Designers know exactly how to make a small bathroom look luxe, even when you're not working with much.