You'll need to makeover a small office on a budget if your WFH space is in tragic condition. Despite what you may believe, redecorating, redesigning, and reorganizing your small home office doesn't have to come with a hefty bill.
Instead of filling your shopping cart with the myriad of products out there advertised to help you transform your office, consider these budget-friendly options that can help you create the space of your dreams.
No matter what sort of work you need to do in your small office — whether you need a well-lit space to find the best area to situate various computer monitors — here are six expert tips on how to makeover your home office without breaking the bank.
6 ideas to makeover a small office on a budget
For anyone who works from home, a significant part of their lives will be spent in their home office. For this reason, a functional, comfortable, and personalized small home office can be a career game changer.
By being creative and deliberate in your design and decorating, you can lay the foundation for a modern home office that will keep you on your game for years to come.
1. Proper lighting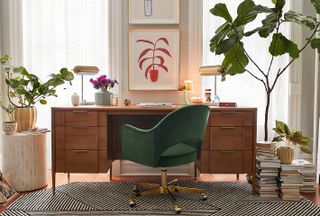 Looking for a really simple way to transform your entire office without shelling out the cash? Lighting is everything. "I suggest ambient lighting," interior designer and blogger Yuuna Morishita says. "Overhead lighting can be harsh and cause eye fatigue. I install adjustable table lamps or string lights to create a softened glow in my office".
By changing the lighting using small table lamps, like our favorite lamps from Target, or inexpensive lights, you can transform the look of your office without spending a lot of money. This small mushroom lamp from Target is just $15, plus it comes complete with an LED light bulb.
Yuuna Morishita is an interior designer and blogger at The Japanese Way. Born in Japan and raised in the US, their unique upbringing fuels their passion for blending Japanese artistry with global design trends.
2. Hide your cords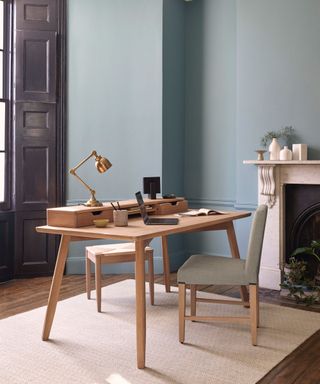 A small office can feel overwhelmed when there are too many cords. Between charging your computer, monitors, phone, tablets, speakers, printers, and whatever else, your office can quickly descend into cord-filled chaos.
Instead of having to navigate which cord goes where, get organized with one of the various cord organizers on the market, like this budget-friendly buy from Amazon for just $6.55. This reduces the amount of small office clutter you'll see each day and keeps your desk (and your mind) free to get your work done.
3. Add some life with plants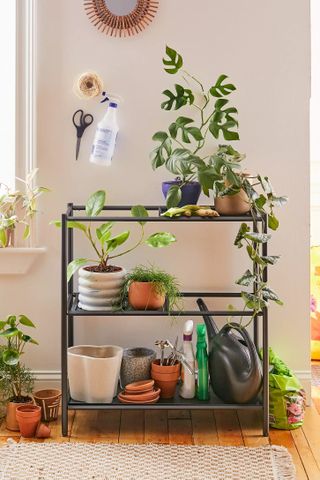 Adding small space-friendly plants is a simple way to improve the mood in your office. "Greens really warm up a small space and improve air quality," Morishita advises. However, taking care of plants might distract you from your working day which is why Morishita has a suggestion from their own office.
"I have a few low-maintenance plants scattered around my desk area," they say. Alternatively, keeping all your plant supplies in one place, such as the watering can and extra soil, allows you to keep more plants in your office without getting overwhelmed.
4. Try Feng Shui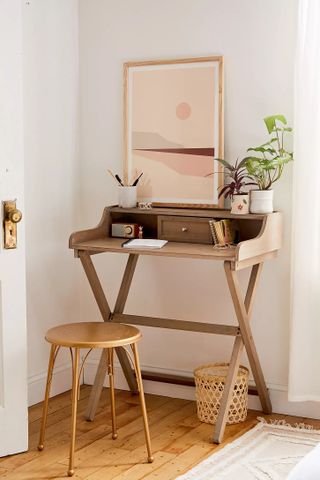 Rearranging your furniture is a great cost-free way to completely change the look and feel of your small home office. Understanding Feng Shui for your apartment can help guide you on how to arrange your room for maximum productivity.
Although Feng Shui is undoubtedly complex, there are plenty of books to help you navigate the process. Even moving a chair or opening a window can help transform your small space.
5. Change the ergonomics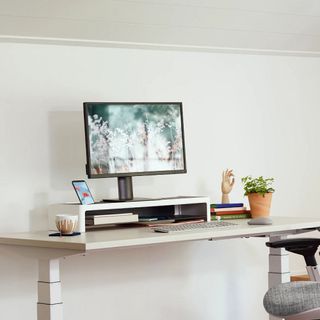 In order to work well in your home office, you need to be comfortable and minimize back and shoulder pain. While specially designed ergonomic office chairs, like our favorite Amazon office chairs, can be expensive, there are plenty of budget ways to work more comfortably at your desk.
One way, Morishita advises, is to use a monitor stand. "Having my monitor elevated at eye level helps with posture and neck strain. I use a simple stand that allows height and angle adjustability," Morishita says.
This acrylic monitor stand available on Amazon is really sleek and subtle so it won't overwhelm your desk. Plus, it comes in der $20!
6. Use desk organizers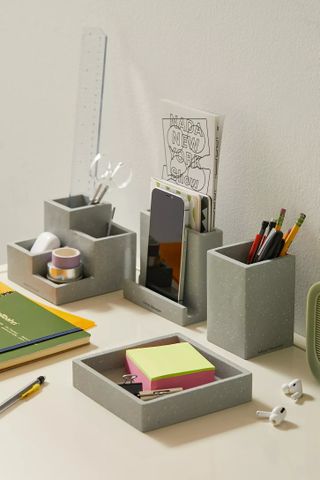 In a small office, using a file cabinet or a large desk isn't always an option. That's when interiors expert, decorator, and author Bonnie Borromeo Tomlinson utilizes one of her favorite desk organizational tools.
"With a small home office, it's essential that you keep it neat and organized," she explains. "A quick and easy solution is lidded paper tray boxes. Choose colors to compliment your decor and store your paperwork, planners, calendars, and lists inside."
This canvas document letter box available on Amazon is a great place to stash all of those important papers out of sight.
Bonnie Borromeo Tomlinson is an interior decorator, book author, and professional organizer.
Best products to buy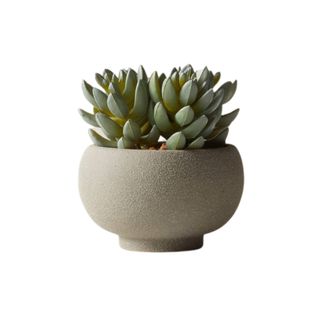 No maintenance
1. Potted Faux Succulents
Price: $24
Worried you're not in your office enough to keep your plants alive? With this faux succulent, you won't have to worry. It'll stay looking fresh, even when your vacation responder is turned on.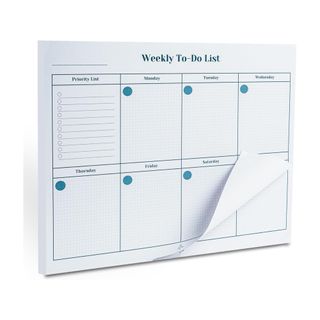 Organizational
2. Nook Theory Weekly Planner Pad
Price: $10
There are plenty of online calendars out there but for some, a paper calendar can make all the difference. Never forget a birthday or a meeting with this minimal desk calendar.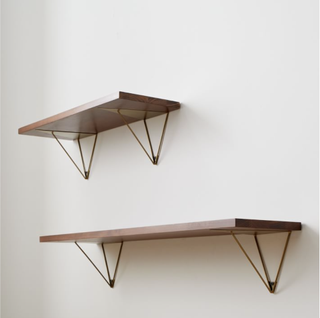 Extra storage
3. Linear Cool Walnut Wood Wall Shelves
Price: $39
Your co-workers will drool over these impossibly chic shelves, the ideal Zoom background for any meeting.
FAQs
What should I look for in a budget-friendly office chair?
While some office chairs sell for fifty bucks, others can go for over $1,000. When searching for the best office chairs, consider whether the chair offers adjustable height, arm and back support, and rolling or swivel capabilities. For more expensive chairs, check to see whether the retailer or brand offers a warranty.
What are some ways I can upgrade my home office without spending a dime?
Although you may need to invest in a desk and a chair, thankfully there are other ways to upgrade your home office without spending money. Consider utilizing other pieces of decor or furniture from other areas of your home. You can also rearrange your furniture for a quick but uplifting refresh.
---
From adding personal details, including family portraits or incorporating your favorite color, to decluttering your desk, there are many reasons to prioritize your small office.
If you're a remote worker who is ready to transform your own small bedroom office into a stylish and efficient space for productive work, you don't need to break your budget to create the place of your dreams.
You can even take a note out of Selena Gomez's book and style your office like the Rare Beauty headquarters office for a super chic, celeb-inspired look.